The holiday season is upon us, and it's time to deck the halls with festive decorations. While traditional Christmas trees are a beloved tradition, why not add a unique twist to your decor this year with DIY Cactus Christmas Trees? These delightful and low-maintenance alternatives are perfect for those who want to celebrate with a touch of the Southwest. In this article, we'll explore 40 creative DIY Cactus Christmas tree ideas to spruce up your home for the holidays.
[This post may contain affiliate links. What does that mean to you? Well, if you click on a product and make a purchase, I may get some compensation from you at no charge. If you want to read the boring stuff my full disclosure can be found here.]
DIY Cactus Christmas Tree Ideas
1. Cactus Cutouts:
2. Prickly Pear Garland:
Use green felt or fabric to create prickly pear shapes.
Attach the fabric pears to a string or garland and hang it on your wall or as a table centerpiece.
3. Mini Potted Cactus Display:
4. Cactus Ornaments:
Decorate your traditional Christmas tree with cactus-themed ornaments. You can find these in stores or make your own by painting small clay pots or creating cactus shapes out of dough.
5. Cactus Lights:
6. Saguaro Sock Cactus:
Create a saguaro cactus shape using green socks filled with stuffing. Attach arms made from brown socks.
Decorate with ornaments and tinsel for a quirky cactus Christmas tree.
7. Cactus Cardboard Cutout Tree: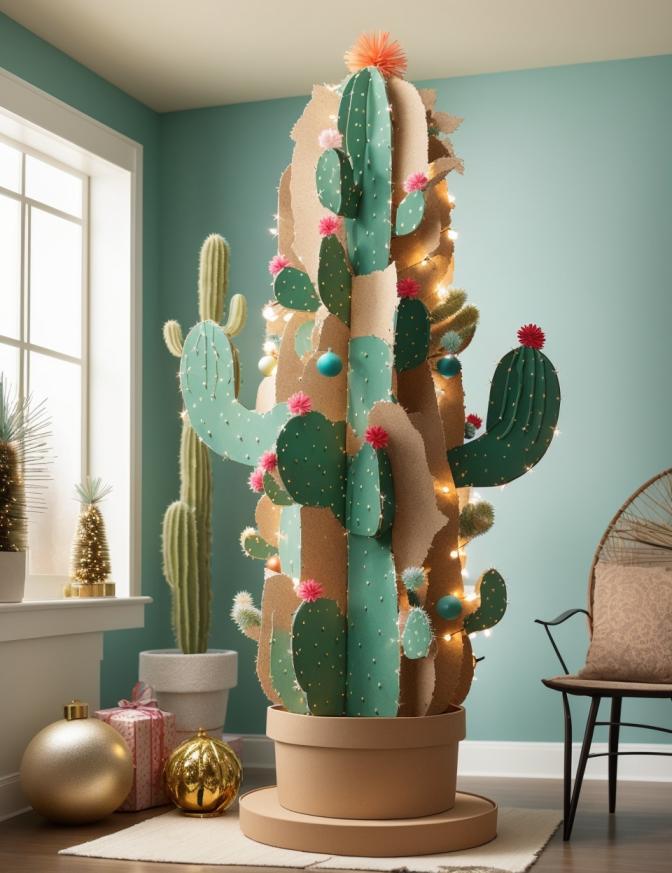 Cut out a large cactus shape from cardboard or foam board.
Decorate it with ornaments, lights, and tinsel.
You can even add a small pot at the base to make it look like a potted cactus.
8. Cactus Wreath:
Craft a cactus-shaped wreath using wire or a pre-made wreath form.
Cover it with greenery, faux cactus spikes, and ornaments.
9. Cactus-themed Stockings:
Create cactus-shaped or southwestern-themed stockings to hang by the fireplace.
10. Cactus Wall Mural:
If you're feeling particularly artistic, paint a cactus-themed mural directly on a wall. Decorate it with string lights and ornaments.
11. Saguaro Cactus Centerpiece:
Create a saguaro cactus centerpiece using branches or dowels as the arms and a wooden or cardboard base. Decorate it with ornaments and mini lights.
12. Cactus String Art: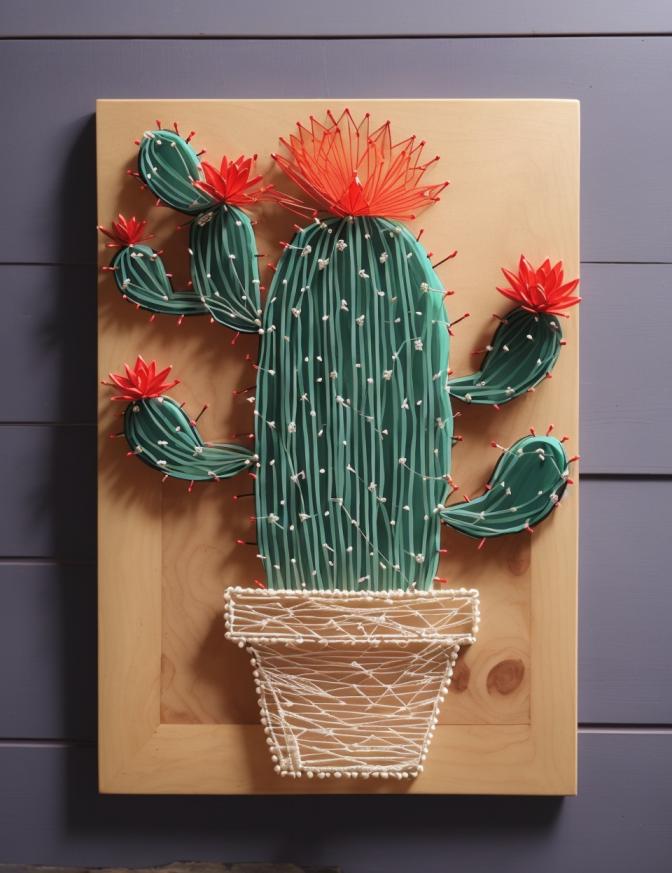 Make cactus string art by hammering nails into a wooden board in the shape of a cactus. Then, wrap colorful string around the nails in a decorative pattern.
13. Paper Cactus Garden:
Craft paper cacti in various shapes and sizes. Arrange them in a pot or planter and decorate with miniature ornaments.
14. Cactus Card Holder: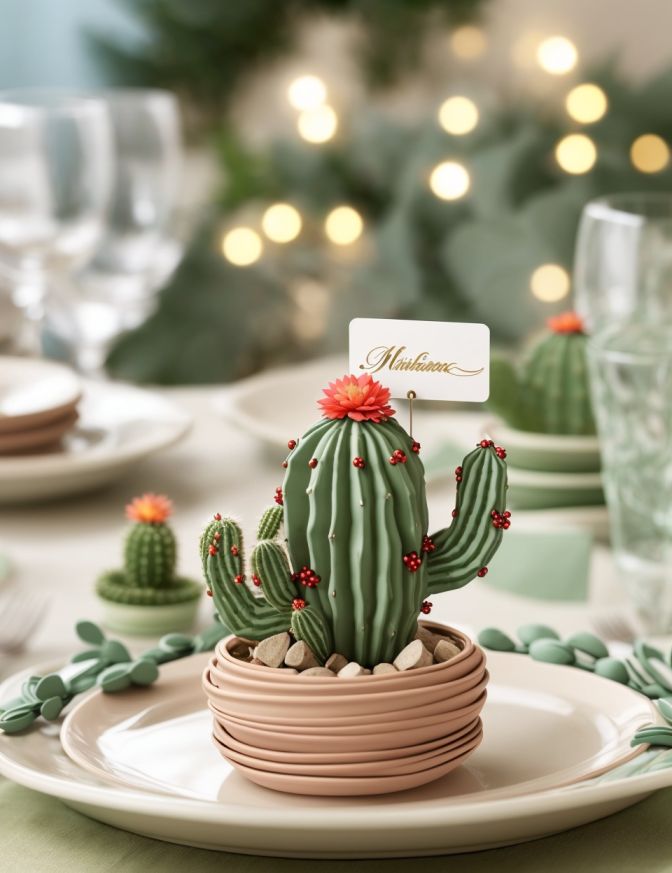 Craft cactus-shaped card holders using clay or wire. Place them on your holiday dinner table to hold place cards or name tags.
15. Cactus Photo Booth: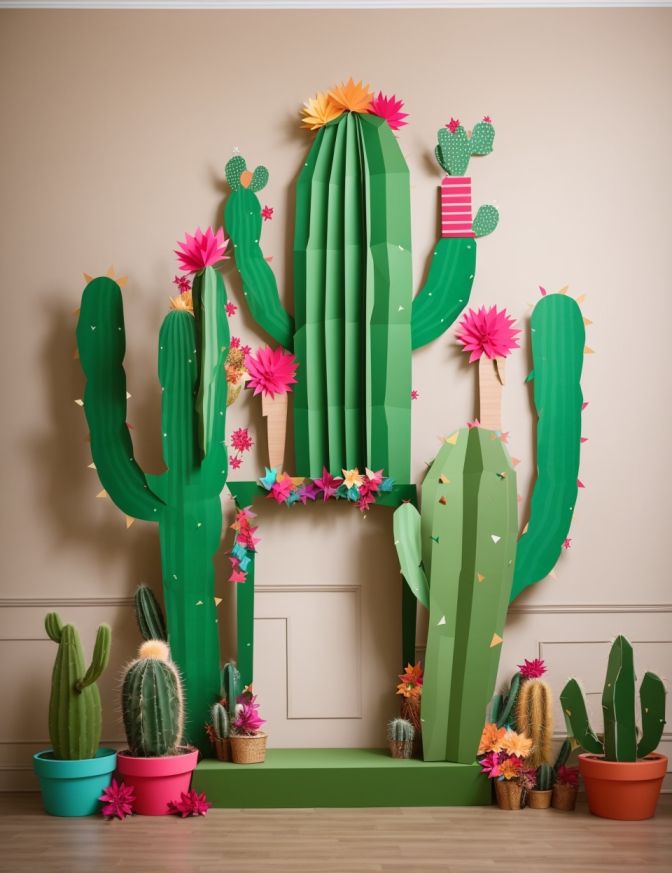 Design a cactus-themed photo booth for your holiday party. Create a large cardboard cactus backdrop and provide festive props for fun pictures.
16. Cactus String Lights Mobile:
Hang cactus-shaped string lights from the ceiling in your chosen room. Let them dangle at different lengths for a playful effect.
17. Cactus-themed Tree Topper:
Craft a custom tree topper in the shape of a cactus using wire, felt, or even clay. Paint or decorate it with holiday accents.
18. Mini Cactus Terrariums:
Create mini cactus terrariums using clear glass ornaments. Fill them with small pebbles, sand, and tiny faux cactus plants.
19. Cactus Luminaries: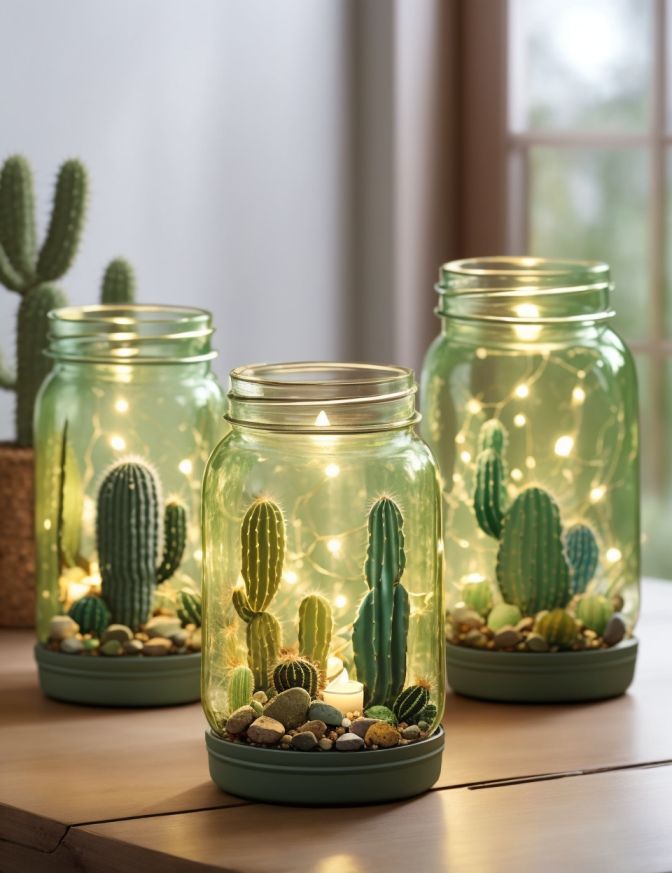 Create cactus-shaped luminaries using mason jars or glass containers. Paint or decoupage the jars to resemble cacti and place LED tealights inside for a warm, ambient glow.
20. Cactus String Art Ornaments: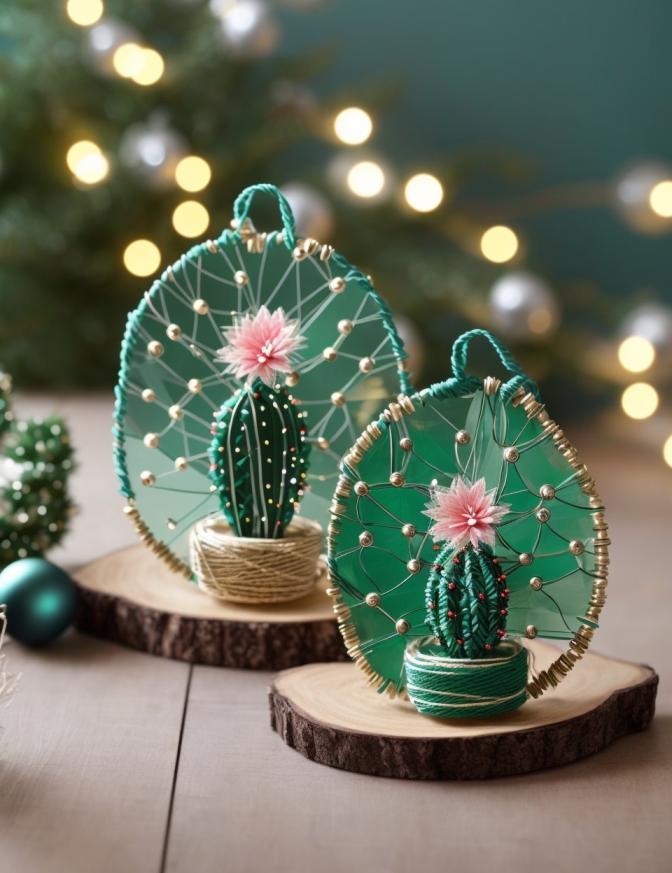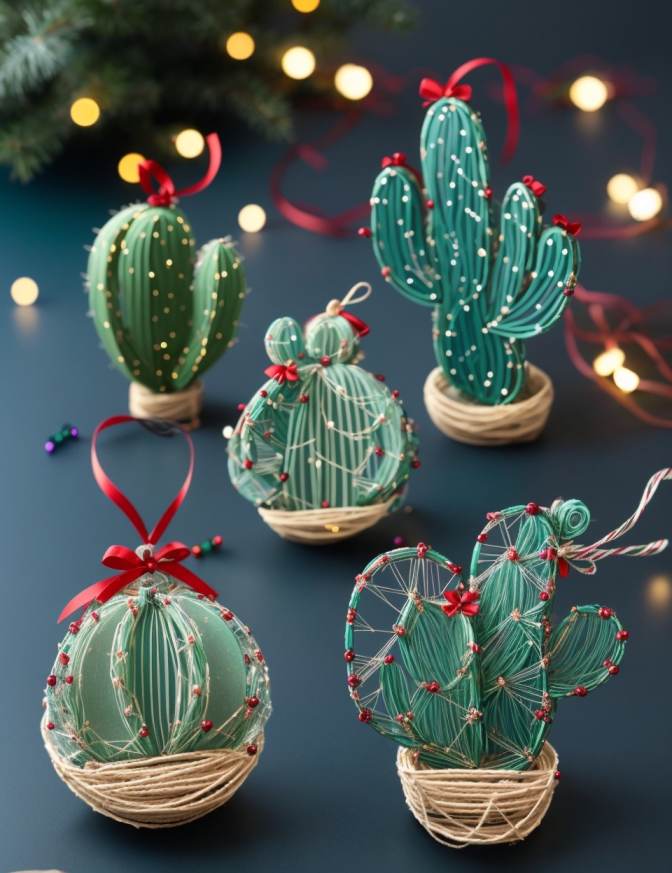 Craft smaller cactus string art ornaments to hang on your main Christmas tree or to decorate your DIY cactus tree. These can also make great gifts.
21. Cactus Christmas Cards: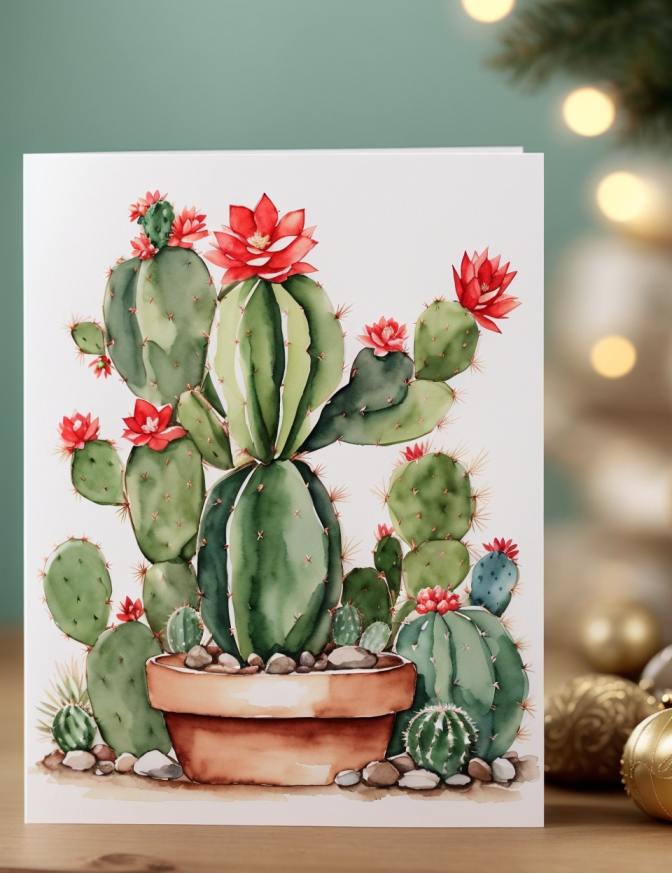 Design and make your own cactus-themed Christmas cards featuring watercolor or hand-drawn cacti.
22. Cactus Garland: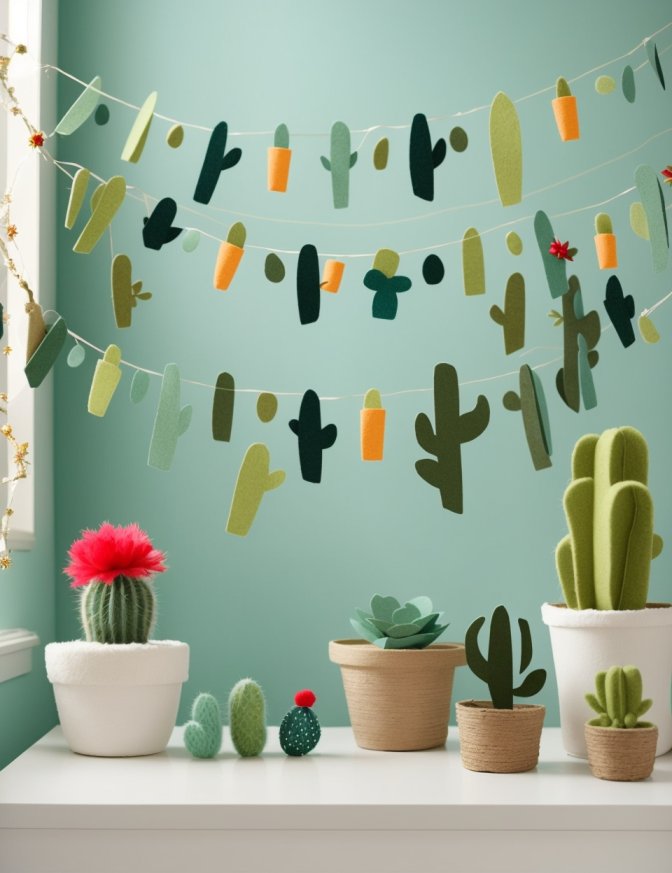 Create a garland made of felt or fabric cactus shapes that can be strung across the room or wrapped around your DIY cactus tree.
23. Cactus-themed Dishware:
Decorate plain dishes or mugs with cactus motifs using porcelain paint or markers for a festive table setting.
24. Cactus-themed Placemats:
Sew or paint placemats with cactus patterns to enhance your holiday table decor.
25. Cactus-themed Apron: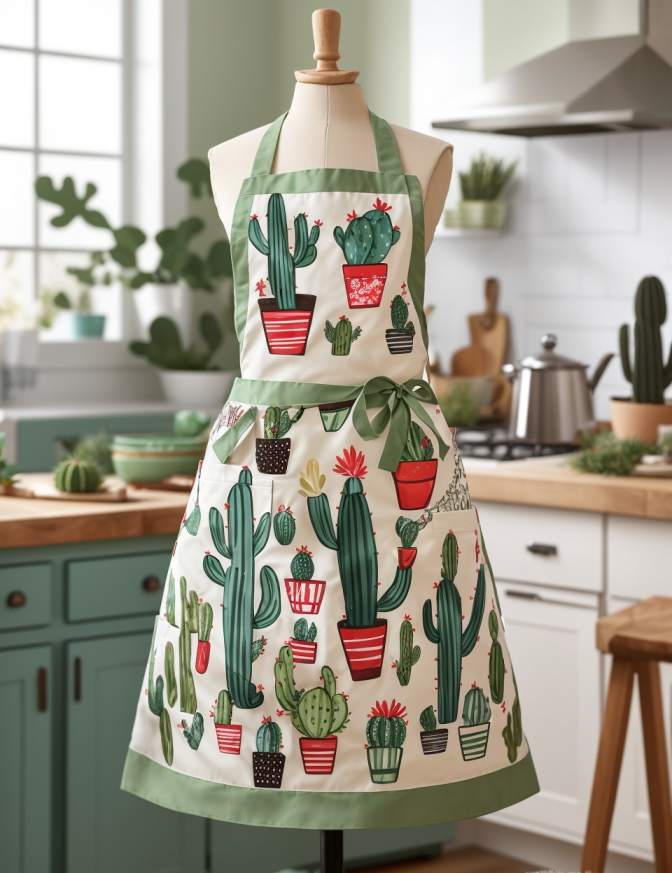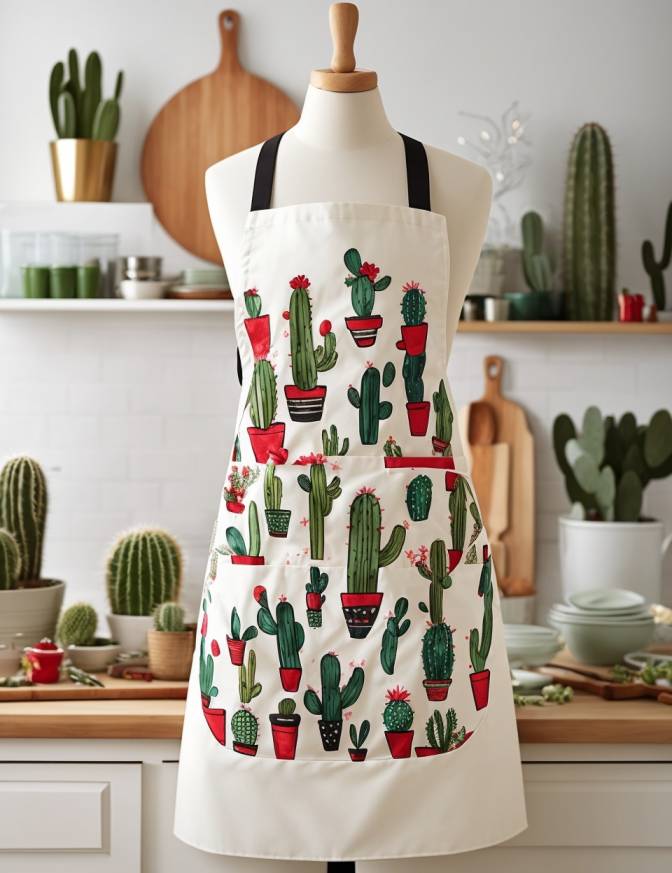 Make a cactus-themed apron for holiday cooking and baking. Use fabric paint or fabric markers to add fun cactus designs.
26. Cactus-themed Cookie Cutters:
Craft custom cactus-shaped cookie cutters from aluminum foil or thin sheet metal. Use these to make cactus-shaped cookies for the holiday season.
27. Cactus-themed Wrapping Paper: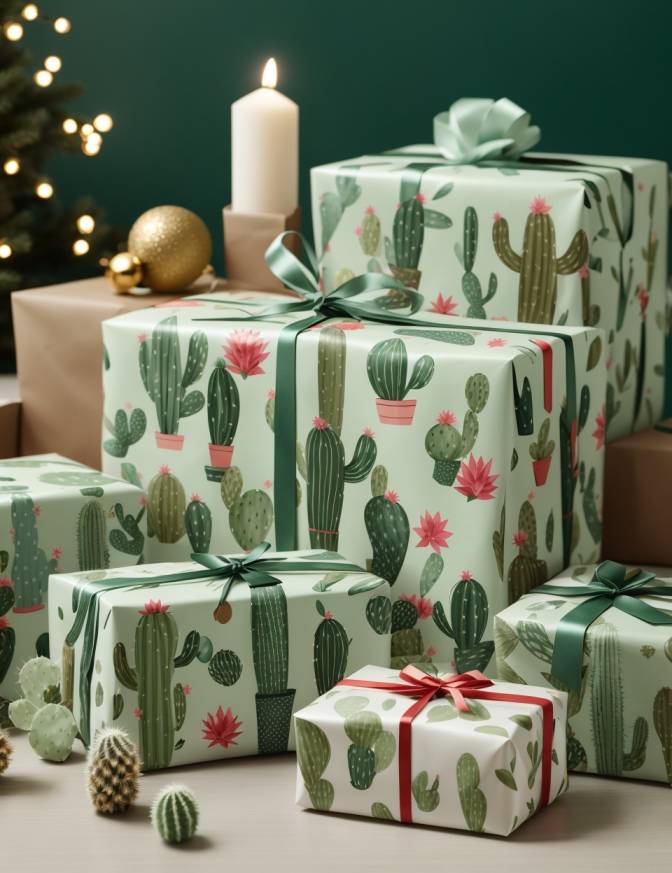 Design your own wrapping paper featuring cactus patterns. This can add a personal touch to your gifts.
28. Cactus-shaped Salt and Pepper Shakers:
Transform plain salt and pepper shakers into adorable cacti by painting them and adding spines for a quirky table accessory.
29. Cactus-themed Doormat: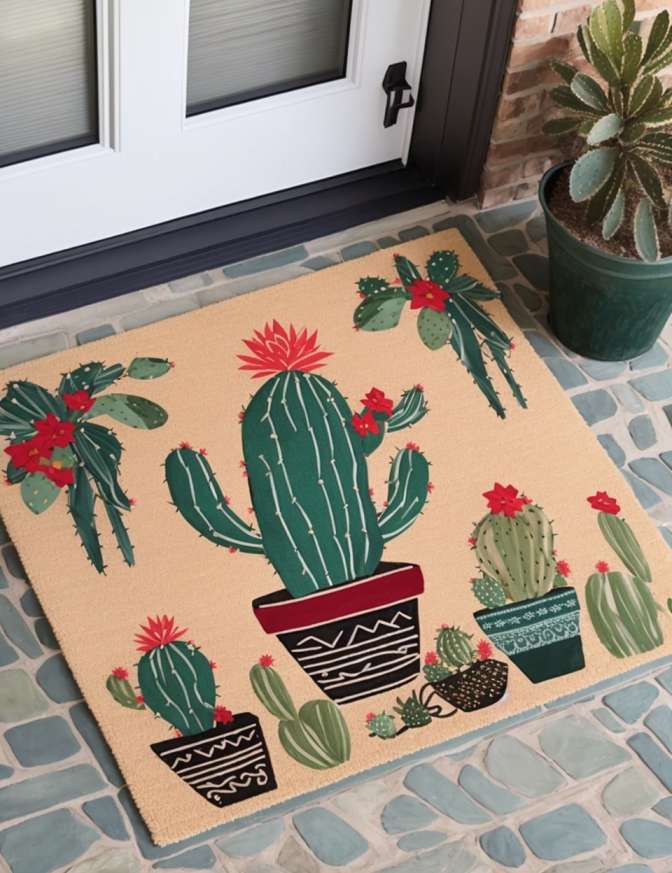 30. Cactus-themed Kitchen Towels: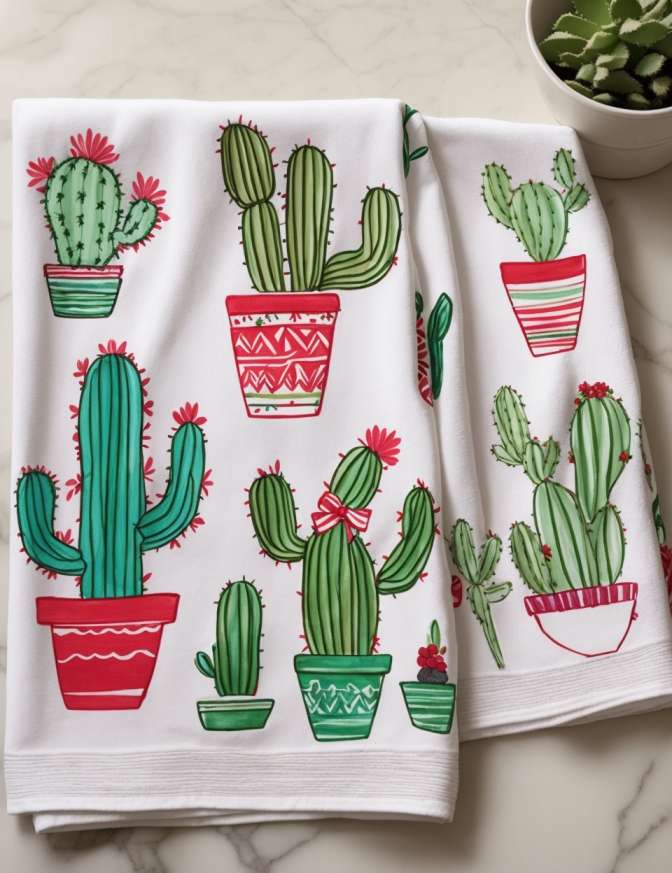 Use fabric markers or paint to create cactus patterns on plain kitchen towels for a holiday kitchen makeover.
31. Cactus Bookshelf:
Stack books in the shape of a cactus, and decorate the spines with holiday-themed designs and ornaments.
32. Cactus Beverage Coasters: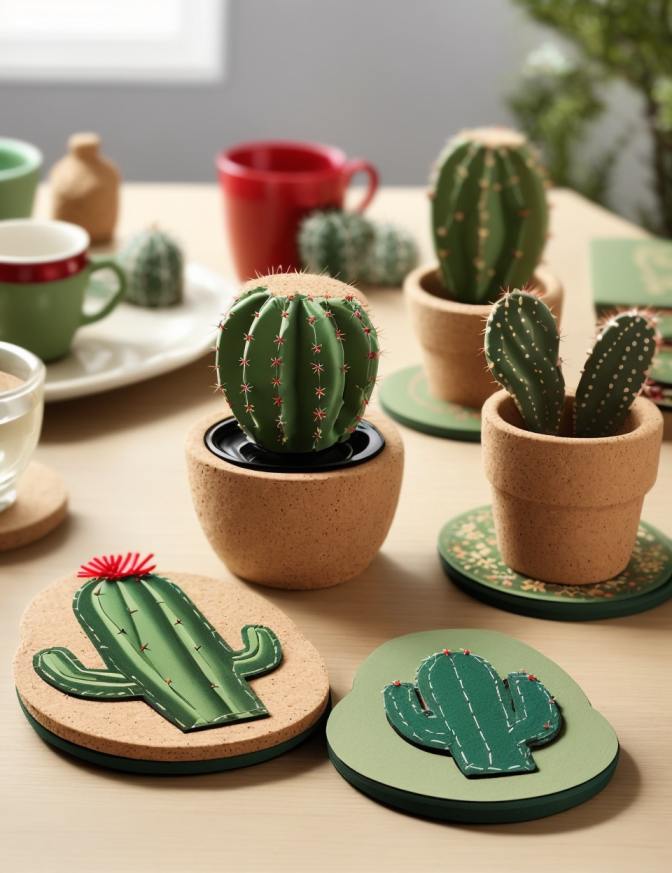 Make cactus-shaped coasters using cork or felt. Paint them and add spines to keep your holiday drinks festive.
33. Cactus-themed Mason Jar Candle Holders:
34. Cactus-themed Stenciled Napkins: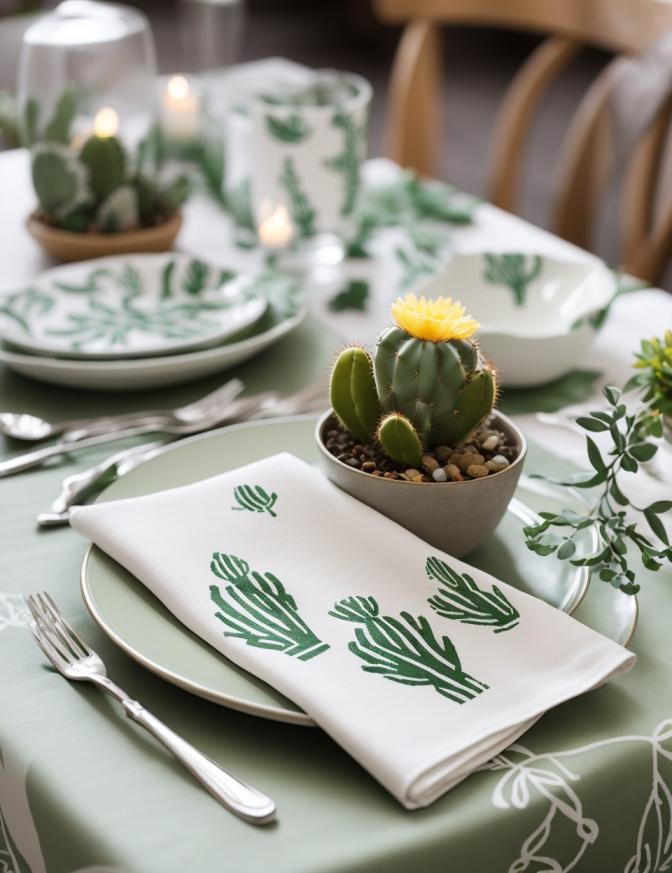 Related Articles-
35. Cactus-themed Snow Globes:
Craft your own snow globes with tiny cactus figurines, glitter, and water. Shake them to create a whimsical winter scene.
36. Cactus Wall Decals:
37. Cactus Shadow Boxes:
Arrange miniature cactus figurines or ornaments inside shadow boxes and hang them as unique holiday wall art.
38. Cactus Bunting: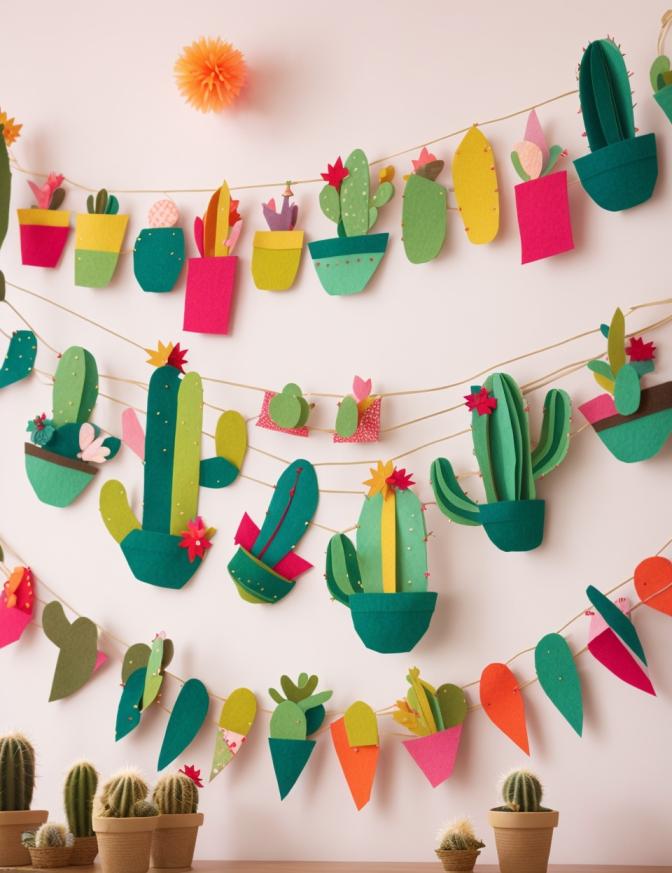 Craft a cactus bunting by cutting cactus shapes out of felt, fabric, or paper and string them together to create a colorful holiday decoration.
39. Cactus-themed Table Centerpiece: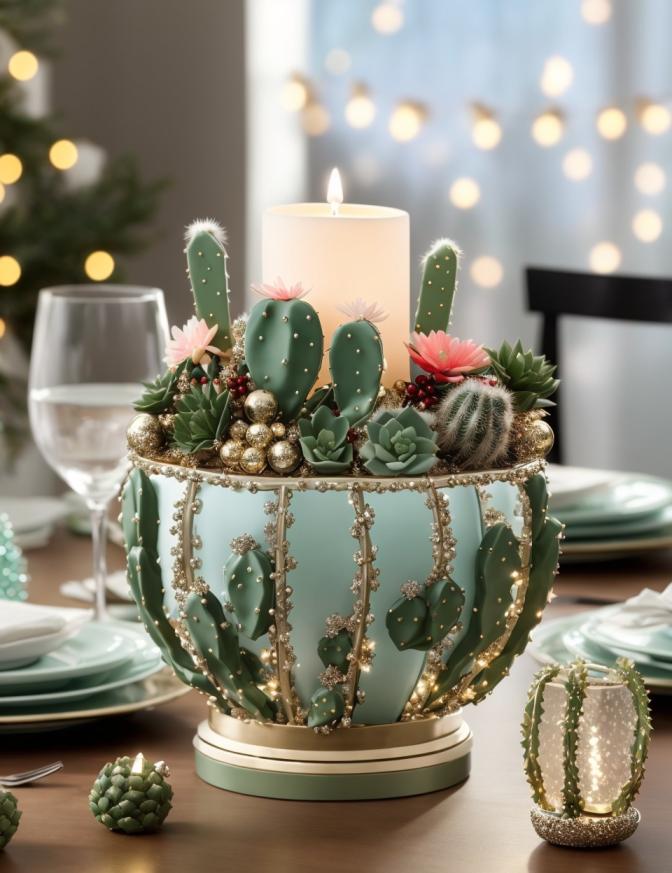 Craft a striking cactus-themed centerpiece using a decorative vase filled with faux cacti, ornaments, and fairy lights.
40. Cactus Flower Arrangement: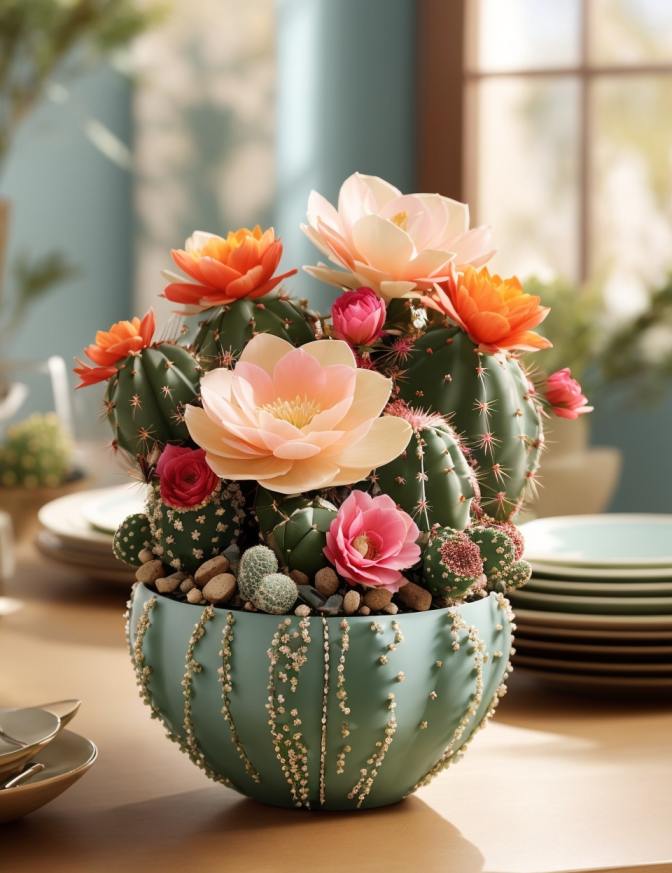 FAQs (Frequently Asked Questions)
Q1: How do you make a Christmas cactus tree?
To create a Christmas cactus tree, gather potted Christmas cacti in graduated sizes, stack them, secure with florist wire, and decorate with festive ornaments and lights.
Q2: Can you decorate a cactus for Christmas?
Absolutely! Decorating a cactus for Christmas involves adding lights, ornaments, and other holiday decor. It's a creative and fun twist on traditional Christmas trees.
Q3: Are Christmas cacti easy to care for?
Christmas cacti are generally low-maintenance. They thrive with indirect sunlight, well-draining soil, and occasional watering. Great for beginners!
Q4: What do Christmas cacti need to thrive?
Christmas cacti need bright, indirect light, well-draining soil, and consistent but not excessive moisture. Keep them out of drafts.
Q5: How long can Christmas cacti last?
With proper care, Christmas cacti can last for many years, becoming cherished family heirlooms. Some are known to live for decades.
Q6: Is a Christmas cactus a good gift?
Yes, Christmas cacti make fantastic gifts. They are beautiful, easy to care for, and bloom during the holiday season, adding a festive touch to any space.
Conclusion-
DIY Cactus Christmas trees are a fantastic way to add a unique, festive touch to your holiday decor. Whether you have a green thumb or are just looking for a fun project, these ideas are sure to bring a smile to your face and impress your guests. Enjoy the holiday season with a hint of the Southwest, and have a Merry Cactus Christmas!
We hope you find these DIY Cactus Christmas tree ideas inspiring for your holiday decorating. Feel free to share your creations with us in the comments below. Happy holidays!