The holiday season is a time for warmth, togetherness, and festive decorations. One of the most iconic and cherished elements of holiday decor is the Christmas centerpiece that graces your dining table. While you can always purchase a ready-made centerpiece, there's something magical about crafting your own. It adds a personal touch to your holiday gatherings and can even be a fun family activity. Plus, it's budget-friendly! In this article, we'll explore a variety of DIY Christmas centerpiece ideas that will infuse your home with holiday cheer.
[This post may contain affiliate links. What does that mean to you? Well, if you click on a product and make a purchase, I may get some compensation from you at no charge. If you want to read the boring stuff my full disclosure can be found here.]
DIY Christmas Centerpiece Ideas for your Table
1. Classic Christmas Greenery
Let's start with a timeless favorite: classic Christmas greenery. This centerpiece embodies the spirit of the season with its fragrant evergreen branches, pinecones, and pops of red from berries or ornaments. Here's how to create your own:
Materials:
Evergreen branches (e.g., pine or fir)
Pinecones
Red berries or ornaments
A vase or container
Floral foam (optional)
Instructions:
Trim the evergreen branches to the desired length and insert them into the vase or container. If needed, use floral foam to secure them in place.
Arrange pinecones and red berries or ornaments among the branches.
Optionally, add a few sprigs of holly for extra festive flair.
Place your centerpiece on the dining table and enjoy the natural beauty of the season.
2. Candlelit Elegance
Create a cozy and romantic atmosphere with candlelit centerpieces. These add warmth and sophistication to your holiday table. Here's a simple yet elegant idea:
Materials:
Instructions:
Arrange the candles on your chosen candle holders or trays.
Optionally, tie decorative ribbon around the base of the candles for a festive touch.
Place the candles at the center of your table and light them just before your holiday meal.
Enjoy the soft, flickering glow that sets the perfect ambiance for your gathering.
3. Rustic Charm with Mason Jars
Mason jar centerpieces have a rustic and homey charm that's perfect for the holidays. They're also incredibly versatile. Here's one creative idea:
Materials:
Instructions:
Fill the mason jars with cranberries or small ornaments, about one-third full.
Insert fairy lights into the jars, arranging them so that they're evenly distributed.
Tie twine or ribbon around the neck of each jar for a finishing touch.
Arrange your mason jar centerpieces along the table for a warm and inviting holiday display.
4. Natural Elements for an Organic Look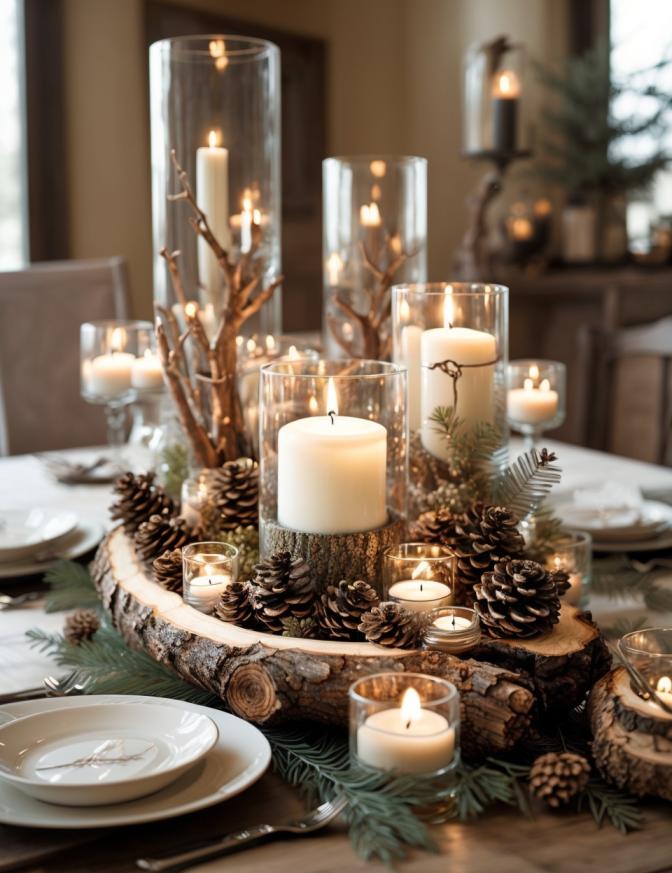 For an organic and earthy feel, consider using natural elements like wood, twigs, and bark in your centerpiece. This trend brings the beauty of the outdoors inside. Here's how to craft a natural-themed centerpiece:
Materials:
A wooden tray or shallow crate
Small logs or slices of wood
Twigs and branches
Pinecones
Instructions:
Arrange the logs or wood slices in the tray as the base.
Place the twigs and branches on top, creating a natural arrangement.
Scatter pinecones throughout the centerpiece.
Add tea light candles for a warm and inviting glow.
This centerpiece captures the rustic charm of a woodland retreat right on your dining table.
5. Glamorous Glitter and Sparkle
If you're looking for a more contemporary and glamorous holiday look, then a glittery centerpiece might be your style. Here's how to add some glitz and sparkle to your table:
Materials:
Instructions:
Fill the glass vases or bowls with an assortment of glittery ornaments.
Scatter sequins around the ornaments to catch the light.
Add metallic accents like ribbon bows or decorative strands.
The result is a dazzling centerpiece that radiates holiday glamour.
6. Edible Centerpieces
Why not combine decor with deliciousness? Edible centerpieces are a delightful and practical choice for your holiday table. Consider one of these two options:
a. Gingerbread House Centerpiece:
Purchase or bake a gingerbread house kit.
Assemble and decorate it with icing, candies, and edible glitter.
Place it in the center of your table as a charming and tasty centerpiece.
b. Fruit and Nut Arrangement: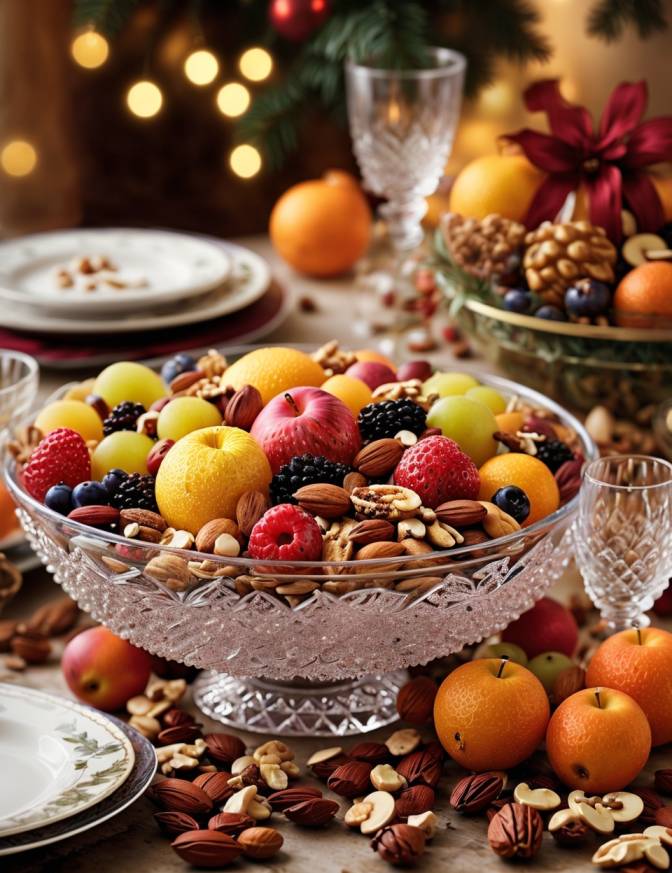 Fill a decorative bowl or tray with a variety of fresh fruits (e.g., apples, pears, oranges) and mixed nuts.
Add sprigs of rosemary or cinnamon sticks for a fragrant touch.
This edible centerpiece not only looks beautiful but also serves as a healthy and festive snack.
7. Kid-Friendly Centerpieces
For families with children, it's fun to involve the little ones in the holiday decorating. Try these kid-friendly centerpiece ideas:
Candy-Filled Jar:
Fill a glass jar with colorful holiday candies like candy canes, gumdrops, or chocolate kisses.
Tie a festive ribbon around the jar and place it on the table.
Kids will love the sweet surprise!
8. Paper Snowman Centerpiece: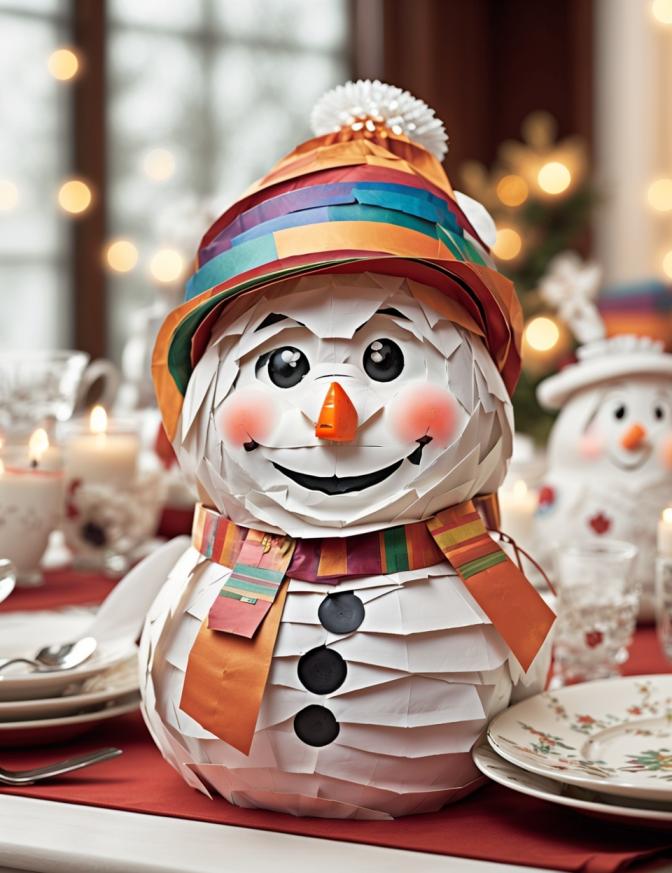 9. Seasonal Flowers and Blooms
Don't underestimate the beauty of seasonal flowers and blooms for your Christmas centerpiece. Here's how to incorporate them:
Materials:
A mix of seasonal flowers (e.g., poinsettias, amaryllis, or roses)
A decorative vase or container
Greenery like holly or mistletoe (optional)
Instructions:
Arrange the seasonal flowers in the vase or container.
Add greenery for extra holiday charm.
The vibrant colors and fragrant blooms will infuse your table with Christmas spirit.
10. Birch Bark Vases
Bring a touch of the winter woods into your home with birch bark vases. These rustic vases can hold a variety of flowers or greenery. Here's how to create them:
Materials:
Instructions:
Measure and cut birch bark sheets to fit around your vases or containers.
Use a hot glue gun to attach the birch bark to the vase, ensuring it's securely in place.
Optionally, tie twine or burlap ribbon around the vase for extra rustic charm.
Fill the vases with seasonal flowers or greenery of your choice.
These birch bark vases create a cozy and natural ambiance.
11. Pinecone and Candle Wreath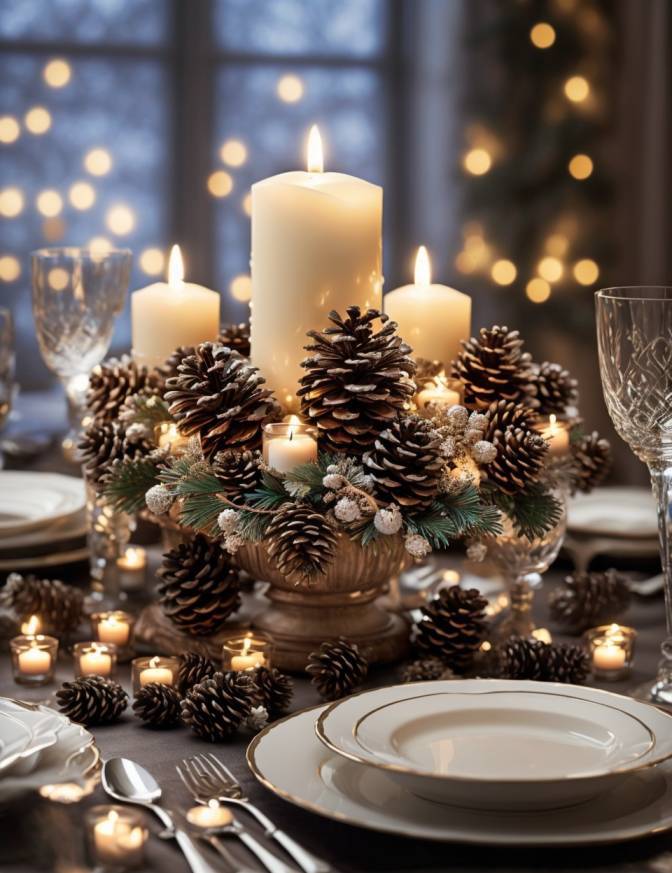 Combine the beauty of pinecones and the warmth of candles with a pinecone and candle wreath centerpiece. Here's how:
Materials:
Instructions:
Attach the taper candles to the wreath form using floral wire or hot glue. Space them evenly around the wreath.
Hot glue the pinecones to the wreath, covering the base of the candles and filling in the wreath.
Optionally, tie a festive ribbon around the wreath for hanging.
Place your pinecone and candle wreath on a decorative plate or charger for a stunning centerpiece.
12. Ice Skate Centerpiece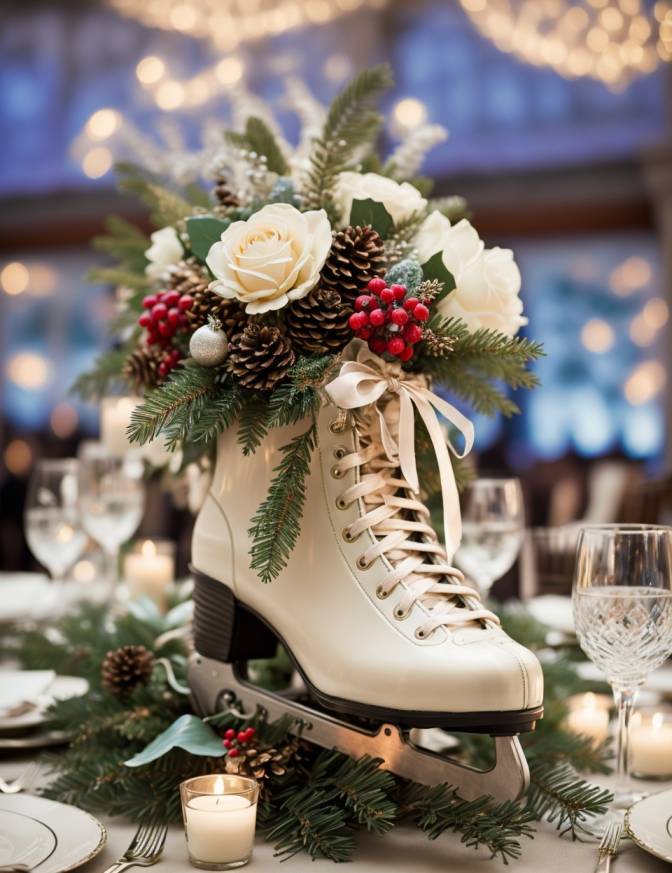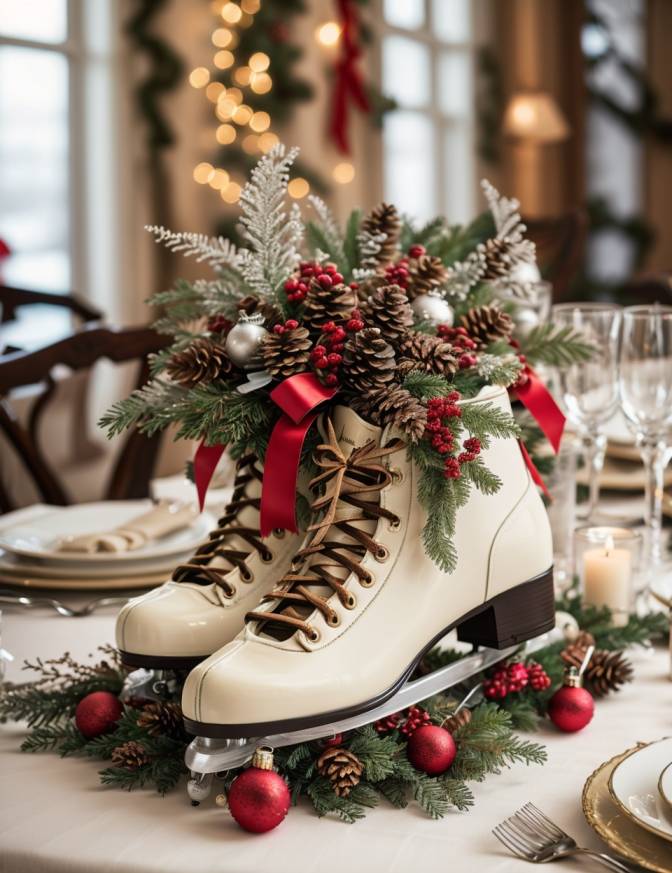 Give your table a touch of winter sports charm with an ice skate centerpiece. Here's how to create it:
Materials:
Seasonal foliage (e.g., pine branches, holly, or mistletoe)
Berries or pinecones
Red or green ribbon
Instructions:
Fill the ice skates with seasonal foliage, berries, or pinecones.
Optionally, tie a festive ribbon around the ankle of each skate.
Arrange the ice skates on your table, one on each side of the centerpiece, for a unique and whimsical look.
13. Starry Night Centerpiece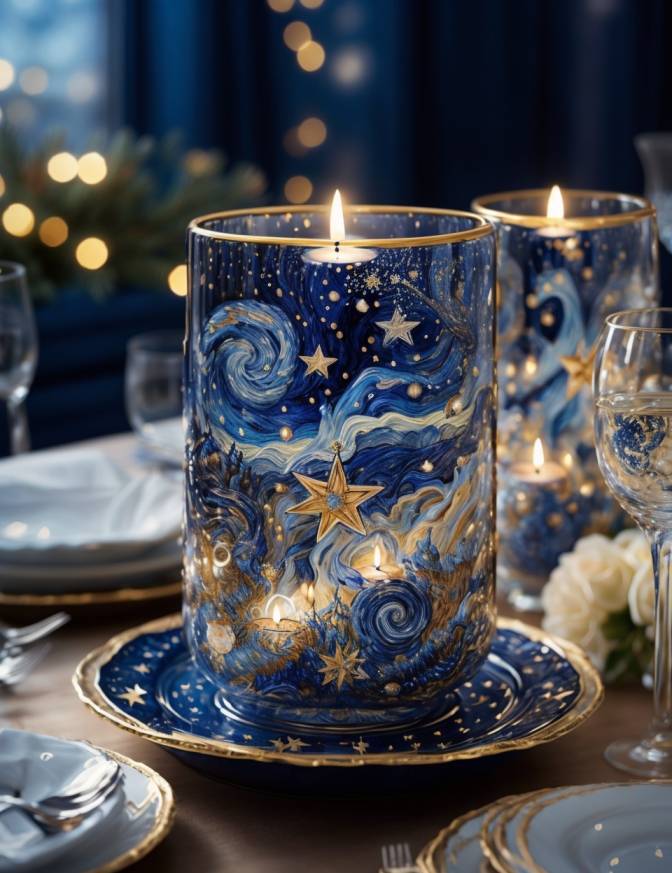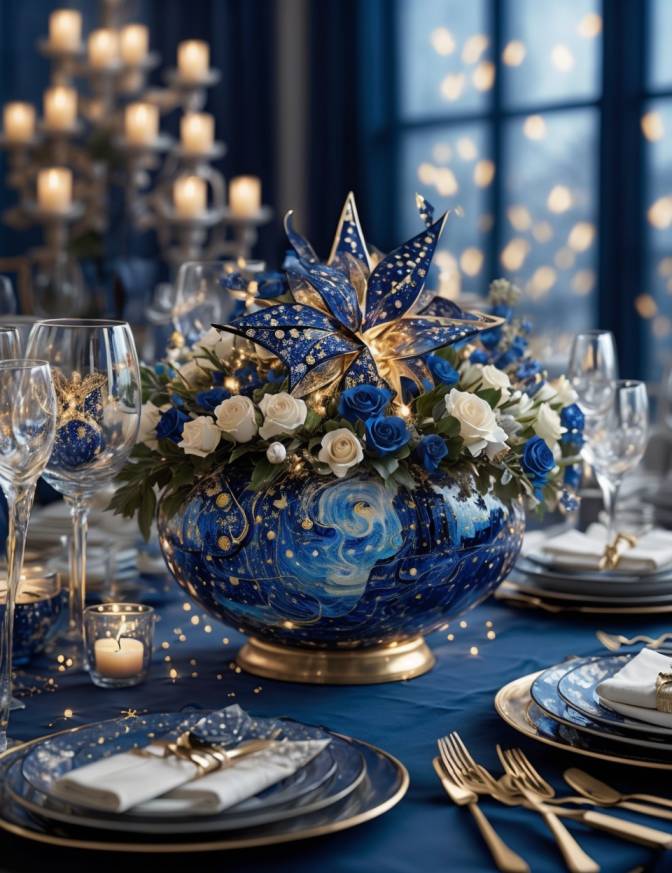 Bring the magic of a starry winter night indoors with a star-themed centerpiece. Here's how to make it shine:
Materials:
Instructions:
Paint the wooden stars with metallic paint and allow them to dry.
Apply a thin layer of glue to the stars and sprinkle them with glitter.
Attach the twinkle lights or LED string lights to the stars using small clips or hot glue.
Hang the stars at varying heights using ribbon or fishing line.
Turn on the lights for a starry and enchanting centerpiece.
14. Wine Cork Candle Holder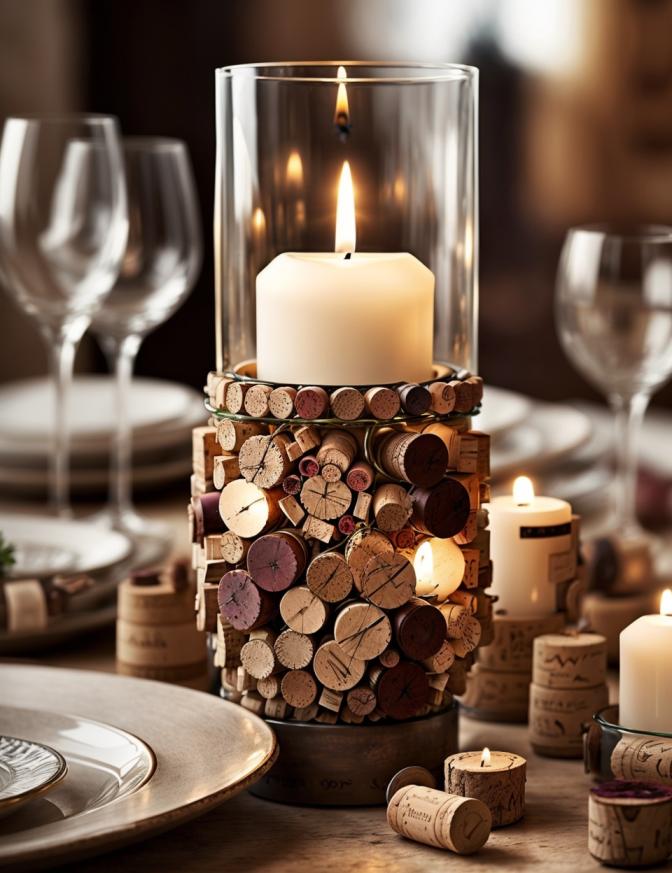 Repurpose wine corks into charming candle holders for a rustic and eco-friendly centerpiece.
Materials:
Instructions:
Arrange the wine corks in a circular pattern around the glass or jar, creating a sturdy base.
Glue the wine corks together, making sure they securely encircle the glass.
Place a taper candle inside the glass, and light it for a warm and wine-inspired centerpiece.
15. Mini Christmas Tree Forest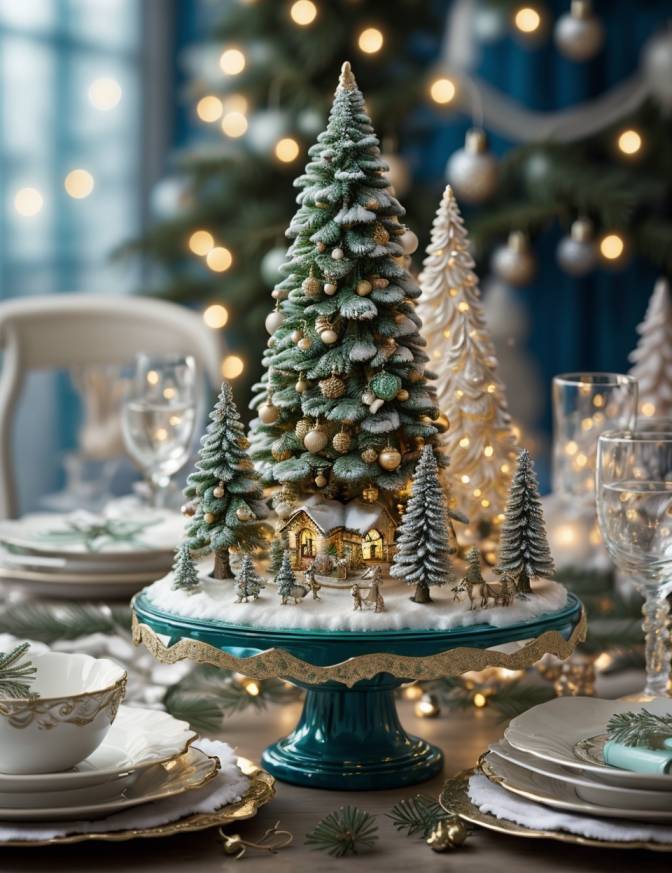 Create a miniature forest of Christmas trees as your centerpiece. This idea works well for both traditional and modern decor styles.
Materials:
Instructions:
Arrange the miniature Christmas trees in the wooden crate or tray.
Add fake snow or cotton batting to create a snowy landscape.
Optionally, decorate the trees with tiny ornaments or mini string lights.
Your mini Christmas tree forest will bring the spirit of the season to your table.
Read More–
16. Coastal Christmas Seashell Centerpiece
If you're celebrating the holidays by the sea, embrace a coastal theme with a seashell centerpiece.
Materials:
Instructions:
Fill the glass hurricane vase or bowl with sand or small pebbles to create a base.
Arrange seashells around the base, ensuring they're evenly distributed.
Place a pillar candle in the center.
Light the candle for a beachy and tranquil centerpiece.
17. Cookie Decorating Centerpiece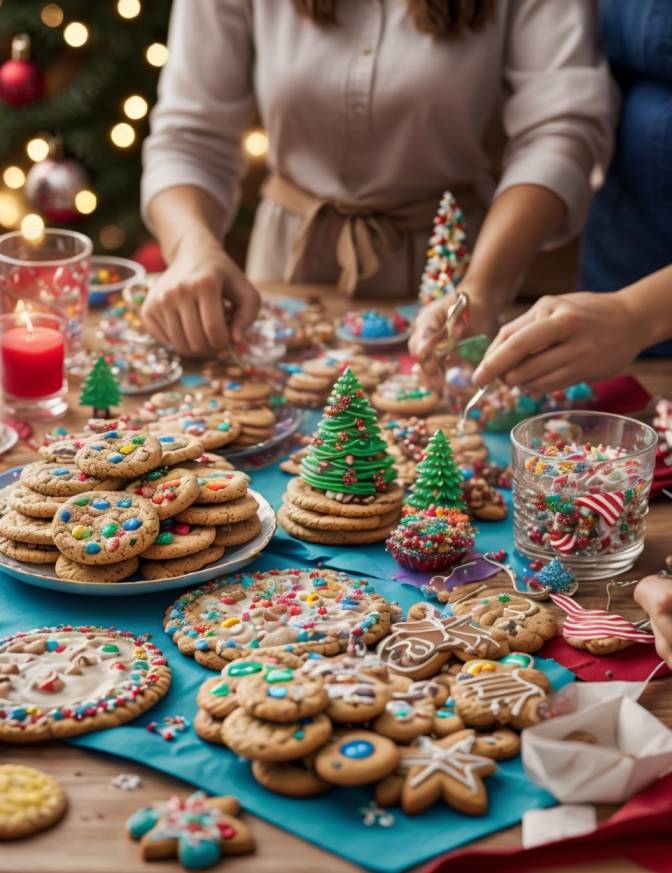 Turn your centerpiece into an interactive activity by incorporating cookie decorating elements.
Materials:
Sugar cookies in holiday shapes (homemade or store-bought)
Royal icing in various colors
Instructions:
Place disposable placemats or wax paper on the table to protect it.
Set up a decorating station with sugar cookies, bowls of royal icing, decorating sprinkles, and icing bags.
Let guests decorate their own cookies as a fun and edible centerpiece activity.
Display the finished cookies on a festive tray as part of the centerpiece.
18. Santa's Sleigh Centerpiece
Celebrate the magic of Christmas by crafting Santa's sleigh as a centerpiece. Here's how to do it:
Materials:
Instructions:
Place the Santa figurine inside the sleigh, arranging him as if he's delivering presents.
Add miniature gift boxes or presents in the sleigh.
Optionally, include miniature reindeer figurines pulling the sleigh.
Sprinkle faux snow or cotton batting around the sleigh to create a snowy scene.
Finish by tying a festive ribbon around the sleigh's handles.
19. Nutcracker Ballet Centerpiece
Pay homage to the classic Nutcracker ballet with a centerpiece inspired by the story.
Materials:
Instructions:
Set up the miniature ballet stage or backdrop as the centerpiece base.
Arrange Nutcracker figurines in various poses as if they're performing.
Optionally, include miniature toy mice for added whimsy.
Add fake snow or cotton batting to create a snowy stage.
Place battery-operated tea lights strategically to illuminate the scene.
This centerpiece captures the magic of the Nutcracker ballet.
20. Rustic Lantern Centerpiece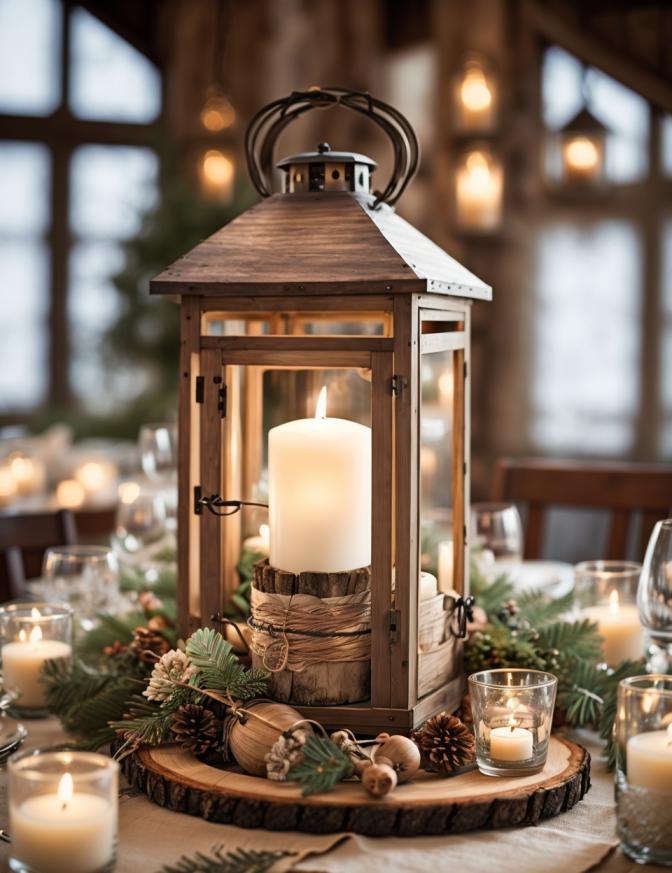 Craft a rustic lantern centerpiece that combines warmth and simplicity.
Materials:
Pinecones, twigs, or greenery
Instructions:
Place a pillar candle inside the lantern.
Surround the lantern with pinecones, twigs, or greenery to create a natural vignette.
Tie jute twine or burlap ribbon around the lantern handle for rustic charm.
Light the candle for a cozy and rustic centerpiece.
Budget-Friendly Tips
Decorating for the holidays doesn't have to break the bank. Here are some tips to keep your DIY Christmas centerpieces budget-friendly:
Forage: Gather natural elements like pinecones, twigs, and greenery from your backyard.
Repurpose: Use items you already have, such as mason jars, glass vases, or candles.
Shop Sales: Take advantage of holiday sales and discounts on decor items.
DIY Ornaments: Make your own ornaments and decorations from inexpensive materials.
Thrift Stores: Explore thrift stores for unique and affordable centerpiece components.
FAQs (Frequently Asked Questions)
Q1: How do you make a Christmas centerpiece for a table?
To make a Christmas centerpiece, start with a container, add seasonal elements like greenery, ornaments, and candles, and arrange them harmoniously.
Q2: How to make easy Christmas centerpieces?
Create easy Christmas centerpieces by using simple materials like pinecones, candles, or ornaments, and keep your design straightforward.
Q3: What can I put as a centerpiece on a table?
You can use candles, flowers, greenery, ornaments, lanterns, or themed decor as table centerpieces.
Q4: How to style a dining table for Christmas?
Style your Christmas dining table with a coordinated color scheme, holiday-themed tableware, a festive centerpiece, and additional touches like candles or place cards.
Q5: How to decorate a table for Christmas cheap?
Decorate affordably by using DIY decorations, reusing existing items, and incorporating budget-friendly elements like pinecones and inexpensive ornaments.
Q6: How can I decorate my table on Christmas Day?
Decorate your Christmas table by setting it with festive tableware, adding a centerpiece, and incorporating holiday-themed decor and lighting.
Q7: Can I make my own centerpieces?
Yes, you can make your own centerpieces using a variety of materials and creative ideas to suit your holiday theme.
Q8: How to make a Christmas table centerpiece with a pool noodle?
Create a Christmas centerpiece with a pool noodle by wrapping it in garland, adding ornaments and lights, and shaping it into a wreath or another desired form.
Q9: What is the most popular form of centerpieces?
Popular centerpieces often include floral arrangements, candle displays, or themed decor that reflects the holiday or occasion.
Q10: How to decorate a table for cheap?
Decorate on a budget by repurposing items you have, crafting DIY decorations, and incorporating inexpensive elements like fresh greenery or budget-friendly ornaments.
Conclusion-
In conclusion, crafting your own DIY Christmas centerpiece is a creative and rewarding way to add a personal touch to your holiday decor. Whether you prefer the classic charm of evergreen branches, the warmth of candlelight, the rustic appeal of mason jars, or a touch of glamour with glitter and sparkle, there's a centerpiece idea for every style and budget.
This holiday season, gather your materials, gather your loved ones, and embark on a crafting adventure that will fill your home with the joy and magic of Christmas. Your DIY centerpiece will be the heart of your holiday table, sparking conversations, making memories, and bringing the holiday spirit to life.
Call to Action:
We'd love to see your DIY Christmas centerpieces! Share your creations in the comments below or on social media, and let's inspire each other with festive ideas. Happy decorating and happy holidays!