The holiday season brings with it a wave of joy, and what better way to celebrate than by participating in a Christmas boat parade? Whether you're an experienced boater or a first-timer, decking out your vessel in festive decorations is a fantastic way to spread cheer and make a memorable entrance. In this blog post, we'll explore 23 creative Christmas boat parade decorating ideas that will help you stand out in the crowd.
Christmas Boat Parade Decorating Ideas
1. Light It Up: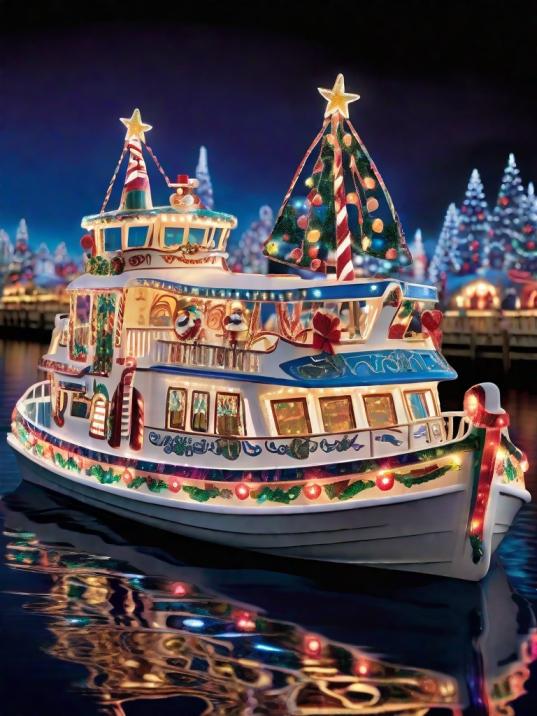 The key to a stunning Christmas boat display is lots of lights. String colorful Christmas lights along the entire length of your boat's railings, mast, and any other prominent areas. Consider using LED lights for their energy efficiency and brightness.
2. Festive Colors: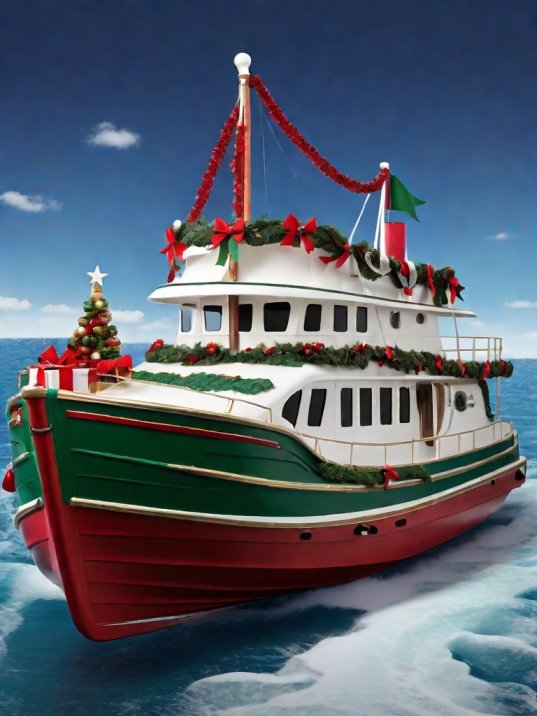 Choose a color scheme that resonates with Christmas, such as traditional red and green, or go for a wintry theme with blues and whites. Coordinate your boat decorations, attire, and even crew outfits with these colors.
3. Giant Inflatable Decor: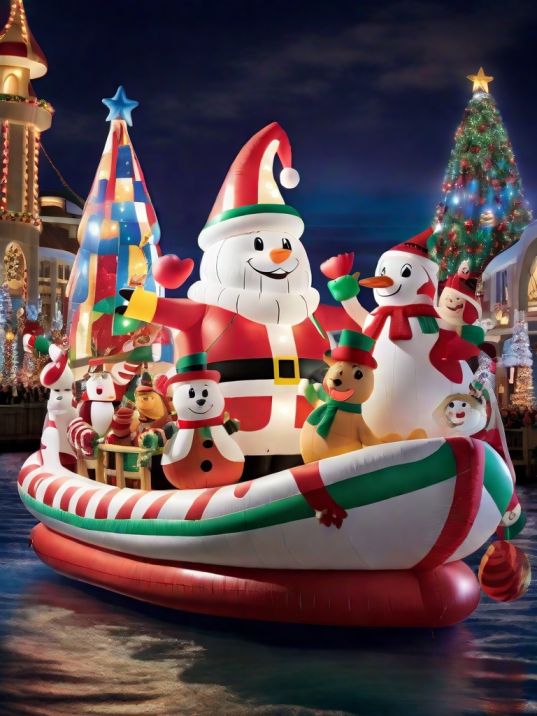 Decorate your boat with giant inflatable holiday characters like Santa Claus, snowmen, reindeer, or penguins. These eye-catching additions add a playful touch to your display.
4. Themed Decor: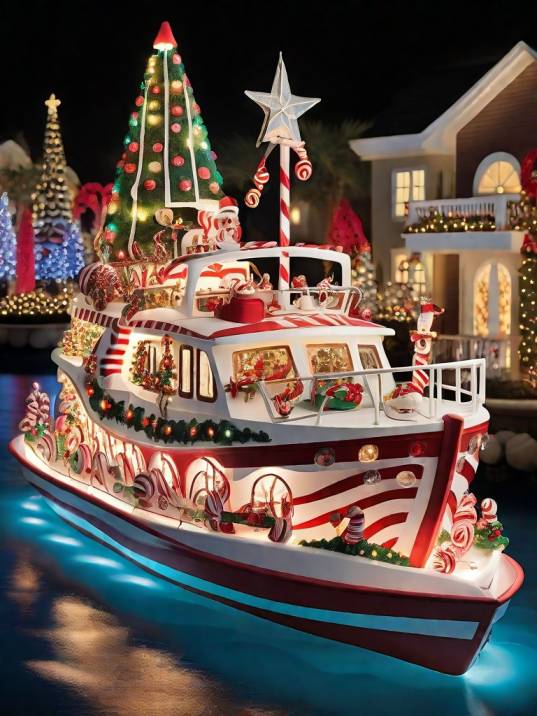 Create a specific theme for your boat, like a "Candy Cane Wonderland" or "Santa's Workshop." This helps tie your decorations together and makes your boat more memorable.
5. Garlands and Wreaths:
Hang Christmas garlands and wreaths around your boat's rails, bow, and stern. Add battery-operated fairy lights to these decorations for extra sparkle.
6. Live Greenery:
Use real pine boughs or other greenery to add a fresh and natural touch to your boat's decor. These fragrant elements can enhance the festive atmosphere.
7. Floating Ornaments: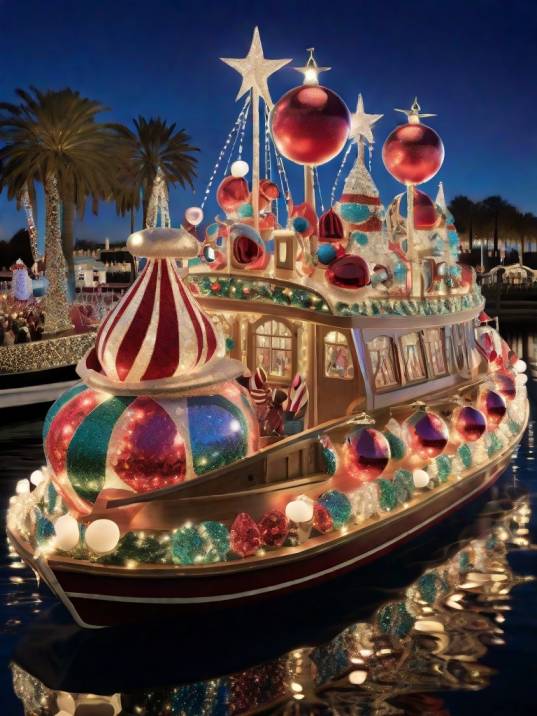 Hang oversized Christmas ornaments or baubles from your boat's mast or other high points. These will catch the light and create a visually appealing display.
8. Hot Cocoa or Cookie Stand:
If you have space, consider setting up a small hot cocoa or cookie station on your boat, offering treats to spectators along the parade route.
9. Underwater Lights: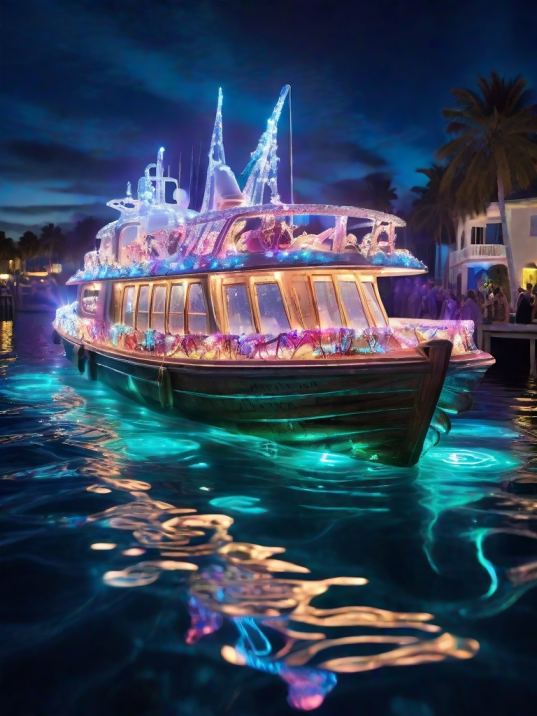 Illuminate the water beneath your boat with underwater LED lights. These lights can create a stunning glow and reflect beautifully on the surface, enhancing the overall visual impact.
10. Floating Christmas Trees:
If you have a larger boat, consider placing a floating Christmas tree on the deck. Secure it well, so it doesn't tip over during the parade. You can even decorate it with waterproof ornaments.
11. Synchronized Light Show:
Invest in a lighting system that can synchronize with music. Program your lights to dance in time with the Christmas carols you're playing, creating a captivating and dynamic display.
12. Lifebuoy Wreaths:
Adorn lifebuoys with wreaths or lighted garlands, giving a nautical twist to traditional Christmas decorations. Hang these around the boat's railings for a charming effect.
13. Glowing Buoy Path:
If your parade route allows, place floating buoys along the water, each decorated with a lighted Christmas theme. These can guide your boat and enhance the overall presentation.
14. Polar Bears and Penguins: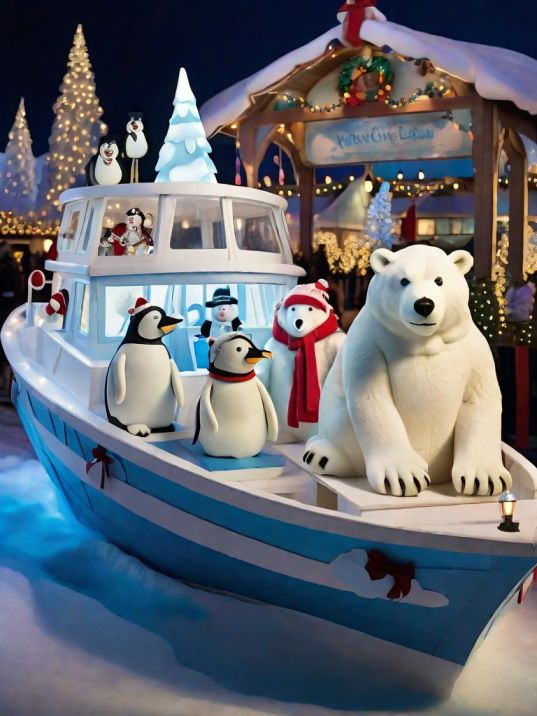 Use life-sized polar bear and penguin props to create a winter wildlife scene on your boat. Place these characters in playful poses to engage the spectators.
15. Gingerbread House Boat: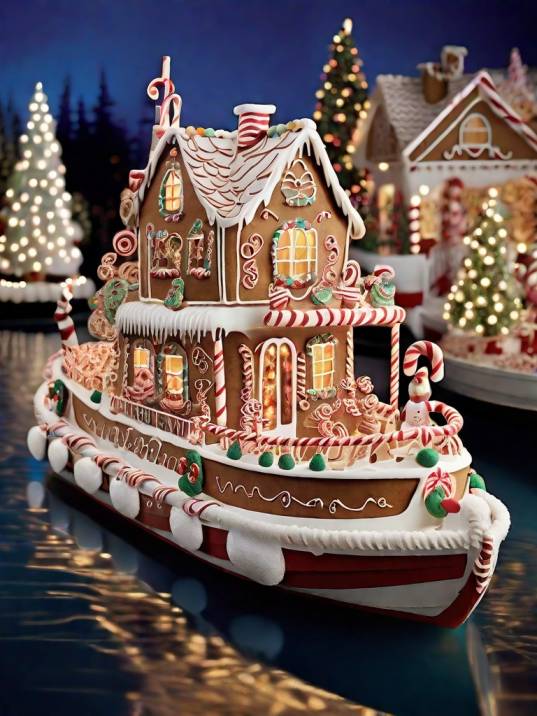 Transform your boat into a gingerbread house with icing decorations, candy cane railings, and oversized gingerbread people. It's a delightful and whimsical concept.
16. Reindeer Pulling Santa: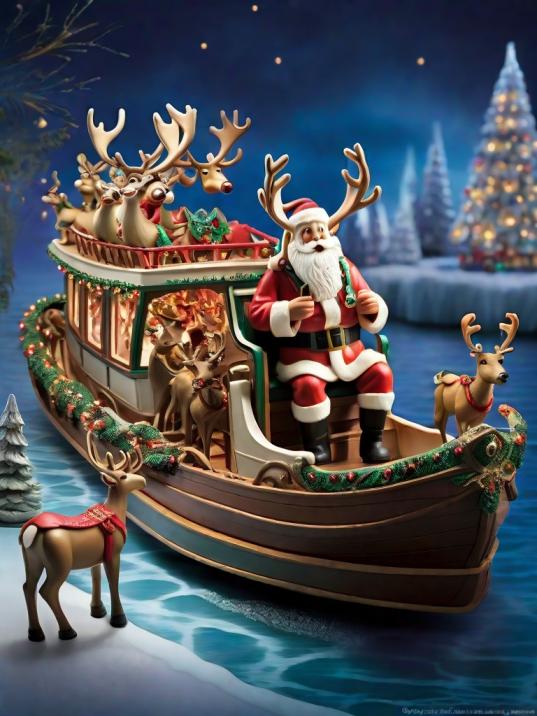 Create a scene where reindeer figurines appear to be pulling Santa's sleigh. This can be achieved by attaching reindeer props to your boat's bow, with Santa and his sleigh perched on top.
Related Articles-
17. Giant Snowflakes:
Craft giant, illuminated snowflakes to hang from your boat's mast or rigging. These can add a touch of elegance and sophistication to your display.
18. Glow-in-the-Dark Elements: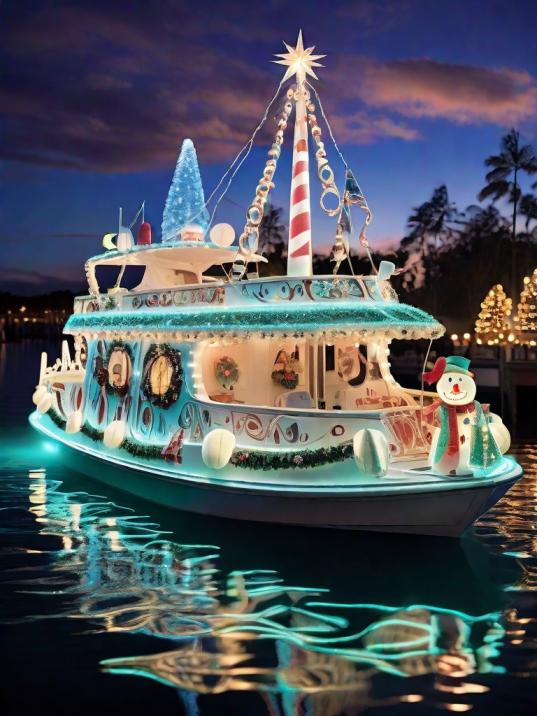 Incorporate glow-in-the-dark paint or materials into your boat's decorations. When the sun sets, these elements will add an enchanting and ethereal glow to your display.
19. Ugly Christmas Sweater Theme: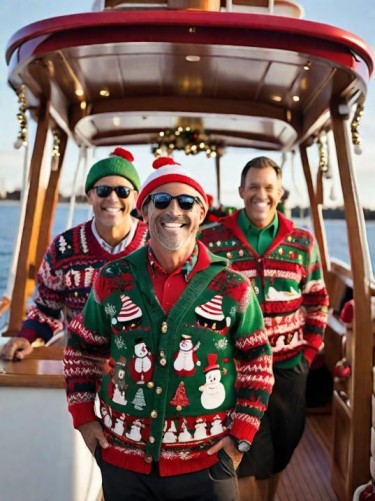 Have your crew wear matching ugly Christmas sweaters and decorate your boat with oversized, tacky sweater patterns. This humorous and festive theme is sure to make spectators smile.
20. Lighthouse Display: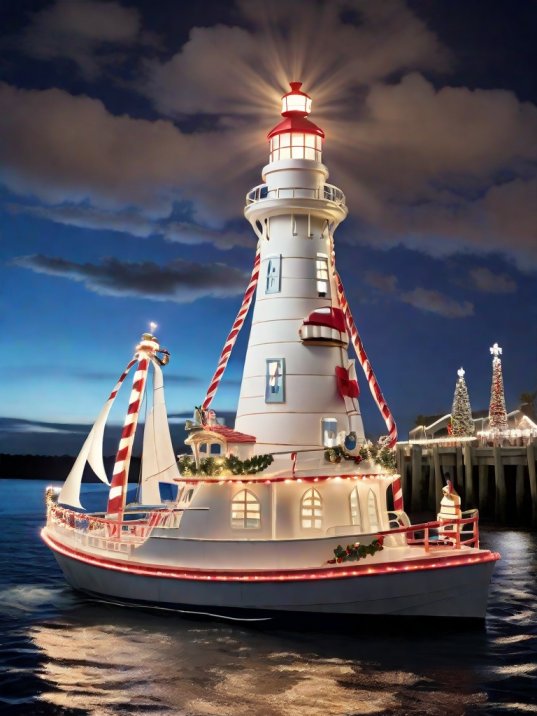 If your boat has a tall mast, turn it into a lighthouse. Illuminate the mast with a rotating light and paint it to resemble a classic lighthouse. Surround it with nautical-themed decorations.
21. Synchronized Water Fountains:
If possible, add synchronized water fountains to your boat's display. These can dance to the beat of the music and create an enchanting water and light show.
22. Star of Bethlehem: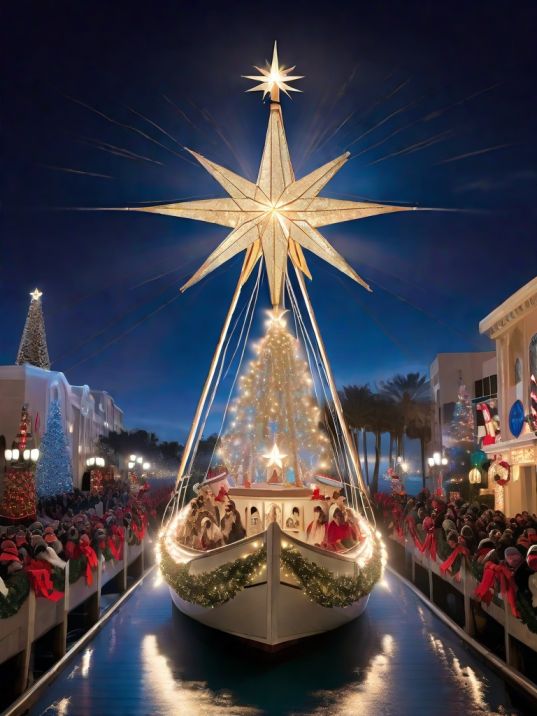 Place a bright star at the highest point of your boat's mast, symbolizing the Star of Bethlehem. This adds a spiritual and traditional touch to your display.
23. Fairy Lights Net:
Drape a net of fairy lights over the entire boat, giving it a magical and ethereal appearance. You can even switch to different lighting patterns for added visual interest.
FAQs (Frequently Asked Questions)
Q1: How to decorate a boat for a Christmas parade?
To decorate a boat for a Christmas parade, consider using nautical elements, lights, inflatable decorations, banners, and a Christmas tree. Ensure all decorations are secure and waterproof.
Q2: What is a good theme for a Christmas parade?
A nautical or maritime theme is a popular choice for Christmas boat parades, but you can also get creative with themes like "Winter Wonderland" or "Santa's Workshop."
Q3: How to decorate your boat with Christmas lights?
Use waterproof LED lights, string them along your boat's railings and bow, and consider adding reflective or metallic elements for a sparkling effect.
Q4: How to decorate for Christmas celebration?
Decorate your home with a Christmas tree, wreaths, ornaments, and lights. Incorporate festive colors like red, green, and gold, and don't forget to add cozy elements like stockings and candles.
Q5: What do you wear to a boat parade?
Dress warmly for a boat parade, as it can get chilly on the water. Consider holiday-themed sweaters, scarves, and hats to keep in the festive spirit.
Q6: Who decorates boats for Christmas?
Typically, boat owners and enthusiasts decorate their own boats for Christmas parades, but some communities or organizations may offer assistance or guidelines.
Q7: What Color lights on a boat?
When decorating a boat for a Christmas parade, white, colorful LED lights, or a combination of both are commonly used to create a festive atmosphere.
Q8: What color lights are best on a boat?
The best color lights for a boat depend on your desired ambiance. White lights offer a classic look, while colorful lights can add a playful and vibrant touch.
Q9: How do you light a boat for a parade?
Use waterproof LED lights, secure them along the boat's railings, bow, and mast, and ensure they are well-fastened to create a stunning illuminated display.
Q10: How do you make a boat party?
To create a boat party, plan ahead with food, drinks, music, and seating arrangements. Make sure to follow safety guidelines and have life jackets on hand.
Conclusion:
Participating in a Christmas boat parade is a delightful way to celebrate the season and spread some holiday cheer. By incorporating these creative Christmas boat parade decorating ideas, you can make a splash (pun intended!) and ensure that your boat stands out in the festively decorated flotilla. Make sure to capture the magic in photos, so you can relive the memories and share them with friends and family for years to come. Wishing you smooth sailing and a joyful holiday season!