The holiday season is upon us, and it's the perfect time to spread some festive cheer to every corner of your living space, including your apartment balcony. Even if you have limited space, there are plenty of creative ways to transform your balcony into a winter wonderland. In this article, we'll explore 20 Christmas decor ideas for apartment balconies that will make your apartment balcony the talk of the building.
Christmas Decor Ideas for Apartment Balconies
1. Festive Balcony Lighting: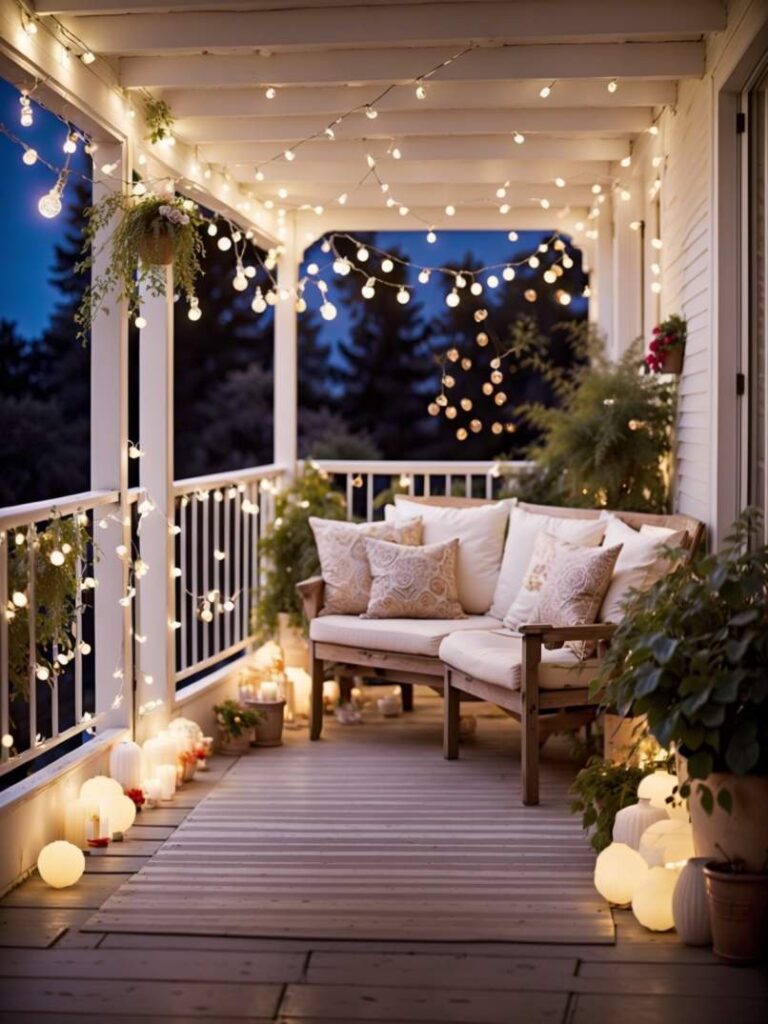 Start by draping string lights along the railing or balcony ceiling to create a warm and inviting ambiance. You can opt for classic white lights or go for colorful ones for a whimsical touch.
2. Mini Christmas Tree Magic: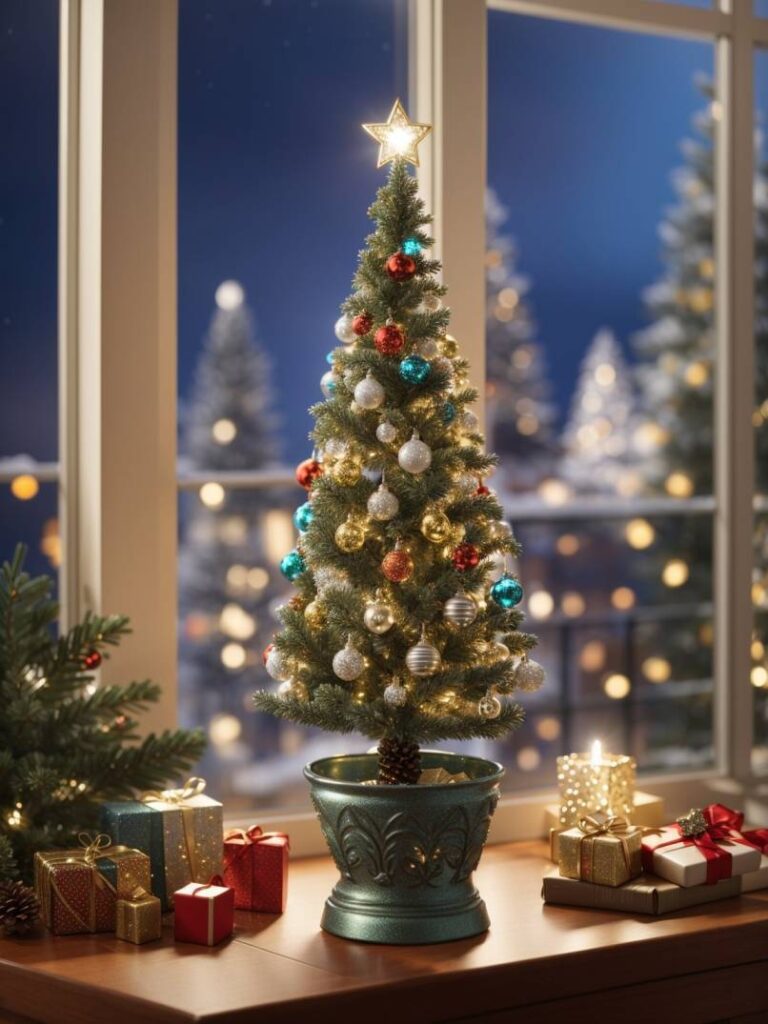 Choose a tabletop-sized Christmas tree that fits perfectly on your balcony. Decorate it with miniature ornaments, tinsel, and a tree topper. You'll have a delightful focal point without sacrificing space.
3. Cozy Seating Nook: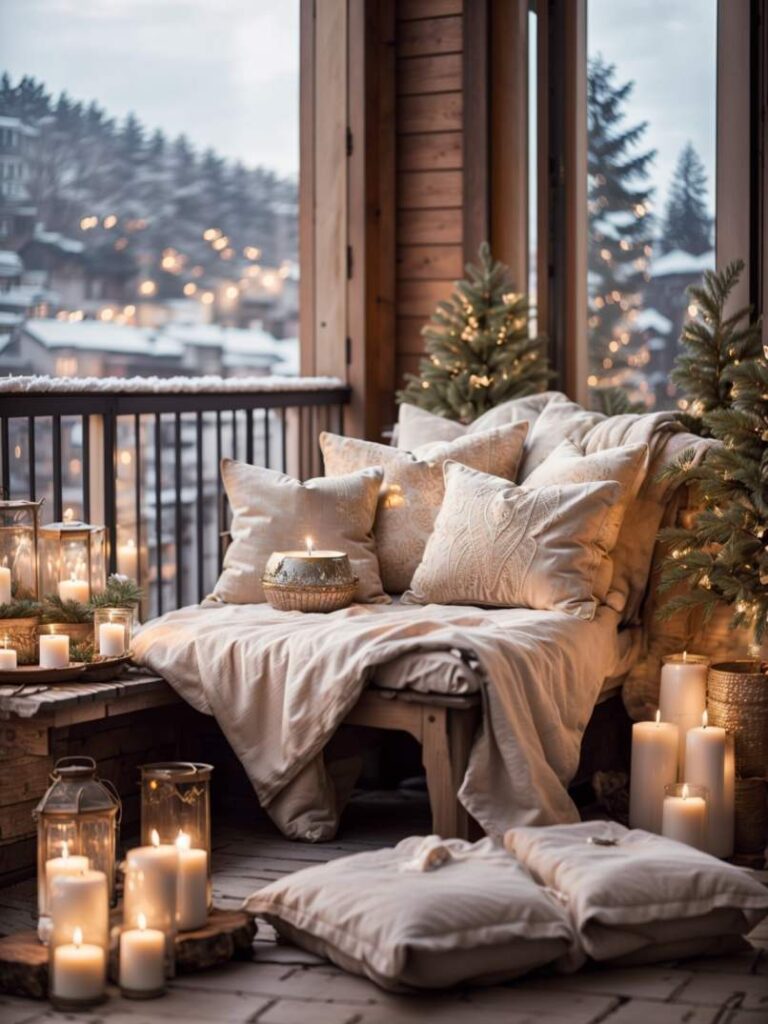 Arrange a cozy seating area with comfortable cushions and blankets. Add holiday-themed pillows to create a snug spot where you can sip hot cocoa and enjoy the winter scenery.
4. DIY Snowflakes and Ornaments: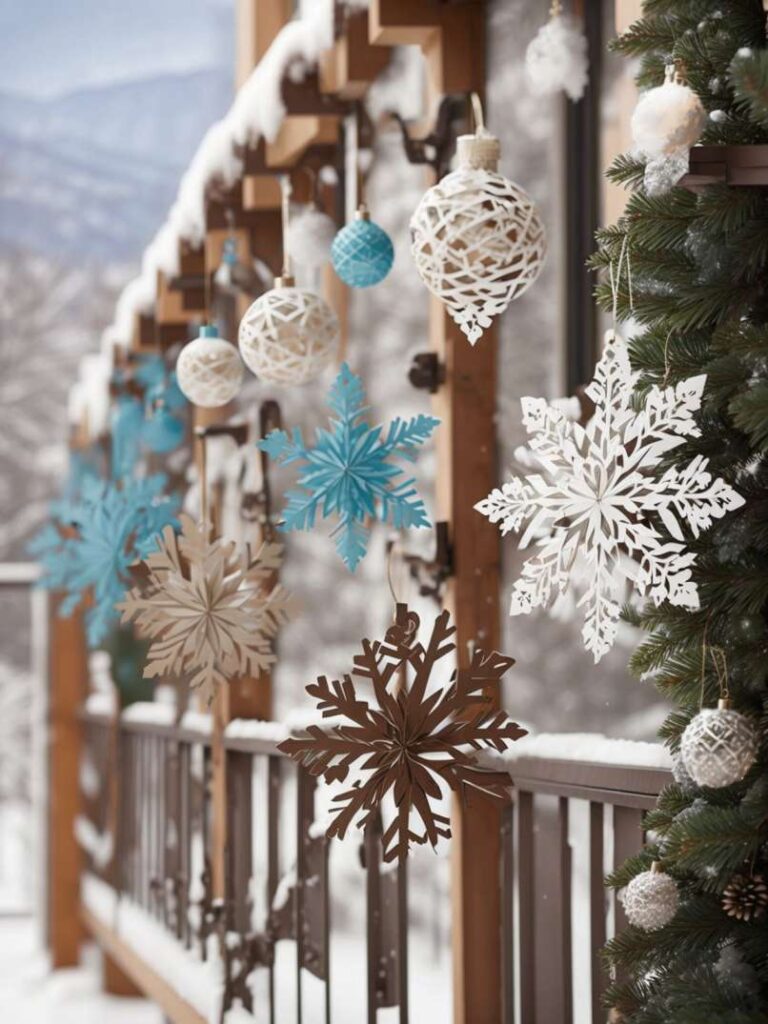 Get crafty with DIY snowflakes and ornaments made from simple materials like paper, twine, or pinecones. Hang these handmade creations around your balcony for a personal and budget-friendly touch.
5. Seasonal Planters:
Swap out your usual planters with ones filled with seasonal greenery like pine branches, holly, and poinsettias. These natural accents bring a touch of nature to your holiday decor.
6. Window Decor: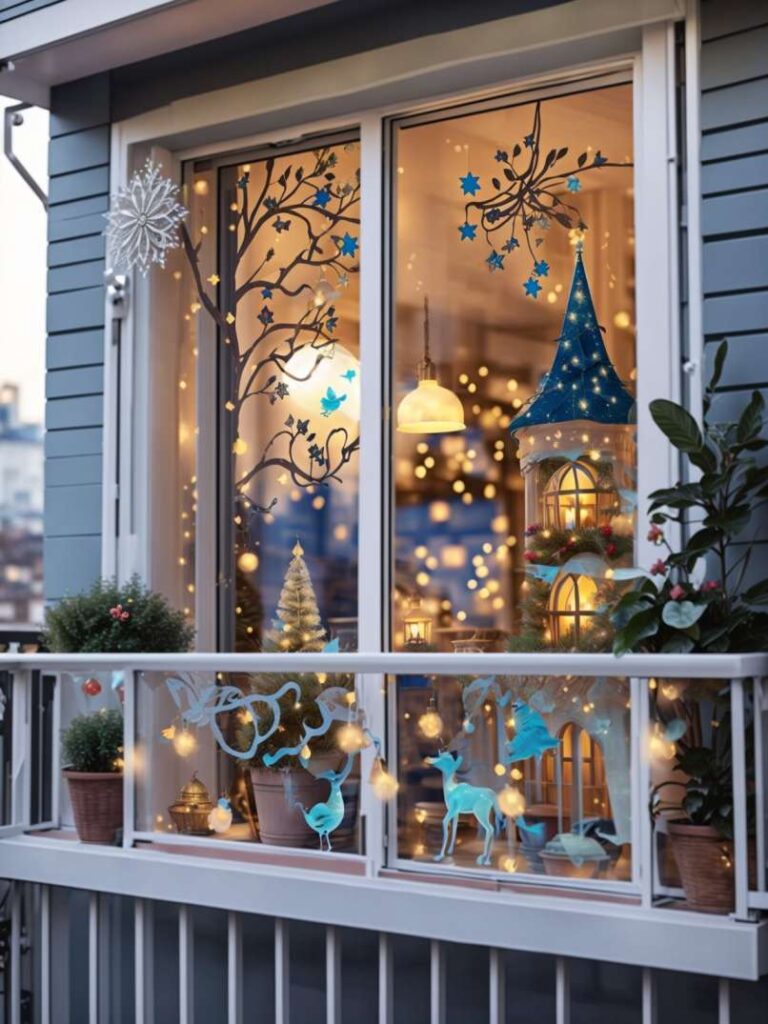 If your balcony has windows, consider decorating them with removable window clings or stickers. These add a delightful touch to both your balcony and the view from inside your apartment.
7. Scented Candles: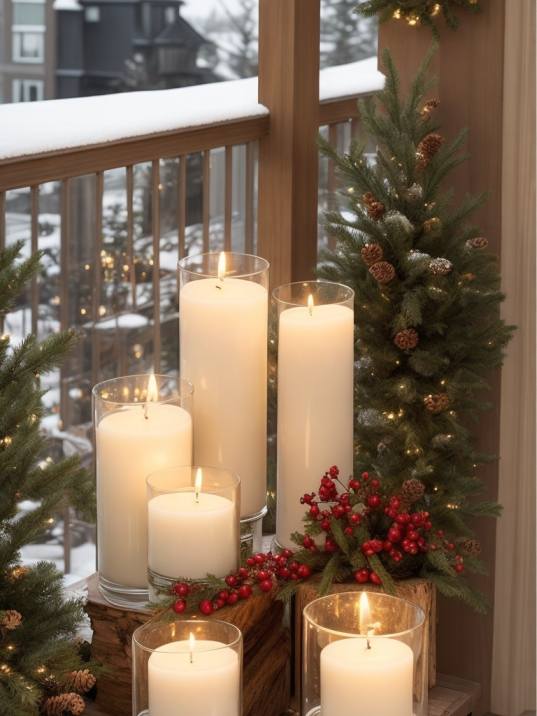 Light scented candles with fragrances like cinnamon, pine, or vanilla. Not only do they create a warm atmosphere, but they also infuse your outdoor space with delightful holiday scents.
8. Twinkling Starry Sky:
Hang star-shaped ornaments and paper lanterns to mimic a starry night sky. Combine these with your string lights for a dreamy, celestial ambiance.
9. Hanging Stockings:
Hang stockings along the balcony railing or door to add a touch of tradition. You can even personalize them for each member of your household.
10. Hanging Mistletoe: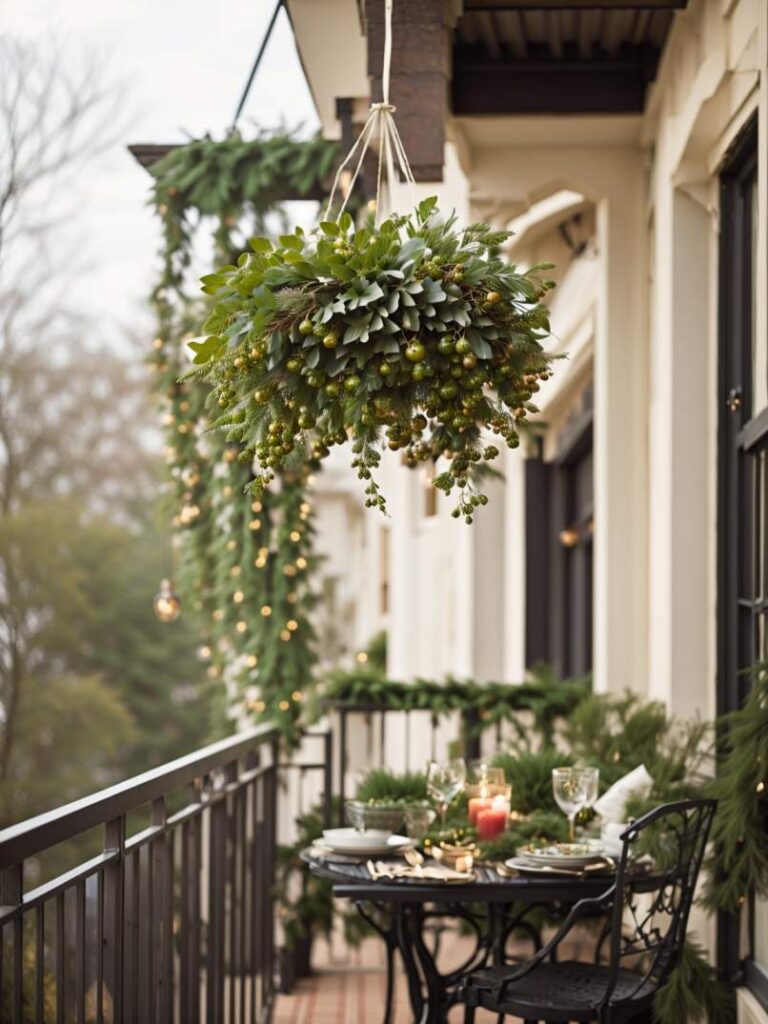 Hang a sprig of mistletoe in a strategic spot on your balcony. It's a sweet tradition that encourages holiday smooches.
11. Miniature Villages:
Create a miniature Christmas village display on a tabletop or shelf. Add tiny houses, figurines, and LED tea lights to illuminate the scene.
12. Christmas Lanterns:
Place lanterns of various sizes on your balcony floor or tabletops. Fill them with LED candles or string lights for a warm and inviting glow.
13. Hanging Bauble Chandelier: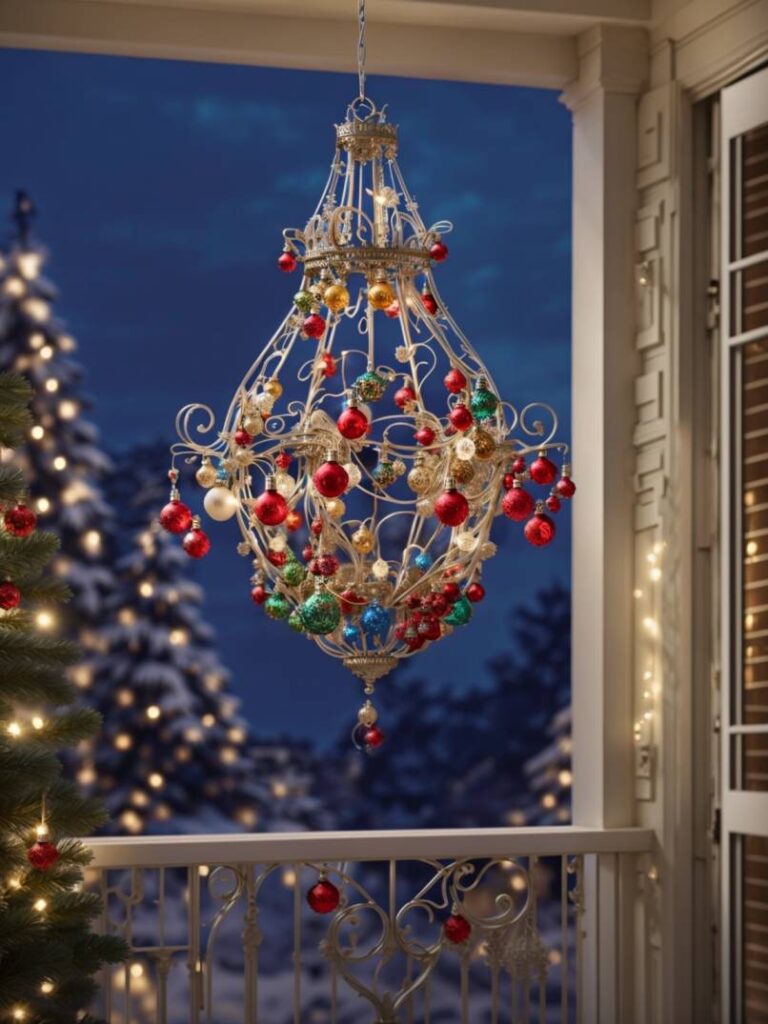 Craft a hanging chandelier using a wire frame and an assortment of colorful Christmas ornaments. Suspend it from the ceiling for a stunning centerpiece.
14. Santa's Workshop Corner: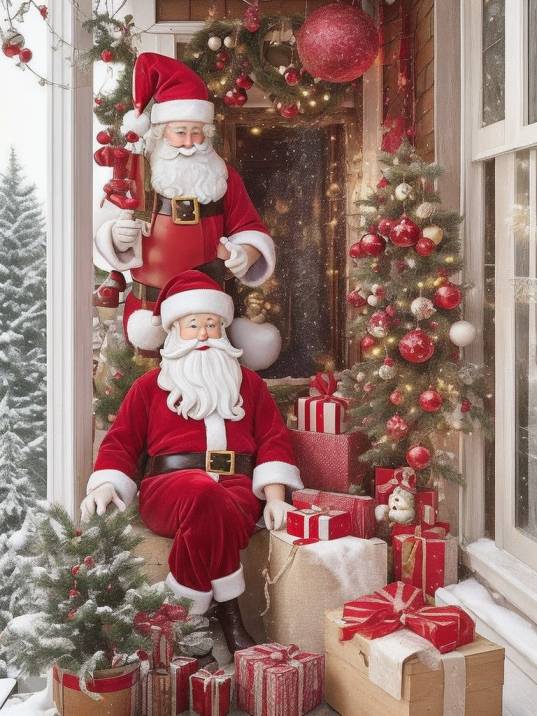 Dedicate a corner of your balcony to Santa's workshop. Place a Santa Claus figurine, toy-making props, and a sack of presents for a whimsical touch.
15. Candy Cane Lane: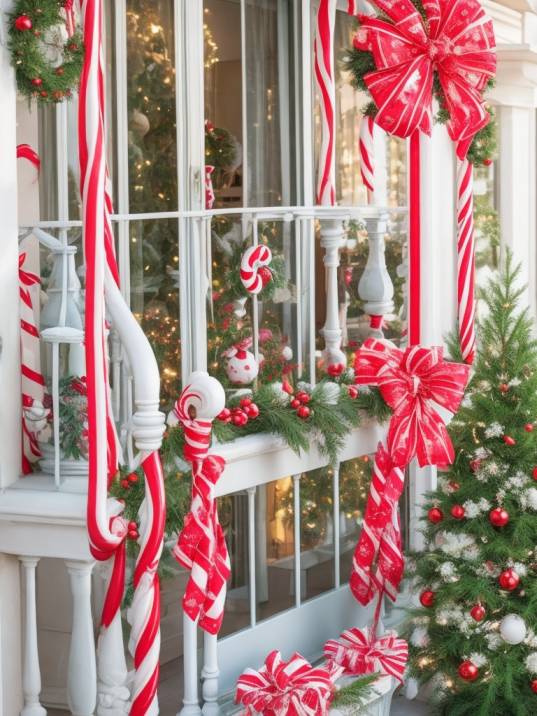 Line your balcony railing with oversized candy canes and lollipops. This sweet decor theme will bring out the child in everyone who sees it.
Also Read-
16. Winter Bird Feeding Station: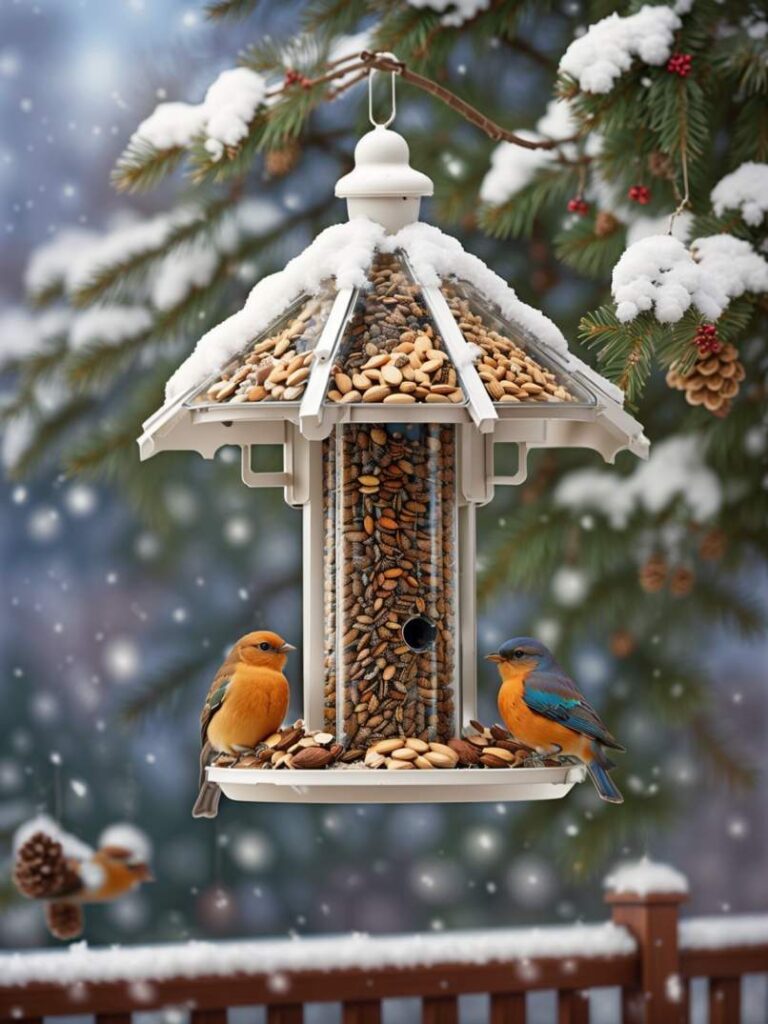 Hang a bird feeder filled with seeds and nuts on your balcony. It not only adds to the winter ambiance but also attracts colorful birds for you to enjoy.
17. Reindeer Silhouettes: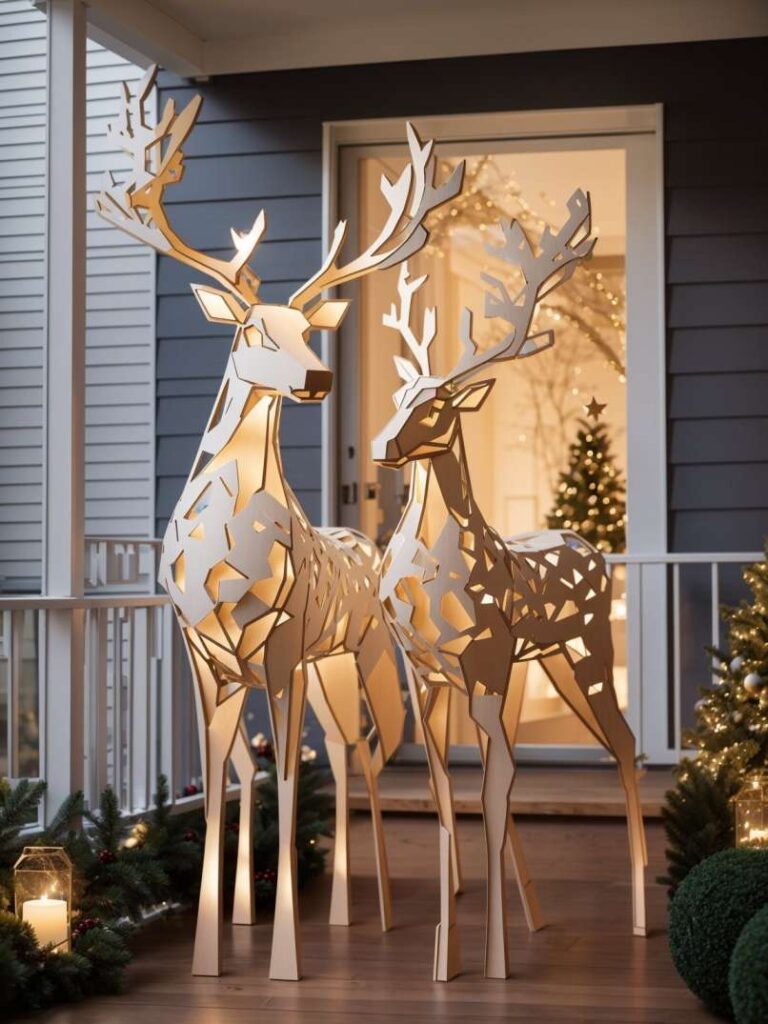 Cut out reindeer silhouettes from plywood or cardboard and paint them in holiday colors. Place them strategically on your balcony for a whimsical reindeer parade.
18. Snow Globe Terrariums:
Create mini snow globe terrariums using glass jars, artificial snow, tiny figurines, and a touch of glitter. Place them on your balcony shelves or tabletops for a whimsical touch.
19. Festive Curtain of Ribbons: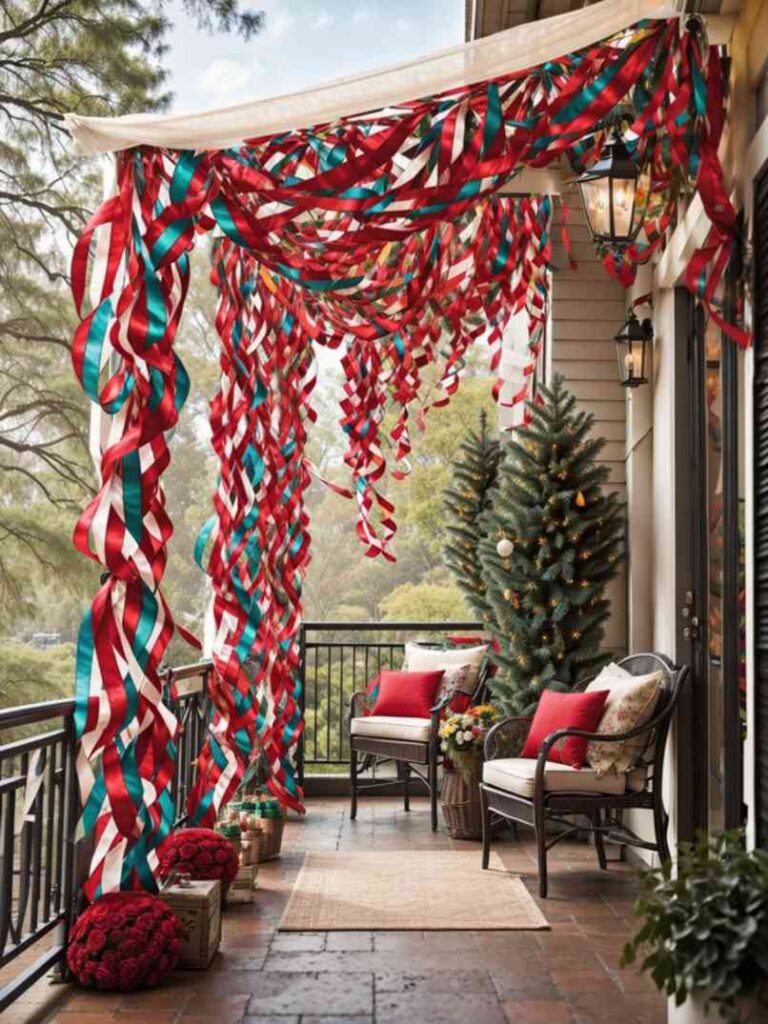 "Hang cascading ribbons of different colors and widths from the balcony ceiling or railings. This curtain of ribbons will flutter in the breeze and add vibrant movement to your decor.
20. Balcony Fireplace Nook: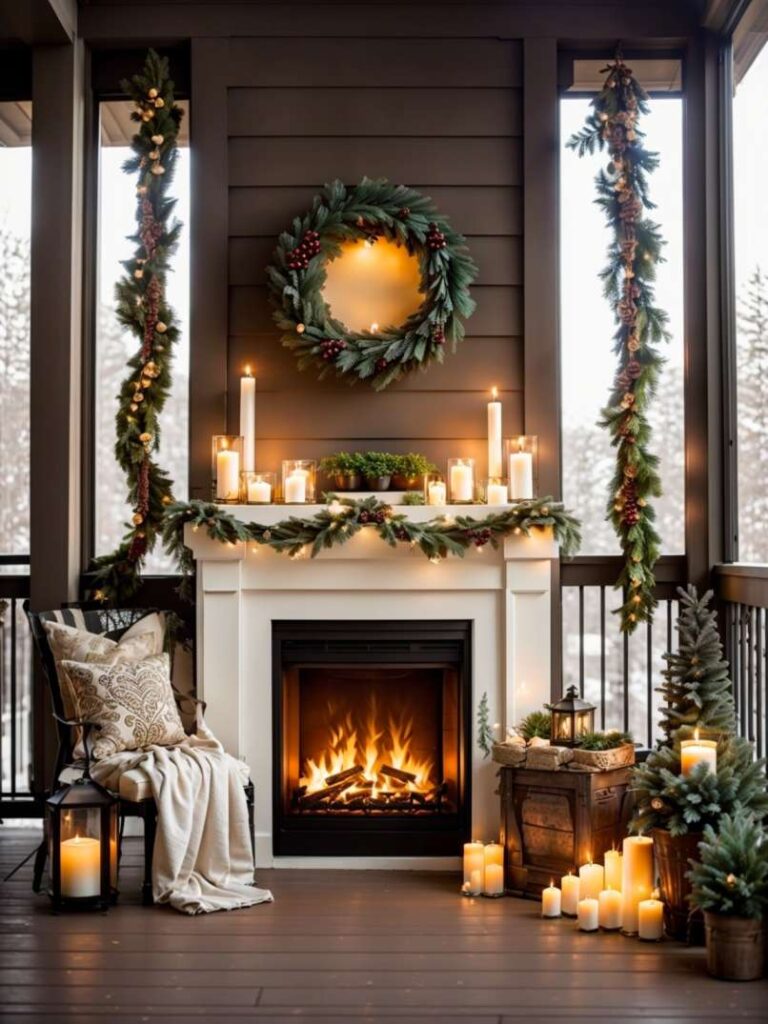 If space allows, create a cozy fireplace nook with a faux electric fireplace. Decorate the mantel with stockings, garlands, and holiday candles for a warm and inviting ambiance.
FAQs (Frequently Asked Questions)
Q1: How do you decorate an apartment balcony for Christmas?
To decorate your apartment balcony for Christmas, start by draping string lights for a warm ambiance. Hang wreaths, garlands, and ornaments. Don't forget to add a festive touch with items like a mini Christmas tree, stockings, and candles.
Q2: How to decorate an apartment balcony for Christmas on a budget?
Decorating on a budget? Use DIY ornaments, craft paper snowflakes, and repurpose existing decor. Opt for affordable LED string lights, and consider second-hand or thrifted items. It's all about creativity and resourcefulness!
Q3: How to decorate a balcony in an apartment?
Decorate your apartment balcony with outdoor rugs, potted plants, and cozy seating. Add decorative elements like lanterns, cushions, and small tables. Customize with your personal style and preferences.
Q4: How to decorate a rental apartment for Christmas?
For a rental, focus on removable decor like window clings, adhesive hooks, and command strips. Use light-weight decorations and consider table or shelf displays to minimize wall damage.
Q5: How to put Christmas lights on apartment balcony without an outlet?
Use battery-operated or solar-powered string lights for your balcony. Solar lights charge during the day and illuminate at night, while battery lights offer a convenient option without outlets.
Q6: How can I make my apartment feel Christmassy?
Create a festive atmosphere with Christmas scents, holiday music, and cozy blankets. Decorate with ornaments, wreaths, and lights. Host a small gathering with seasonal treats for added cheer.
Q7: How do you use an apartment balcony in the winter?
Make your apartment balcony cozy for winter by adding outdoor heaters, blankets, and thermal curtains. Enjoy hot beverages, stargazing, or reading a book in your winter retreat.
Q8: How do I make my apartment balcony cozy?
To make your balcony cozy, use outdoor rugs, soft cushions, and warm throws. Add lanterns or candles for ambient lighting and incorporate potted plants for a touch of nature.
Q9: How do you tie Christmas lights on a balcony?
Secure Christmas lights to your balcony using adhesive hooks, clips, or outdoor-safe tape. Start from a power source and evenly distribute the lights around railings, pillars, or along the ceiling.
Q10: How can I make my balcony look cute?
Make your balcony cute with vibrant cushions, colorful potted plants, and charming decor items like lanterns, fairy lights, and small sculptures. Add personal touches that reflect your style.
Conclusion:
With these SEO-friendly and reader-friendly Christmas decor ideas, your apartment balcony will become a festive retreat that captures the spirit of the season. Whether you're sipping cocoa under twinkling lights or admiring your mini Christmas tree, your balcony will be the perfect place to celebrate the holidays in style. Happy decorating!