Are you lucky enough to have a sparkling pool in your backyard? Make your poolside experience even more enjoyable and convenient by adding an outdoor pool bathroom. Not only will it enhance the functionality of your space, but it can also bring a touch of luxury to your outdoor oasis. In this article, we'll explore some creative outdoor pool bathroom ideas that will take your pool area to the next level.
[This post may contain affiliate links. What does that mean to you? Well, if you click on a product and make a purchase, I may get some compensation from you at no charge. If you want to read the boring stuff my full disclosure can be found here.]
Outdoor Pool Bathroom Ideas
1. Tropical Oasis: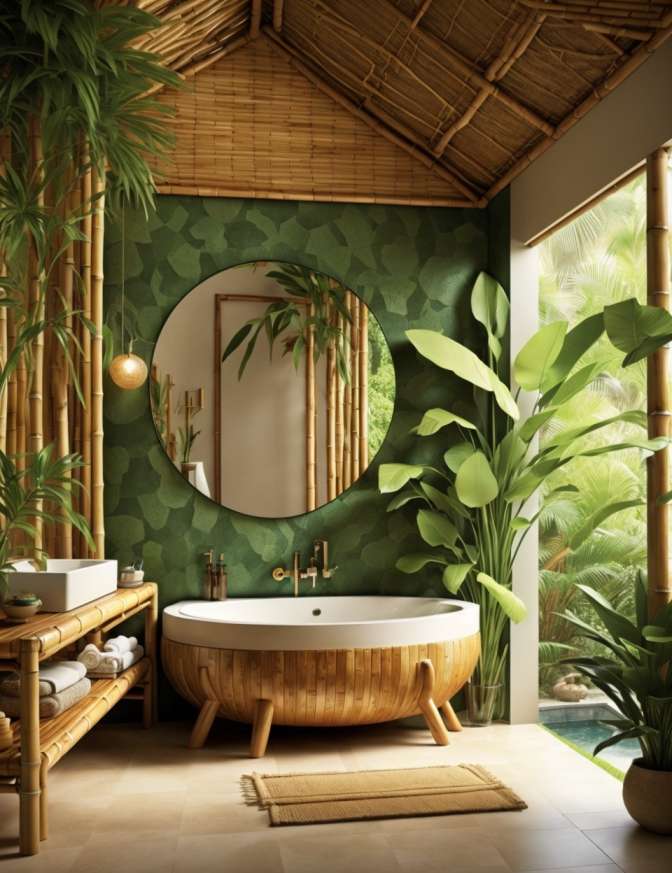 Incorporate bamboo accents, lush greenery, and a thatched roof to evoke a tropical resort vibe. Use earthy tones and stone flooring for a natural look, and add a rainfall showerhead for a refreshing experience.
2. Nautical Retreat:
Give your outdoor bathroom a coastal feel with navy and white color schemes, weathered wood vanities, and rope accents. Hang a porthole-style mirror and nautical wall art to complete the look.
3. Modern Minimalism:
Keep it sleek and contemporary with clean lines, neutral colors, and minimalist fixtures. Use large, frameless mirrors to create an illusion of space and opt for stainless steel or chrome hardware for a polished finish.
4. Rustic Charm: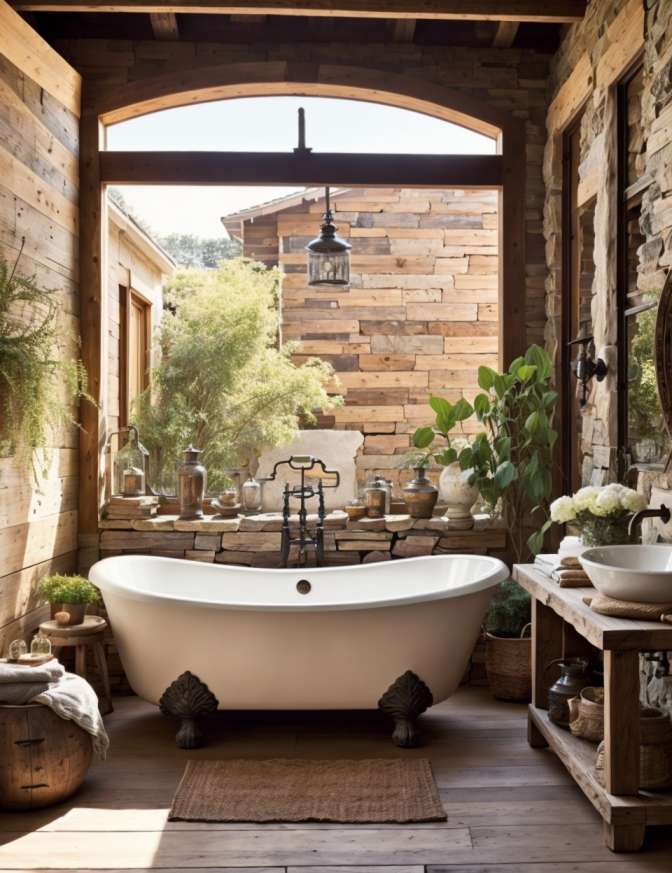 Embrace a rustic aesthetic with reclaimed wood, stone walls, and vintage fixtures. Install a clawfoot bathtub or a copper soaking tub for a touch of luxury, and use wrought-iron accessories for added character.
5. Mediterranean Retreat: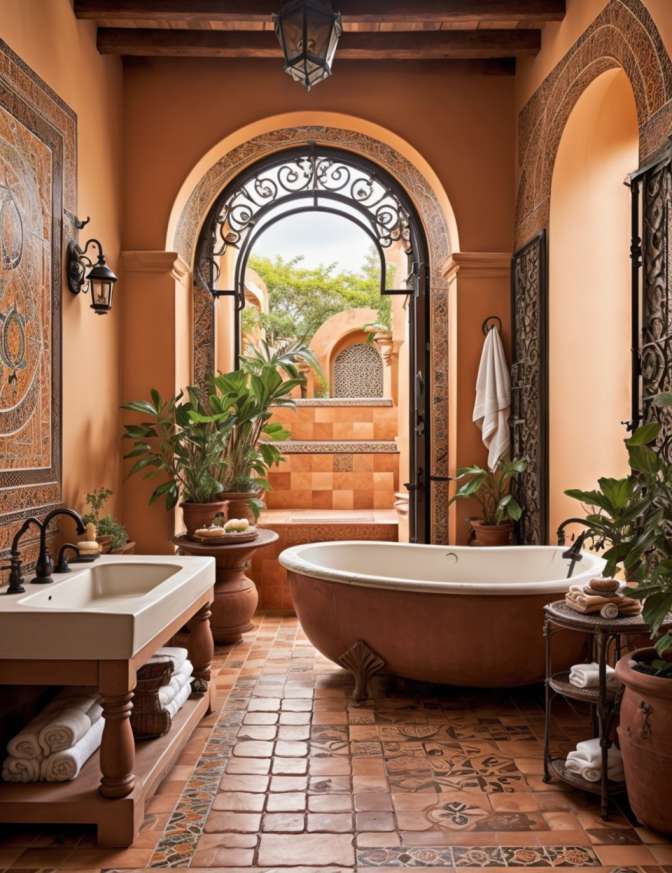 Capture the essence of Mediterranean style with terra cotta tiles, mosaic accents, and wrought-iron details. Incorporate a mosaic-tiled shower bench and add Mediterranean-inspired pottery for a touch of authenticity.
6. Zen Oasis: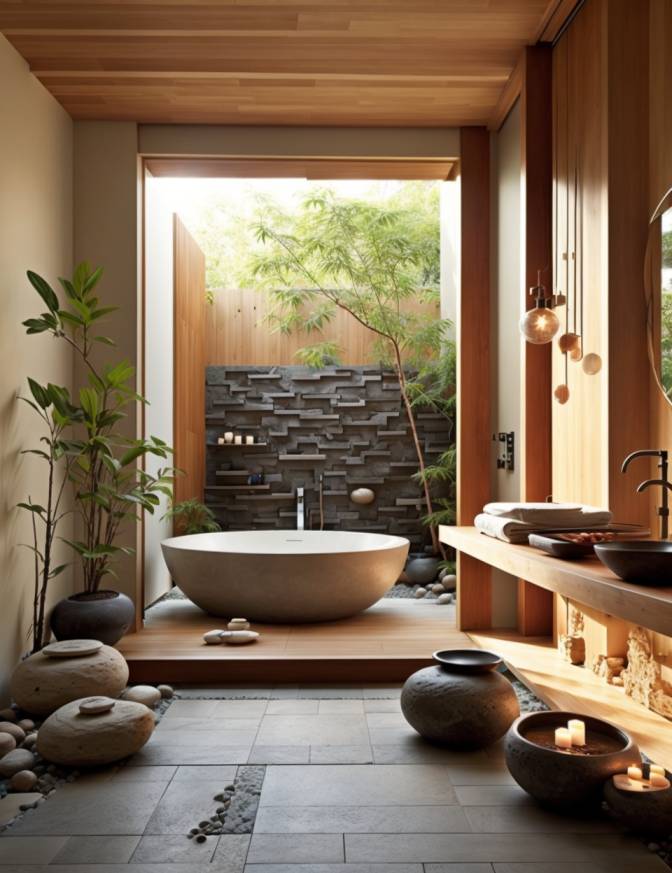 Create a serene and calming atmosphere with a Zen-inspired pool bathroom. Use natural materials like stone, wood, and bamboo, and include elements like a Japanese soaking tub, pebble flooring, and low-profile furniture for a tranquil experience.
7. Tiki Bar Vibes: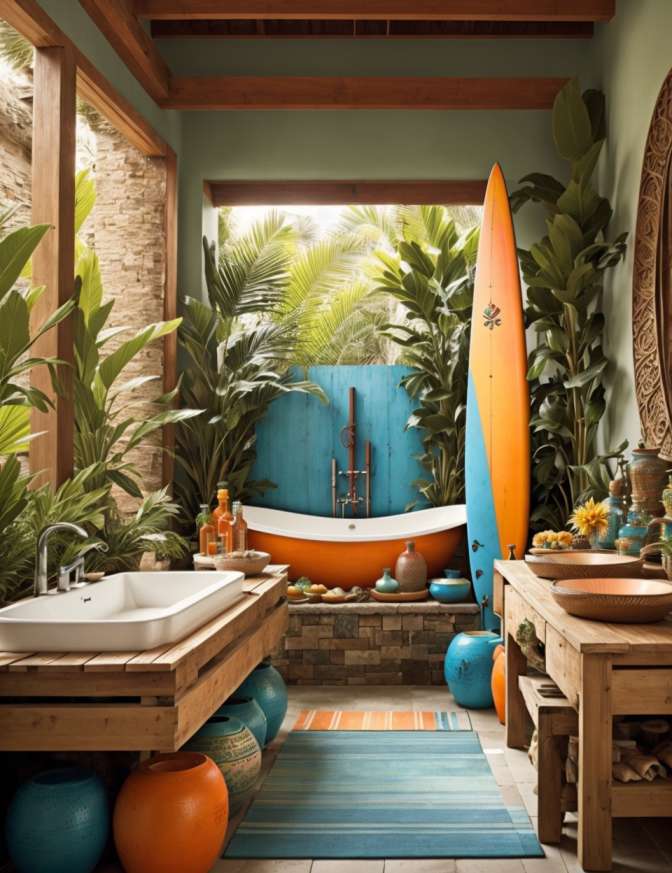 Infuse a fun and playful spirit into your outdoor bathroom with tiki-inspired decor. Think tiki torches, surfboard-shaped vanities, and vibrant, tropical colors. Add some rattan furniture for a laid-back feel.
8. Luxury Spa Retreat: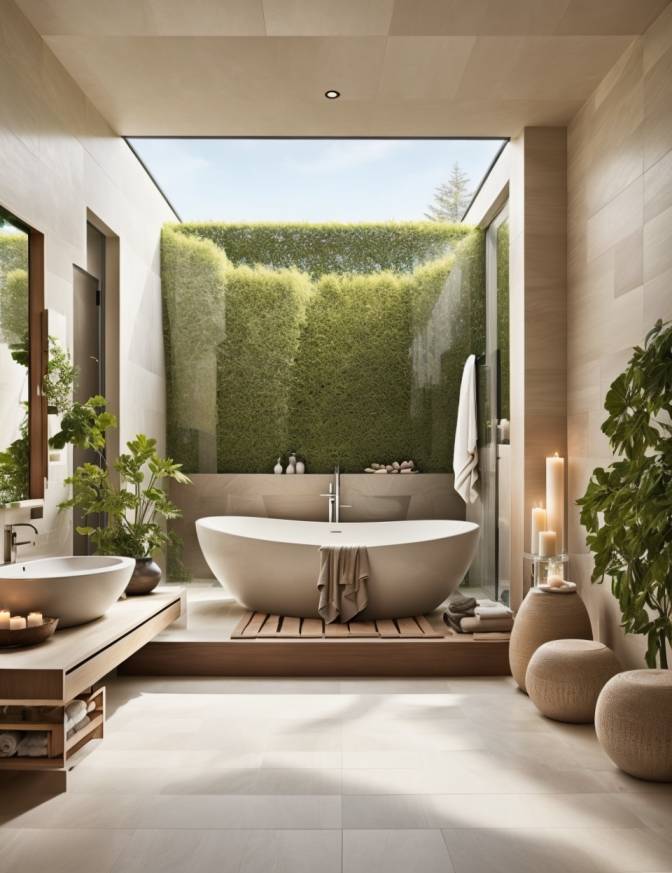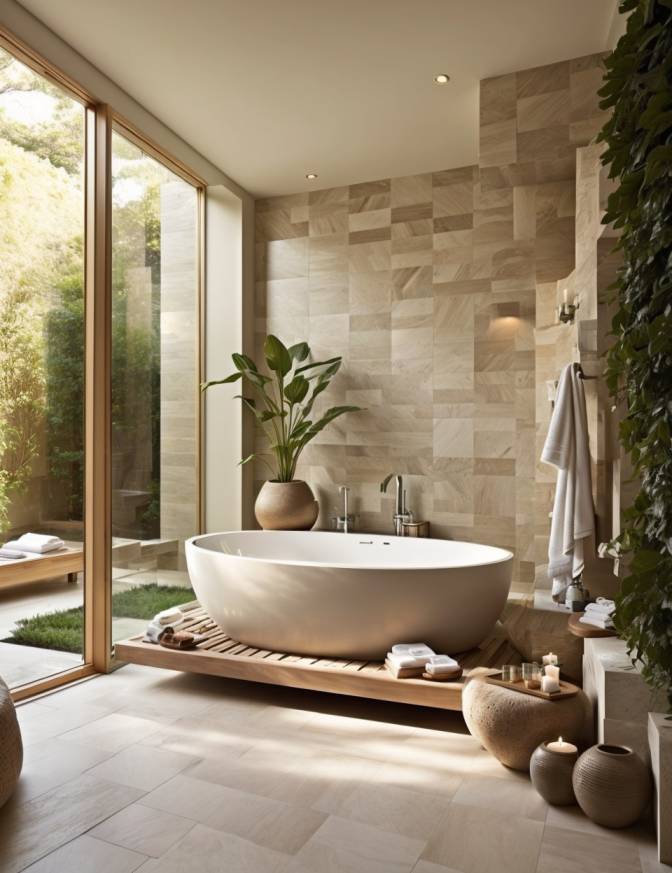 Transform your pool bathroom into a spa-like haven by incorporating a sauna or steam room, heated floors, and a freestanding bathtub. Use soft, neutral colors and high-end materials for a lavish touch.
9. Desert Oasis: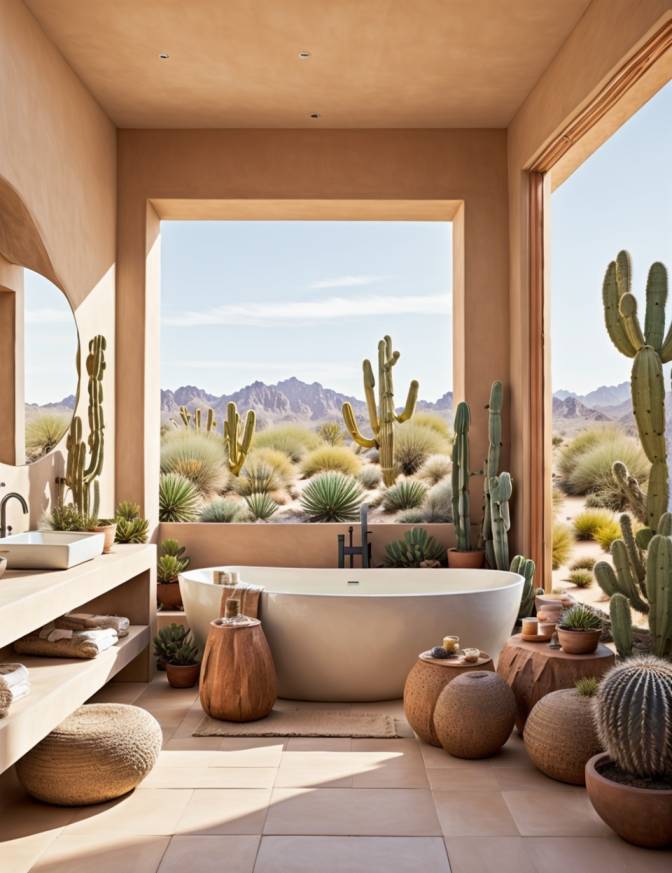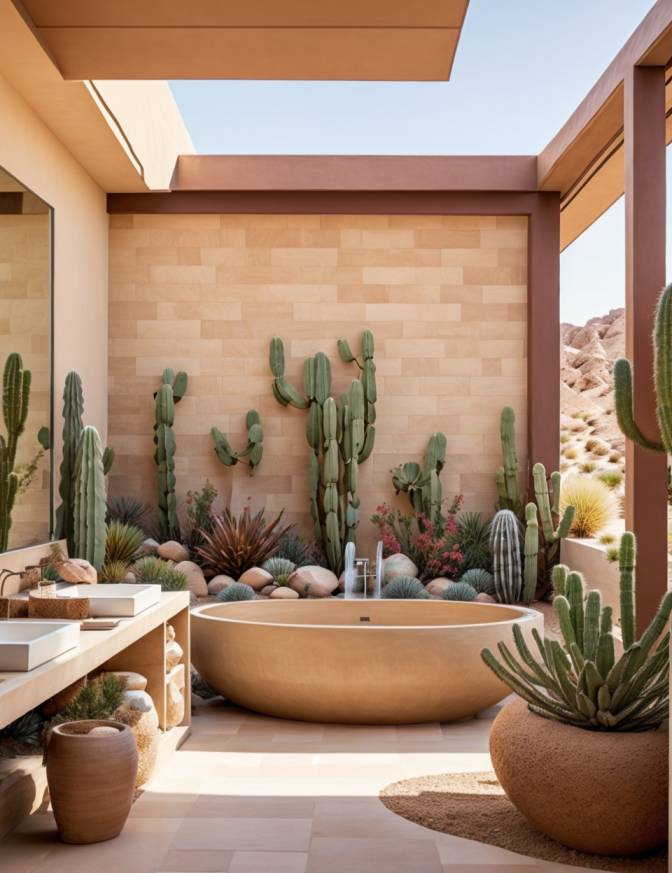 If you live in a desert climate, embrace the surroundings with desert-inspired decor. Use sand-colored tiles, cacti and succulent planters, and incorporate natural textures like rattan and jute.
10. Beachy Vibes: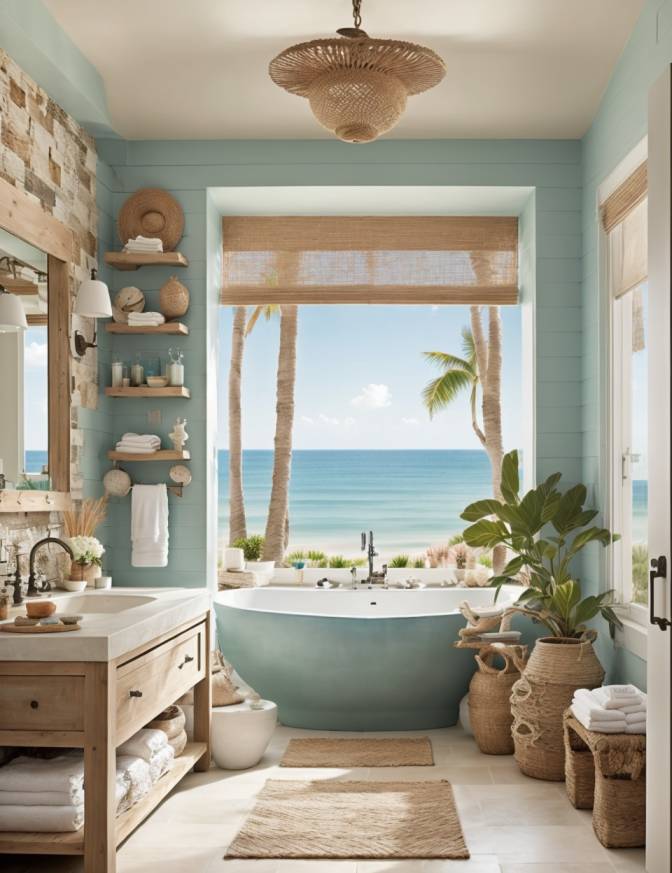 Create a beach-themed oasis with light, sandy colors, and coastal decor. Install seashell-inspired tiles, beachcomber-style vanities, and driftwood accents. Hang sheer, billowing curtains to complete the breezy beach look.
11. Industrial Chic:
Achieve an industrial aesthetic by using concrete walls and floors, exposed pipes, and minimalist fixtures. Add vintage industrial lighting and distressed metal accents for an urban edge.
12. Bohemian Paradise: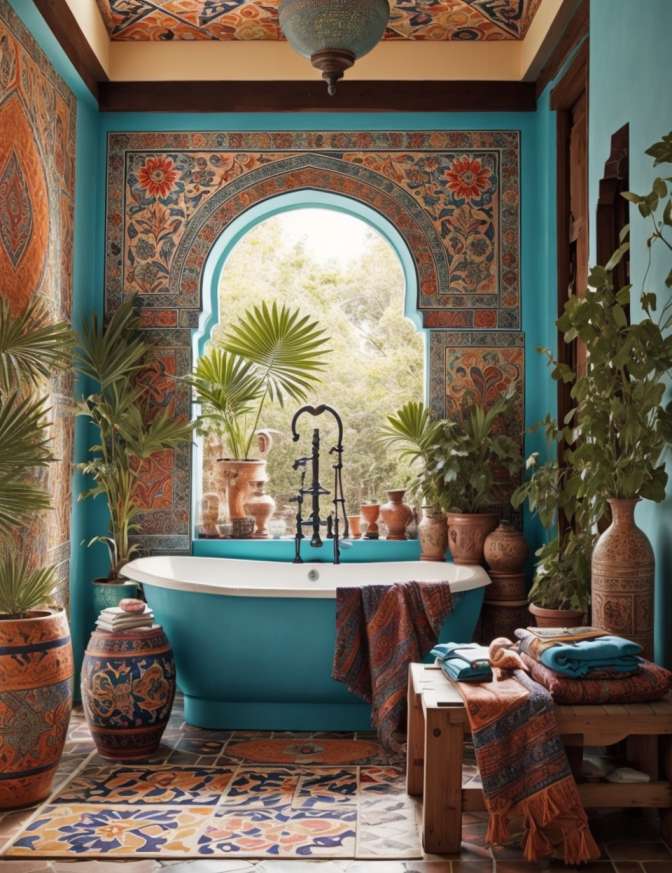 Infuse a boho flair with vibrant colors, mixed patterns, and eclectic decor. Hang tapestries, incorporate Moroccan-style tiles, and use plenty of layered textiles like rugs and cushions for a cozy, free-spirited feel.
13. Smart and High-Tech: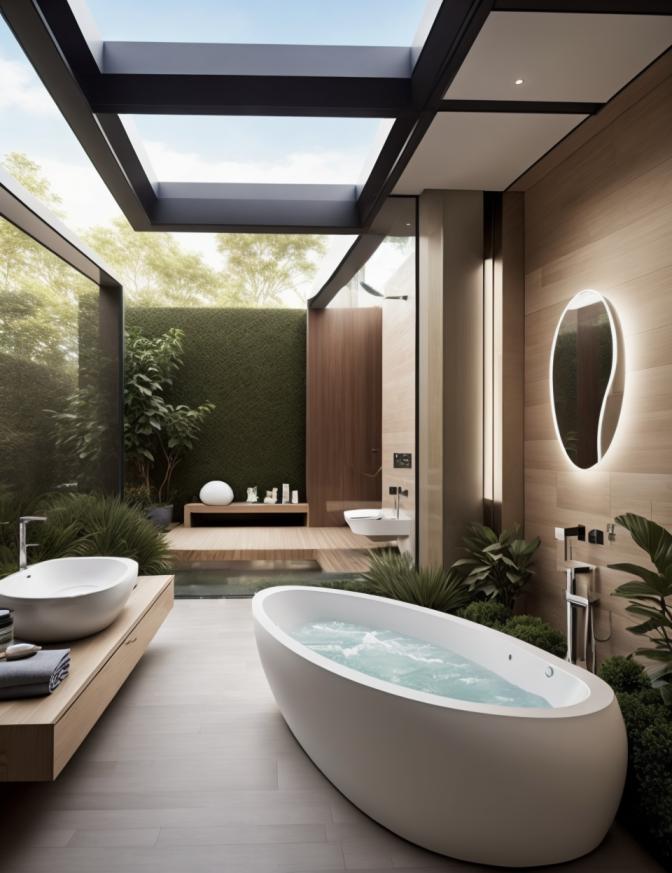 Embrace technology with a smart outdoor bathroom. Install touchless faucets, motion-sensor lighting, and a waterproof TV for entertainment. Control temperature and lighting with smart home integration for convenience.
14. Hidden Garden Retreat:
Create a secluded bathroom nestled within a lush garden. Use trellises with climbing vines, stone pathways, and large, open windows to blur the lines between indoors and outdoors. A rain shower with a garden view can be especially enchanting.
15. Asian Zen:
Channel the tranquility of Asian design with clean lines, minimalistic furnishings, and a neutral color palette. Incorporate a Japanese soaking tub for a Zen-inspired space.
16. Elegant Vintage: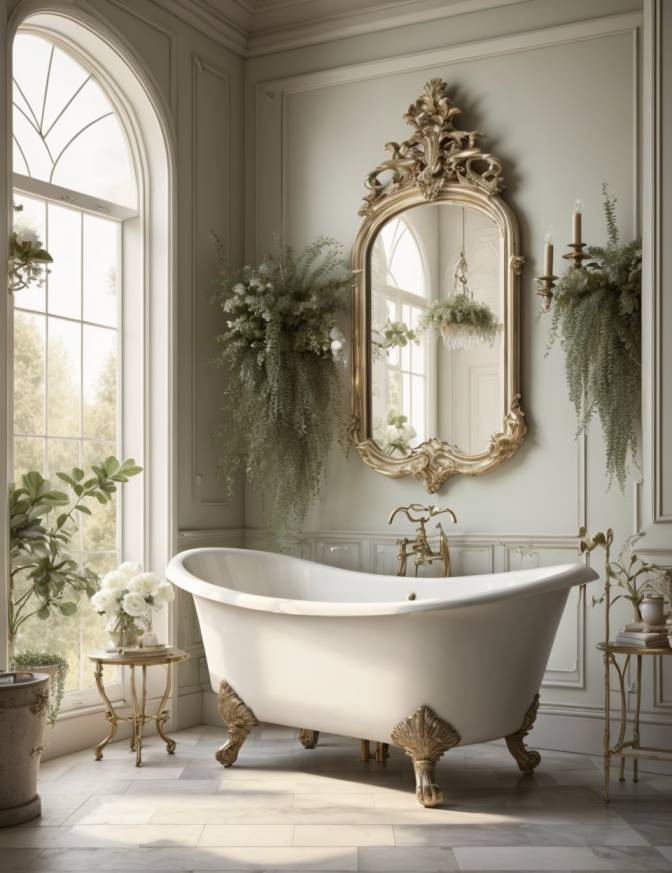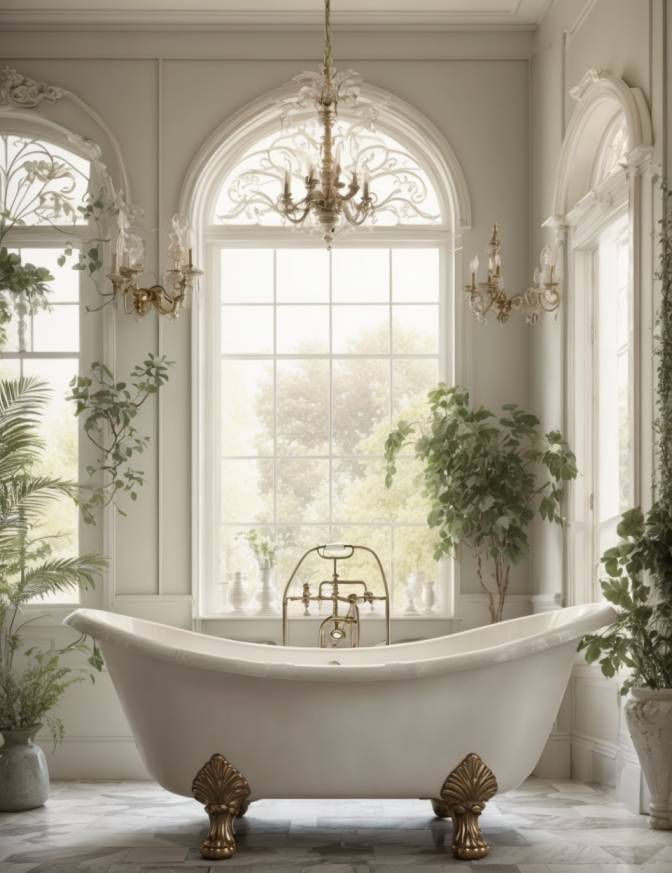 Bring vintage charm to your pool bathroom with clawfoot bathtubs, antique mirrors, and ornate fixtures. Use muted, pastel colors for a touch of elegance and add vintage-inspired wallpaper for a timeless look.
17. Art Deco Glam:
Go for the glitz and glamour of the Art Deco era with bold geometric patterns, mirrored accents, and luxurious materials like marble and velvet. Incorporate a vanity with a Hollywood-style mirror for added drama.
18. Retro Revival:
Create a fun and nostalgic atmosphere with a retro-inspired design. Use bold, vibrant colors, vintage tile patterns, and retro appliances. Consider adding a vintage arcade machine or a jukebox for added flair.
19. Family-Friendly Fun:
If your pool bathroom will be used by the whole family, design it to be practical and kid-friendly. Use durable materials, bright colors, and include storage for pool toys and towels. Install a low sink and a step stool for young children.
20. Green Oasis: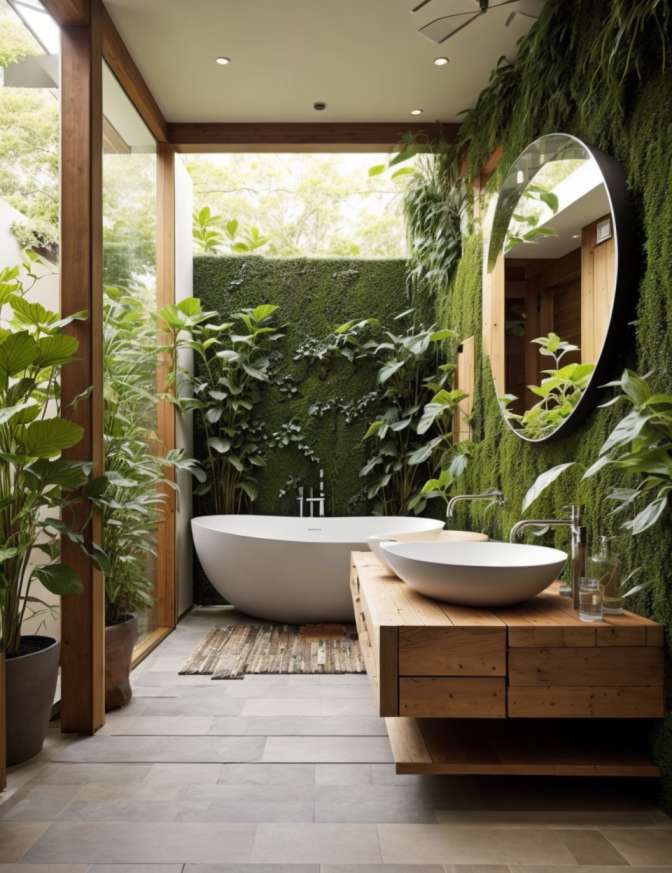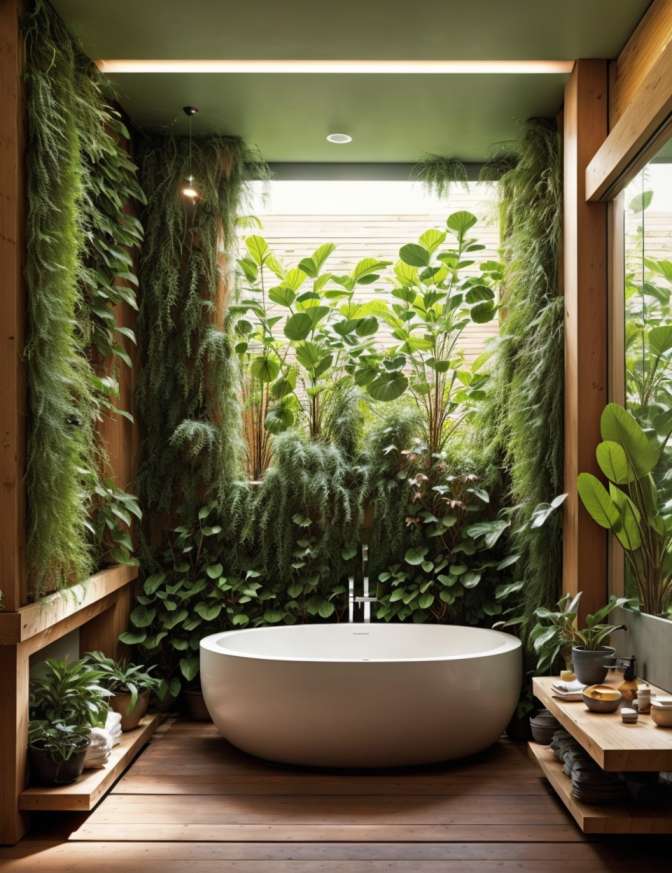 Embrace sustainability and nature by creating a bathroom with living walls or vertical gardens. Use eco-friendly materials, such as reclaimed wood and recycled tiles, and install energy-efficient fixtures to reduce environmental impact.
21. Vintage Farmhouse: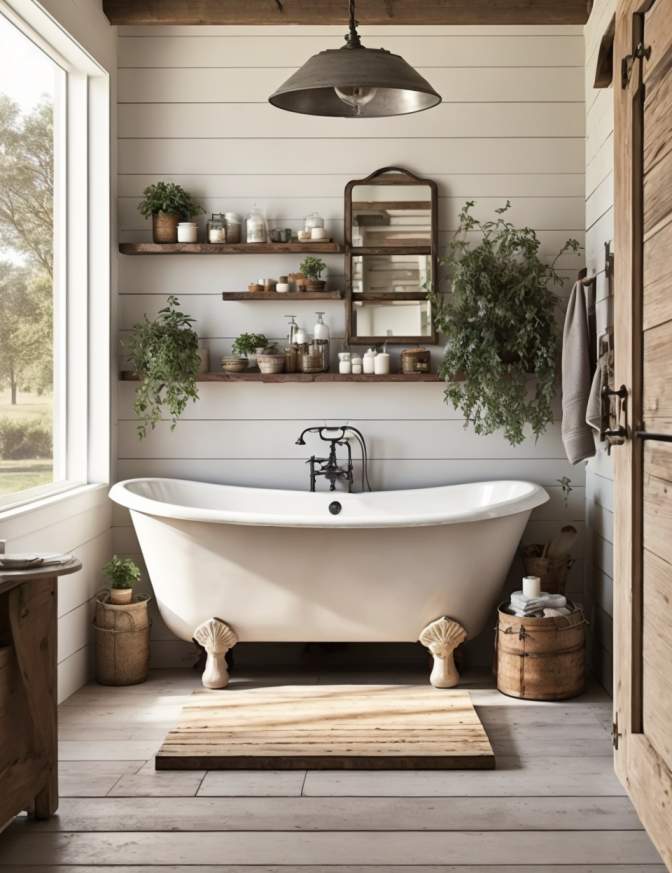 Blend rustic charm with a touch of elegance by incorporating farmhouse-style elements. Use shiplap walls, a vintage clawfoot tub, and farmhouse sinks. Accessorize with galvanized metal accents and mason jar lighting for that cozy, country feel.
22. Artistic Expression: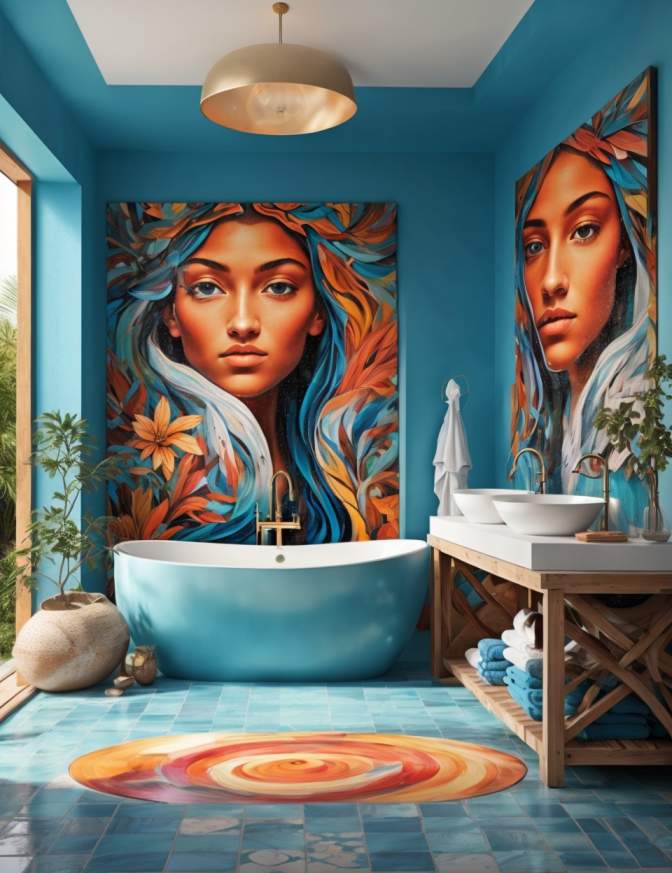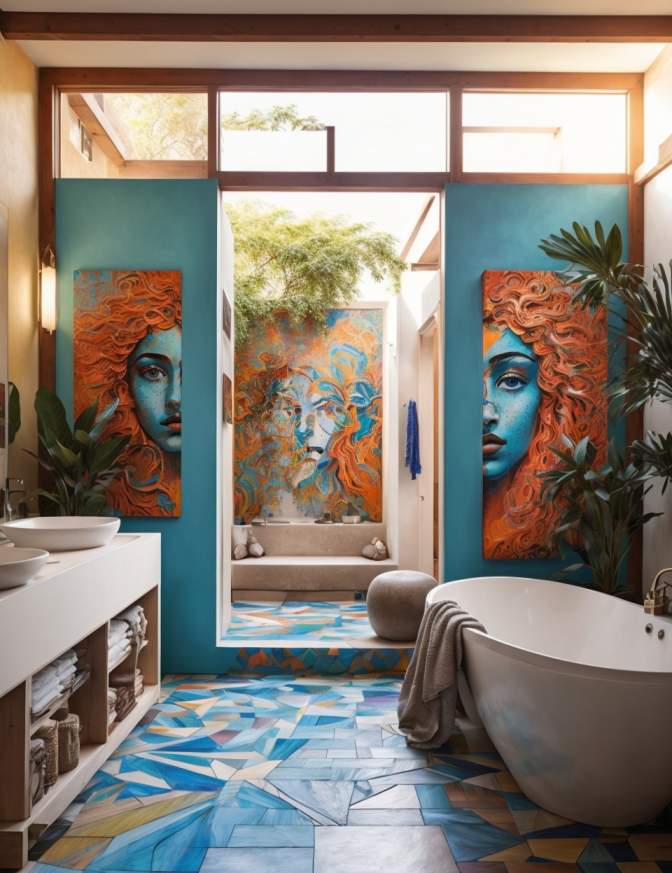 Turn your outdoor bathroom into a canvas for art. Commission or create your own mural or mosaic on the walls or floor. Select colors and themes that resonate with your personal style or the overall pool area decor.
23. Floating Retreat: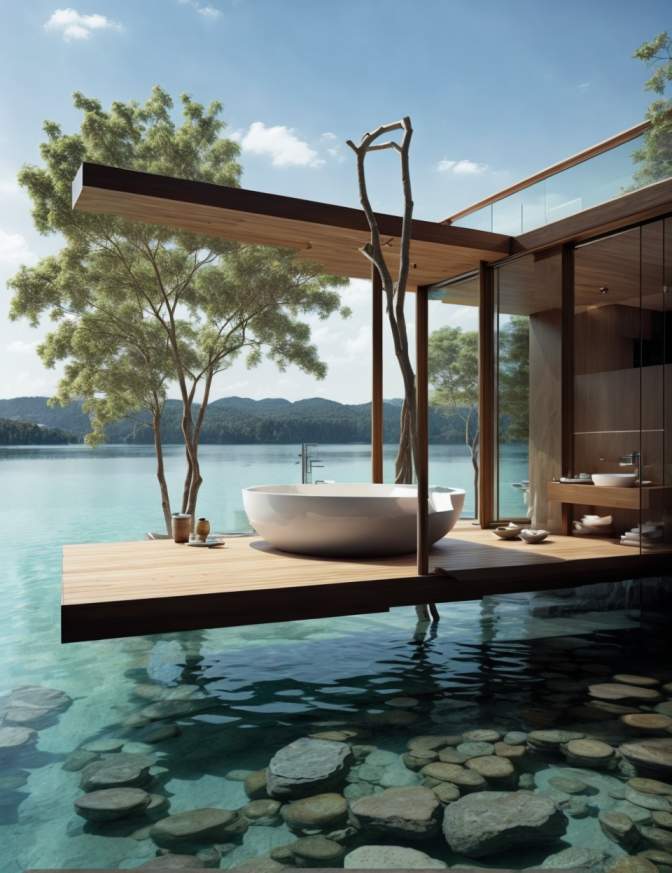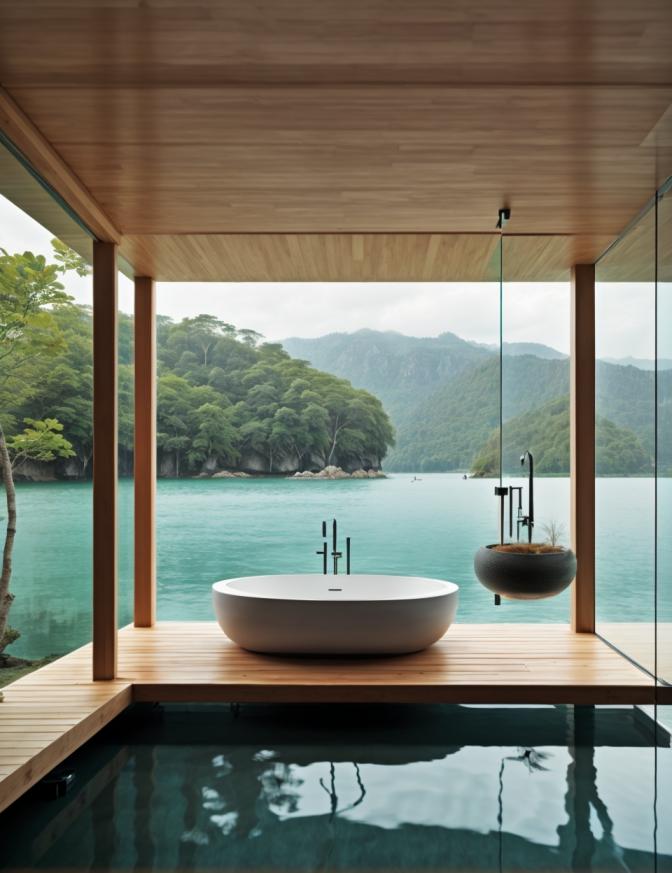 If your pool has a water feature or is set near a natural body of water, consider a bathroom that seems to "float" on the water. Use wooden walkways or platforms with glass or acrylic floors to create a unique, immersive experience.
24. Sustainable Sanctuary: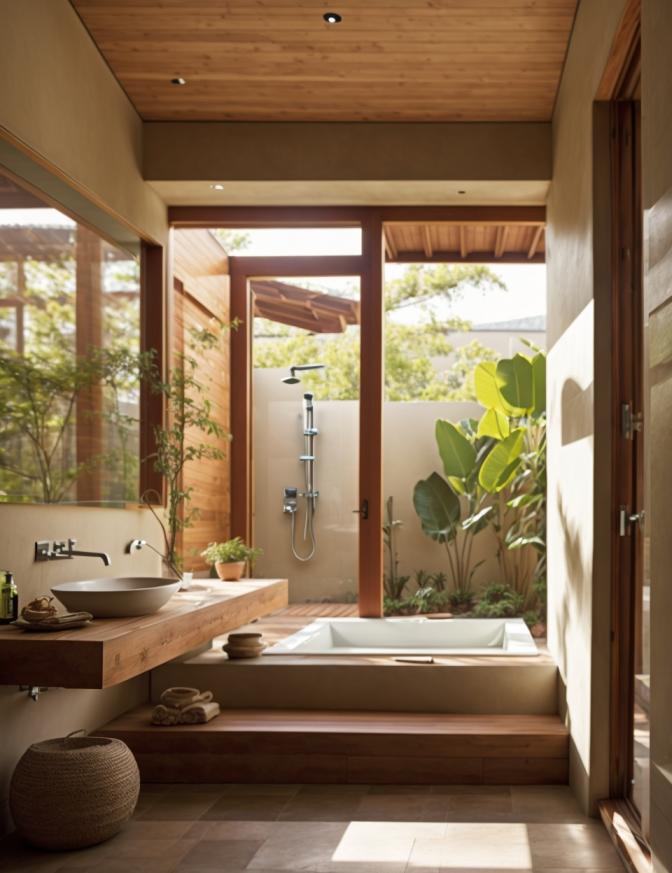 Design an eco-conscious pool bathroom with solar-powered fixtures, rainwater harvesting for flushing toilets, and natural ventilation. Use sustainable materials like bamboo, cork, and recycled glass for a green and energy-efficient space.
25. Victorian Elegance: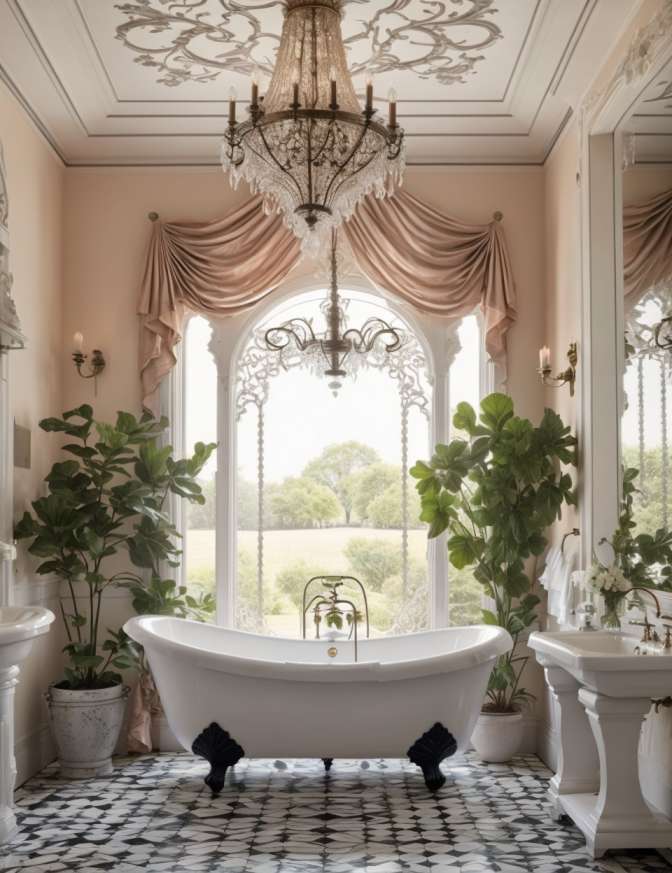 Bring the charm of the Victorian era to your outdoor bathroom with ornate mirrors, vintage chandeliers, and intricate tile patterns. Consider a vintage-style pedestal sink and clawfoot bathtub to complete the look.
26. Rooftop Retreat:
If your pool area is on a rooftop or elevated platform, create a stunning bathroom with panoramic views. Use floor-to-ceiling windows or open-air designs, allowing you to enjoy the scenery while freshening up.
27. Monochrome Modern: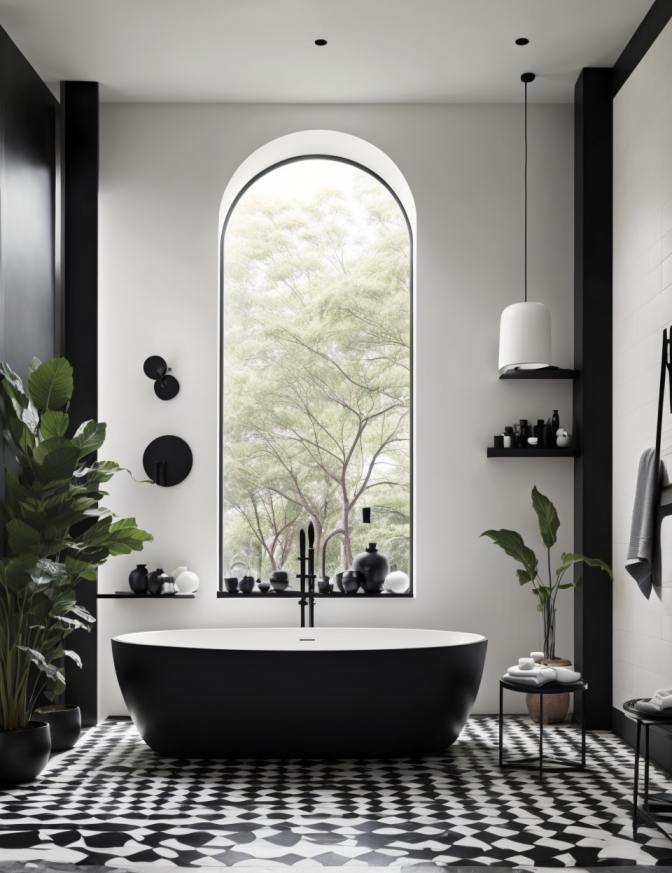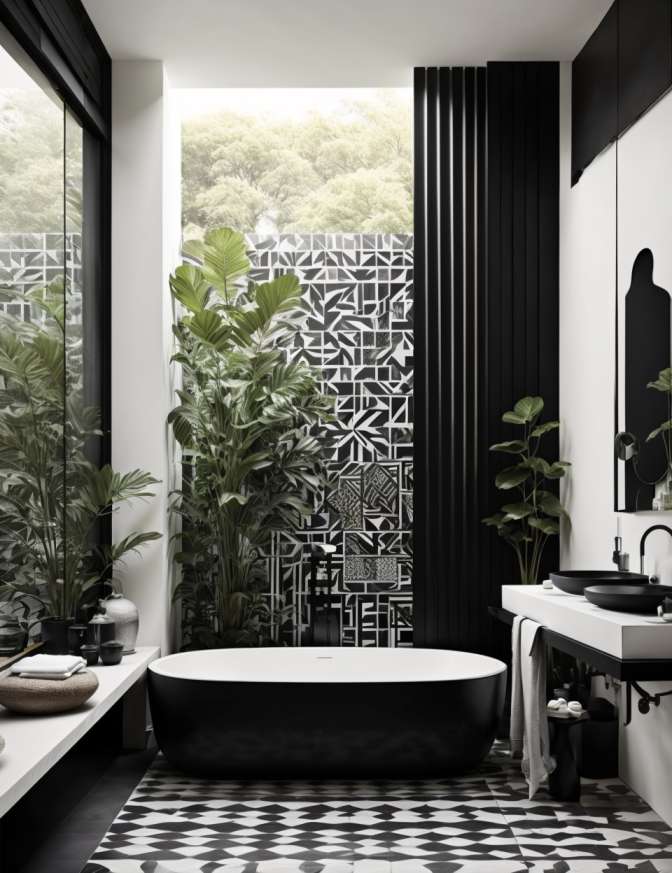 Stick to a single color palette, such as black and white, for a modern and dramatic aesthetic. Use contrasting tiles, fixtures, and accessories to create visual interest within this minimalist approach.
Related Articles-
28. Underwater Wonderland: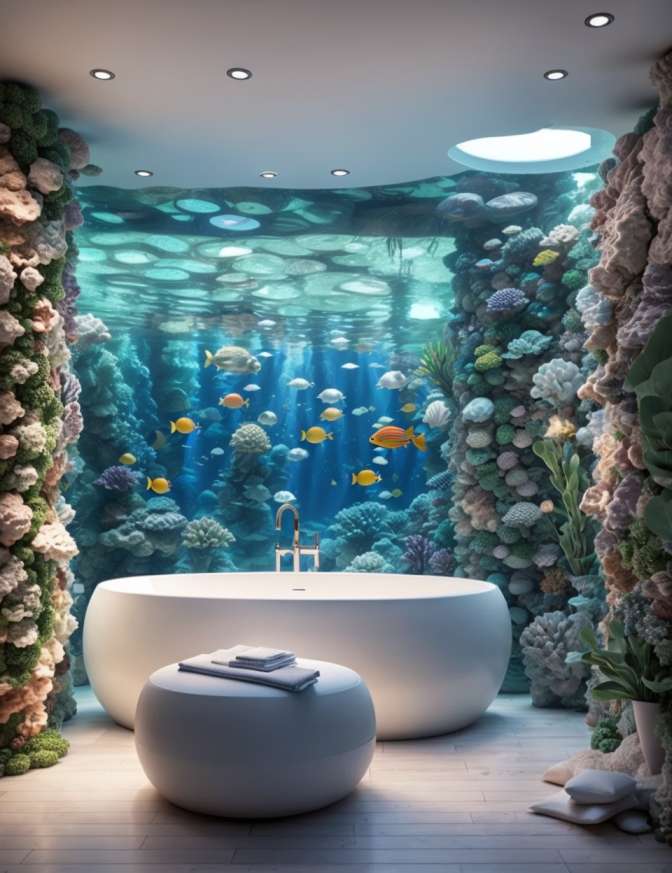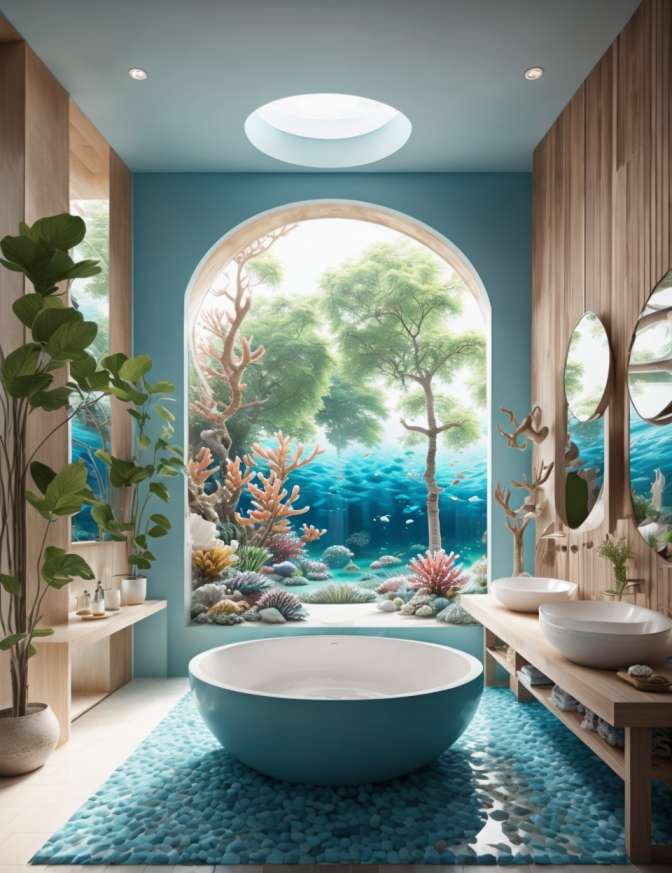 If you have a pool with a glass wall or underwater viewing area, design your bathroom to complement it. Use aquatic-themed decor, underwater lighting, and marine-inspired colors to create a cohesive and captivating space.
29. Cottage Core Charm: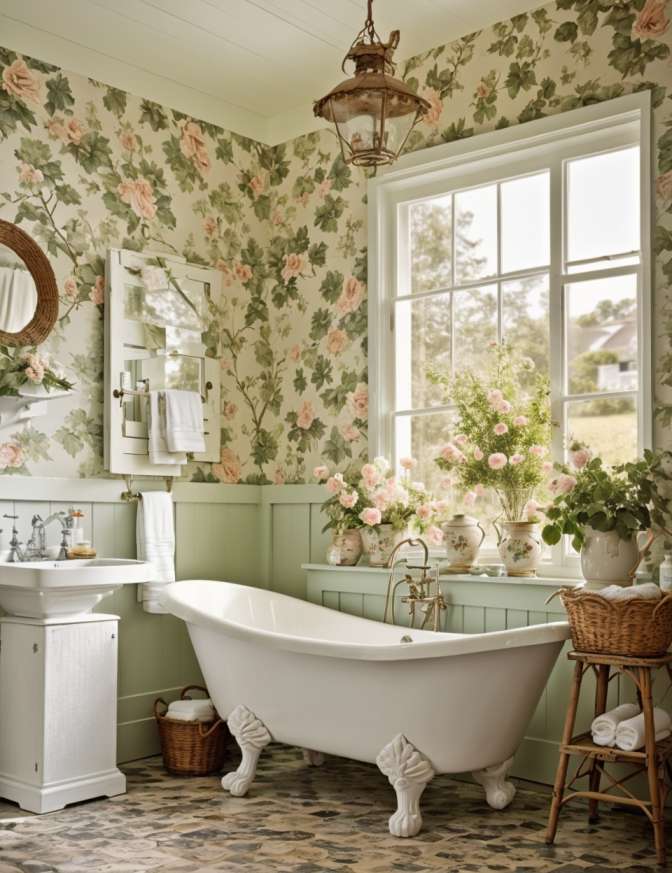 Create a cozy and inviting atmosphere with cottage-style decor. Incorporate floral wallpaper, wicker furniture, and vintage porcelain fixtures for a quaint and romantic feel.
30. Mid-Century Modern Marvel: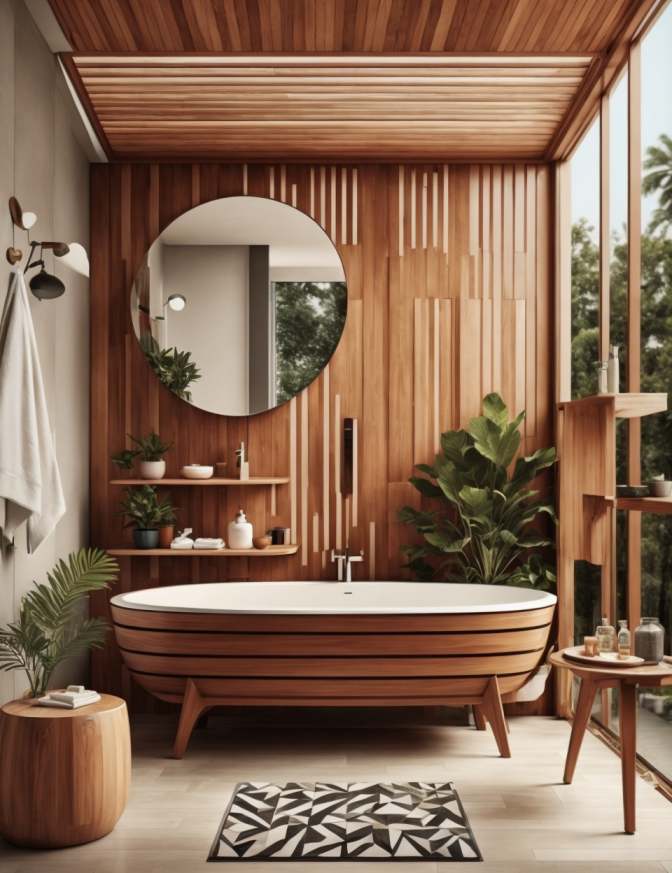 Embrace the sleek lines and retro vibes of the mid-century modern era. Use teak wood, geometric patterns, and Eames-style furniture to capture the iconic look of the '50s and '60s.
31. Transitional Tranquility: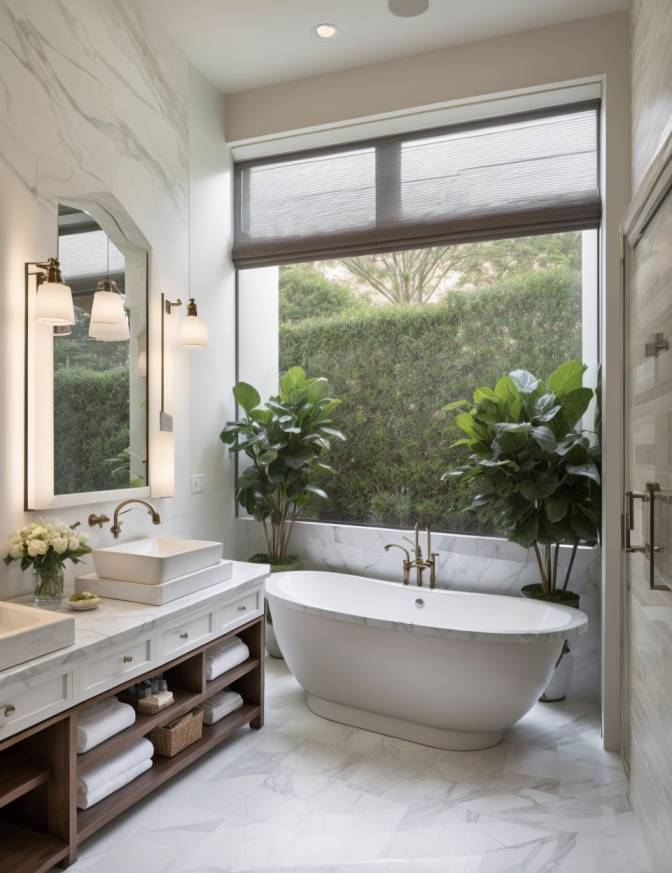 Blend traditional and contemporary elements for a timeless yet updated look. Mix classic marble countertops and subway tiles with modern fixtures and sleek cabinetry.
32. Colorful Oasis: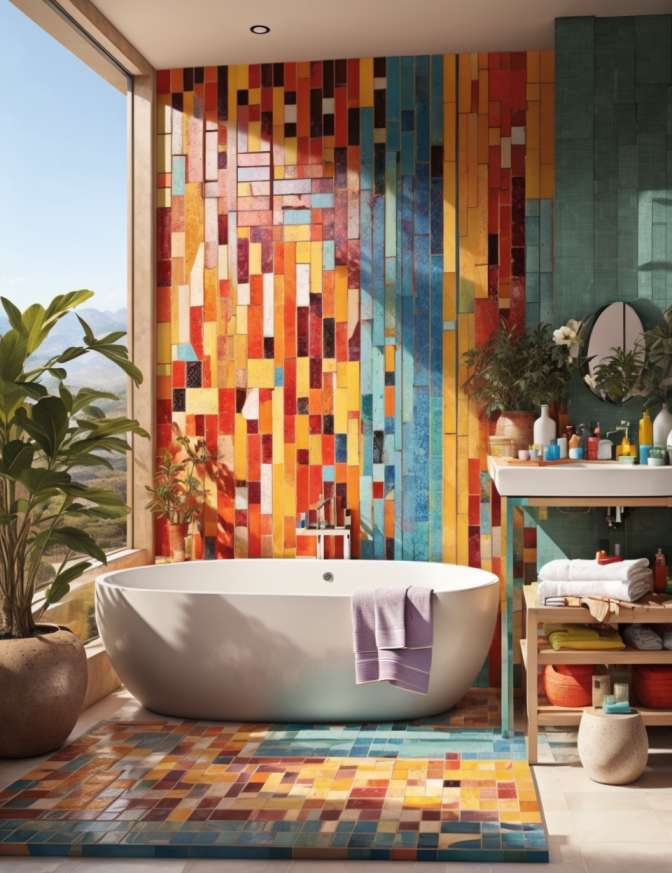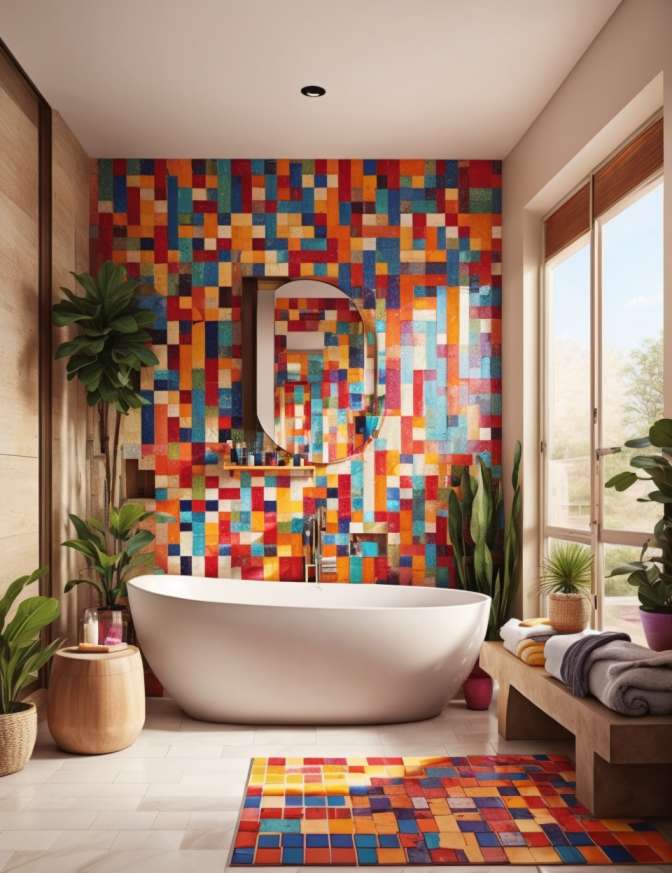 Make a bold statement with vibrant colors and patterns. Choose a colorful mosaic for the walls or floor, and pair it with bright and contrasting accessories for a cheerful and lively space.
33. Rustic Scandinavian: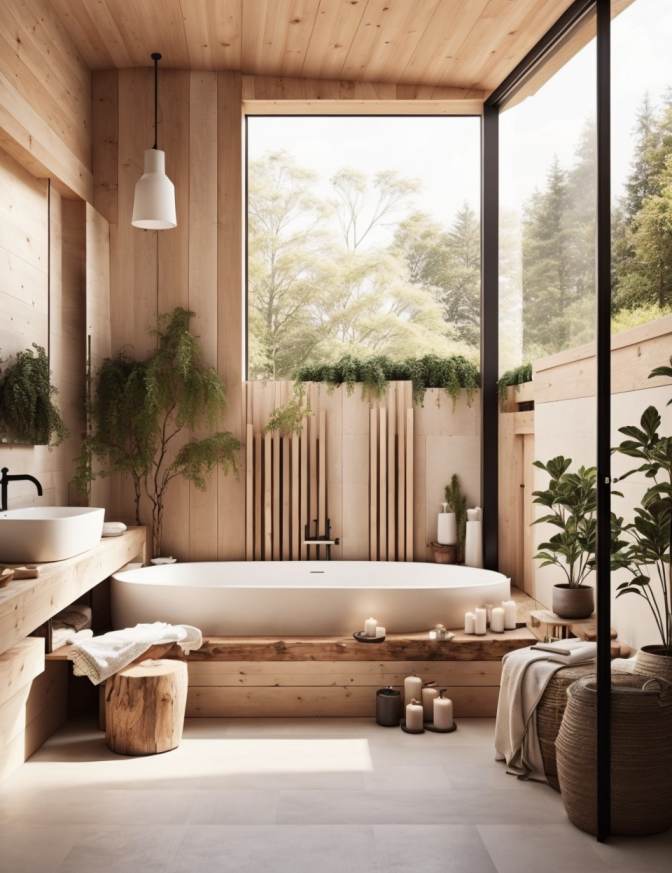 Combine the warmth of rustic design with the simplicity of Scandinavian decor. Use light wood, neutral colors, and minimalist furnishings for a cozy and inviting pool bathroom.
34. Artistic Retreat: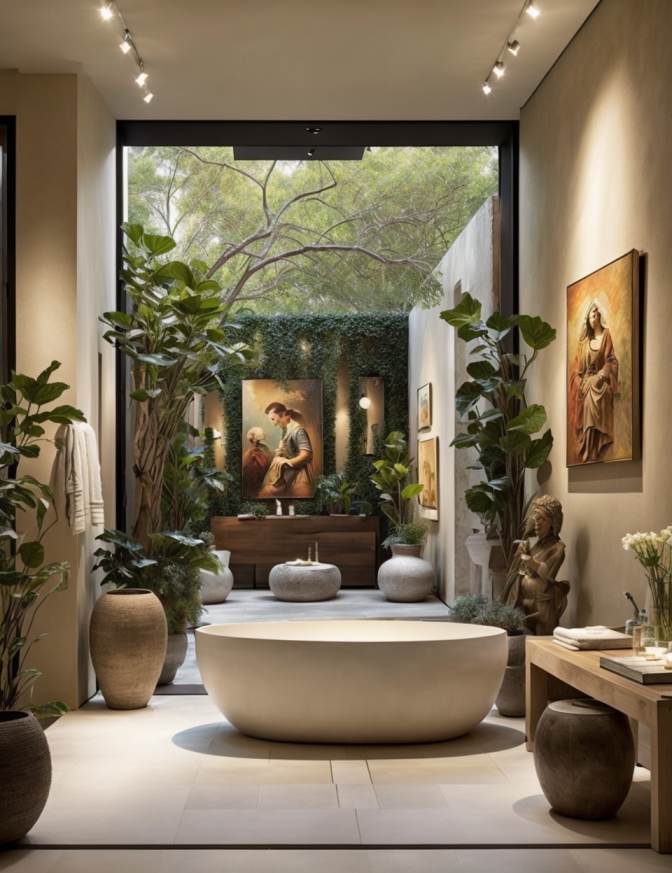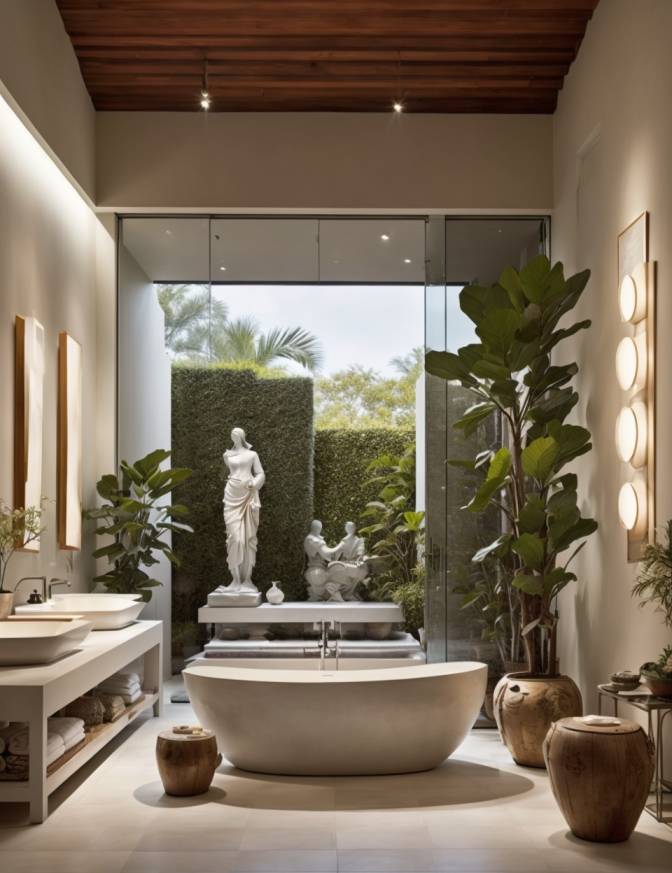 Turn your pool bathroom into an art gallery. Display sculptures, paintings, or other artwork that you love. Consider gallery-style lighting and adjustable spotlights to highlight your collection.
35. Farmhouse Industrial: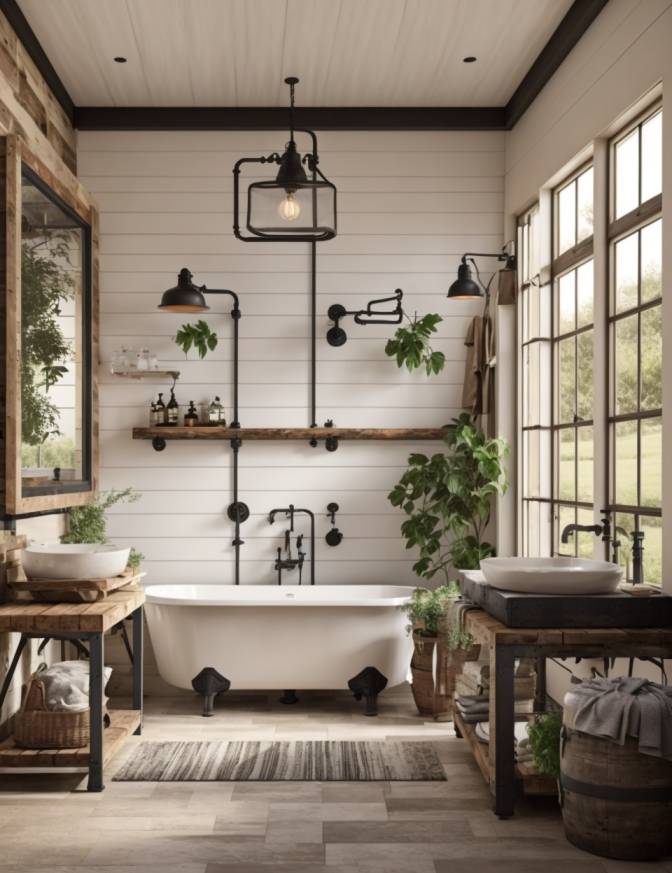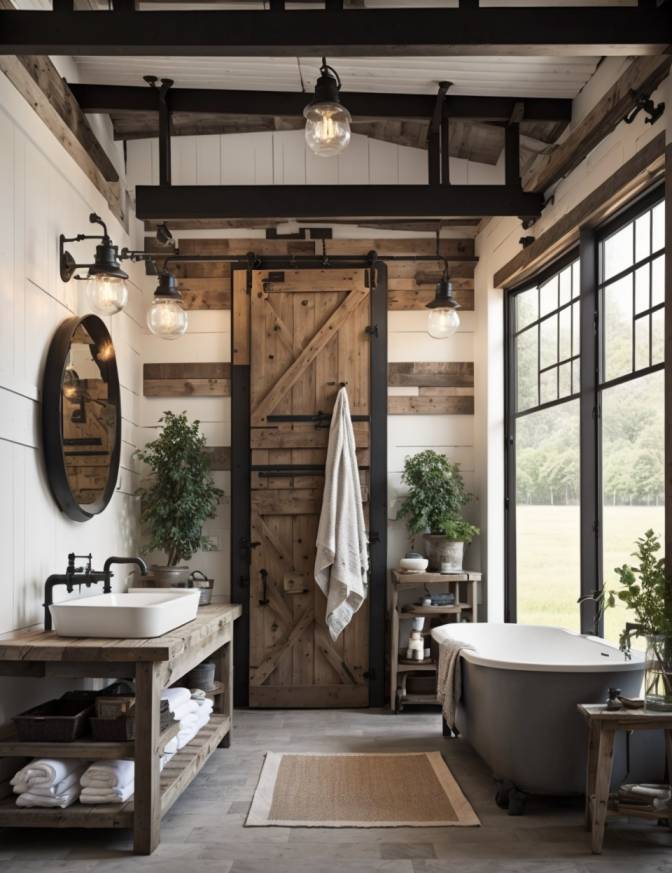 Merge the ruggedness of industrial design with the comfort of farmhouse style. Incorporate industrial lighting, exposed pipes, and rustic barn doors for a unique blend of aesthetics.
36. Japanese Onsen: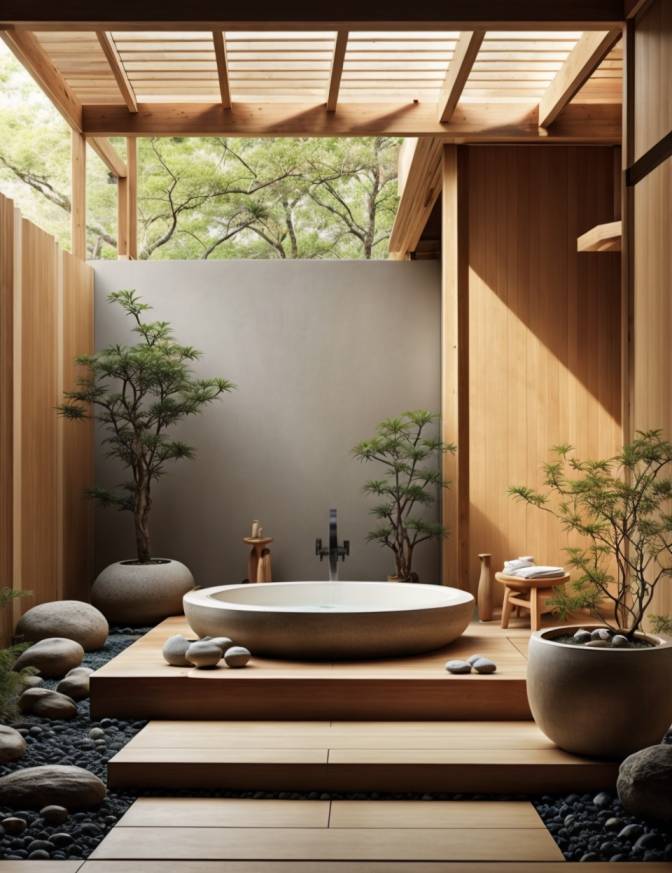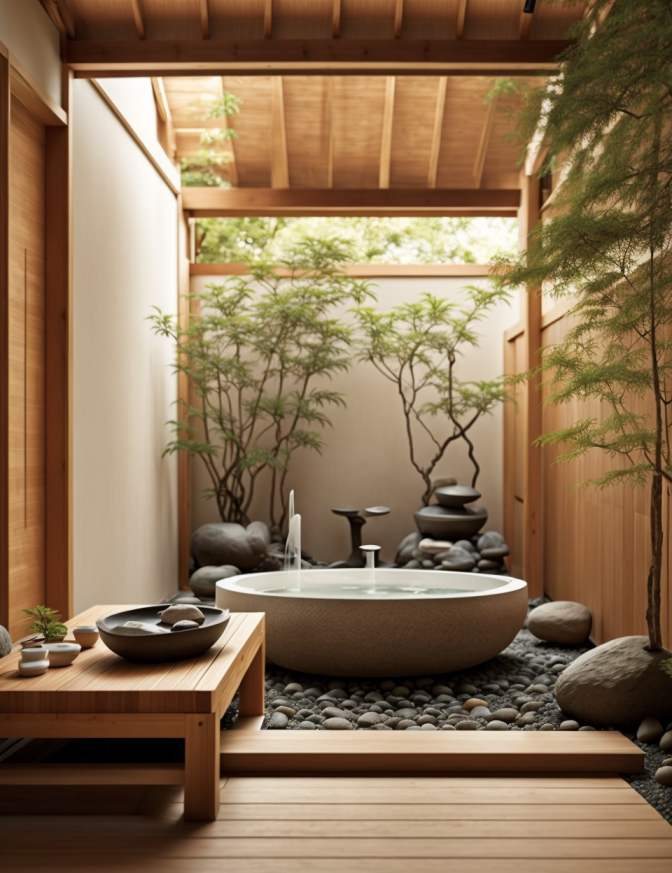 Create a serene Japanese hot spring-inspired retreat with a Hinoki wood soaking tub, bamboo accents, and Zen garden elements. Opt for sliding shoji screens and low, minimalist design for authenticity.
37. Futuristic Fantasy: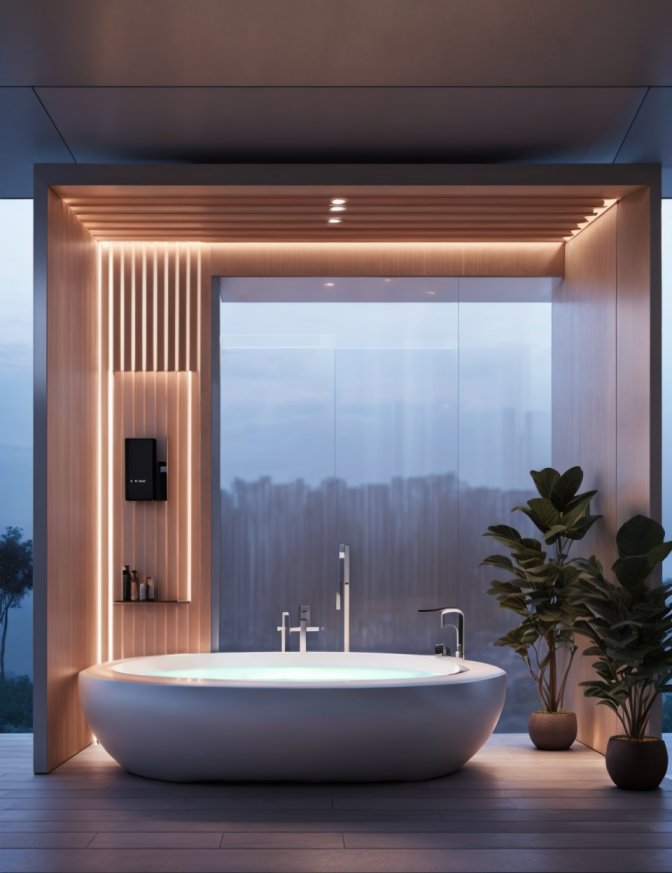 Design a pool bathroom that feels like it's from the future with sleek, minimalist lines, high-tech fixtures, and LED lighting. Incorporate voice-activated controls for a truly futuristic experience.
38. Safari-Inspired: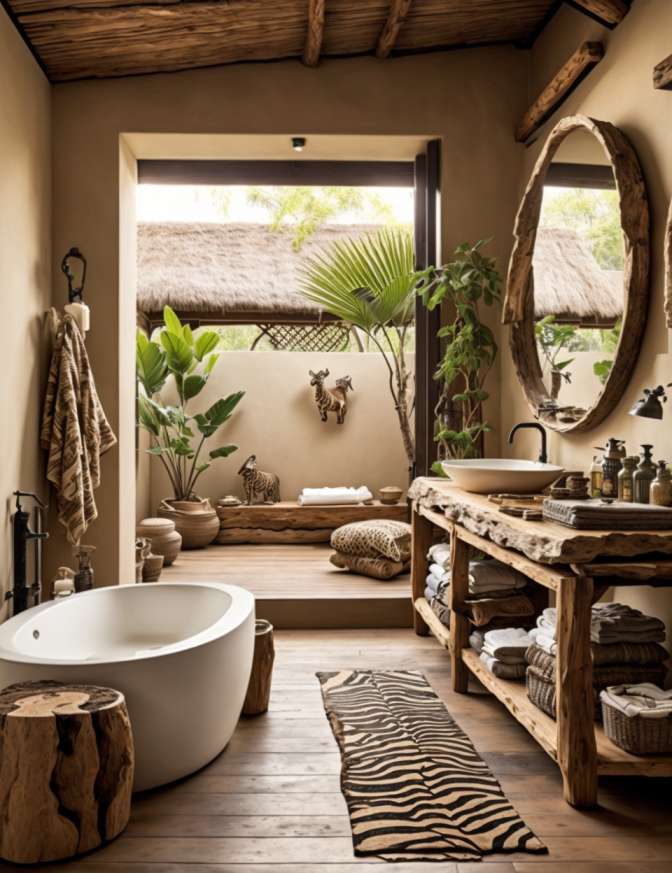 Capture the spirit of a safari with earthy tones, animal prints, and rustic wood furnishings. Use faux animal hide rugs and safari-themed artwork to complete the look.
39. Boat House Chic: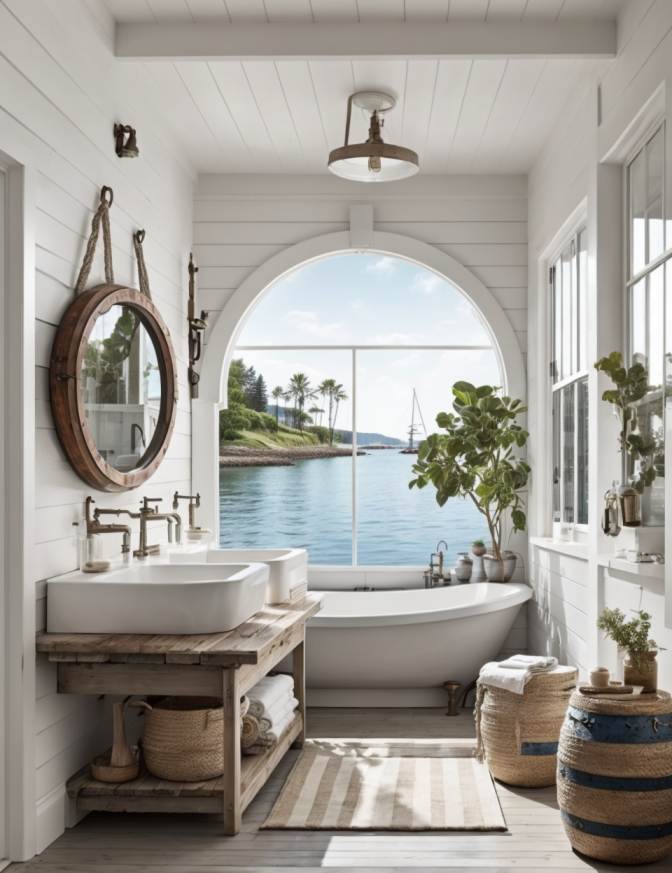 If your pool area has a water feature or lake, embrace a nautical boat house theme. Use maritime-inspired decor, porthole mirrors, and weathered wood for an authentic coastal vibe.
40. Scenic Serenity: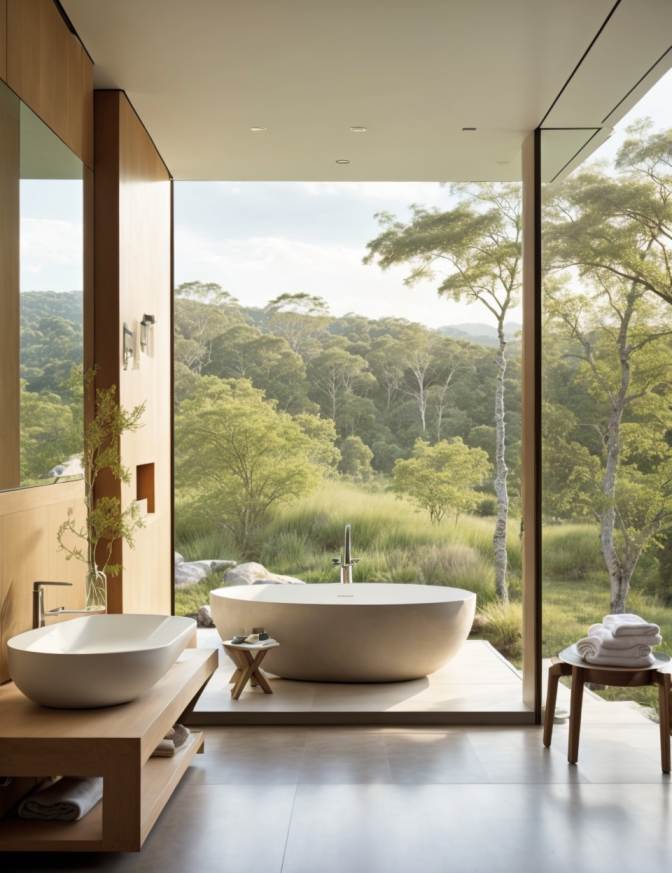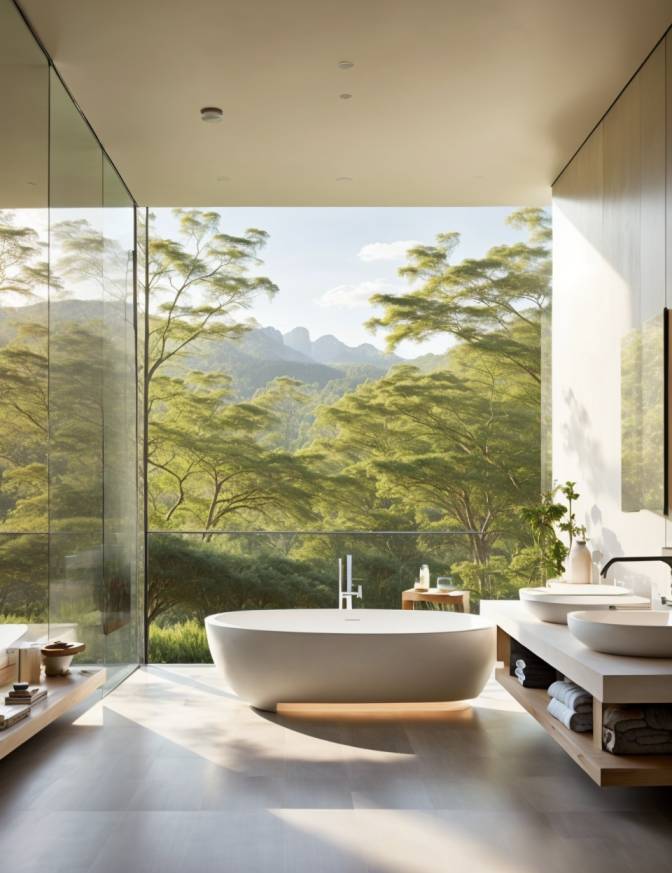 Make the most of your outdoor location by designing a bathroom with panoramic views. Use floor-to-ceiling windows or glass walls to create a seamless connection with the surrounding landscape.
41. Hidden Cave Retreat: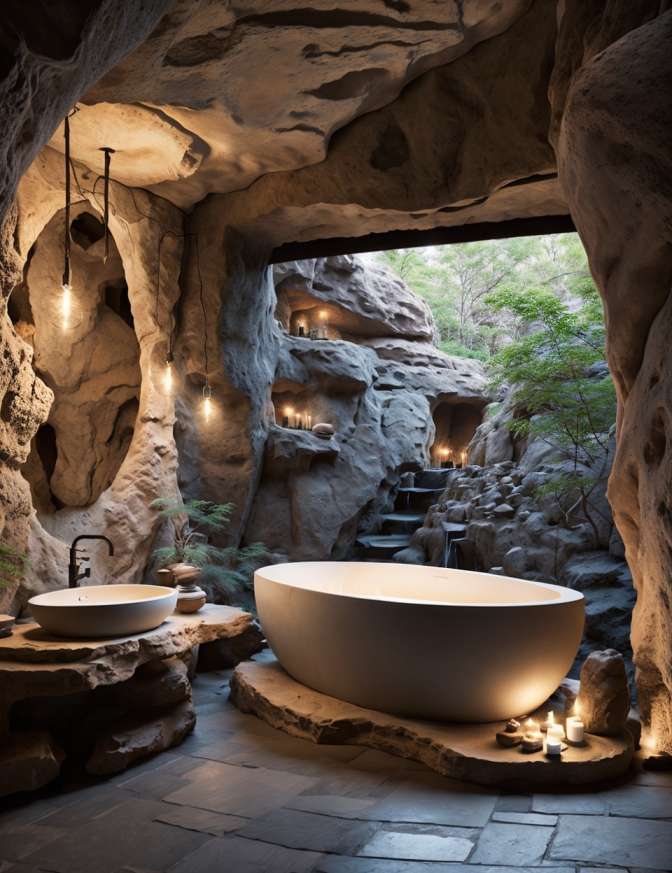 Design your outdoor bathroom to resemble a hidden cave. Use natural rock walls, dim lighting, and stone fixtures to create a sense of adventure and mystery.
FAQs (Frequently Asked Questions)
1. How much does an outdoor bathroom cost?
The cost of an outdoor bathroom can vary widely based on factors like location, size, materials, and the extent of plumbing and electrical work required. On average, it can range from a few thousand dollars to tens of thousands.
2. Can you put a bathroom outside?
Yes, it's possible to install a bathroom outside, commonly referred to as an outdoor bathroom. These are often used for pool areas, gardens, or as a guest bathroom.
3. Can you put a bathroom in a pool house?
Yes, a bathroom is a common addition to a pool house. It's convenient for swimmers and guests and adds functionality to the space.
4. What is a pool house called?
A structure adjacent to a pool, designed for various purposes including changing rooms, storage, or recreation, is typically called a "pool house."
5. Does an outdoor bathroom add value?
Yes, an outdoor bathroom can add value to your property, especially in areas with warm climates or where outdoor living spaces are highly desirable.
6. What is an outdoor bathroom called?
An outdoor bathroom is often simply referred to as an "outdoor bathroom." In some cases, it may be called a "pool bathroom."
7. Do I need permission for an outside toilet?
Regulations vary by location, so it's important to check with your local authorities. You may need permits or permission for plumbing, electrical work, or structural changes.
8. Do you need planning permission for an outside toilet?
Planning permission requirements for an outside toilet also depend on local building codes and zoning regulations. Consult your local planning department for guidance.
9. What is needed in an outdoor bathroom?
An outdoor bathroom typically requires plumbing for a toilet, sink, and shower, along with suitable flooring and proper drainage. Lighting and ventilation are also essential.
10. What do you need in a pool bathroom?
A pool bathroom should include essential fixtures like a toilet, sink, and shower to provide convenience for pool users. It may also include storage for pool accessories.
Conclusion-
Incorporating one of these diverse outdoor pool bathroom ideas into your poolside retreat can elevate both aesthetics and functionality. Whether it's a tranquil Zen-inspired escape, a vibrant tiki-themed haven, or a tech-savvy retreat, your outdoor bathroom can be a unique expression of your style and enhance your outdoor living experience. Explore these ideas and transform your pool area into a true oasis of relaxation, luxury, and personalization.