As the New Year approaches, it's time to think about how you can make your home's exterior reflect the spirit of fresh beginnings and excitement for the year ahead. Whether you're planning a small gathering, a quiet evening at home, or just want to add some festive charm to your space, we've got you covered with 36 creative home outside New Year's decoration ideas. Let's make your home the talk of the neighborhood!
[This post may contain affiliate links. What does that mean to you? Well, if you click on a product and make a purchase, I may get some compensation from you at no charge. If you want to read the boring stuff my full disclosure can be found here.]
Home Outside New Year's Decoration Ideas
1. Festive Lighting: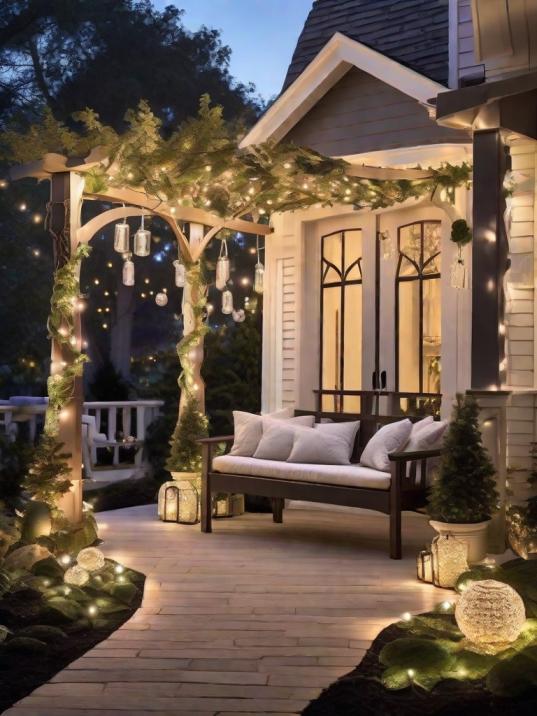 Start by incorporating various types of outdoor lighting. String lights, lanterns, and LED fairy lights can be wrapped around trees, railings, and porch columns. You can even shape them into the number "2024" to celebrate the new year.
2. Wreaths and Garlands:
Consider hanging a New Year's wreath on your front door. These can be crafted with metallic ornaments, sparkles, and ribbon. You can also drape garlands along your porch railing or around the entryway.
3. Balloons: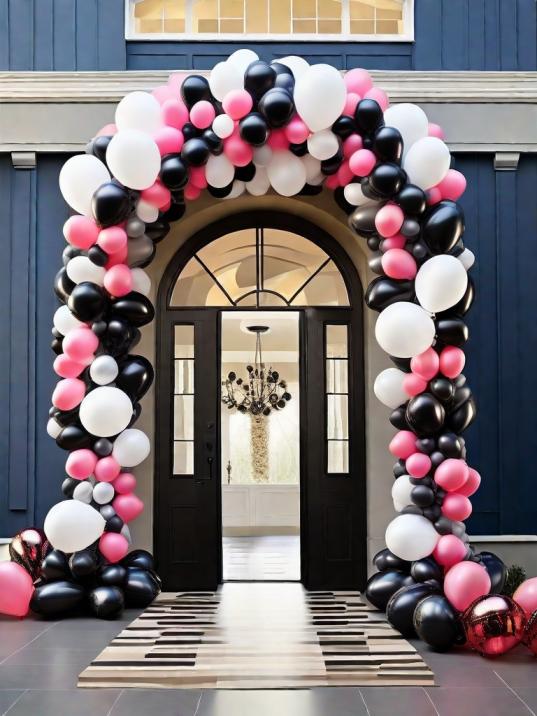 Balloons are a classic choice for New Year's Eve. Place oversized, helium-filled balloons around the entrance, or create balloon bouquets in metallic colors. You can also consider balloon arches or an inflatable countdown clock.
4. Sparkling Decorations: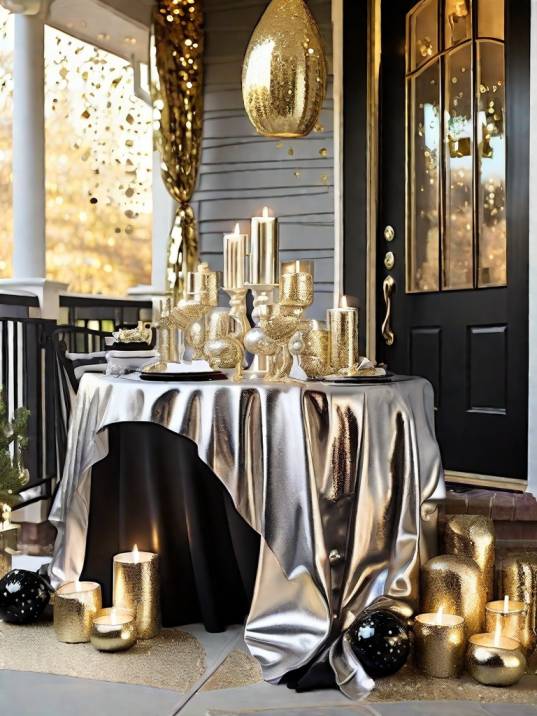 Add some sparkle to your porch or front yard with metallic or glittery decorations. Silver, gold, and black are traditional New Year's colors. Think about metallic tablecloths, glittering candles, and shiny confetti to enhance the overall look.
5. Faux Snow and Ice: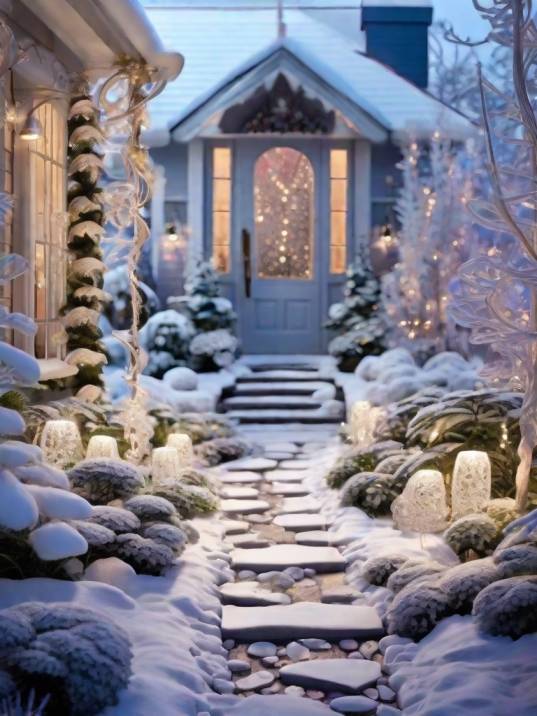 Depending on your climate, you could use fake snow and ice to create a wintry feel. Sprinkle it on your plants or pathways for a frosty effect.
6. Reflective Surfaces: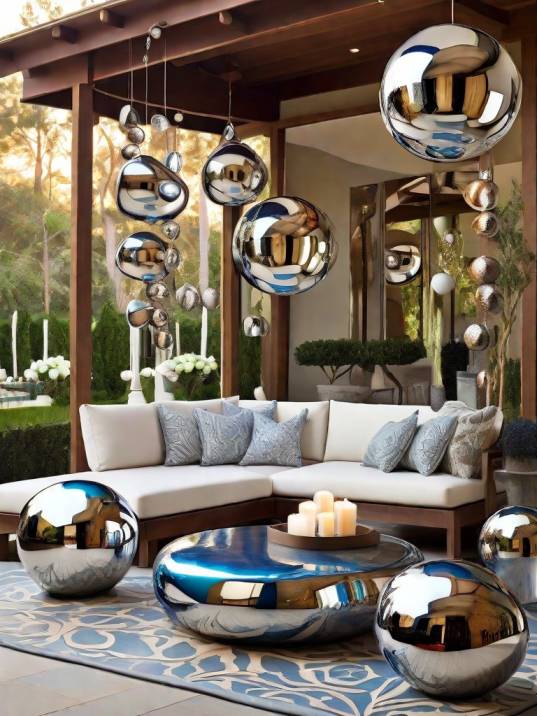 Incorporate mirrors or reflective surfaces like glass orbs and metallic wind chimes to catch and reflect the light for an enchanting effect.
7. Twinkling Pathway:
Line your walkway or driveway with luminous path lights or luminarias. These not only guide guests to your front door but also add a magical touch to your outdoor decor.
8. Champagne Bottle and Glass Decor: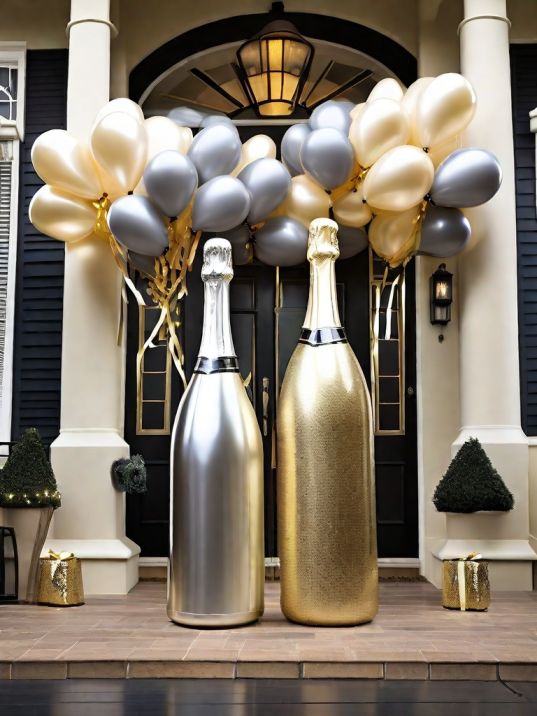 Create oversized champagne bottles and glasses using balloons, cardboard, or other materials. Place them on the porch or near the entryway to symbolize toasting to the new year.
9. Confetti-Filled Balloons: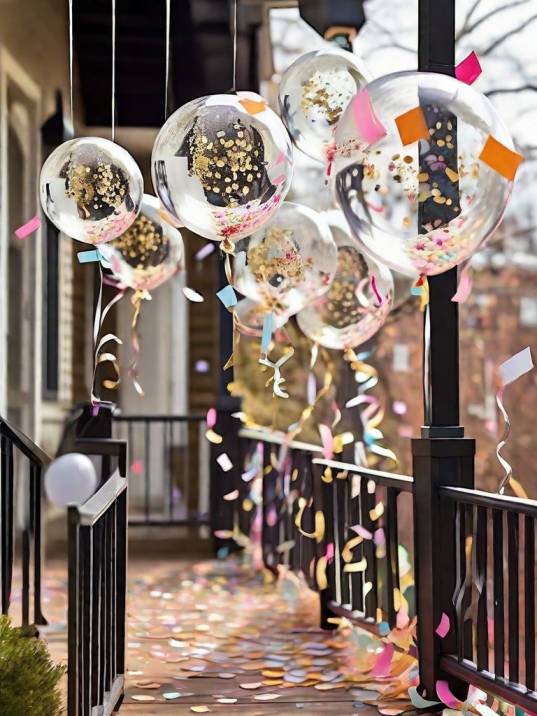 For a fun and interactive decoration, fill clear balloons with colorful confetti. Attach them to your porch railing or hang them from trees. At midnight, you can pop them for a confetti shower.
10. Winter Wonderland Theme:
Transform your outdoor space into a winter wonderland with white lights, silver and blue decorations, and faux snow. This theme adds an elegant and serene atmosphere.
11. Outdoor Fireplace or Fire Pit: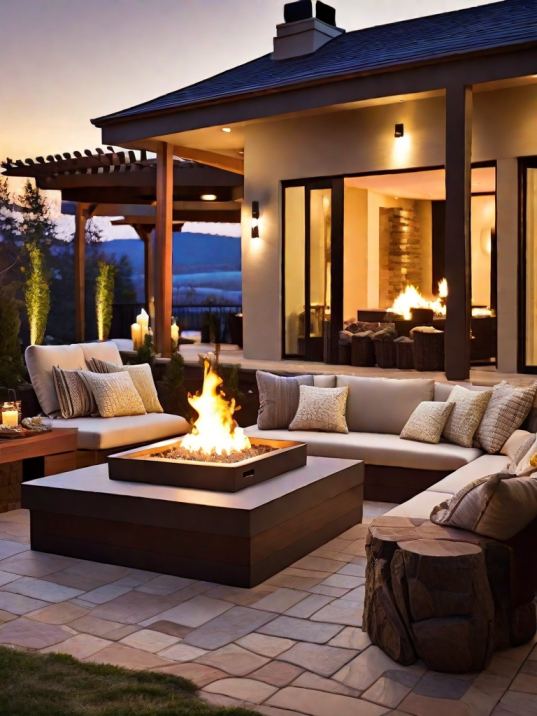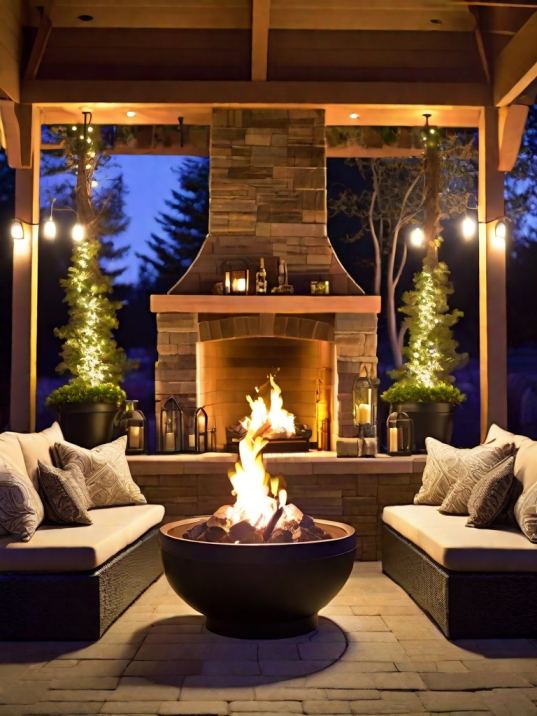 If you have an outdoor fireplace or fire pit, consider lighting it for the evening. It not only provides warmth but also creates a cozy, inviting atmosphere.
12. Sculpted Ice Lanterns: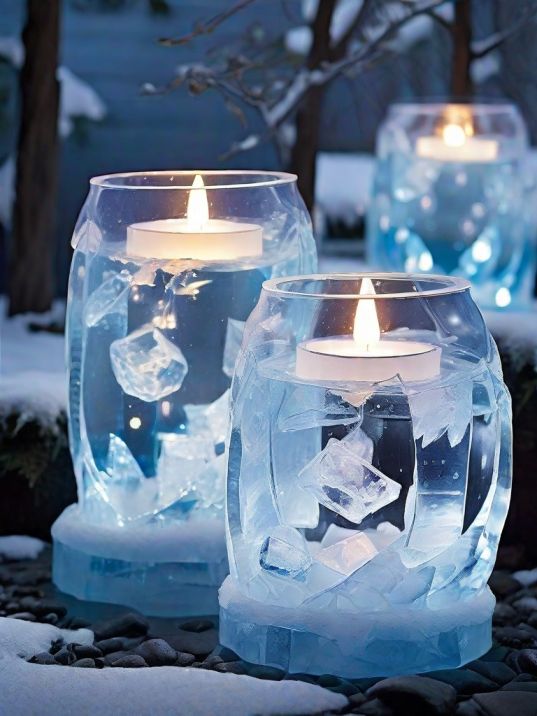 Create ice lanterns by freezing water in various containers, and placing LED candles inside. These ice lanterns can be arranged around the yard to provide an ethereal glow.
13. Glittery Tree Branches: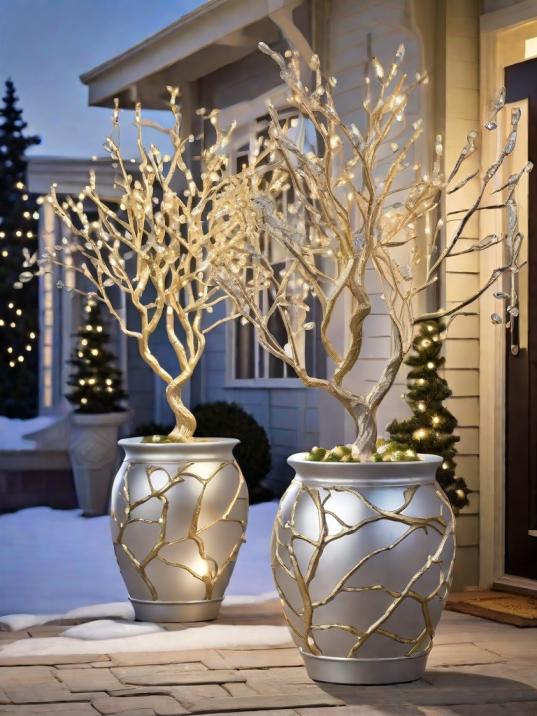 Spray paint tree branches in silver or gold and place them in decorative pots around the porch. Hang small ornaments or LED lights from these branches to add a festive touch.
14. Holiday Inflatables: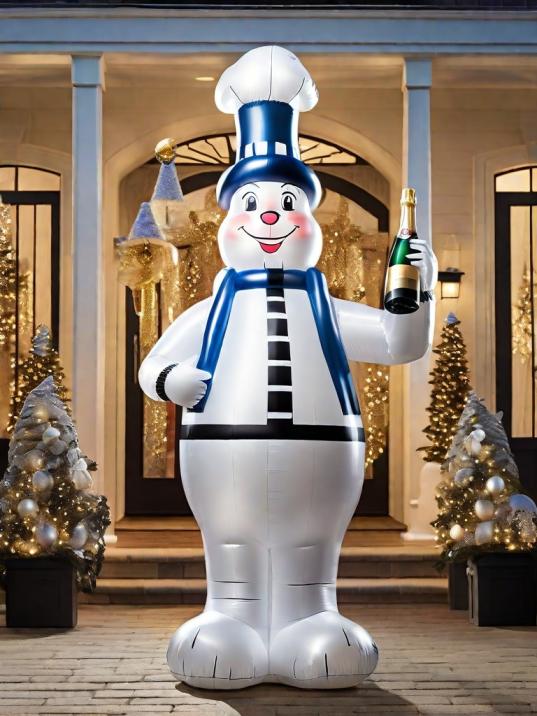 Inflatable holiday figures, such as a New Year's baby or a giant champagne bottle, can make a playful addition to your outdoor decor.
15. New Year's Topiaries: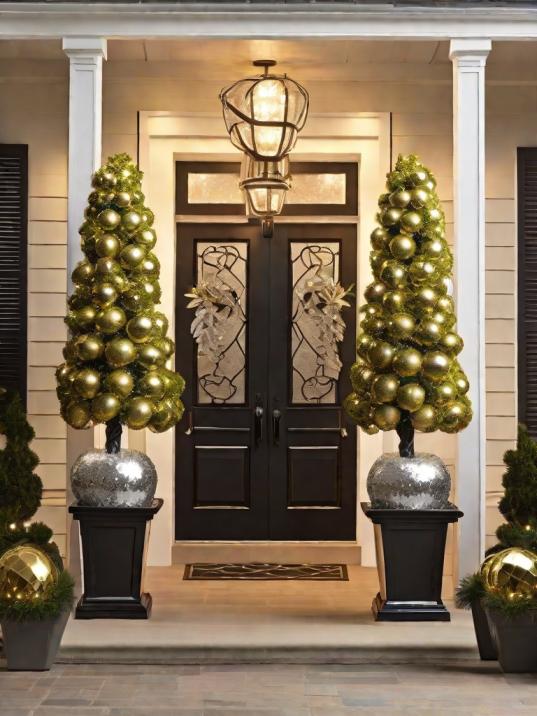 Decorate your porch with New Year's-themed topiaries. You can use artificial plants or create your own using materials like metallic tinsel.
16. Glowing Luminous Lanterns: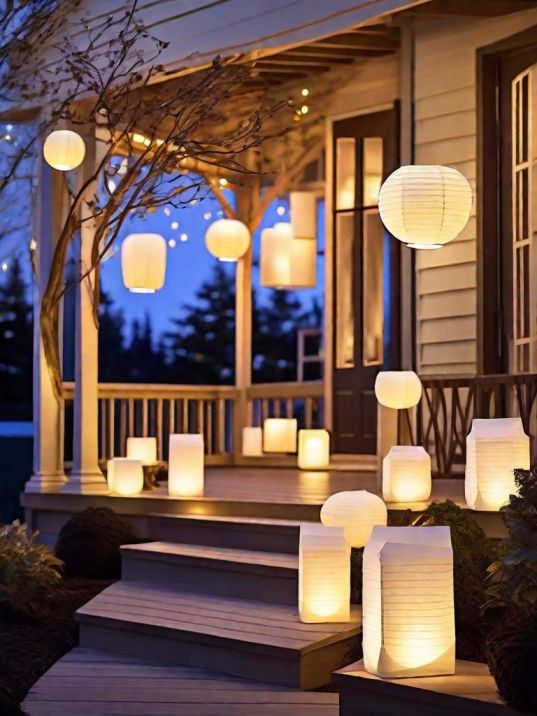 Hang decorative lanterns with LED candles inside. These lanterns can be suspended from tree branches or along your porch railing for a warm and welcoming glow.
17. Holographic Decorations:
Incorporate holographic or iridescent decorations like streamers, windsocks, and hanging orbs. These items catch and reflect light, creating a dazzling effect.
18. Countdown Clock Projection: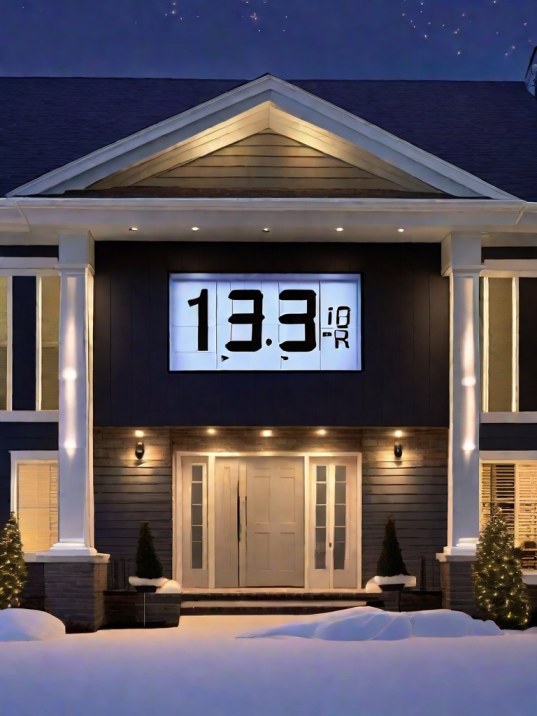 Use a projector to display a digital countdown clock on the exterior of your home. This can serve as a visual timer as you get closer to midnight.
19. Glow-in-the-Dark Painted Rocks:
Paint rocks with glow-in-the-dark paint and arrange them in patterns or messages on your front lawn. These will emit an enchanting glow at night.
20. Curtain of Streamers:
Hang a curtain of metallic streamers or ribbons from the top of your porch to create a shimmering entrance for your guests.
21. Reflective Pool Decor:
If you have a water feature or pool, add floating candles, LED lights, or reflective decorations to create a stunning visual display.
22. Confetti-Filled Decor: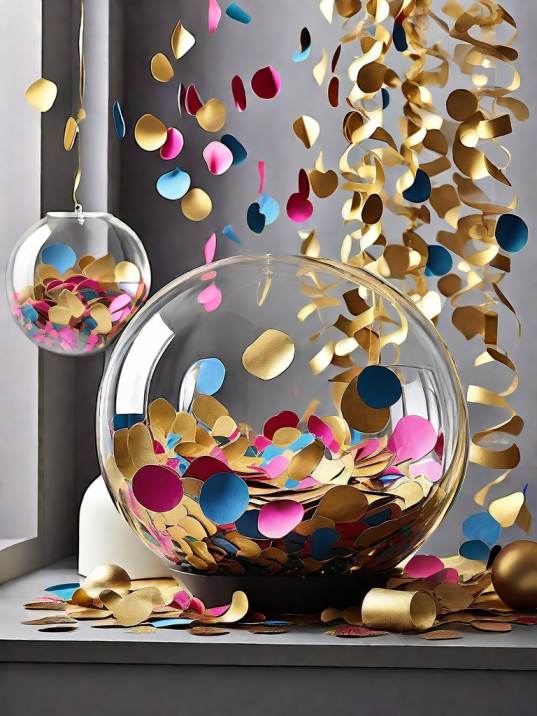 Incorporate confetti-filled elements like hanging globes or decorative bowls placed on your porch, providing a playful and festive atmosphere.
23. Repurposed Wine Bottles: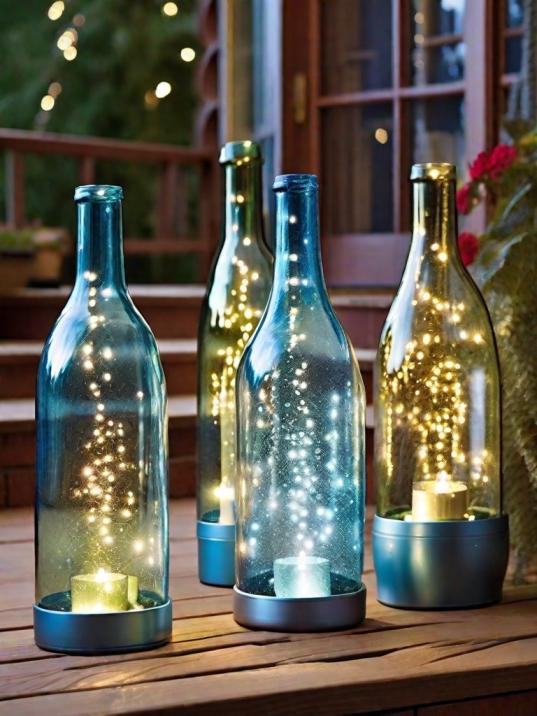 Save empty wine bottles and spray paint them in metallic colors. Place LED lights inside to create sparkling luminaries for your outdoor spaces.
24. Draped Tulle or Fabric:
Drape sheer tulle or elegant fabric along your porch or entrance to create a soft, romantic ambiance.
25. New Year's Fountain: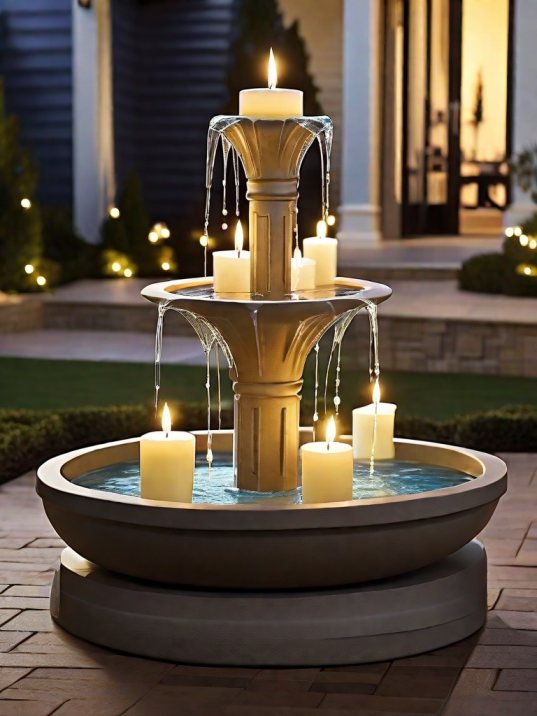 If you have a fountain, adorn it with floating candles or LED lights to create a beautiful and calming centerpiece for your outdoor decor.
26. Glowing Starbursts: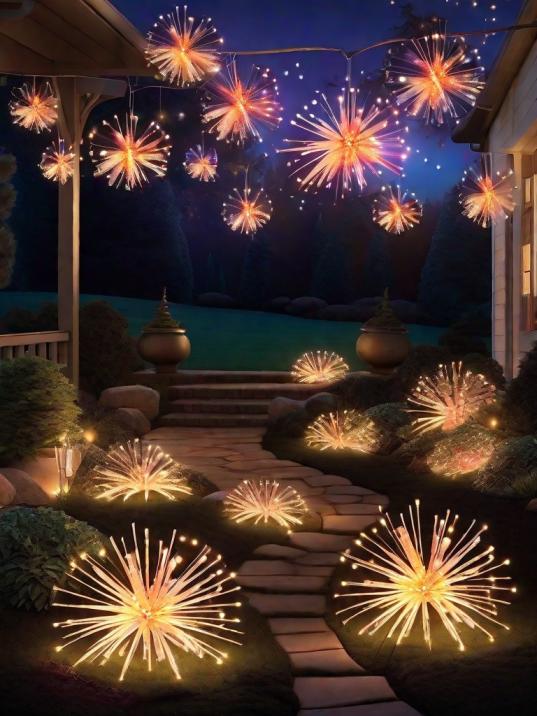 Hang or stake glowing starburst decorations in your yard. These add a touch of celestial wonder to your New Year's display.
27. Fairy Tale Garden Lights: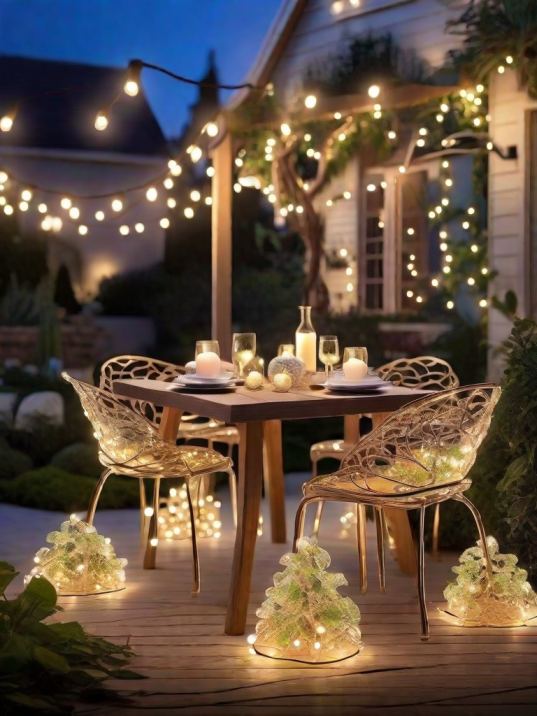 Decorate your outdoor plants and shrubs with fairy lights or waterproof string lights. They can transform your garden into a magical wonderland.
28. Floating Lanterns: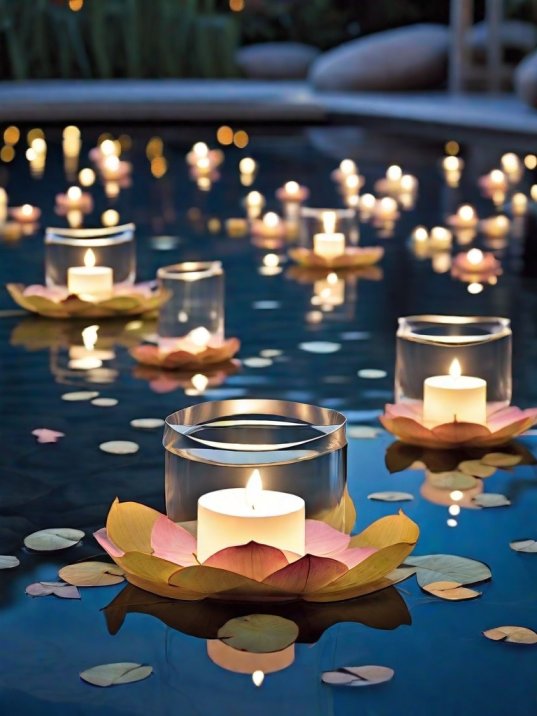 Set up floating lanterns or candles in a water feature, such as a pond or pool. These lanterns can provide a serene and enchanting element to your outdoor decor.
29. Giant Disco Ball: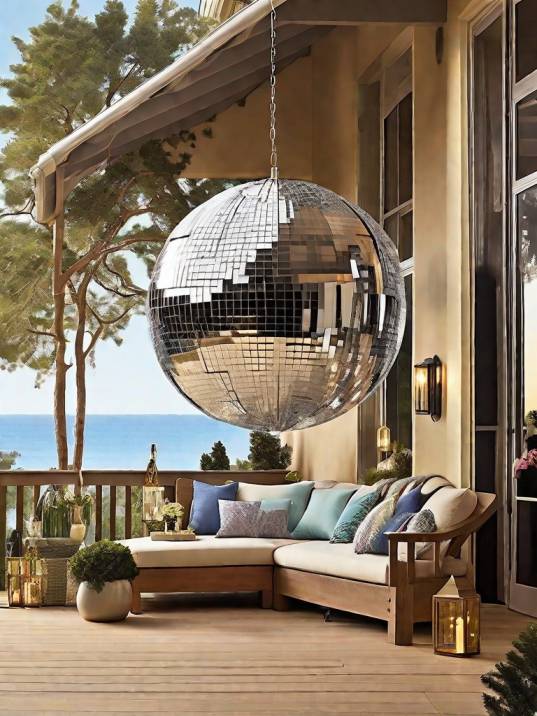 Hang a large disco ball from a sturdy tree branch or your porch ceiling. It will reflect light in all directions, creating a dazzling effect.
30. Firefly Jars: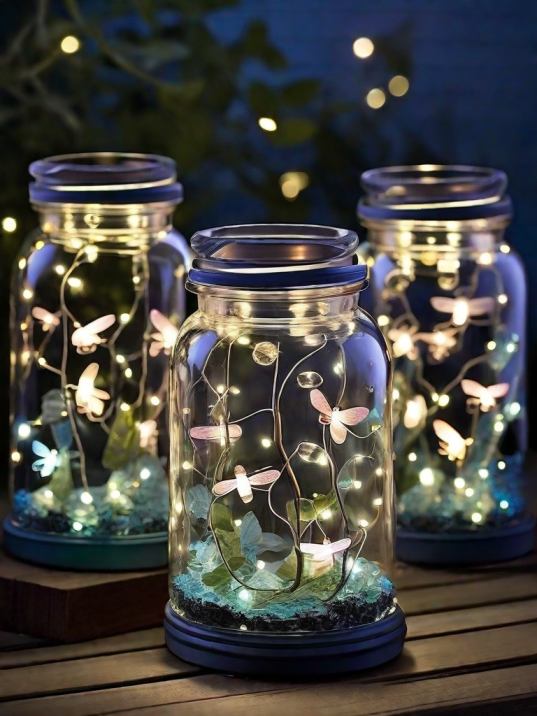 Create a whimsical atmosphere with jars filled with fairy lights, resembling fireflies. Place them around your garden or porch for a touch of magic.
31. New Year's Windsocks:
Hang decorative windsocks or wind chimes that have New Year's themes. These not only look great but also provide soothing sounds in the breeze.
32. Glowing Snowflakes: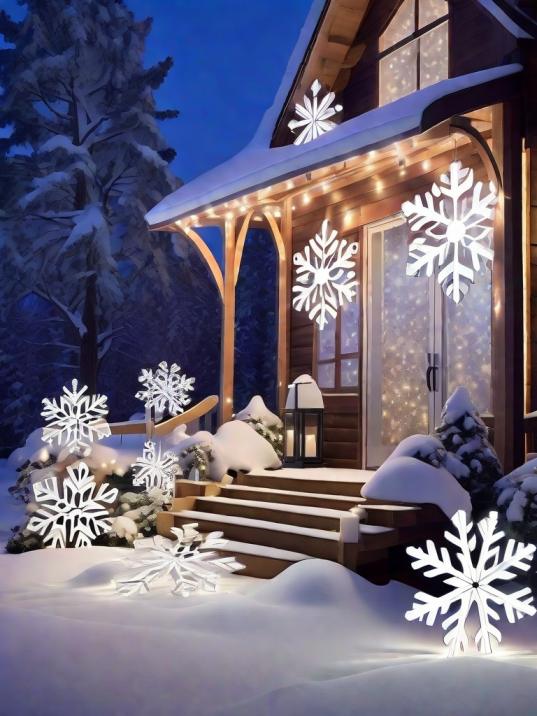 If you live in a snowy area, create large snowflakes from wooden boards or paper and illuminate them with spotlights to create a wintery effect.
33. Glow-in-the-Dark Painted Pots: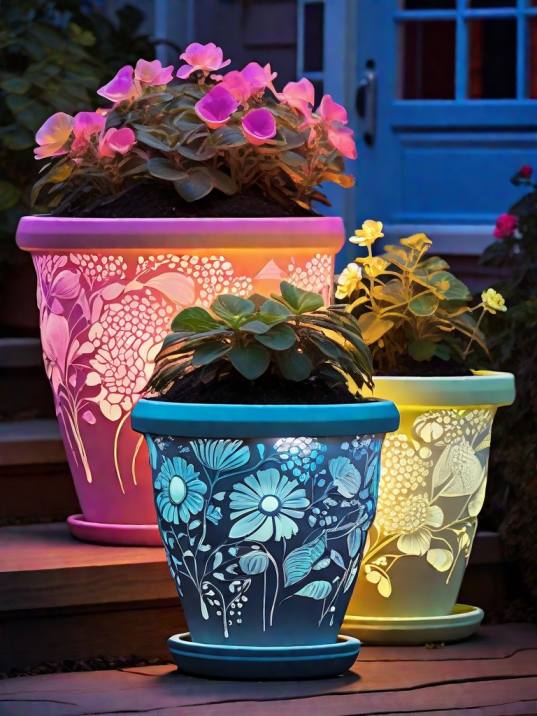 Paint flower pots with glow-in-the-dark paint and plant them with vibrant flowers. They'll not only look great during the day but also glow at night.
34. Chic Bunting Flags: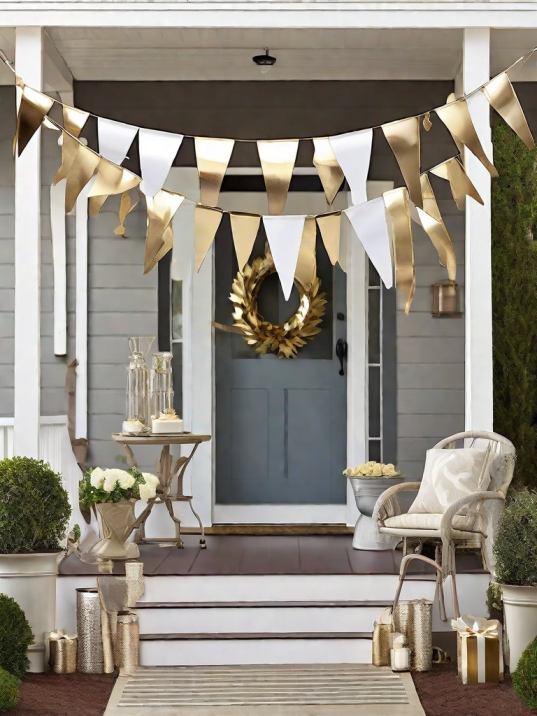 Hang bunting flags in metallic colors along your porch or deck. This timeless decoration adds a touch of elegance to your outdoor space.
35. Starry Night Projection:
Use a projector to display a starry night or fireworks scene on the side of your house or the ground. It will create a magical ambiance.
36. Glowing Orb Path Lights: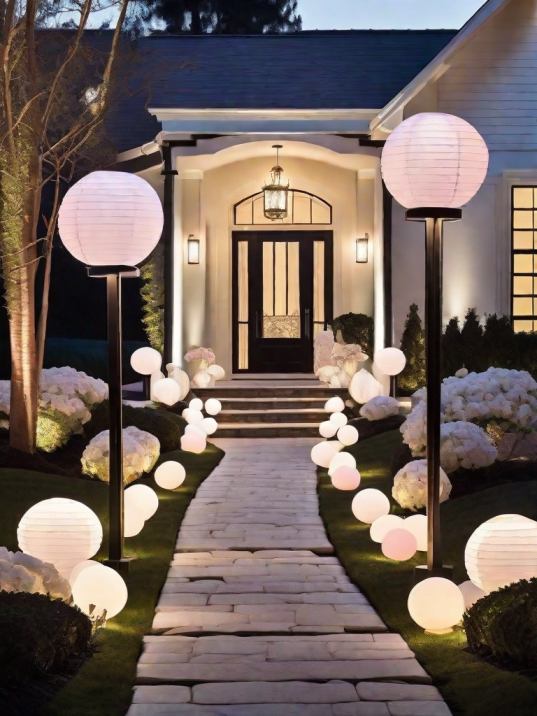 Line your pathway with glowing orbs or round lanterns on stakes. They provide a soft, romantic illumination for your guests.
FAQs (Frequently Asked Questions)
Q1: What is the purpose of New Year's outdoor decorations?
New Year's outdoor decorations serve to create a festive and welcoming atmosphere for your celebration. They set the stage for a memorable event, and they allow you to express your creativity and style while ringing in the new year.
Q2: Can I incorporate specific themes into my outdoor New Year's decorations?
Yes, you can definitely incorporate themes into your outdoor New Year's decorations. Common themes include winter wonderland, celestial, and elegance. These themes help create a cohesive and visually pleasing decor.
Q3: How can I create a magical ambiance with outdoor lighting?
To create a magical ambiance with outdoor lighting, use a combination of string lights, lanterns, and LED fairy lights. These can be wrapped around trees, railings, and porch columns to provide soft, enchanting illumination.
Q4: Are there any safety precautions to consider when using outdoor decorations?
Yes, safety is crucial when using outdoor decorations. Be cautious with fire-related decorations, such as candles and lanterns. Ensure electrical connections are weatherproof, and avoid overloading circuits. Also, be mindful of local regulations regarding fireworks and open flames.
Q5: What are some ideas for eco-friendly outdoor decorations?
You can create eco-friendly outdoor decorations by upcycling items like wine bottles or using LED lights with low energy consumption. Additionally, you can incorporate natural elements like potted plants or topiaries into your decor.
Q6: How can I add an interactive element to my New Year's outdoor decor?
An interactive New Year's guestbook is a great way to engage your guests. Set up a table near the entrance for them to sign and leave messages for the new year. Decorate the table with New Year's-themed decor to encourage participation.
Q7: What's a simple way to create a whimsical atmosphere with outdoor decor?
To add a touch of whimsy, consider using firefly jars. Fill jars with fairy lights to resemble fireflies and place them around your garden or porch for a magical and enchanting effect.
Q8: How can I ensure that my New Year's outdoor decorations stand out?
To make your decorations stand out, consider incorporating unique elements such as holographic decorations, countdown clock projections, or interactive guestbooks. Personalization and attention to detail can also make your decor memorable.
Q9: What is the best way to create an elegant and serene atmosphere with outdoor decorations?
You can create an elegant and serene atmosphere with outdoor decorations by using elements like reflective pool decor, floating lanterns, and winter wonderland themes. These can help evoke a sense of grace and tranquility for your New Year's celebration.
Q10: Are there any tips for making New Year's outdoor decorations more sustainable?
Yes, you can make your New Year's outdoor decorations more sustainable by using energy-efficient LED lights, repurposing materials, and choosing eco-friendly decor items. Consider the environmental impact of your choices and look for ways to minimize waste.
Conclusion:
With these home outside New Year's decoration ideas, your home will become a shining example of festive cheer and a warm welcome to the New Year. These decorations are not only visually pleasing but also ensure that you start the year with style. Share this article with friends and family, and get ready to make your home the ultimate destination for New Year's celebrations. Cheers to a fantastic year ahead!