Decorating a small bathroom sink area can be a challenging task, but with the right ideas, it can become a stylish and functional space that maximizes every inch available. In this blog post, we will explore 16 small bathroom sink decor ideas, focusing on optimizing space and incorporating unique features. Additionally, we'll provide product recommendations for each design idea, making it easier for you to find the perfect items for your bathroom makeover. Let's dive in!
[This post may contain affiliate links. What does that mean to you? Well, if you click on a product and make a purchase, I may get some compensation from you at no charge. If you want to read the boring stuff my full disclosure can be found here.]
1. Wall-Mounted Sink:
Opt for a wall-mounted sink to free up floor space and create a more open feel in the bathroom. It will give the illusion of a larger area.
Add elegance and space-saving functionality with the Aquaterior Wall Mount Bathroom Sink. This sleek, wall-mounted sink features a single faucet hole and is made of durable ceramic, making it a perfect addition to your small bathroom.
2. Floating Shelves: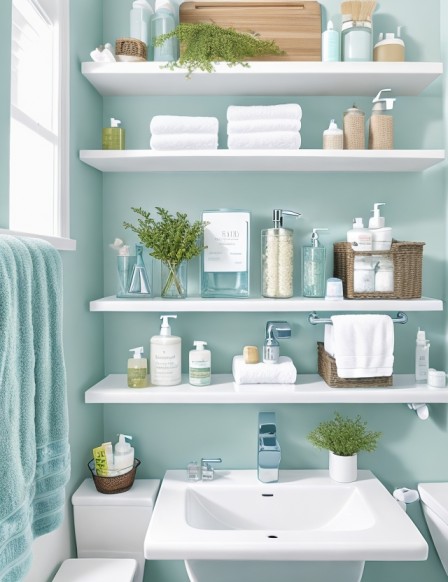 Install floating shelves above or next to the sink to store bathroom essentials like towels, toiletries, and decorative items. They add storage without taking up much space.
Keep your bathroom essentials organized with Love-KANKEI Floating Shelves. These rustic wood shelves come in a set of three and feature hidden metal brackets for a minimalist look that complements any decor.
3. Mirror with storage: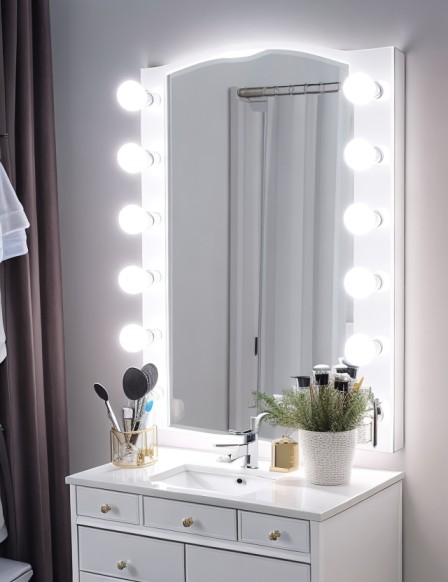 Choose a mirror that comes with built-in storage or a hidden cabinet behind it. It's a practical way to keep small items like toothpaste, brushes, and makeup within reach.
Combine style and functionality with the Chende Hollywood Vanity Mirror. This mirror features built-in LED lights with Extra Outlet, providing a perfect solution for your small bathroom sink area.
4. Towel Racks or Hooks:
Install towel racks or hooks on the walls to hang towels neatly. This helps keep the sink area tidy and adds a touch of style.
Efficiently store towels with the NearMoon Hand Towel Holder/Towel Ring. This innovative stainless steel rack doubles as a towel holder and a decorative rack, saving space and adding charm to your bathroom.
5. Minimalist Soap Dispensers and Toothbrush Holders:
Keep the sink area neat with sleek and minimalistic soap dispensers and toothbrush holders. Look for a wall-mounted set with magnetic holders for added convenience.
Keep your sink area clutter-free with the Soap Dispenser and Toothbrush Holder Set. This sleek wall-mounted set features magnetic holders and a modern design, adding style to your bathroom.
6. Under-Sink Storage:
Maximize the space beneath the sink with practical organizers and adjustable shelves. This ensures a tidy look while providing ample storage for toiletries and cleaning supplies.
Optimize under-sink space with the Under-Sink Organizers. This versatile organizer has adjustable shelves, perfect for storing toiletries and cleaning supplies.
7. Bright Lighting for Small Bathroom Sink Decor Ideas: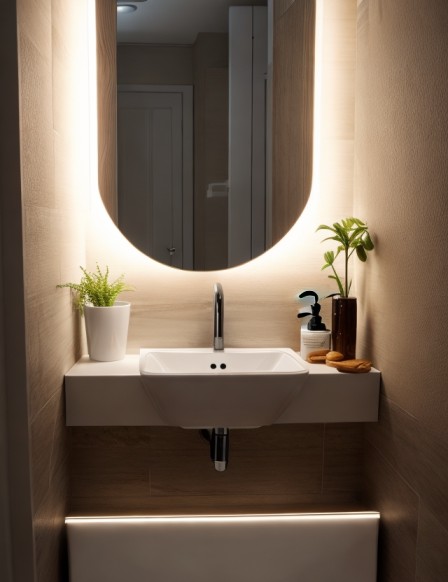 Enhance the sink area with proper lighting. Opt for an adjustable smart lighting system that allows you to control the color and intensity to match your preferences.
Create the perfect ambiance with the Govee Smart LED Strip Lights. These color-changing lights can be controlled via a smartphone app, allowing you to customize the lighting according to your mood.
8. Decorative Accents: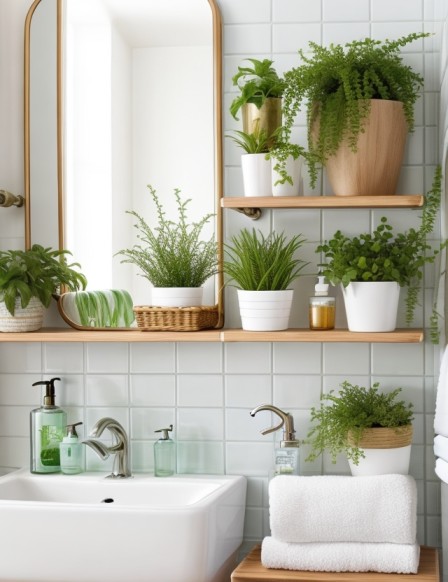 Add small decorative touches such as a potted plant, a scented candle, or decorative stones to bring life and personality to the sink area.
Add a boho-chic touch to your bathroom with the small wall baskets for plants . This basket decorative piece will infuse personality and charm into your sink area.
Also Read-
9. Glass or acrylic accessories:
Use transparent or reflective accessories like glass soap dispensers and acrylic organizers to give the illusion of more space.
Keep your sink area tidy with the Acrylic Bathroom Organizer Set. These transparent organizers add a modern touch while providing ample storage space.
10. Wall Art: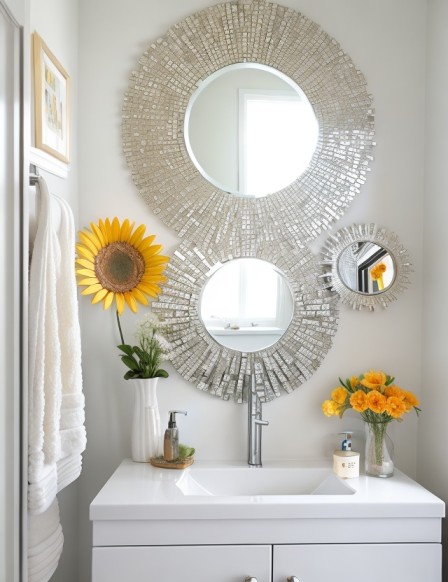 Create a stunning focal point with a collection of small, artistic mirrors arranged creatively to function as both mirrors and wall art.
Create a stunning focal point with the Sunburst Wall Mirror. This decorative mirror adds a touch of elegance to your bathroom while serving as functional wall art.
12. Over-the-Sink Shelf:
Install a modern over-the-sink shelf with built-in wireless charging pads, ensuring convenience and efficiency.
Utilize the ODesign Adhesive Bathroom Shelf for additional storage above your sink. This shelf comes with adhesive backing for easy installation without drilling.
13. Tiered Storage: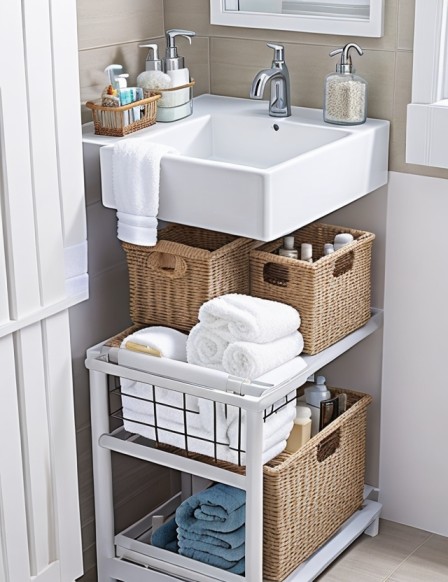 Choose tiered storage baskets made of eco-friendly materials to add a touch of sustainability to your bathroom.
Optimize your under-sink space with the tiered storage basket system. Its durable basket design provides ample storage for all your bathroom essentials.
14. Wall-Mounted or Pedestal Sink Base: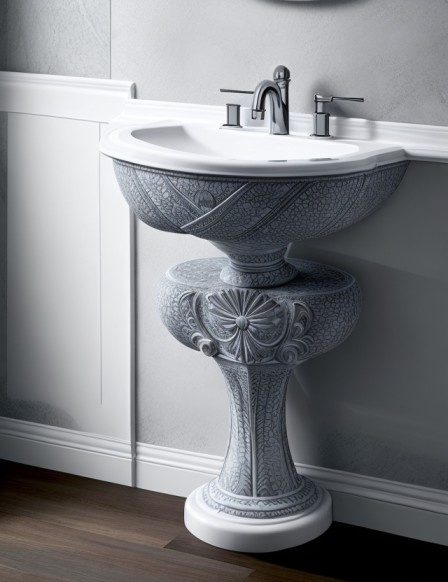 Consider a unique wall-mounted or pedestal sink base with a captivating pattern or texture for added visual interest.
15. Reflective Surfaces: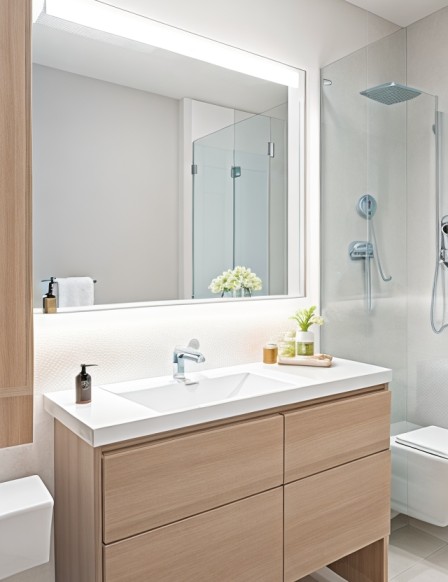 Install a large frameless mirror with an anti-fog feature for a clear reflection even in a steamy bathroom.
Reflect light and make your bathroom feel more spacious with the Hamilton Hills Frameless Wall Mirror. Its beveled edges add a touch of sophistication to your sink area.
16. Corner Sink: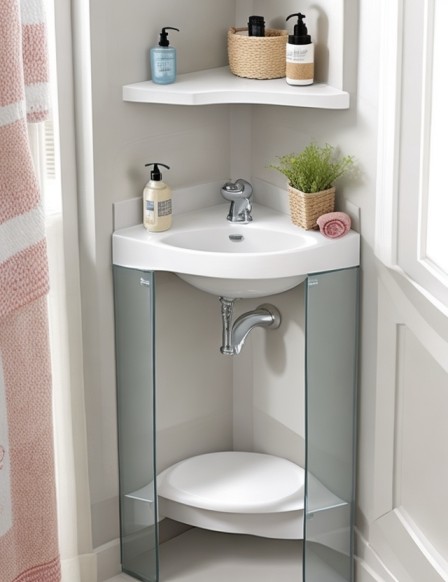 Optimize corner space with an elegant corner sink design featuring integrated storage for added convenience.
Maximize corner space with the Walcut Wall Mount Corner Bathroom Sink. Its space-saving design adds functionality without sacrificing style.
FAQ (Frequently Asked Questions)
Q1: What are some space-saving small bathroom sink decor ideas?
Space-saving ideas include wall-mounted sinks, floating shelves, and wall-mounted soap dispensers.
Q2: How can I maximize storage in my small bathroom sink area?
Utilize under-sink organizers, tiered storage baskets, and magnetic strips for efficient storage solutions.
Q3: What are some decorative accents I can add to my sink area?
Consider adding wall art, decorative accent shelves, and small potted plants for a personalized touch.
Q4: Can you suggest lighting options for a small bathroom sink?
LED vanity lights, smart lighting with adjustable brightness, or color-changing LED bulbs are excellent choices.
Q5: Are there any eco-friendly bathroom accessories available?
Yes, you can find eco-friendly options like bamboo-tiered storage units and recycled glass soap dispensers.
Q6: How can I add a pop of color to my small bathroom sink decor?
Choose color-changing LED lights or incorporate colorful glass or acrylic bathroom accessories.
Q7: Can I use tiered storage in a corner sink setup?
Absolutely! Tiered storage is adaptable and works well in corner sinks, utilizing otherwise unused space.
Q8: Is there a towel-warming solution suitable for small bathrooms?
Yes, compact towel warmers with timer settings are perfect for small bathrooms, offering a touch of luxury.
Q9: How do I keep my sink area clutter-free?
Utilize organizers like hanging pockets, stackable containers, and magnetic strips to maintain a tidy sink area.
Q10: Can you suggest a unique alternative to a traditional bathroom door?
Consider using a decorative fabric shower curtain as an innovative and stylish door alternative.
Conclusion:
Small bathroom sink decor doesn't have to be challenging; with these 26 brilliant ideas, you can transform your sink area into a stylish and organized space. From wall-mounted sinks to space-saving faucets and clever storage solutions, these designs will help you maximize space and create a bathroom that reflects your personality. Embrace the uniqueness of each idea to make your small bathroom sink a true standout. So, start exploring and revamping your bathroom sink area today!