Welcome to a world of greenery and creativity! In this comprehensive blog post, we will delve into 22 indoor garden ideas for small apartments, designed to transform your compact living space into a flourishing oasis. Embrace the beauty of nature, even in limited quarters, as we explore space-saving solutions and inspiring designs to bring the outdoors inside. Whether you're an urban dweller or simply seeking a touch of green in your home, these indoor garden ideas will breathe life and tranquility into your small apartment. Let's embark on a journey of innovation and discovery, cultivating an enchanting indoor garden that captivates and rejuvenates.
[This post may contain affiliate links. What does that mean to you? Well, if you click on a product and make a purchase, I may get some compensation from you at no charge. If you want to read the boring stuff my full disclosure can be found here.]
1. Fairy-Tale Terrarium Village: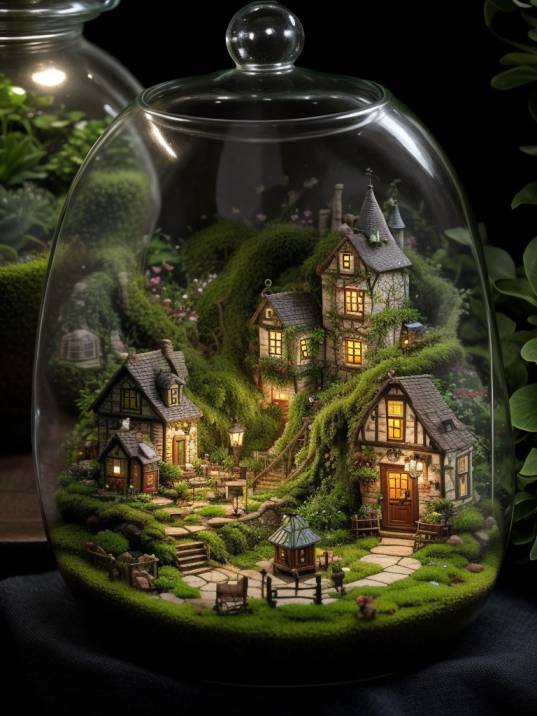 Create an enchanting terrarium village in glass containers of varying sizes. Arrange tiny houses, figurines, and miniature plants like ferns and mosses to craft an alluring scene that evokes the magic of a fairy tale world. Add tiny LED fairy lights to create a whimsical ambiance during the evenings. To get started, you can use the Miniature Fairy Garden Accessories Kit – A set of delicate fairy garden figurines, houses, and accessories to bring your fairy-tale terrarium village to life.
2. Air Plant Art Installation: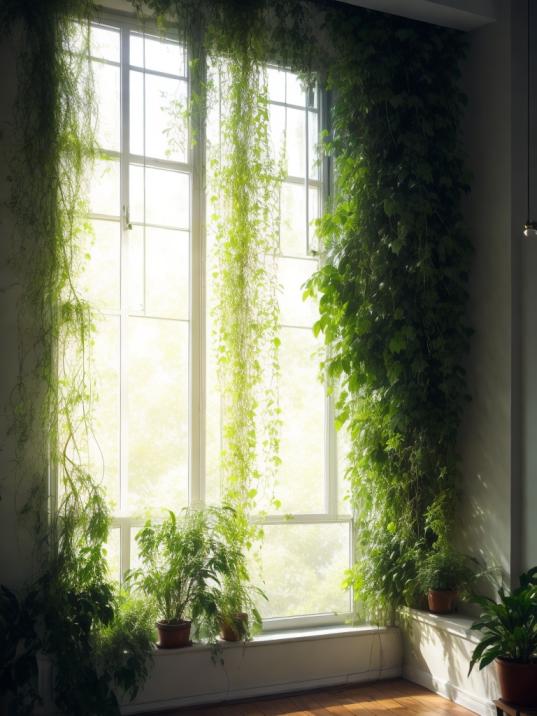 Design a captivating living art installation with air plants mounted on a wooden board or displayed in geometric frames. These low-maintenance, epiphytic plants add a contemporary and artistic flair to your indoor garden, providing an eye-catching focal point for your apartment.
Product Suggestion:
Assorted Air Plants Collection – A diverse selection of air plants in different shapes and sizes to create a stunning and eclectic air plant art installation.
3. Magnetic Succulent Frames: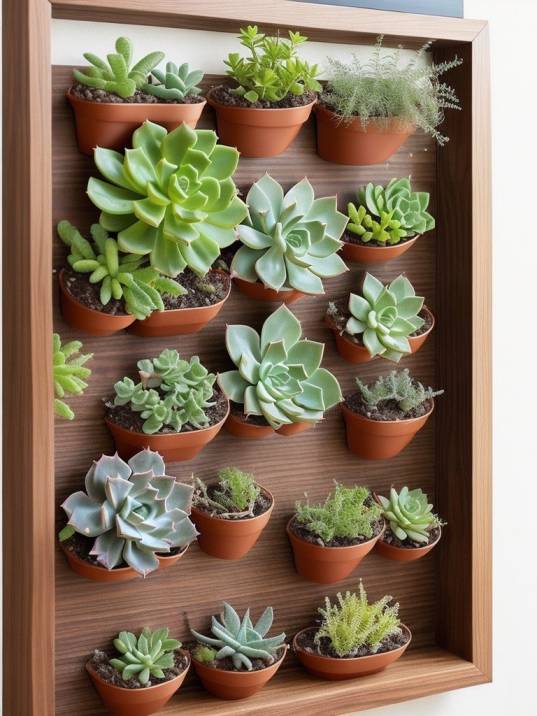 Incorporate small magnets on the back of framed pictures, then attach magnetic pots with succulents onto the frames. This clever combination transforms your favorite photos into a living wall gallery, seamlessly blending memories with living greenery.
Product Suggestion:
Magnetic Succulent Planters – A set of magnetic planters specially designed to attach to various surfaces, perfect for creating a magnetic succulent frame display.
4. Indoor Vertical Hydroponics:
Set up a vertical hydroponics system to grow herbs and leafy greens indoors. This soil-free gardening method maximizes space and ensures a year-round supply of fresh, homegrown produce. Enjoy a steady harvest of greens right in the comfort of your small apartment.
Product Suggestion:
Indoor Hydroponic Garden Kit – An all-in-one hydroponic system with LED grow lights, nutrient solution, and planting pods, simplifying the process of indoor vertical hydroponic gardening.
5. Hanging Orchid Garden: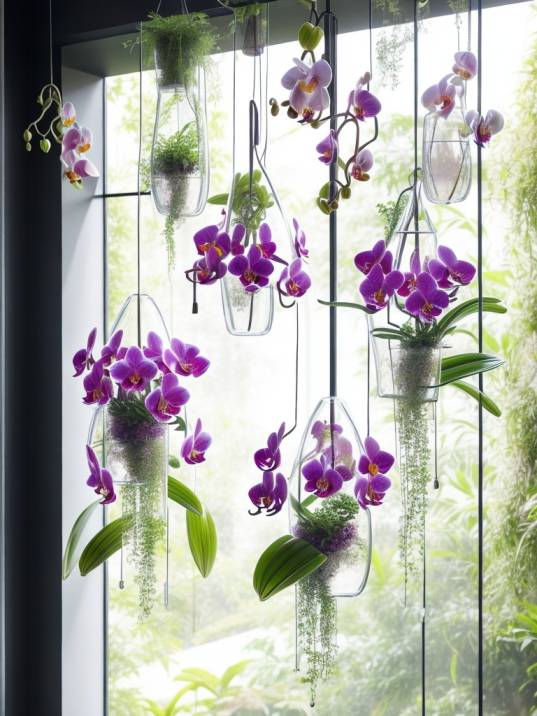 Create a stunning hanging garden using orchids in glass vases or clear pots. These elegant and exotic flowers add a touch of sophistication to your living space, suspended from the ceiling or wall-mounted hooks, offering an ethereal and visually captivating sight.
Product Suggestion:
Hanging Glass Plant Terrariums – Transparent glass terrariums with hooks, perfect for showcasing orchids and other delicate plants as part of your hanging orchid garden.
6. Indoor Cactus Collection: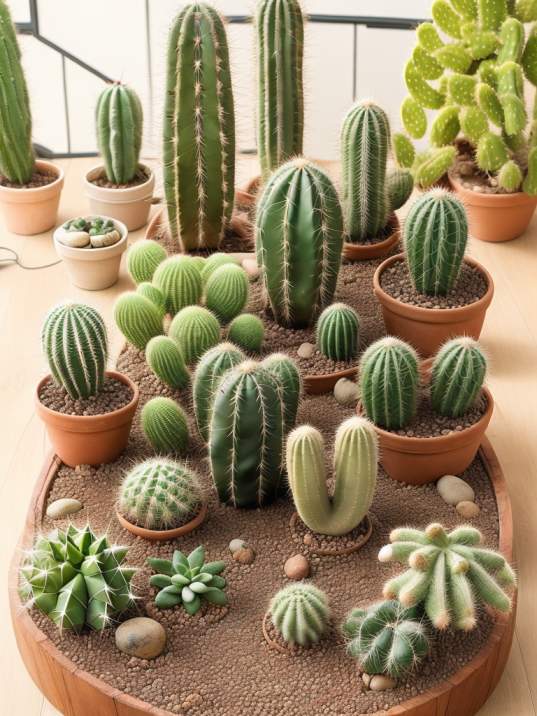 Curate an impressive collection of cacti in various shapes and sizes, showcasing their unique and striking characteristics. This desert-inspired garden brings an unexpected touch of nature to your apartment, complementing your decor with a touch of Southwestern charm.
Product Suggestion:
Assorted Cactus Collection – A variety pack of cacti featuring different species and sizes, ideal for creating a diverse and captivating indoor cactus collection.
7. Terrarium Coffee Table: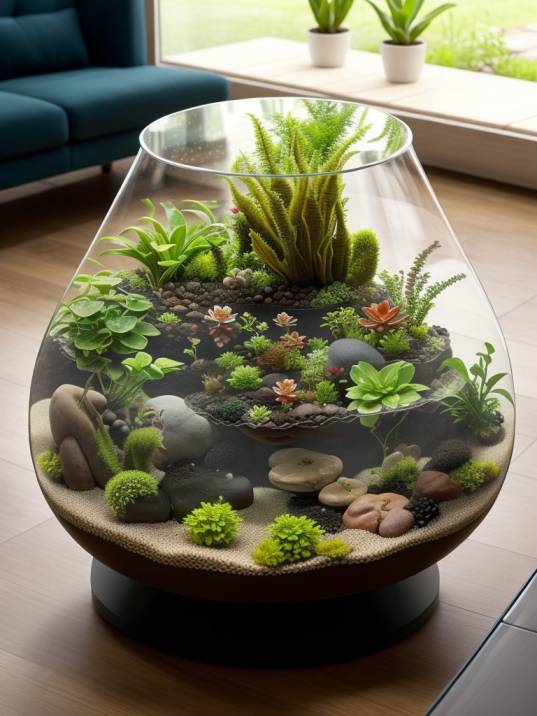 Construct a coffee table with a glass top and create a living terrarium underneath. A miniature world of plants and small decorative elements will invite guests to take a closer look and appreciate the beauty beneath the surface. Add a layer of activated charcoal and well-draining soil to ensure a healthy terrarium ecosystem.
Product Suggestion:
Glass Terrarium Coffee Table – A coffee table designed with a built-in terrarium section, perfect for showcasing your living terrarium garden while providing a functional surface for your living space.
8. Miniature Zen Garden: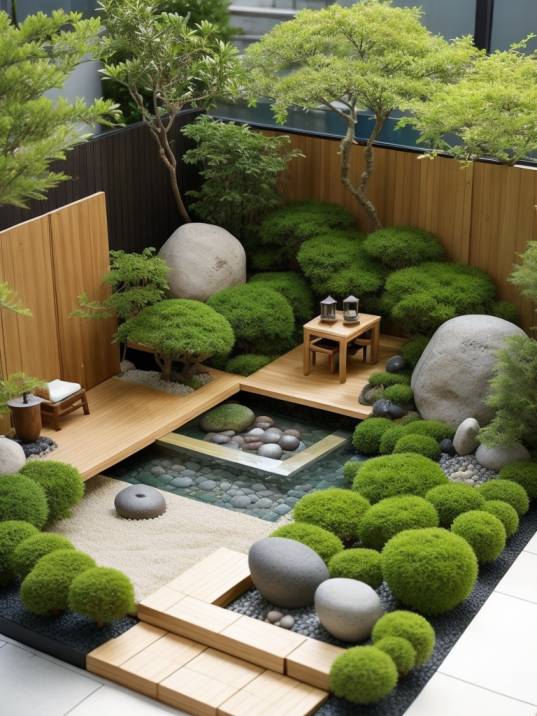 Create a small Zen garden in a shallow container with sand or gravel, complemented by smooth rocks and a tiny rake. This peaceful and meditative garden can add a touch of serenity to any corner of the apartment, providing a soothing escape from the hustle and bustle of city life.
Product Suggestion:
Mini Zen Garden Kit – A complete kit with sand, rocks, and a wooden rake to create your own Zen garden, promoting relaxation and mindfulness.
9. Climbing Plants Green Curtain: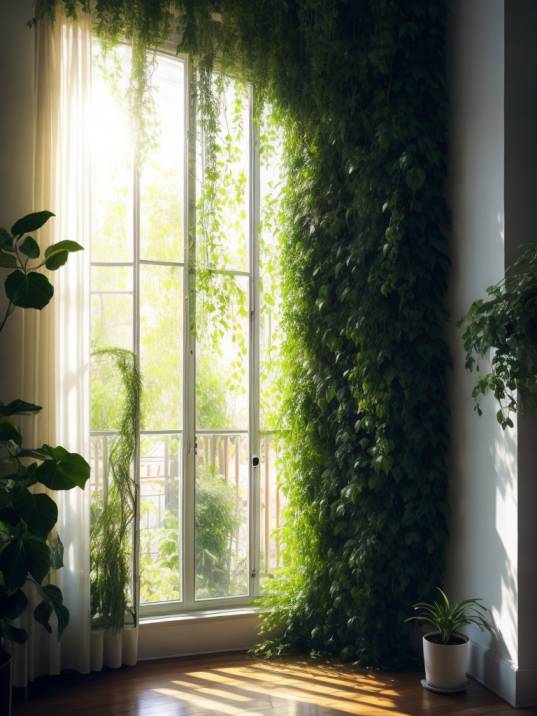 Install a trellis or tension rod near a window and let climbing plants, like ivy or pothos, create a lush green curtain that brings a natural touch to your living space while maintaining privacy. This living curtain adds an element of privacy and fresh air to your small apartment.
Product Suggestion:
Climbing Plant Trellis – An adjustable trellis that can be easily mounted on walls or placed near windows, perfect for training climbing plants into a green curtain.
10. Suspended Plant Chandelier: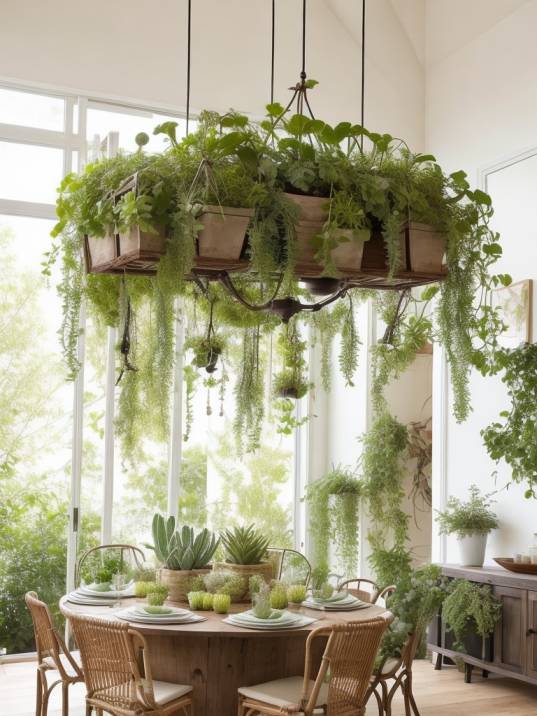 Craft a captivating hanging plant chandelier using a combination of small potted plants, decorative baskets, and macramé hangers. Hang it in the center of the room to add a breathtaking focal point that combines greenery with artistic design.
Product Suggestion:
Hanging Plant Chandelier Kit – A DIY kit with macramé hangers and hanging planters to create your own stunning plant chandelier.
11. Indoor Aquatic Garden: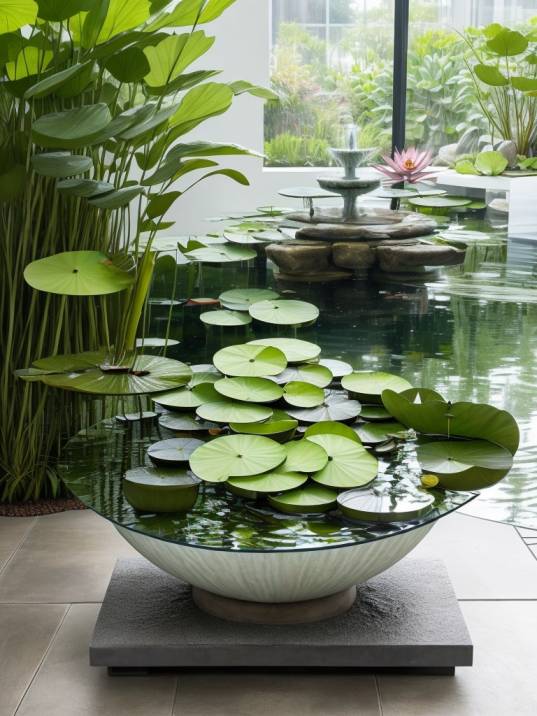 Embrace water gardening with a small indoor water feature, such as a tabletop fountain or a bowl with water lilies and floating plants. The soothing sound of trickling water will add a sense of tranquility and calmness to your apartment.
Product Suggestion:
Indoor Tabletop Water Fountain – A compact and decorative tabletop fountain that incorporates water features and small plants, transforming your space into a serene indoor aquatic garden.
Also Read-
12. Living Bookshelf Garden- Indoor Garden Ideas for Small Apartments :
Convert a bookshelf into a living garden by integrating plants alongside books and decorative items. This unique display merges literature with nature, creating an awe-inspiring visual experience that sparks conversation and creativity.
Product Suggestion:
Plant Shelf Bookcase – A bookshelf with integrated plant shelves or compartments, designed to seamlessly combine your love for books and plants.
13. Color-Themed Plant Collection: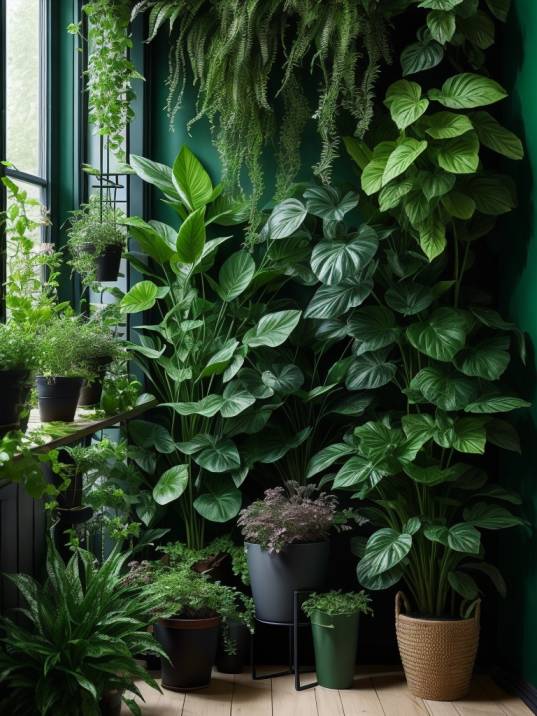 Curate an indoor garden with plants of the same color family, such as varying shades of green or an array of colorful blooms. This thematic approach adds an artistic touch to your plant arrangements, creating a harmonious and visually striking display.
Product Suggestion:
Color-Coordinated Plant Set – A selection of indoor plants with similar foliage or flower colors, allowing you to effortlessly create a color-themed indoor garden.
14. Fairy Light Terrariums: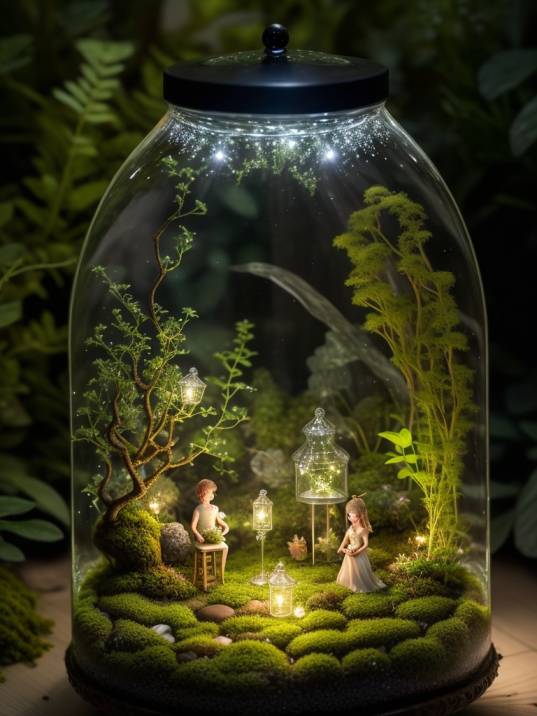 Combine the magic of fairy lights with terrariums by placing small string lights inside glass containers filled with moss, tiny plants, and decorative figurines. This enchanting combination creates a magical and mesmerizing ambiance in your apartment.
Product Suggestion:
Fairy Lights for Terrariums – A set of small, battery-operated LED fairy lights perfect for illuminating terrariums and creating a dreamy atmosphere.
15. Indoor Bonsai Garden: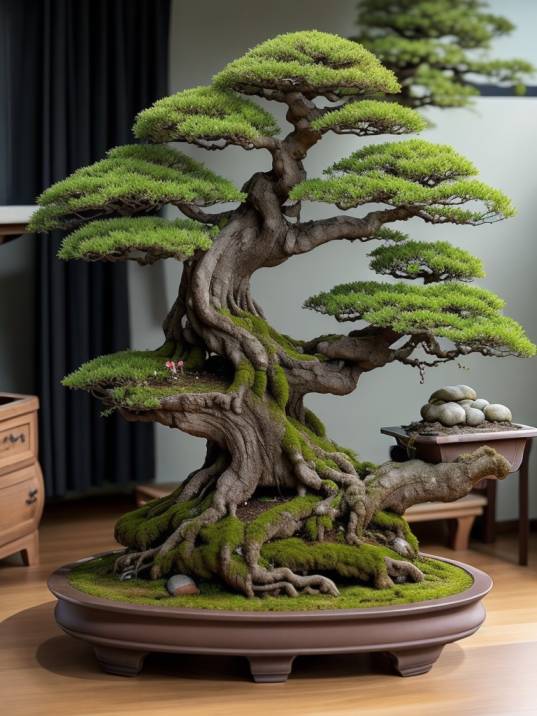 Cultivate a collection of bonsai trees, each a living work of art. These miniaturized trees bring an element of elegance and nature's grandeur to even the smallest of apartments. Nurture and shape these bonsai wonders to reflect your own artistic vision.
Product Suggestion:
Indoor Bonsai Tree Kit – A beginner-friendly bonsai starter kit that includes everything you need to grow and care for your own indoor bonsai garden.
16. Repurposed Ladder Garden: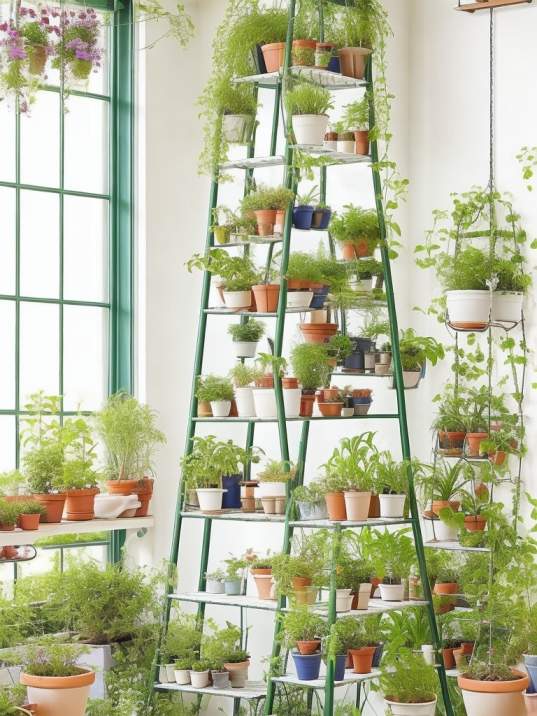 Convert an old ladder into a multifunctional garden display. Add shelves or hang planters from each rung to create a unique and space-saving garden structure in your apartment. This upcycled design brings a touch of rustic charm to your indoor space.
Product Suggestion:
Decorative Ladder Plant Stand – A ladder-style plant stand designed to hold multiple potted plants at different levels, ideal for creating your repurposed ladder garden.
17. Upcycled Wine Bottle Planters: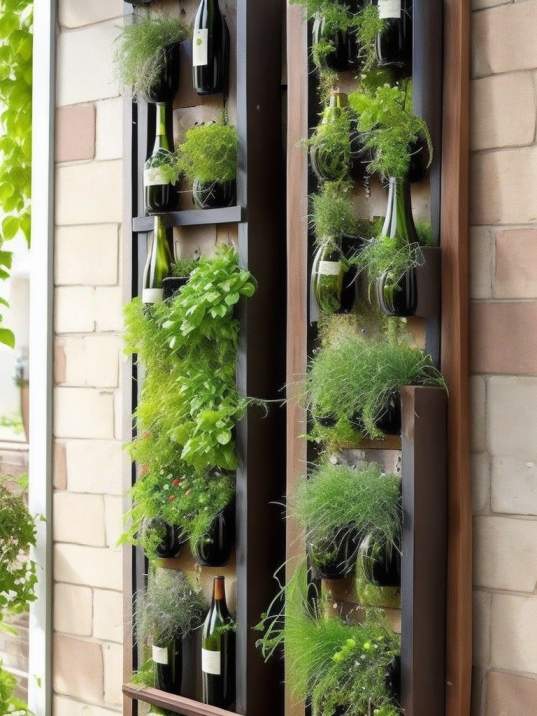 Cut the bottoms of wine bottles and use them as charming planters for small succulents or propagated plant cuttings. This eco-friendly and stylish DIY project adds a touch of elegance to your indoor garden while reducing waste.
Product Suggestion:
Plant Cutting Starter Kit – A kit that includes tools and instructions for cutting wine bottles to transform them into unique planters.
18. Vertical Herb Wall: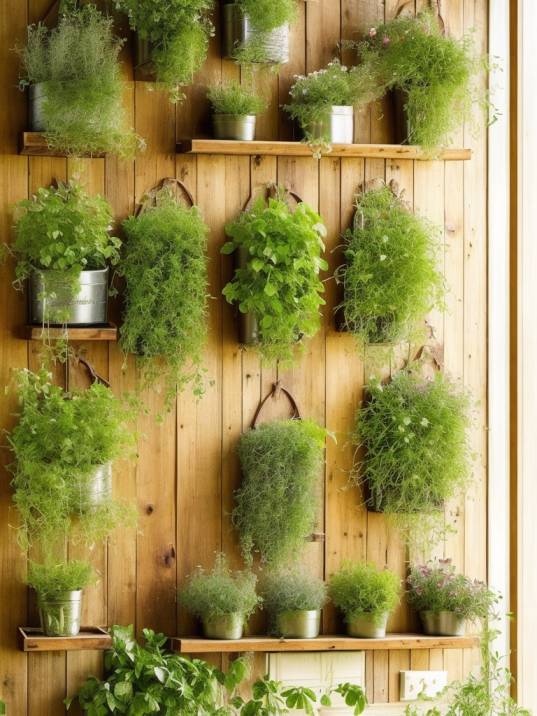 Utilize a vertical wall or the back of a door to grow a herb garden. Install some shelves, pockets, or wall-mounted planters to accommodate various herbs like basil, mint, rosemary, and thyme.
Product Suggestion:
Vertical Garden Wall– Create a stunning vertical herb wall by mounting a wooden or metal frame on a blank wall. Place vertical planters or small pots within the frame to house your favorite herbs. To get started, you can use self-watering vertical planters like the Algreen Garden View Vertical Living Wall Planter.
19. Picture Frame Planters: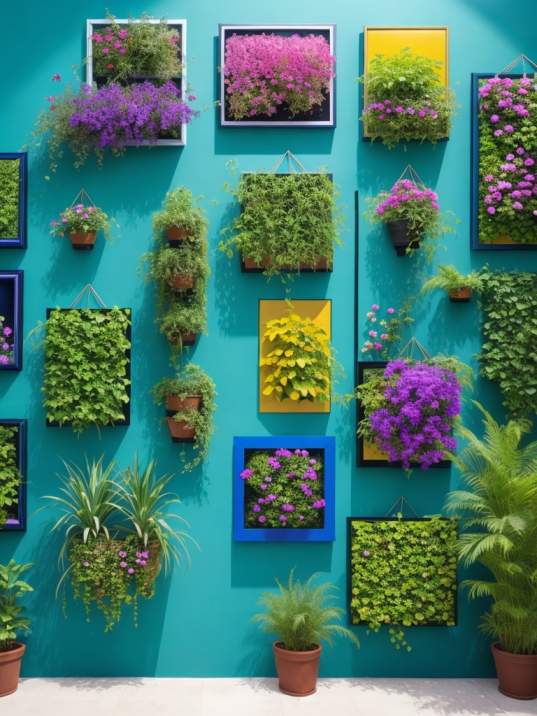 Convert old picture frames into living art by attaching small planters to the back. Hang them on the wall to create a unique and captivating green wall.
Product Suggestion:
Create living art with the Umbra Triflora Hanging Planter for wall-mounted picture frames that double as planters. This hanging planter allows you to easily change and arrange your favorite plants as desired.
20. Indoor Tree Corner: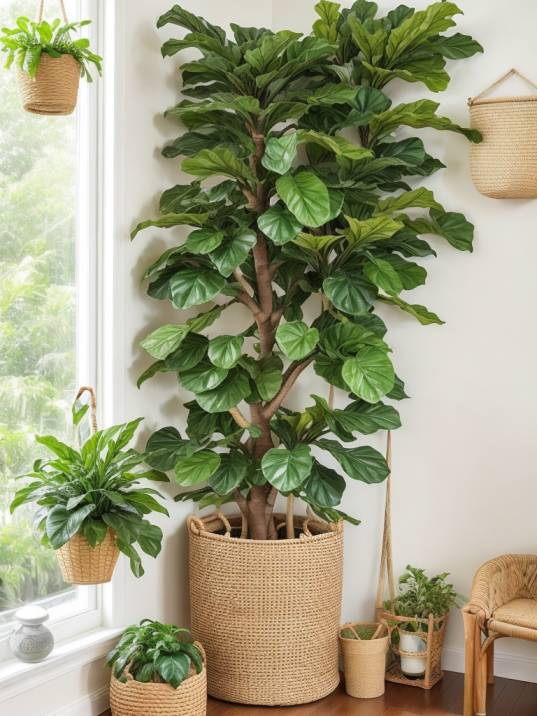 If you have enough ceiling height, consider placing a small indoor tree, such as a dwarf citrus tree or a fiddle-leaf fig, in a cozy corner. It adds a natural focal point to the room and brings a sense of tranquility.
Product Suggestion:
For small indoor trees like a Ceramic Planter Stand provide a stylish solution for adding a touch of nature to your apartment's corner.
21. Fairy Garden Nook: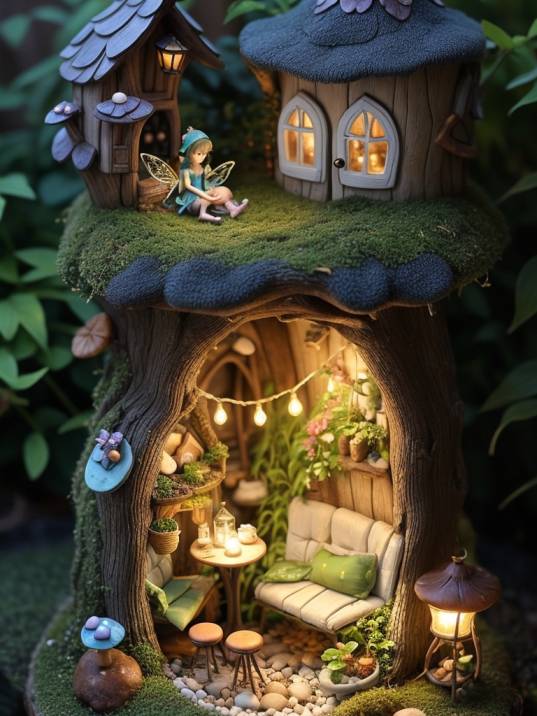 Create a miniature fairy garden on a windowsill or a small nook. Use tiny plants, fairy figurines, and tiny accessories to design an enchanting and whimsical scene.
Product Suggestion:
Create a magical fairy garden with the Pretmanns Fairy Garden Accessories Kit. This set includes miniature fairy figurines, furniture, and charming accessories to bring your garden nook to life.
22. Hanging Macramé Planters: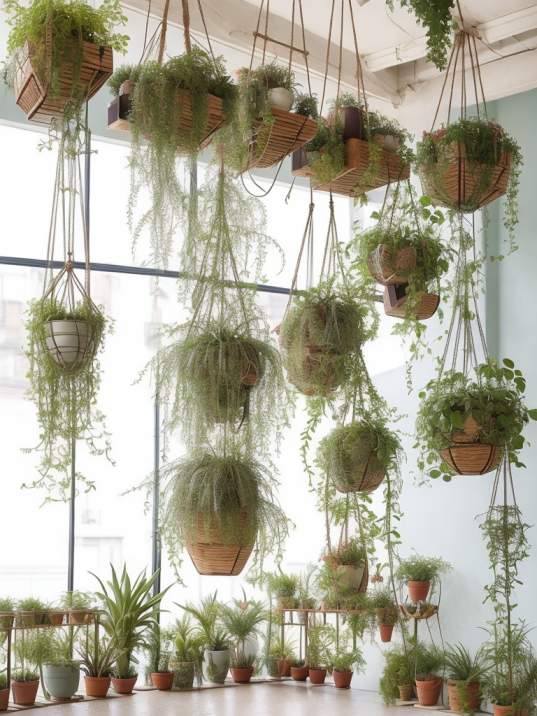 Craft or purchase macramé plant hangers to suspend your plants from the ceiling or a curtain rod. This not only saves floor space but also adds a bohemian touch to your decor.
Product Suggestion:
Add a boho touch to your space with Mkono Macrame Plant Hanger Set. This set of macrame hangers allows you to hang your plants at various heights, creating a dynamic visual appeal.
FAQs (Frequently Asked Questions)
1. How do you build an indoor garden in a small apartment?
Building an indoor garden in a small apartment requires careful planning and creative use of space. Consider using vertical planters, hanging pots, and wall shelves to maximize space. Choose indoor-friendly plants that suit your apartment's lighting conditions and invest in self-watering systems for easy maintenance.
2. How do I turn my room into an indoor garden?
To turn your room into an indoor garden, start by selecting suitable plants for your space and style. Add planters, shelves, and hanging pots to create a green atmosphere. Ensure adequate sunlight or invest in grow lights. Regularly water and care for your plants to keep them healthy and thriving.
3. What should I put in my indoor garden?
The ideal indoor garden includes a mix of air-purifying plants, succulents, herbs, and small flowering plants. Choose plants that fit your available light and space, and consider incorporating decorative elements like terrariums and decorative pots.
4. Are indoor gardens worth it?
Yes, indoor gardens are worth it as they provide numerous benefits. They improve air quality, reduce stress, enhance interior aesthetics, and allow you to grow fresh produce even in limited spaces.
5. How do you grow vegetables if you live in an apartment?
Growing vegetables in an apartment is possible through container gardening. Choose compact and dwarf varieties of vegetables, utilize vertical space, and provide adequate light and nutrients for successful growth.
6. Can a garden room have a bed in it?
Yes, a garden room can have a bed in it, especially if it's designed as a multi-functional space like a conservatory or a sunroom. Adding a bed allows you to enjoy the calming ambiance of the garden while relaxing or taking a nap.
7. What is an indoor garden room called?
An indoor garden room is often referred to as a conservatory, sunroom, or indoor greenhouse. It is a dedicated space designed to bring the outdoors inside and cultivate plants year-round.
8. What vegetable grows fast indoors?
Microgreens are some of the fastest-growing vegetables indoors. They can be harvested in as little as 7-14 days from sowing and are packed with nutrients.
9. How do I keep my indoor garden warm in the winter?
To keep your indoor garden warm during winter, maintain a consistent room temperature, avoid placing plants near drafts or cold windows, and consider using space heaters or heat mats specifically designed for plants.
10. What grows fast indoors?
Herbs like basil, mint, and chives, as well as microgreens and salad greens, tend to grow quickly indoors, making them ideal choices for indoor gardening enthusiasts.
Conclusion:
Discover 22 indoor garden ideas for small apartments, from enchanting Fairy-Tale Terrarium Village to space-saving Climbing Plants Green Curtain. Embrace creativity with Color-Themed Plant Collection, Living Bookshelf Garden, and Upcycled Wine Bottle Planters. Find serenity in Miniature Zen Garden or convenience in Indoor Bonsai Garden. Refresh your space with an Indoor Aquatic Garden, go vertical with hydroponics, or create a fairy-tale ambiance with Fairy Light Terrariums. These diverse ideas bring life, tranquility, and magic to your home, inspiring horticultural adventures for every green thumb. Let your small apartment bloom with natural beauty. Happy gardening!