When it comes to bathroom design, the farmhouse style has been gaining popularity for its timeless appeal and cozy aesthetics. One of the key elements that define this style is the bathroom vanity. Farmhouse bathroom vanities effortlessly blend rustic charm with modern functionality. If you're considering a bathroom makeover, read on for some inspiring farmhouse bathroom vanity ideas that will transform your space into a tranquil retreat.
Farmhouse Bathroom Vanity Ideas
1. Reclaimed Wood Elegance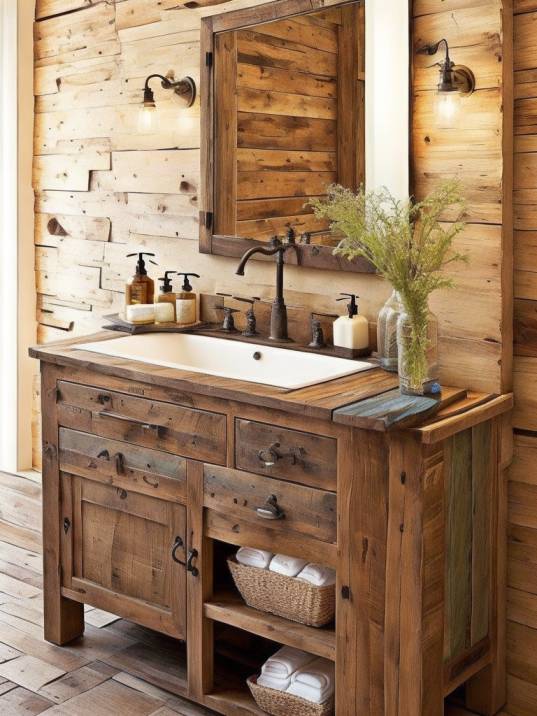 Farmhouse style often revolves around the use of reclaimed wood. Consider a bathroom vanity crafted from weathered barn wood or salvaged planks. These materials lend a sense of history and authenticity to your bathroom while providing a warm and inviting atmosphere. Pair it with a vessel sink and an antique-inspired faucet to complete the look.
2. Distressed Finishes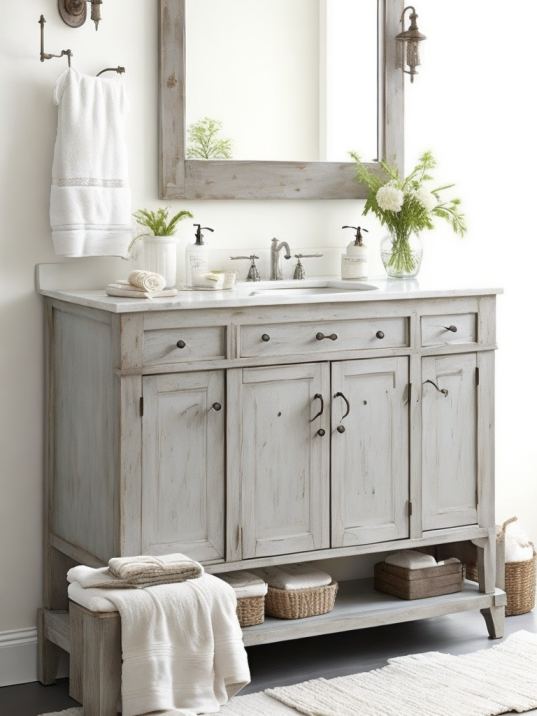 To achieve that well-worn farmhouse look, opt for a vanity with a distressed finish. This finish can mimic the appearance of aged furniture, adding character and charm to your bathroom. White, gray, or pastel distressed vanities work exceptionally well in farmhouse-themed spaces.
3. Rustic Farmhouse Sink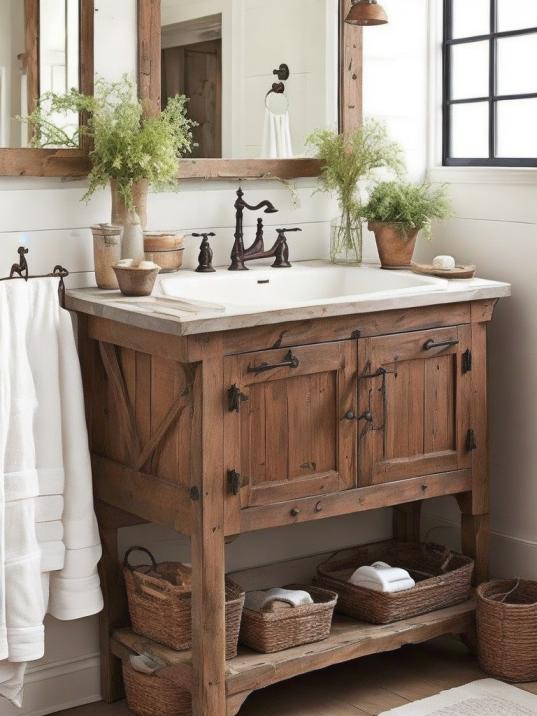 A farmhouse bathroom vanity wouldn't be complete without a farmhouse sink. These deep, apron-front sinks not only look stunning but are also highly functional. They're perfect for daily use and add a touch of nostalgia to your bathroom. Pair it with a brushed bronze or copper faucet for an authentic farmhouse vibe.
4. Open Shelving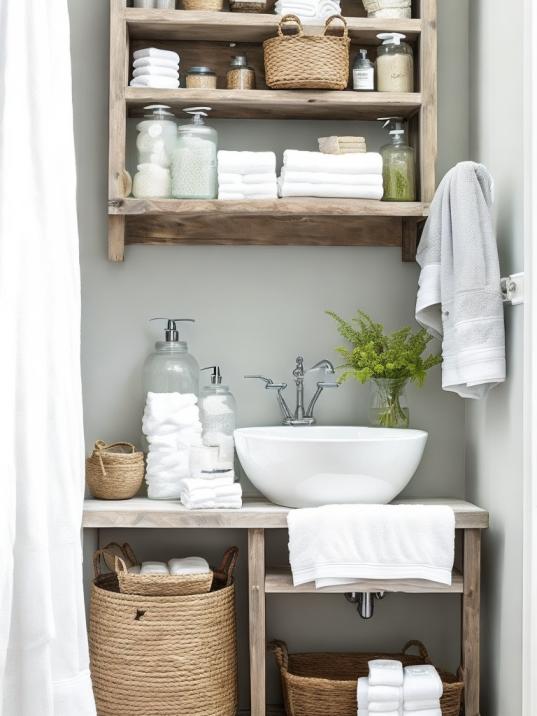 Open shelving is a hallmark of farmhouse decor. Incorporate it into your bathroom vanity design by choosing a unit with open shelves or adding them as a DIY project. This not only provides storage but also allows you to display decorative items like woven baskets, neatly folded towels, and vintage jars.
5. Freestanding Vanities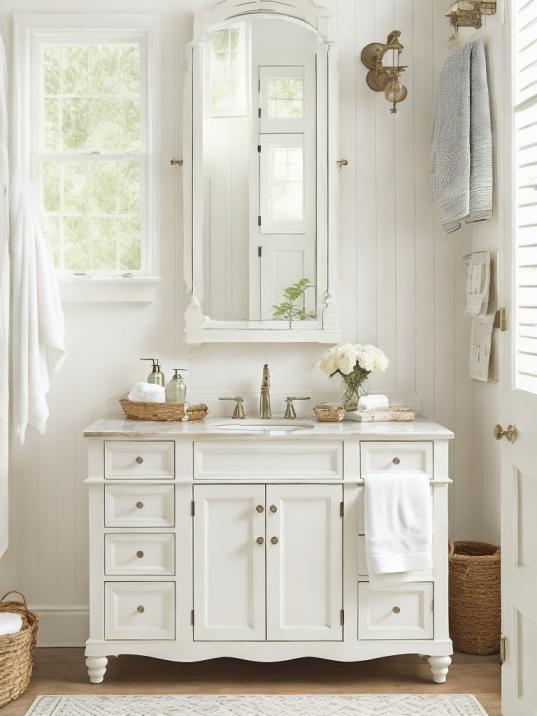 Farmhouse bathroom vanities are often freestanding, resembling pieces of furniture rather than built-in cabinetry. Look for vanities with turned legs, beadboard paneling, or decorative molding to capture the farmhouse essence. This design approach gives your bathroom a sense of individuality.
6. Classic Color Palette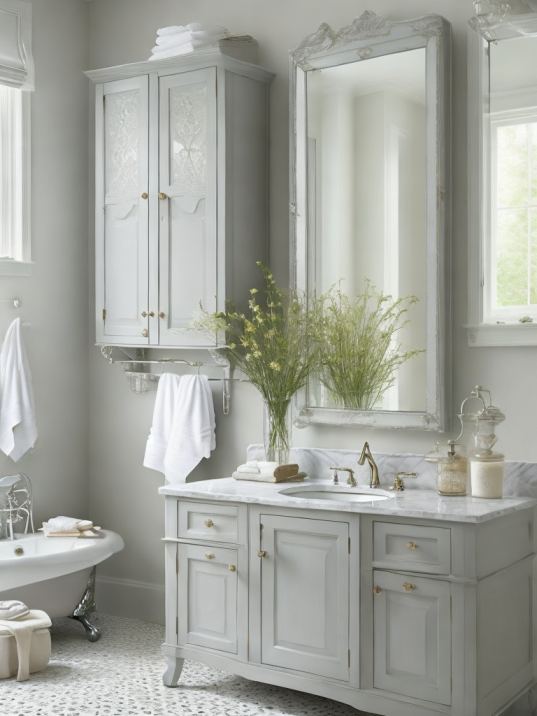 Stick to a classic color palette when selecting your farmhouse vanity. Whites, soft grays, and muted pastels create a soothing atmosphere, while darker wood tones can add a touch of richness. Match the color of your vanity to your bathroom's overall color scheme for a cohesive look.
7. Vintage Hardware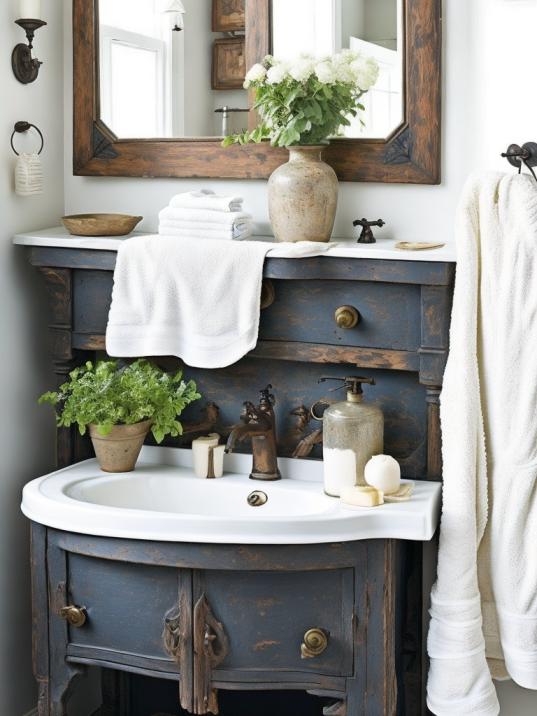 Don't overlook the importance of hardware. Swap out standard knobs and pulls for vintage-style hardware in wrought iron, antique brass, or oil-rubbed bronze. These small details can make a big difference in achieving an authentic farmhouse look.
8. Ample Storage Solutions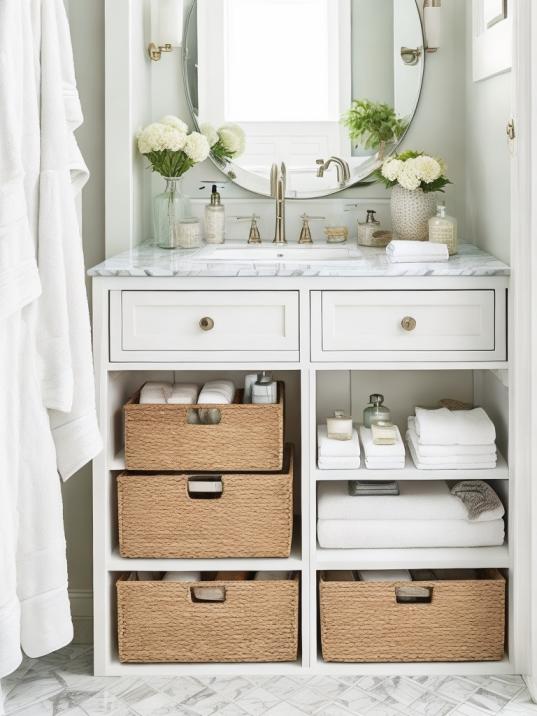 Functionality is crucial in any bathroom vanity, farmhouse or not. Ensure your chosen vanity offers adequate storage space with drawers, cabinets, or shelves. A clutter-free bathroom is essential to maintaining the farmhouse aesthetic.
9. Modern Farmhouse Fusion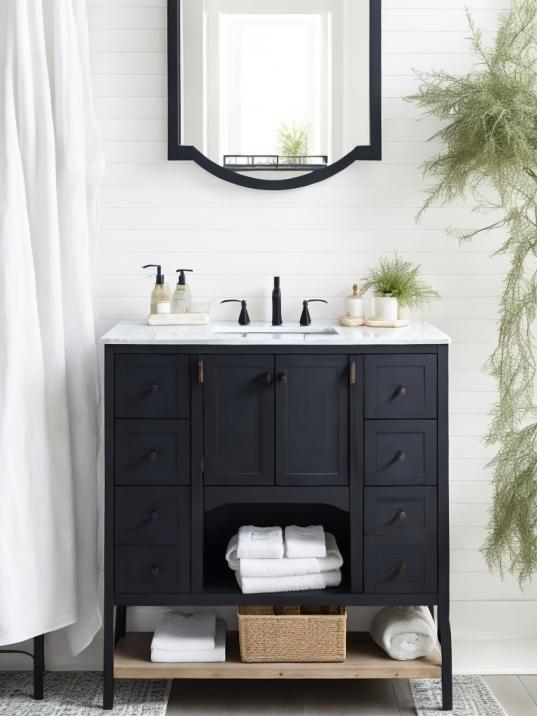 If you prefer a more contemporary touch, consider a modern farmhouse bathroom vanity. This style combines the clean lines and simplicity of modern design with the warmth and character of farmhouse elements. Opt for a sleek, minimalist vanity in a muted color like matte black or navy blue, and pair it with rustic accessories like reclaimed wood mirrors or industrial-style lighting fixtures.
10. Vintage Mirrors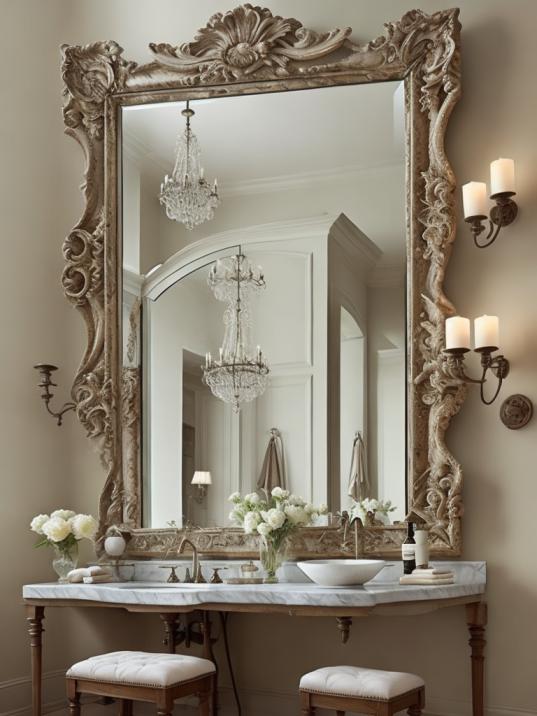 Incorporate vintage mirrors into your farmhouse bathroom vanity setup. Antique mirrors with ornate frames or distressed finishes can add a unique focal point and create a sense of nostalgia. Hang them above the vanity or lean them against the wall for a casual yet charming look.
11. Farmhouse Lighting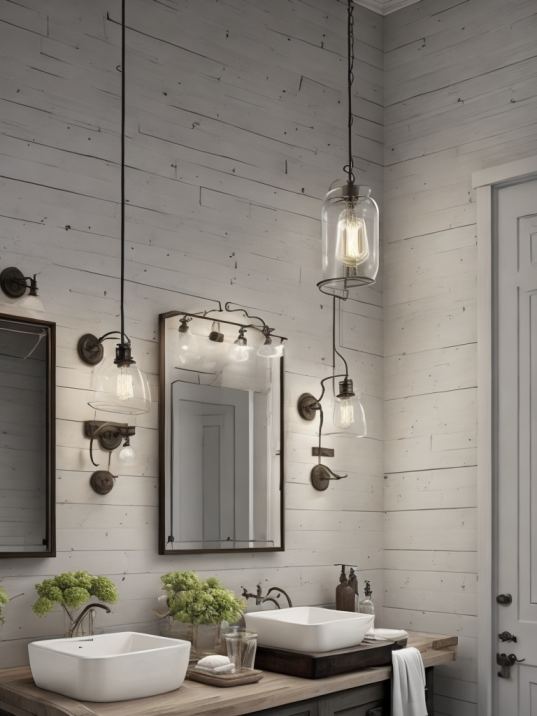 Lighting plays a crucial role in setting the ambiance of your farmhouse bathroom. Choose fixtures that complement the overall style, such as mason jar sconces, lantern-style pendants, or Edison bulb chandeliers. These fixtures not only provide functional lighting but also add character to the space.
12. DIY Farmhouse Vanity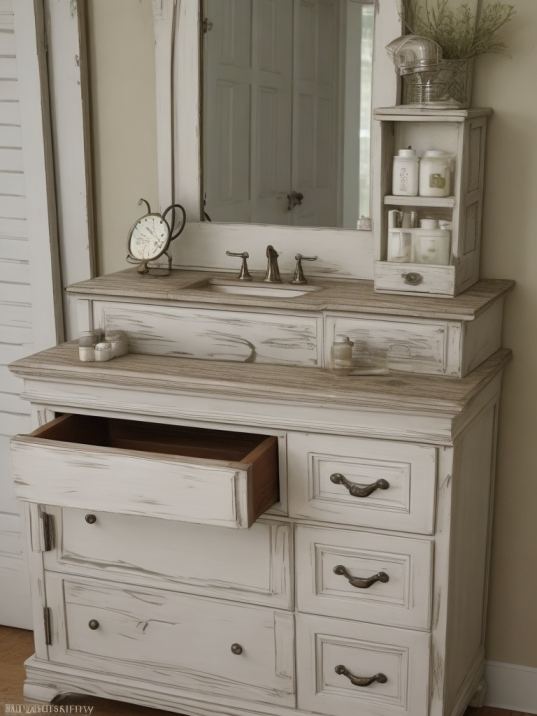 For those with a creative flair, consider building your farmhouse bathroom vanity as a DIY project. You can repurpose an old dresser or chest of drawers and modify it to accommodate a sink and plumbing. This approach allows you to customize your vanity to fit your exact preferences and style.
13. Freestanding Bathtub Pairing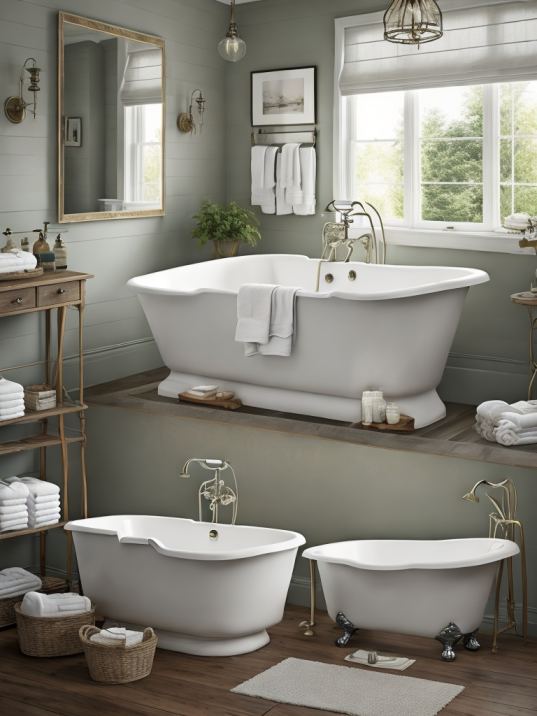 To complete the farmhouse bathroom look, consider pairing your farmhouse vanity with a freestanding bathtub. Clawfoot tubs or modern, sleek models with vintage-inspired hardware can enhance the overall charm of the space. Place a few candles and a wooden bath caddy nearby for a spa-like experience.
14. Woven and Natural Elements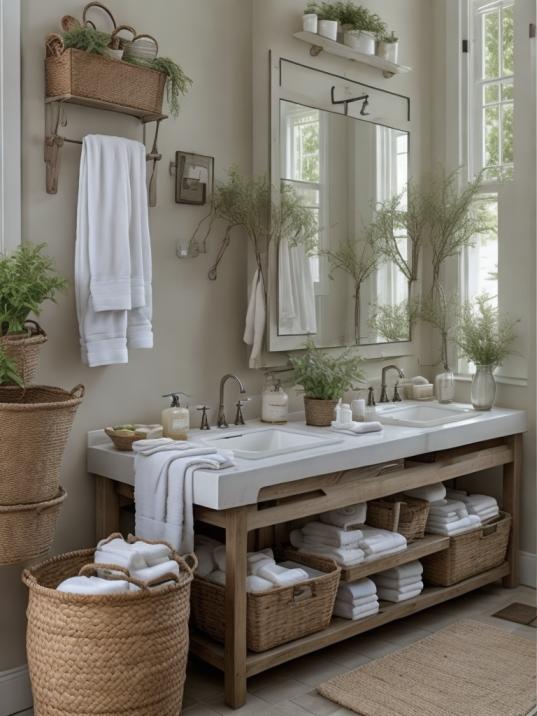 Introduce textures like wicker baskets, seagrass rugs, or jute curtains to infuse a dose of natural charm. These elements complement the farmhouse aesthetic and create a cozy atmosphere. You can use baskets to store toiletries or rolled-up towels for a neat and organized look.
15. Farmhouse Backsplash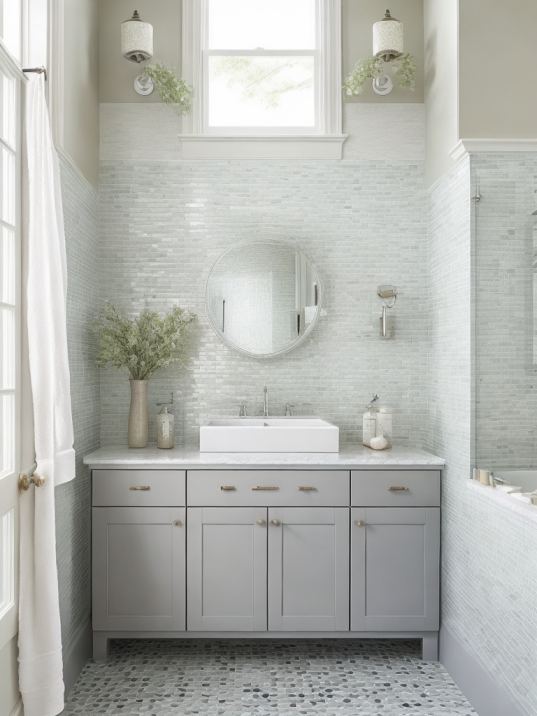 Consider a charming farmhouse-style backsplash to add personality to your bathroom vanity area. Subway tiles with a beveled edge or decorative ceramic tiles in soft, muted tones can provide a subtle yet stylish backdrop. Choose a grout color that complements your vanity and overall color scheme.
Also Read-
16. Farmhouse Chic with Beadboard Paneling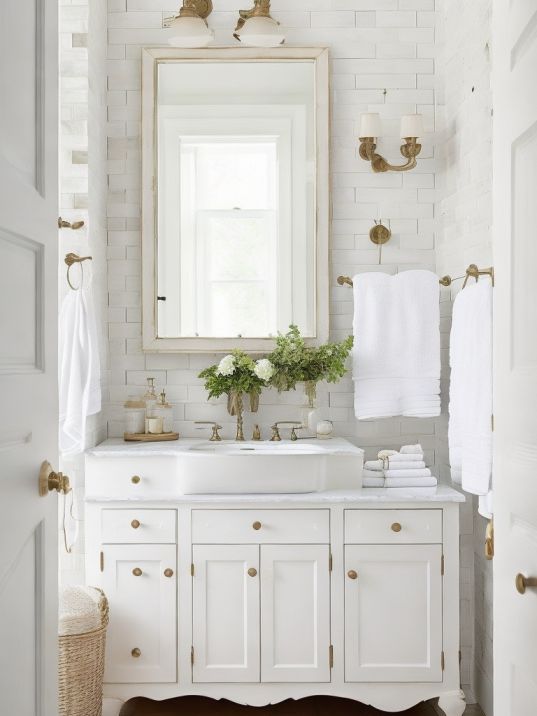 Beadboard paneling can instantly bring a farmhouse touch to your bathroom vanity area. Consider installing beadboard on the lower half of your bathroom walls and pair it with a matching beadboard vanity. This classic wainscoting detail adds depth and character to the space, giving it that cozy farmhouse cottage feel.
17. Farmhouse Vanity Stools and Benches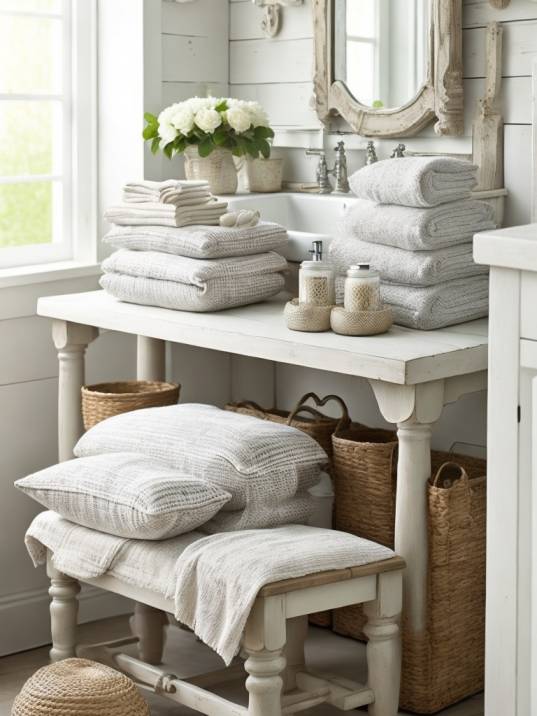 If space allows, consider placing a farmhouse-style stool or bench beside your vanity. This not only enhances the aesthetics but also provides a convenient spot for getting ready. Look for seating options with rustic finishes and comfortable cushions in farmhouse-appropriate fabrics like linen or gingham.
18. Farmhouse Barn Door Vanity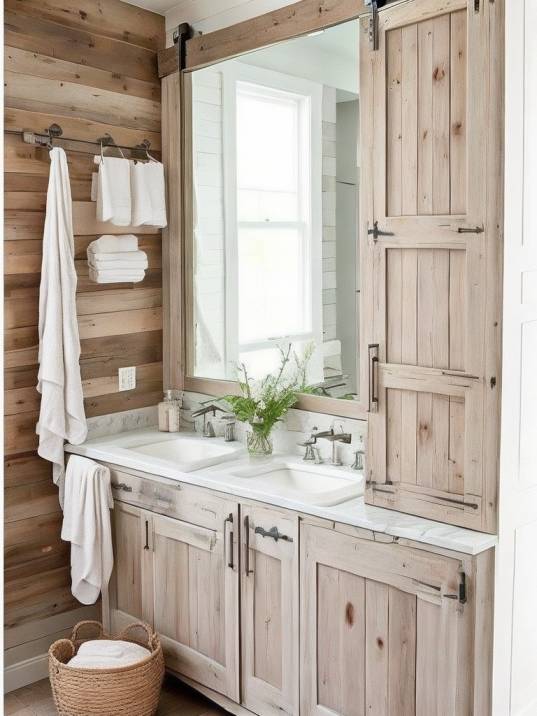 For a unique and space-saving option, consider a sliding barn door vanity. These vanities have a rustic, charming appeal and can help you maximize the use of available space. Whether you choose a reclaimed wood door or one with a distressed finish, it will be a focal point in your farmhouse bathroom.
19. Farmhouse Vanity Lighting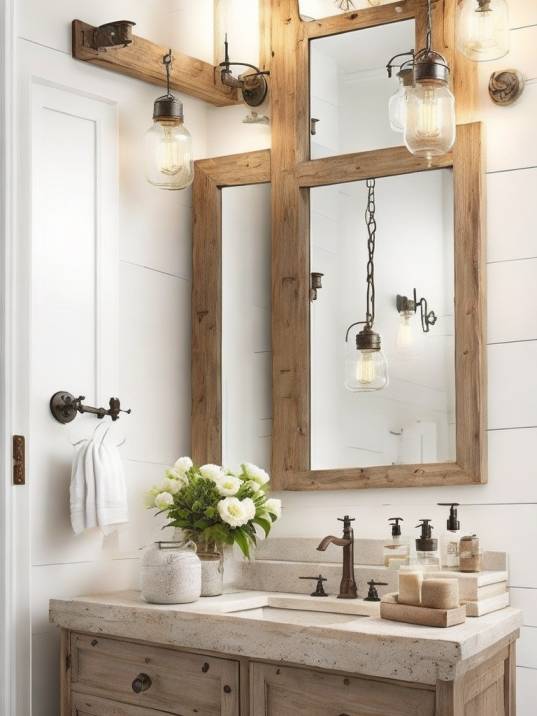 In addition to statement fixtures, choose vanity lighting that complements the farmhouse style. Mason jar wall sconces or wooden-frame vanity mirrors with integrated lighting can provide a warm and inviting glow. These fixtures not only illuminate the space but also serve as decorative elements.
20. Farmhouse Wall Art and Decor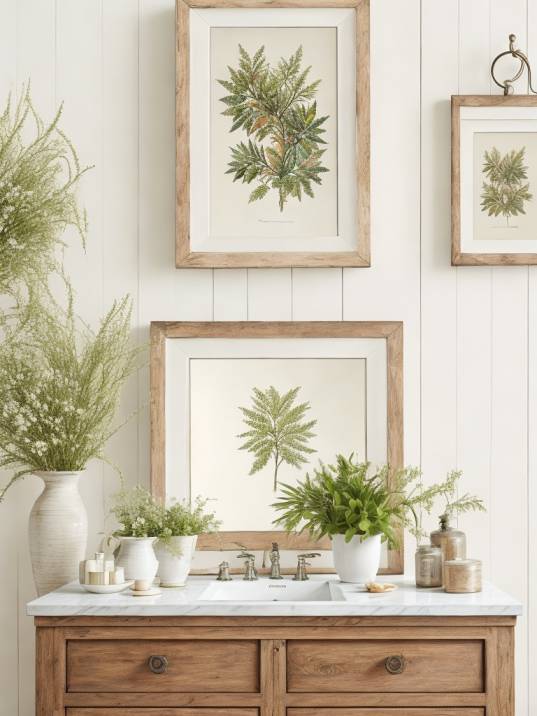 Dress up the walls around your farmhouse vanity with carefully chosen wall art and decor. Framed vintage botanical prints, rustic signs, or a gallery of family photos in farmhouse-style frames can personalize the space and add warmth.
FAQs (Frequently Asked Questions)
Q1: What are the accent colors in modern farmhouse bathrooms?
In modern farmhouse bathrooms, popular accent colors include navy blue, sage green, soft blush pink, and warm mustard yellow. These colors add depth and contrast to the neutral base of whites, grays, and natural wood tones often found in modern farmhouse design.
Q2: What color bathroom vanity is timeless?
A timeless color for a bathroom vanity is white. White vanities have enduring appeal, as they create a clean and classic look. They can work in various design styles, including traditional, modern, and farmhouse.
Q3: What can I use instead of a bathroom vanity?
If you're looking for alternatives to a traditional bathroom vanity, consider using a console table with a vessel sink, a repurposed dresser, a wall-mounted shelf with a sink, or even a floating countertop with storage baskets beneath. These options can add a unique and stylish touch to your bathroom.
Q4: What is modern farmhouse style bathroom?
A modern farmhouse-style bathroom combines the cozy, rustic elements of farmhouse design with the clean lines and simplicity of modern design. It often features neutral color palettes, natural materials, vintage-inspired fixtures, and a balance between rustic and contemporary elements.
Q5: What are farmhouse colors for 2023?
Farmhouse color trends for 2023 may include classic neutrals like whites, grays, and soft beiges, along with earthy tones such as sage green, terracotta, and warm blues. These colors provide a timeless and cozy farmhouse feel.
Q6: What is the most popular farmhouse color?
White remains one of the most popular farmhouse colors. It creates a clean and inviting backdrop, allowing you to incorporate other colors and textures for a personalized farmhouse look.
Q7: What color cabinets are farmhouse style?
Farmhouse-style cabinets often come in white, soft gray, muted pastels, or distressed finishes. These colors evoke the warmth and charm associated with farmhouse design.
Q8: What color vanity never goes out of style?
A white vanity never goes out of style. White vanities are timeless and versatile, suiting various design aesthetics and providing a fresh and clean appearance.
Q9: What color bathroom fixtures never go out of style?
Chrome and brushed nickel finishes for bathroom fixtures are classic and enduring choices. They offer a timeless and elegant look that can seamlessly fit into different design styles.
Q10: What bathroom colors don't go out of style?
Neutral bathroom colors like white, gray, beige, and soft blues are timeless and unlikely to go out of style. They provide a serene and adaptable backdrop for any bathroom design.
Conclusion
With these additional farmhouse bathroom vanity ideas, you have a wealth of inspiration to create a personalized and charming space that reflects the warmth and character of the farmhouse style. Whether you prefer classic farmhouse elements or want to infuse a touch of modernity into your design, the possibilities are endless.
Remember that the key to a successful farmhouse bathroom vanity is to create a space that not only looks beautiful but also suits your functional needs. Continue exploring our blog for more home decor tips and inspiration. Happy decorating!