Welcome to a festive world of creativity and holiday charm! In the spirit of bringing warmth and merriment to your home, we're diving into a trove of 32 DIY Christmas chair decoration ideas that will elevate your holiday decor to a whole new level. Transforming your seating into a festive haven is not only a delightful way to usher in the season but also an opportunity to infuse your space with personalized touches and seasonal flair. From whimsical sock gnomes to elegant felt holly leaf chair skirts, each idea is crafted to spark your imagination and add a touch of DIY magic to your Christmas celebrations. Join us on this merry journey as we explore a plethora of enchanting and easy-to-create decorations designed to make your chairs the stars of your holiday decor!
[This post may contain affiliate links. What does that mean to you? Well, if you click on a product and make a purchase, I may get some compensation from you at no charge. If you want to read the boring stuff my full disclosure can be found here.]
DIY Christmas Chair Decoration Ideas
1. Santa's Seat Sashes: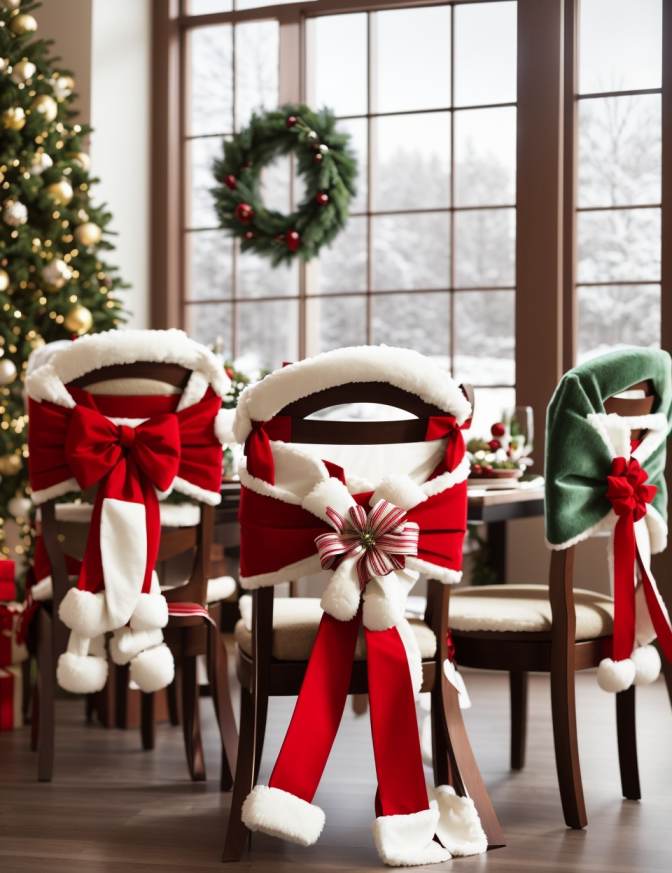 Wrap your chairs in the warmth of Santa's iconic red suit by crafting simple and stylish chair sashes. Use red velvet or felt fabric to create wide ribbons that can be tied around the backrest of each chair. Finish the look with a faux fur trim to mimic Santa's coat cuffs. These sashes not only add a festive touch but also provide a cozy and inviting feel to your dining or living space.
2. Whimsical Wreath Chair Backs: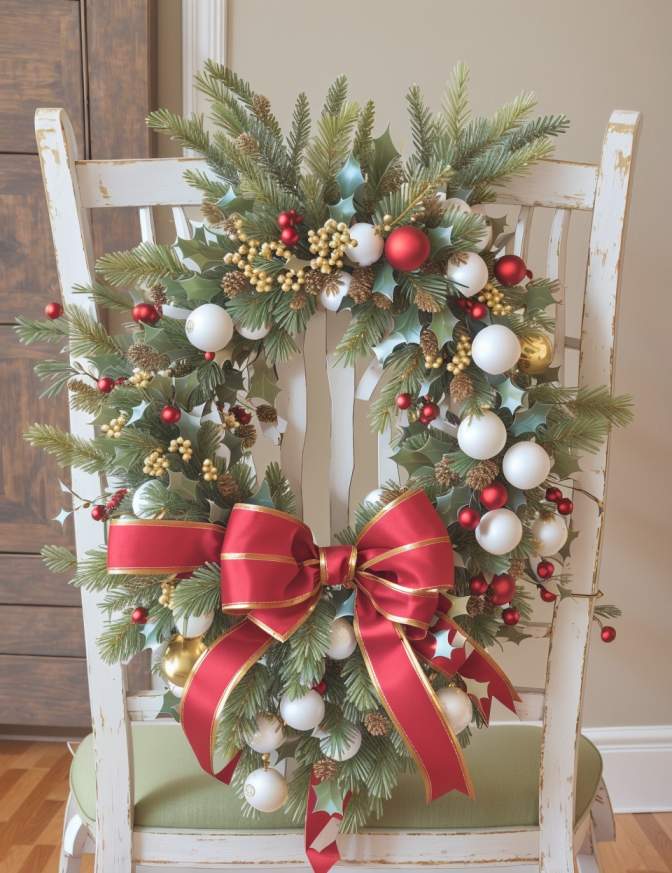 Give your chairs a holiday halo by attaching miniature wreaths to the backrests. Opt for pre-made small wreaths or get creative by crafting your own using artificial pine, holly berries, and festive ribbons. Secure them with colorful bows or even personalized ornaments for a unique and charming touch. These wreaths are sure to bring a smile to your guests' faces as they take their seats.
3. Snowy Seat Covers: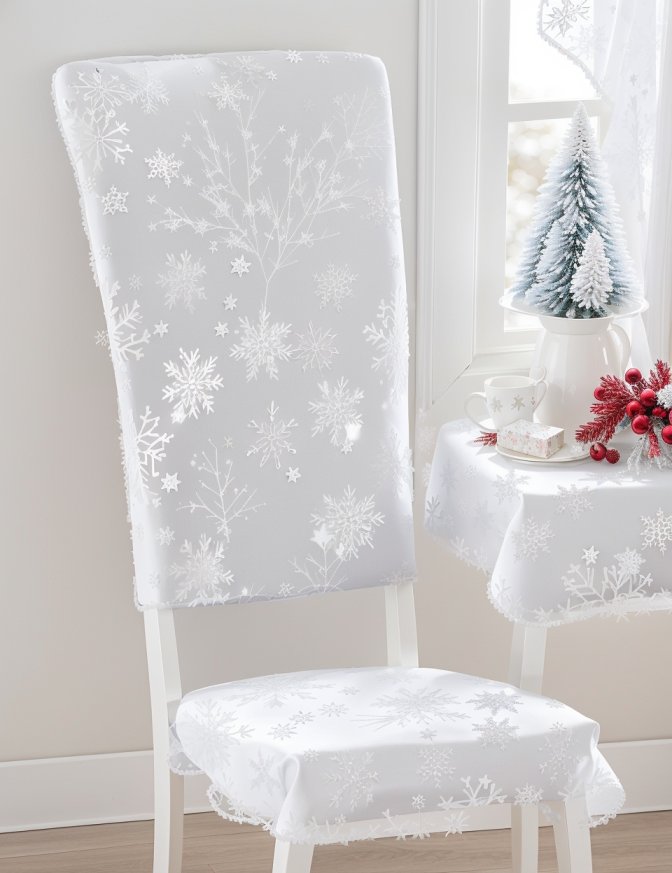 Transform your chairs into winter wonderlands with DIY snowflake seat covers. Purchase or make plain white chair covers and use fabric paint to add delicate snowflake patterns. For a more whimsical touch, consider adding a touch of sparkle with silver or iridescent glitter. These snowy seat covers are not only visually appealing but also add a touch of elegance to your holiday decor.
4. Festive Pillow Pizzazz: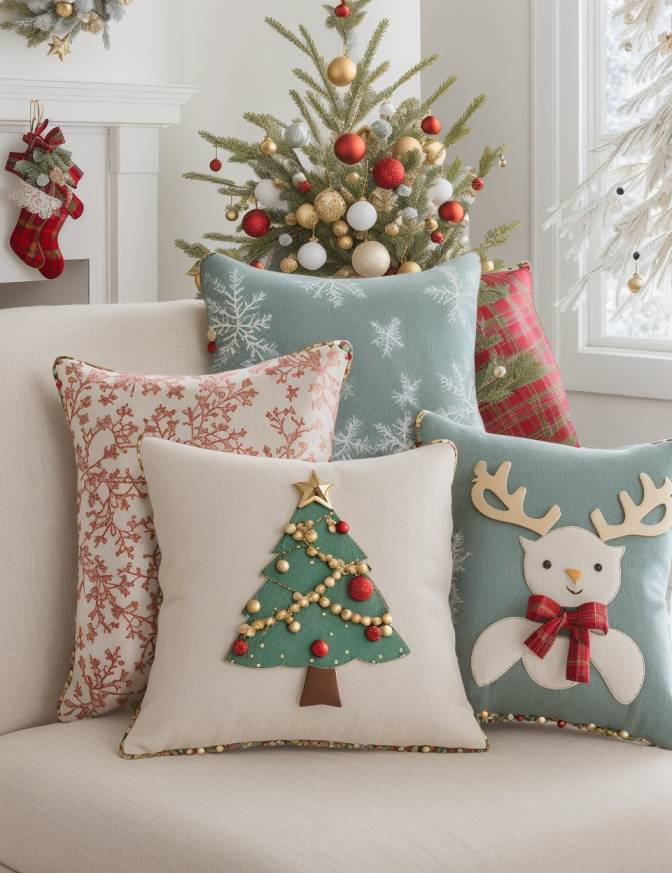 Give your chairs a comfortable and festive makeover by adding holiday-themed throw pillows. Choose fabrics in classic Christmas patterns, such as plaid, tartan, or reindeer motifs. Mix and match sizes and patterns to create a visually appealing arrangement. Not only do these pillows add a decorative element, but they also make your chairs extra cozy for gatherings with friends and family.
5. Candy Cane Lane Chair Ties: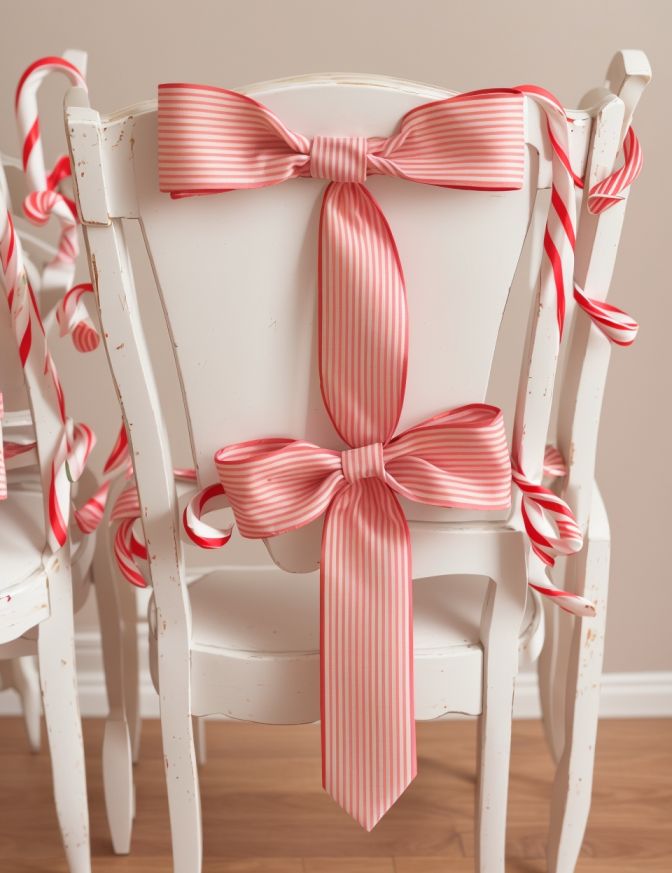 Wrap your chairs in the sweetness of the season by crafting chair ties inspired by candy canes. Use red and white striped ribbon or fabric to create bow ties that can be secured around the backs of your chairs. Add a playful touch by attaching miniature candy canes to the bows or weaving them into the ribbon. These chair ties not only look adorable but also bring a festive and sugary charm to your dining area.
6. Jingle Bell Joy Seat Decor: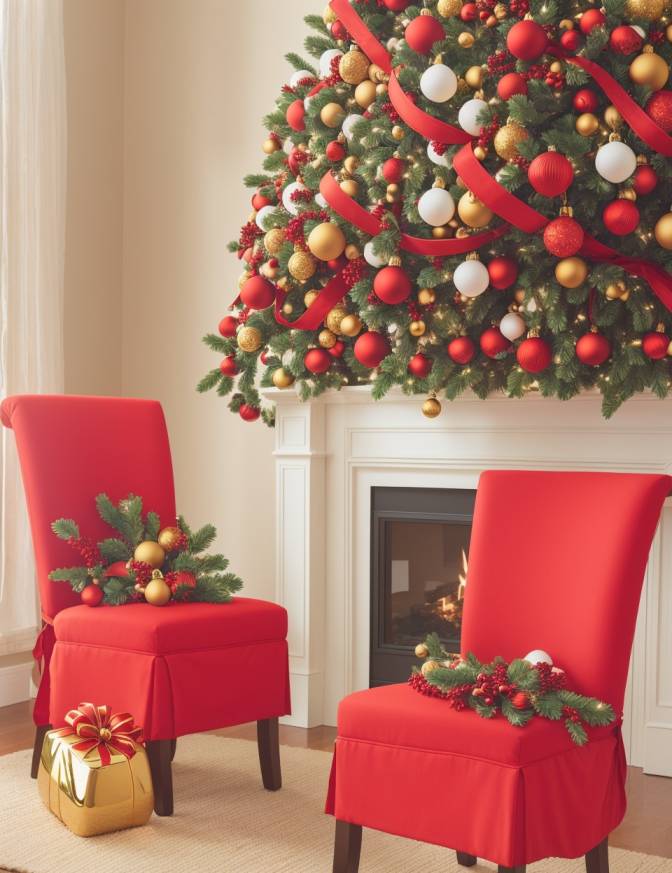 Add a touch of holiday music to your chairs with jingle bell seat decor. Attach small jingle bells to colorful ribbons or twine and drape them along the back of each chair. The soft jingling sound will create a festive atmosphere as guests move around the room. You can also experiment with different bell sizes and colors to create a visually dynamic and cheerful display.
7. Felt Stocking Seat Pockets: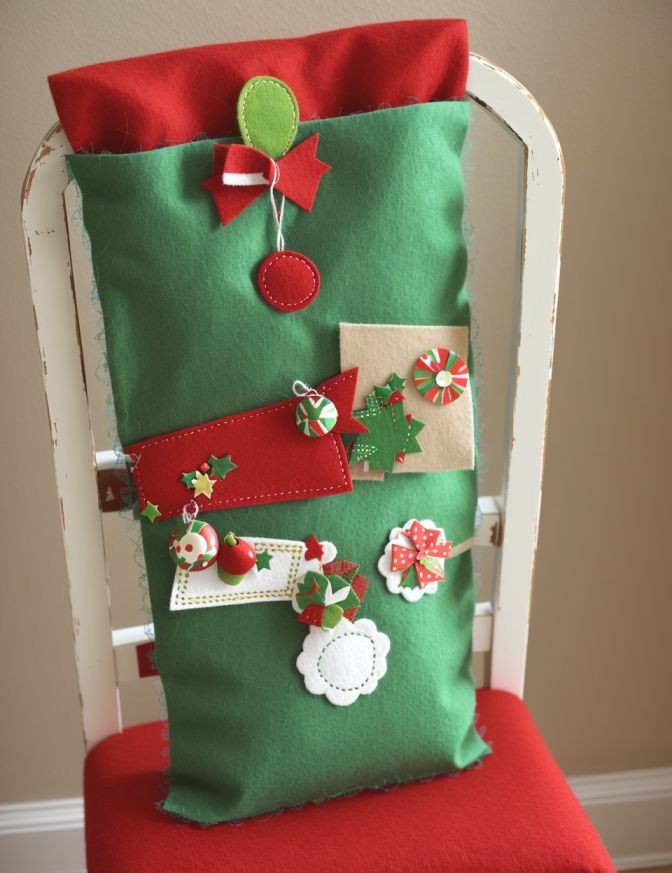 Combine functionality with festive flair by creating felt stocking seat pockets. Craft small stockings from red and green felt and attach them to the back of each chair, forming convenient pockets. These pockets can be filled with small treats, Christmas cards, or even mini ornaments. It's a charming way to surprise your guests and add an interactive element to your holiday gatherings.
8. Ornament Adorned Chair Garland:
Create a festive garland by stringing together miniature ornaments and draping them along the back of your chairs. Choose ornaments in a variety of colors and textures to add visual interest. Secure the garland with ribbons or twist ties, and let the ornaments dangle elegantly. This simple yet effective decoration adds a touch of holiday glamour to your seating arrangement.
9. Pinecone Perfection Seat Accents: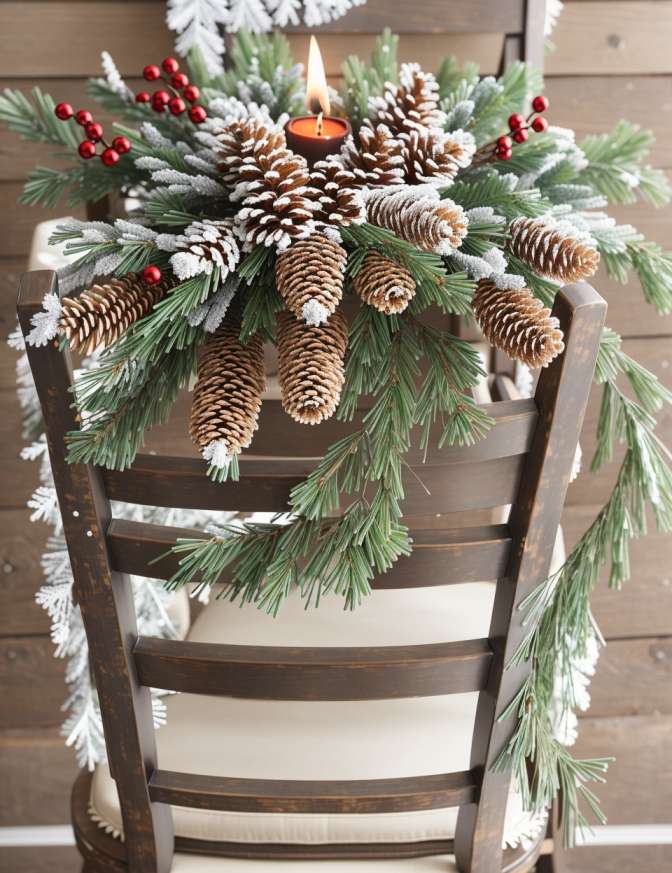 Harness the natural beauty of pinecones for a rustic Christmas vibe. Attach pinecones to the back of your chairs using twine or ribbon, creating a visually appealing and texturally interesting accent. For an extra festive touch, consider dusting the pinecones with artificial snow or glitter. These pinecone decorations bring a woodland charm to your holiday decor.
10. Sweater Weather Seat Covers: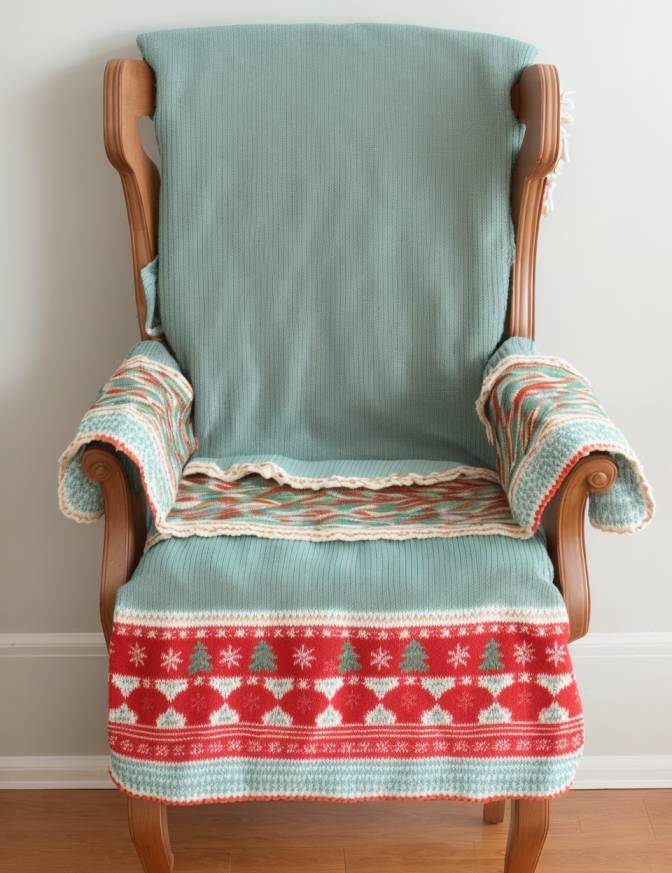 Repurpose old or thrifted holiday sweaters into cozy chair covers. Cut the sweaters to fit over the backrest and seat of each chair, securing them in place with pins or fabric glue. This DIY project not only adds a warm and inviting texture to your chairs but also gives a second life to beloved holiday sweaters.
11. Festive Foliage Chair Swags: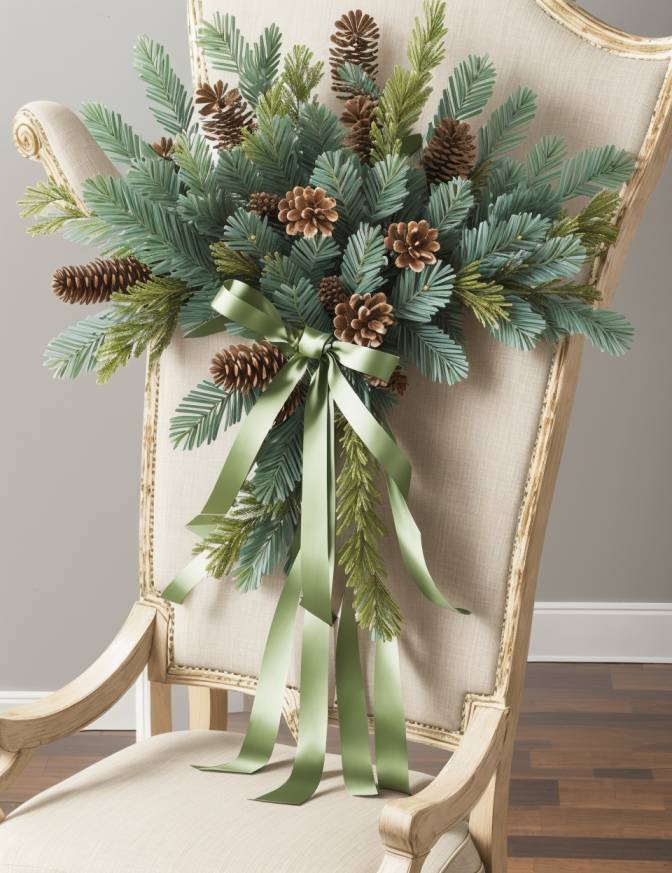 Bring the outdoors in with festive chair swags made from greenery. Use faux pine branches, holly, or eucalyptus to create elegant swags that drape over the backs of your chairs. Add small ornaments, pinecones, or even a touch of ribbon to complete the look. These chair swags not only add a touch of nature but also infuse your space with the delightful scents of the season.
12. Sparkling Starburst Chair Backs: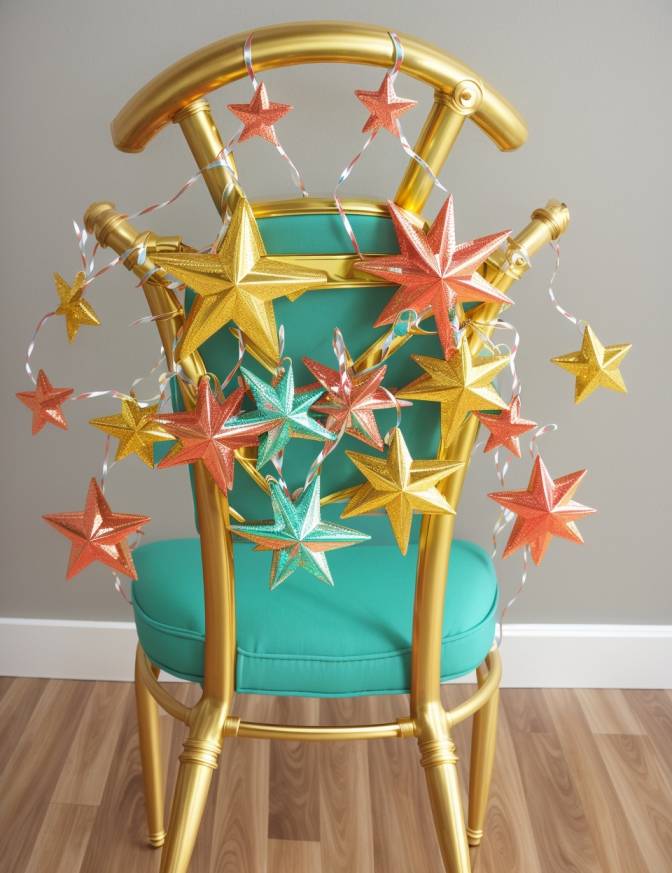 Craft eye-catching starbursts from metallic pipe cleaners or wire and attach them to the back of your chairs. Add a touch of sparkle by incorporating small LED lights or wrapping the starbursts with fairy lights. These dazzling chair decorations bring a festive and celestial feel to your holiday decor.
13. Rustic Burlap Bunting: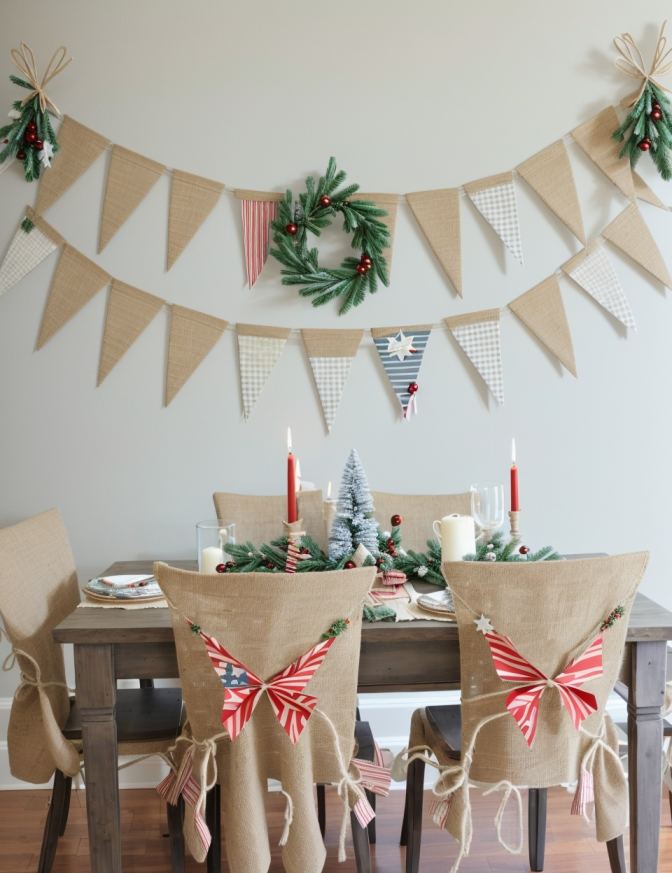 Embrace a rustic holiday look by creating burlap buntings for your chairs. Cut triangular flags from burlap fabric and stencil or paint festive messages or holiday motifs onto each flag. String the flags together using twine and drape the bunting along the back of your chairs for a charming and understated decoration.
14. Jolly Elf Hat Chair Backs:
Bring a playful and whimsical element to your holiday decor by placing miniature elf hats on the backs of your chairs. You can either purchase or make these adorable hats using felt or other festive fabrics. Attach them securely to the top of each chair to give your dining area a touch of North Pole charm.
15. Felt Reindeer Antler Chair Toppers: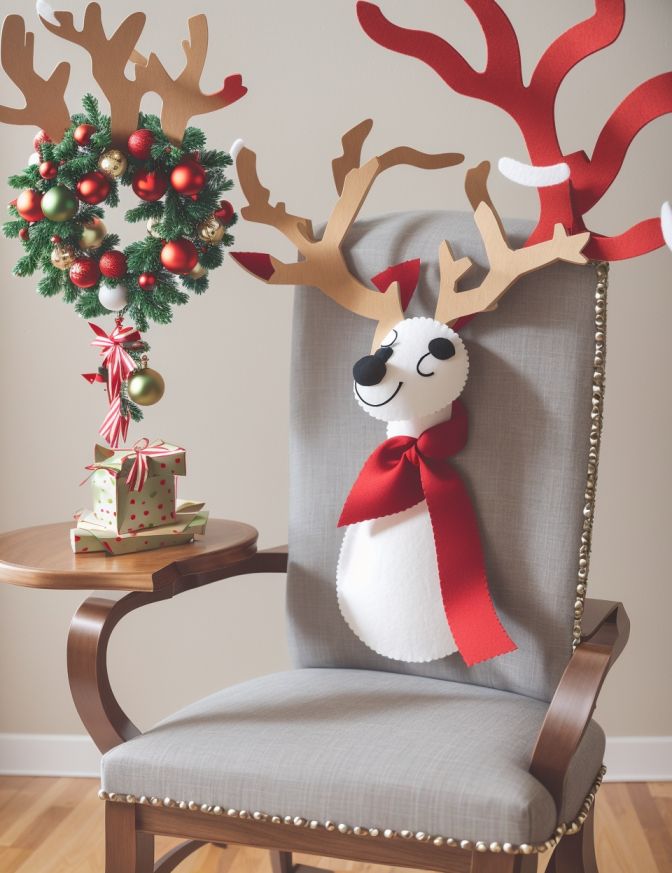 Craft felt reindeer antlers and attach them to the tops of your chair backs. Add a red felt nose to complete the look, turning each chair into a festive reindeer friend. This whimsical touch is perfect for adding a touch of holiday magic, especially in spaces where children gather.
16. Wintery Pom-Pom Chair Garland: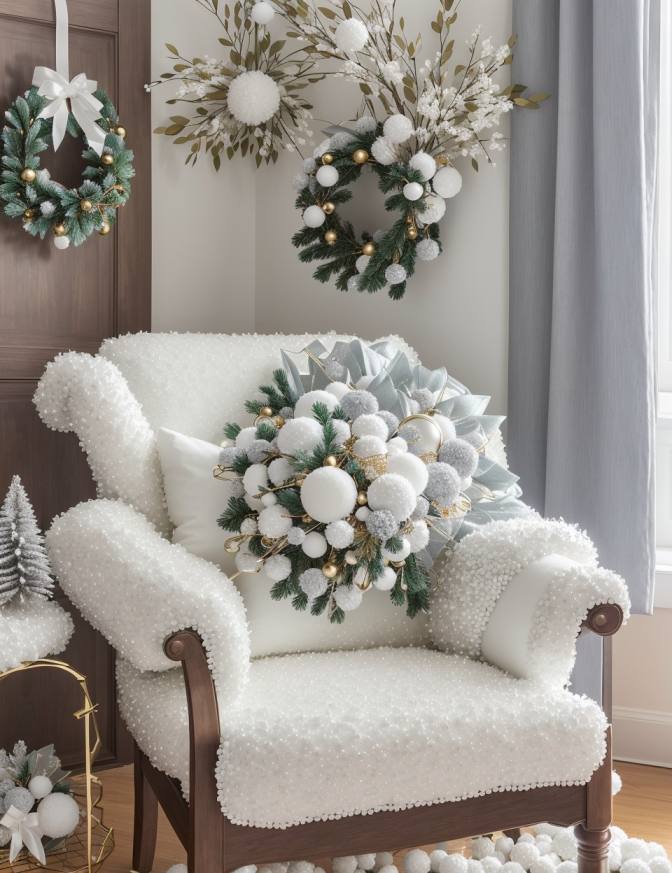 Create a cozy and cheerful atmosphere by crafting pom-pom garlands for your chairs. String together an assortment of white and colored pom-poms, securing the garland along the back of each chair. This adds a touch of texture and warmth, reminiscent of snowballs or festive ornaments.
17. Snowman Chair Back Covers: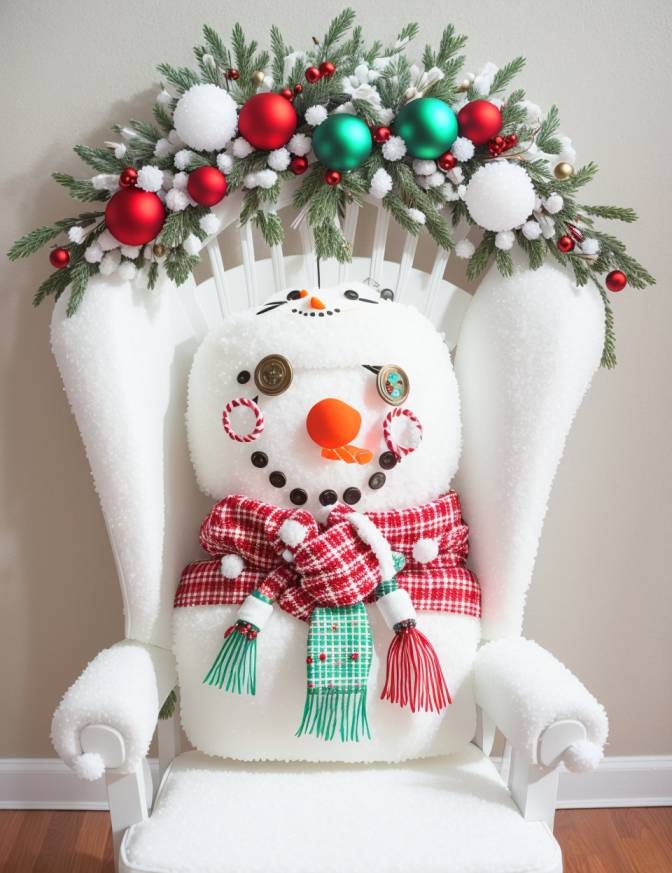 Transform your chairs into cheerful snowmen by adding snowman-themed chair back covers. Use white fabric to create slipcovers that fit over the top of each chair, resembling a snowman's body. Add details like a felt scarf, buttons, and a top hat for an adorable and whimsical touch.
18. Christmas Chair Hoods: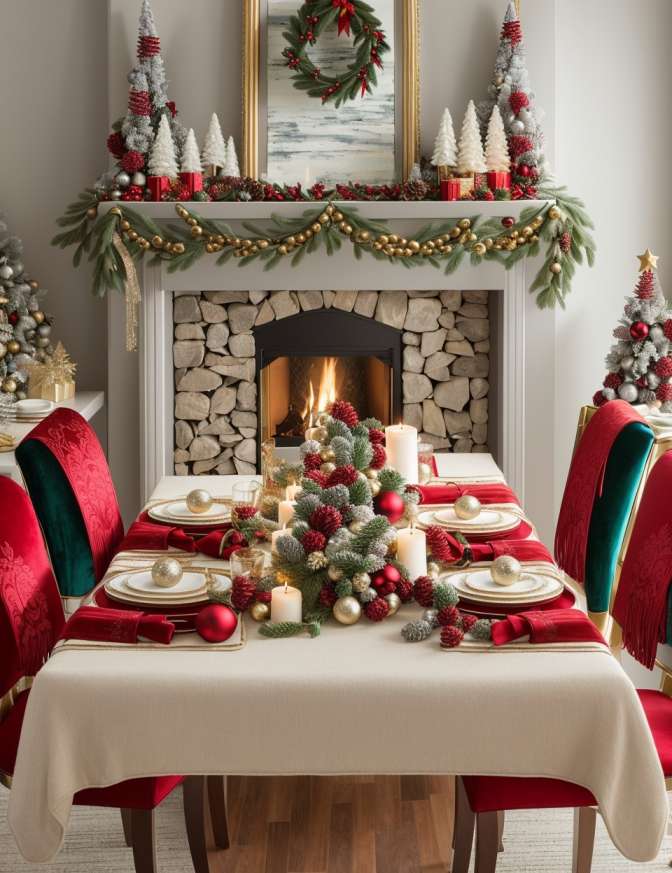 Add a touch of elegance and warmth by draping chair hoods over the backs of your dining chairs. Use luxurious fabrics like velvet or faux fur to create these elegant covers. Add a festive ribbon tie to secure the hood in place and create a cozy and sophisticated holiday look.
19. Christmas Ribbon Bow Chair Ties: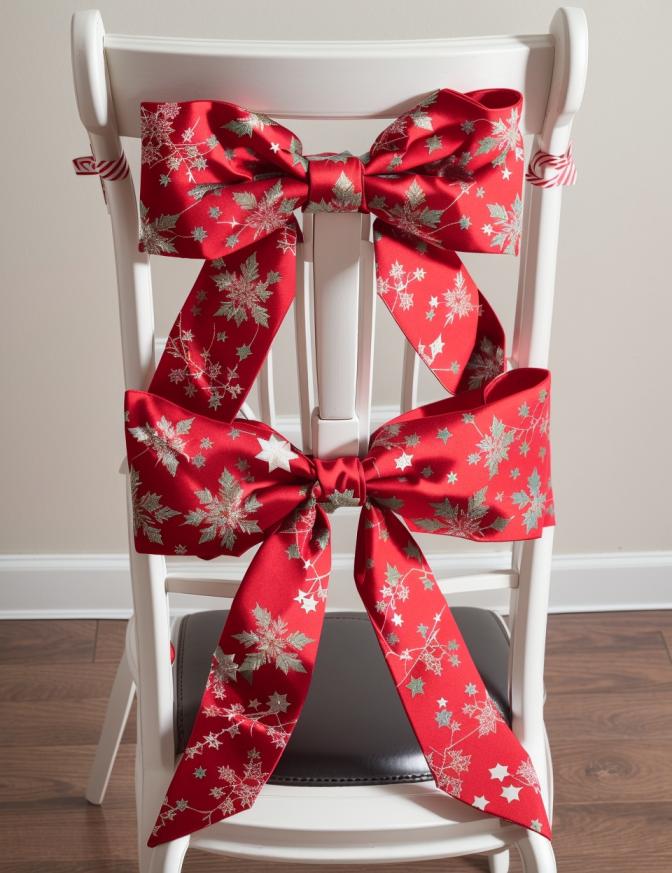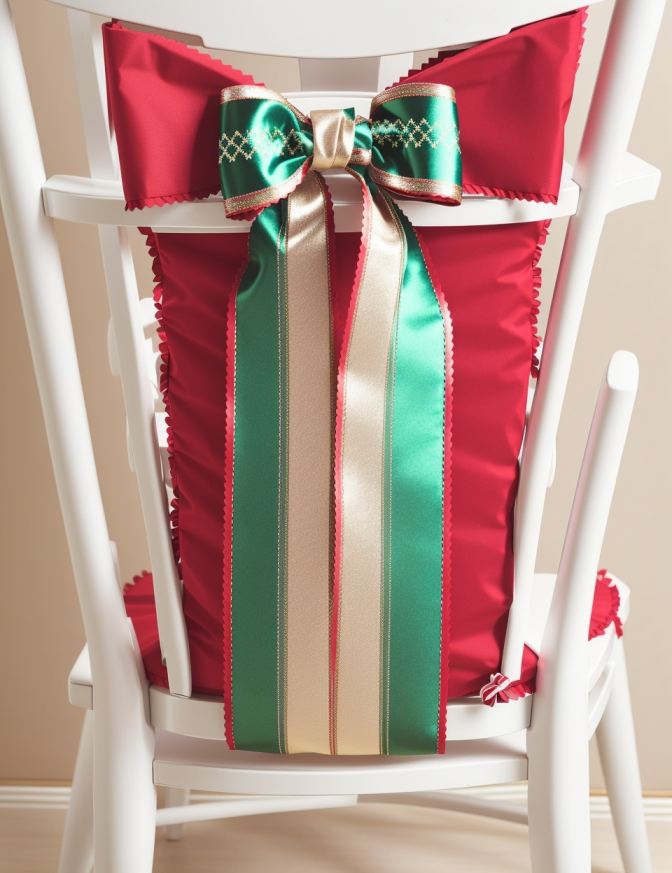 Enhance the festive look of your chairs with oversized Christmas ribbon bows. Choose ribbons in traditional holiday patterns and tie them around the backrests of your chairs. For an extra touch, add smaller ribbon bows or ornaments to the center of each bow for a layered and textured effect.
20. Festive Fabric Patchwork Chair Covers: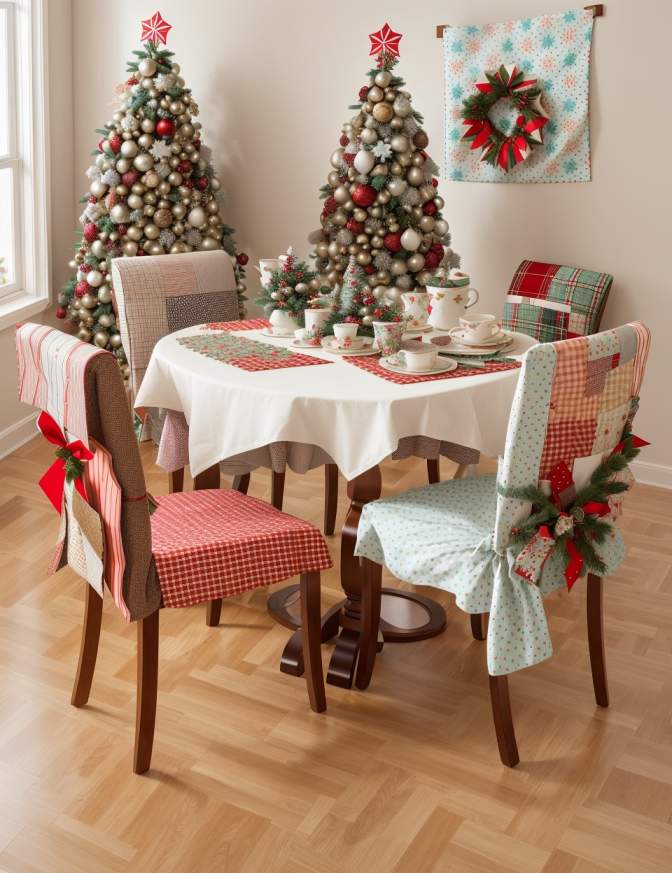 Create cozy and eclectic chair covers by sewing together patches of festive holiday fabrics. Mix and match different patterns, colors, and textures to achieve a charming patchwork effect. These covers add warmth and a homemade touch to your holiday decor.
21. Mitten Motif Chair Ornaments: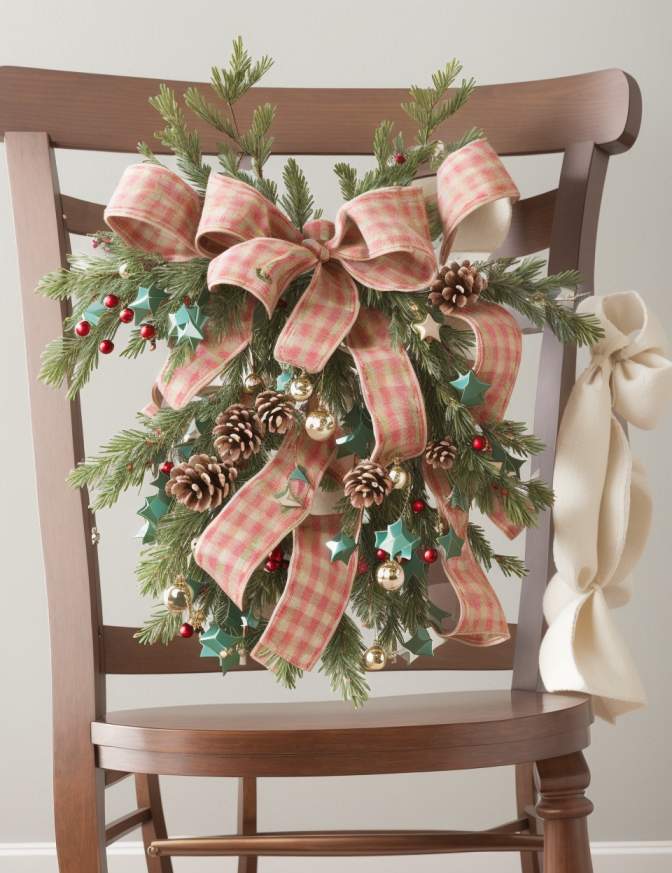 Repurpose old or mismatched mittens into adorable chair ornaments. Attach the mittens to the back of each chair using ribbon or twine. Fill the mittens with small ornaments, pinecones, or even a sprig of holly for a charming and eclectic look.
Related Articles-
22. Holiday Jigsaw Puzzle Chair Decor: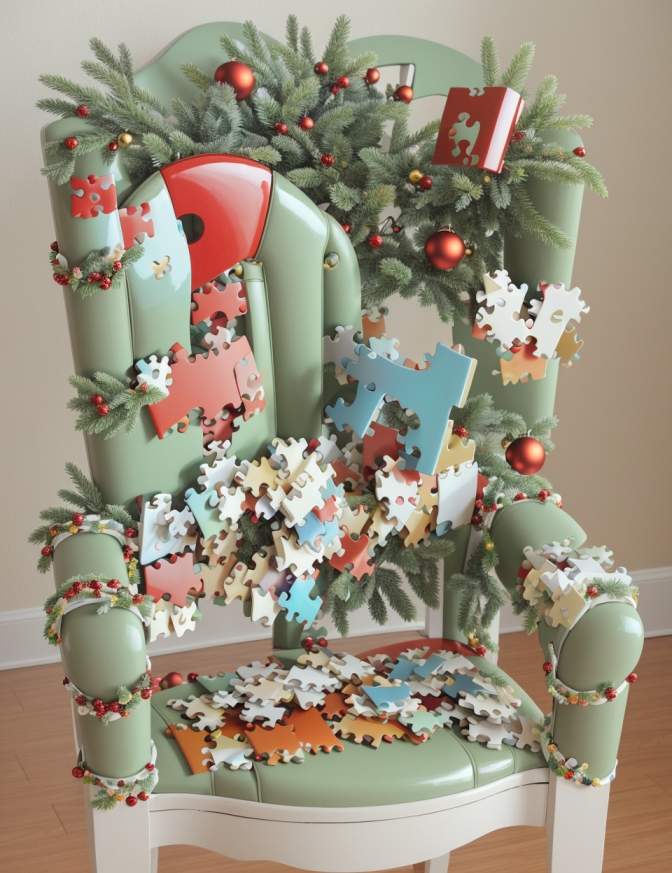 Repurpose old holiday-themed jigsaw puzzles into unique chair decorations. Glue the completed puzzle pieces to the back of each chair, creating a mosaic of festive images. Finish with a clear sealant to protect the puzzle pieces and add a glossy finish.
23. Felt Christmas Tree Chair Backs: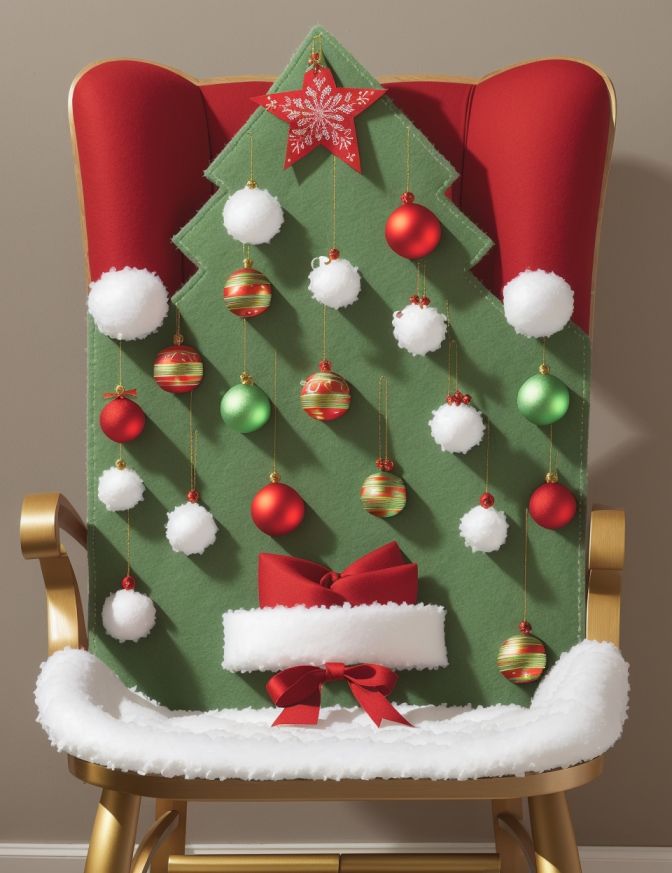 Craft mini felt Christmas trees to adorn the backs of your chairs. Cut tree shapes from green felt and decorate them with colorful felt ornaments. Attach these charming trees to the top of each chair, creating a festive forest in your dining or living space.
24. Cinnamon Stick Chair Wreaths: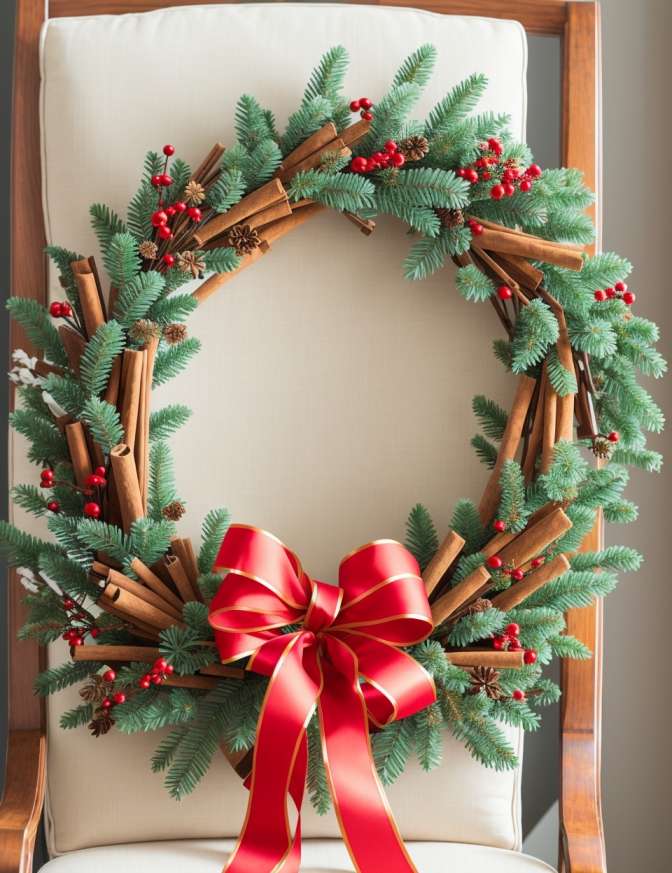 Craft mini wreaths using cinnamon sticks and twine. Bind the cinnamon sticks together in a circular shape, securing them with twine. Attach these fragrant wreaths to the backs of your chairs using festive ribbons, infusing your space with the warm and inviting scent of cinnamon.
25. Sweater Wrapped Chair Backs: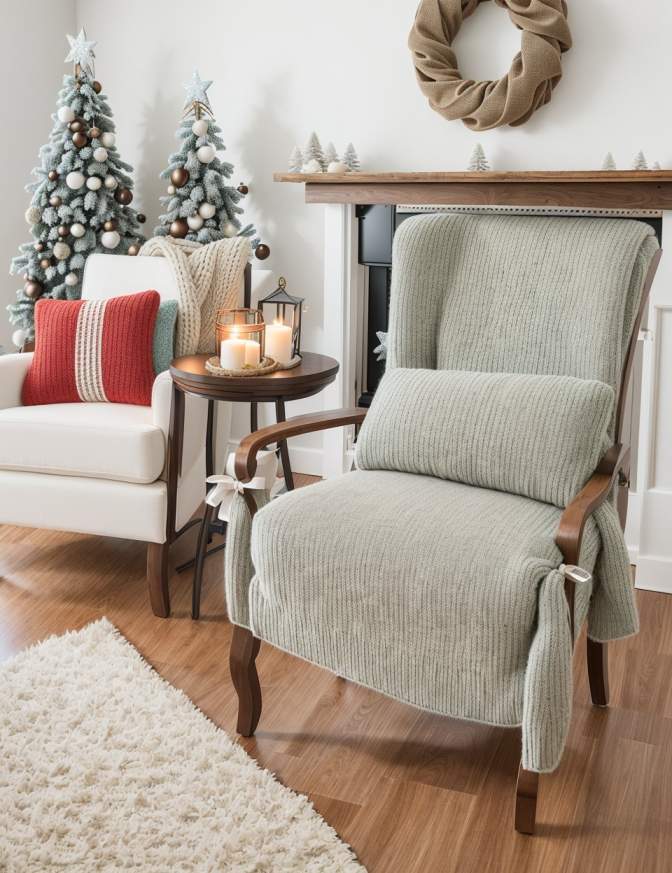 Give your chairs a cozy and textured look by wrapping the backrests with pieces of festive holiday sweaters. Cut the sweaters into strips and secure them around the chairs with bows or knots. This simple and budget-friendly idea adds warmth and charm to your seating.
26. DIY Christmas Chair Pockets: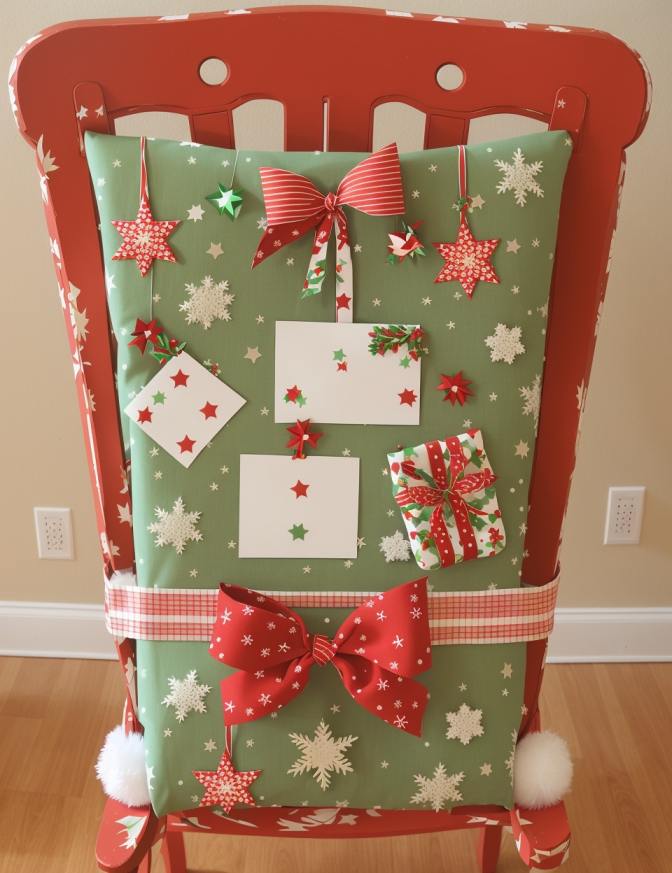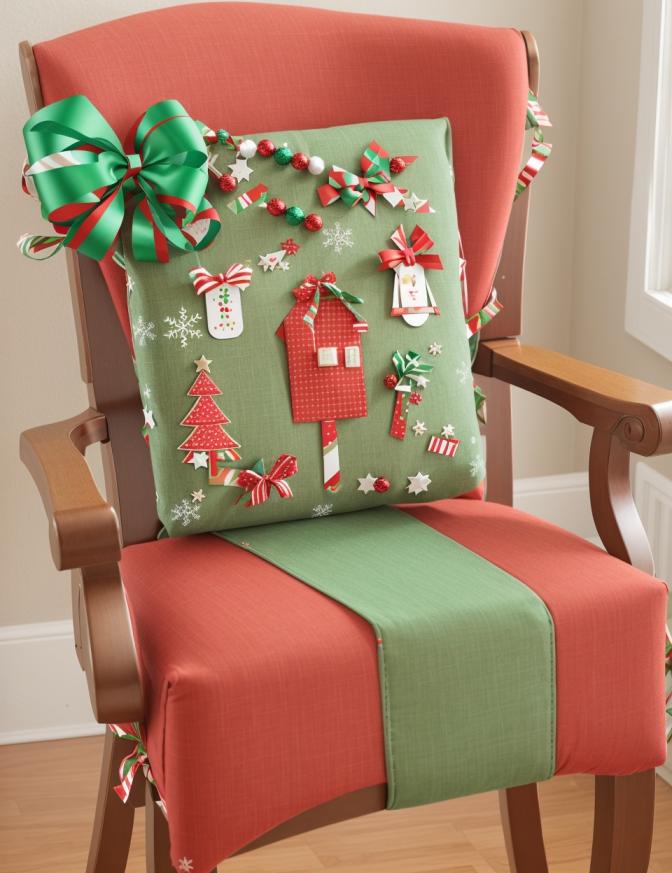 Craft chair pockets using holiday-themed fabric to hang on the back of each chair. These pockets can hold small gifts, treats, or even holiday-themed activity books for the little ones. Add a decorative bow or ribbon for an extra touch of festive flair.
27. Felt Stocking Chair Backs: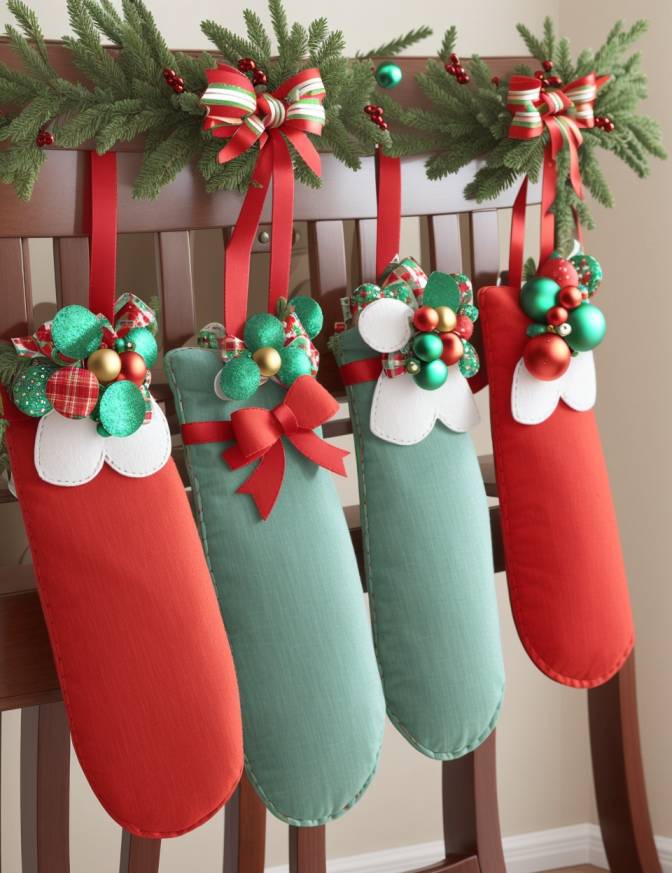 Craft miniature felt stockings and hang them on the backs of your chairs. Decorate the stockings with buttons, sequins, or festive shapes. Fill the stockings with small treats or use them as placeholders for your holiday table setting.
28. Rustic Birch Bark Chair Wraps: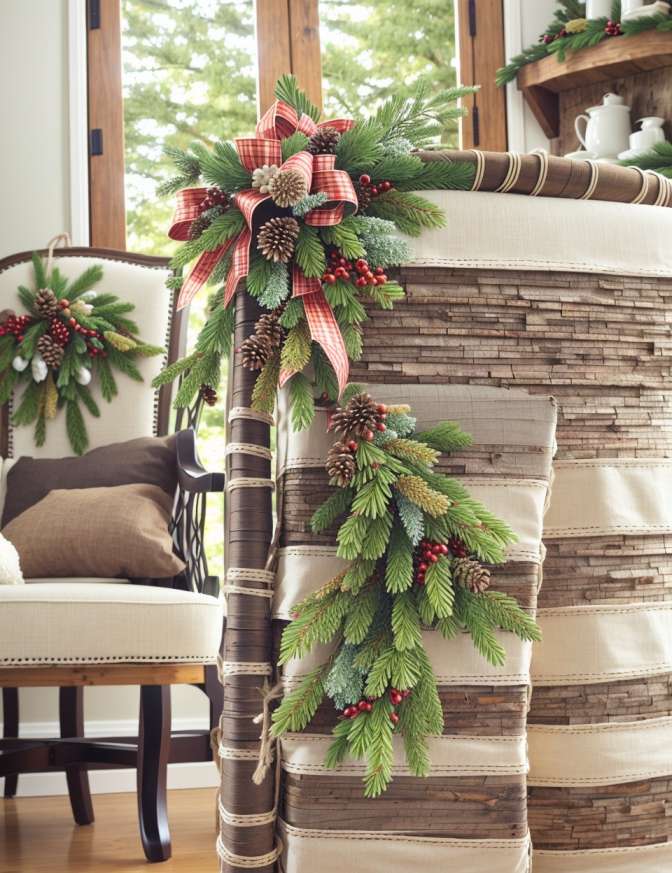 Bring a touch of nature indoors by wrapping chair backs with strips of rustic birch bark. Secure the bark in place with twine or ribbon. This natural and earthy decoration adds a woodland charm to your holiday decor.
29. Felt Poinsettia Chair Corsages: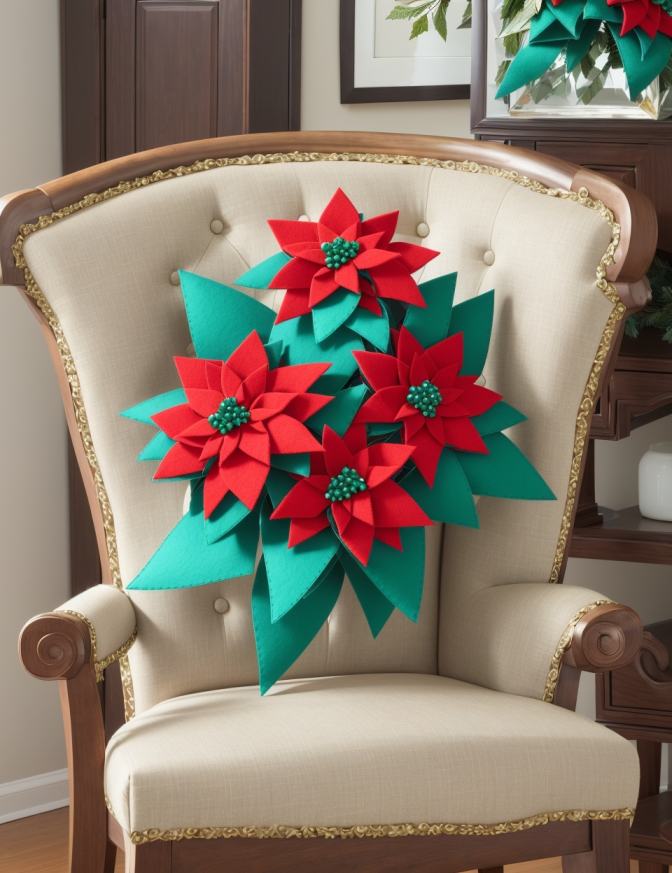 Craft felt poinsettia flowers and turn them into chair corsages. Attach these festive corsages to the back of each chair using pins or ribbon. Consider using a variety of red and white felt for a dynamic and eye-catching display.
30. Festive Chair Back Fans: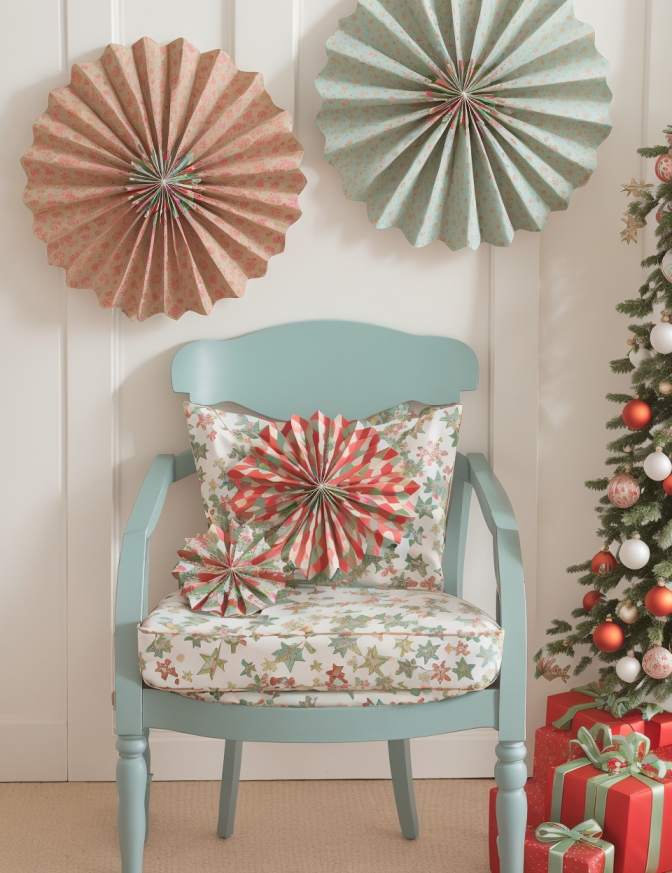 Create decorative paper fans in holiday colors and patterns to attach to the back of each chair. You can use festive scrapbook paper or even repurpose holiday wrapping paper. Attach the fans with ribbon or twine, adding a playful and decorative element to your seating.
31. Wine Cork Snowflake Chair Decor: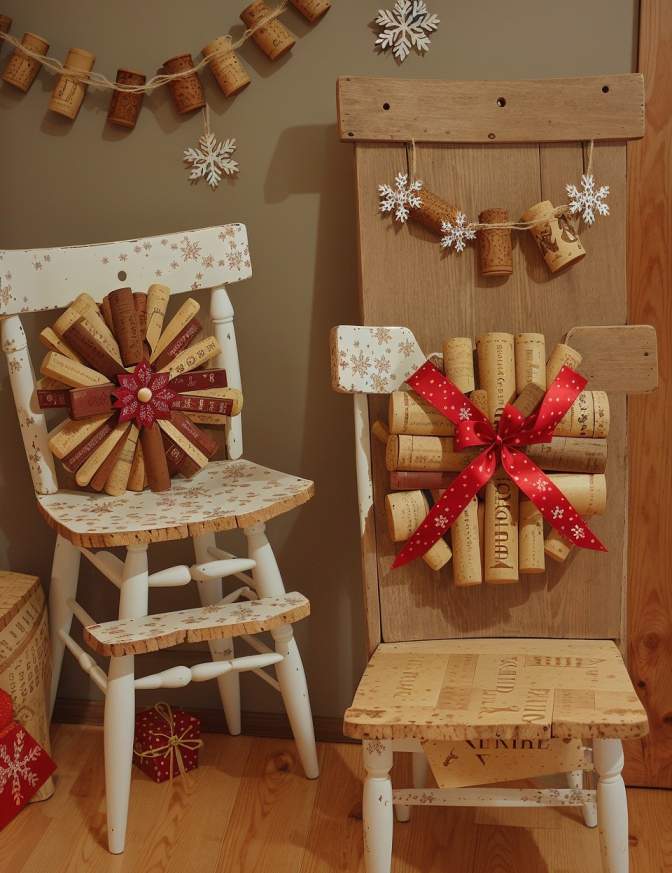 Repurpose wine corks into charming snowflake decorations for the back of your chairs. Glue the corks together in a snowflake pattern and paint them in festive colors. Attach these cork snowflakes using ribbon or twine, adding a rustic and upcycled element to your decor.
32. Sparkling Disco Ball Chair Ornaments:
Add a touch of glamour to your seating by hanging miniature disco balls from the backs of your chairs. Secure the disco balls with metallic ribbon or twine, creating a festive and glitzy display. The reflective surfaces will catch and scatter light, adding a magical sparkle to your space.
Conclusion:
This holiday season, elevate your home decor with these delightful DIY Christmas chair decorations. From Santa-inspired sashes to whimsical wreaths and snowy seat covers, there are endless possibilities to infuse your home with the magic of Christmas. Embrace your creative spirit, involve the family in the crafting process, and let your chairs become a festive focal point that spreads joy and warmth throughout your home. Cheers to a season filled with love, laughter, and beautifully adorned chairs!