Christmas in Australia is a unique experience. While the Northern Hemisphere enjoys a cozy, snow-covered holiday season, Australians bask in the warmth of summer. This contrast brings a distinctive charm to outdoor celebrations, making outdoor Christmas table settings a popular choice. In this article, we'll explore creative Australian outdoor Christmas table setting ideas that embrace the beauty of the outdoors while maintaining a festive spirit. Let's dive into the art of crafting a memorable al fresco Christmas experience.
[This post may contain affiliate links. What does that mean to you? Well, if you click on a product and make a purchase, I may get some compensation from you at no charge. If you want to read the boring stuff my full disclosure can be found here.]
Australian Outdoor Christmas Table Setting Ideas
1. Nature-Inspired Decor: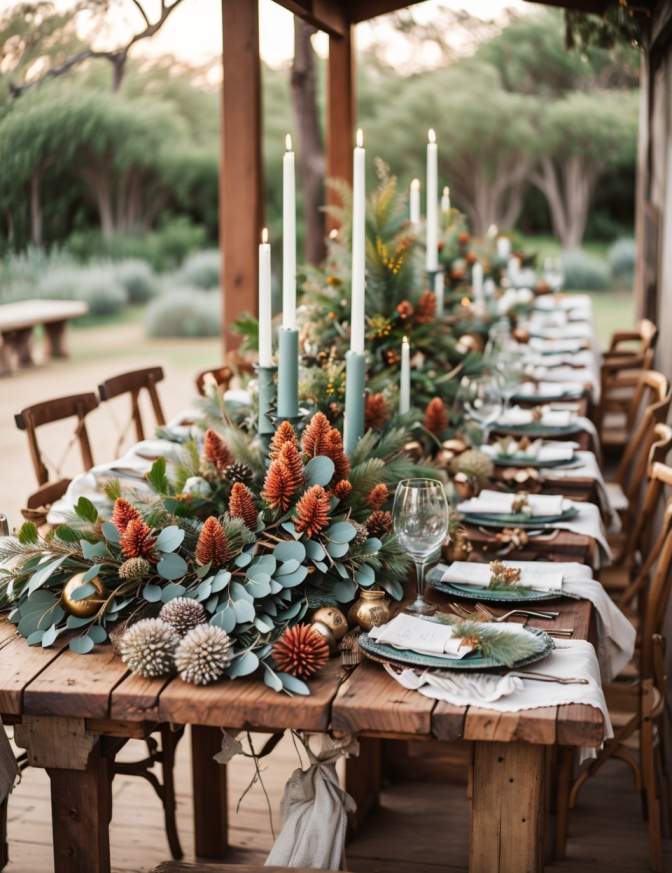 Australia's natural beauty provides endless inspiration for outdoor Christmas decor. Start with a rustic wooden table as your canvas. Adorn it with native greenery, such as eucalyptus branches, banksia leaves, and gum nuts. These elements offer a quintessential Australian touch to your table setting. Incorporate colorful wildflowers like kangaroo paws, waratahs, or bottlebrush to infuse the Christmas color palette.
2. Coastal Elegance:
Many Australians celebrate Christmas by the beach, and it's a fantastic theme for outdoor table settings. Begin with a crisp white tablecloth as a backdrop to create a coastal vibe. Incorporate seashells, driftwood, and coral-inspired tableware for a maritime aesthetic. Aqua or turquoise accents can represent the ocean, while linen napkins in beachy hues add a touch of elegance.
3. Aussie BBQ Extravaganza:
An outdoor Christmas meal often revolves around a BBQ in Australia. Embrace this tradition by setting up a BBQ-themed table setting. Feature rustic wooden platters, enamelware plates, and vintage BBQ utensils. Incorporate tropical foliage as your centerpiece and place condiments in small wooden crates for a quirky touch.
4. DIY Australian Crafts:
Get the whole family involved by creating DIY Australian-themed crafts for your outdoor table. Make personalized placemats with Aboriginal art-inspired designs or paint small rocks with holiday motifs. These DIY elements add a personal touch and engage everyone in the festivities.
5. Christmas Lights and Lanterns:
As the sun sets, illuminate your outdoor Christmas table setting with fairy lights, lanterns, and candles. String fairy lights in the surrounding trees or along the table's edge for a magical atmosphere. Opt for lanterns with Aussie motifs like kangaroos or koalas to further accentuate the theme.
6. Native Desserts and Drinks:
Enhance the dining experience with native Australian desserts and beverages. Serve pavlova with a selection of native fruits like finger limes, quandongs, or riberry. Quench your guests' thirst with refreshing lemon myrtle or eucalyptus-infused cocktails, and don't forget to provide non-alcoholic options like lemon myrtle iced tea.
7. Bush Tucker Centerpiece:
Highlight native Australian ingredients in your centerpiece to pay homage to the country's rich culinary heritage. Place a selection of native herbs and spices, like lemon myrtle, wattleseed, and pepperberry, in small pots or vases. These not only add a beautiful touch but also serve as conversation starters as guests explore the flavors of the Australian bush.
8. Aboriginal Art Table Runner: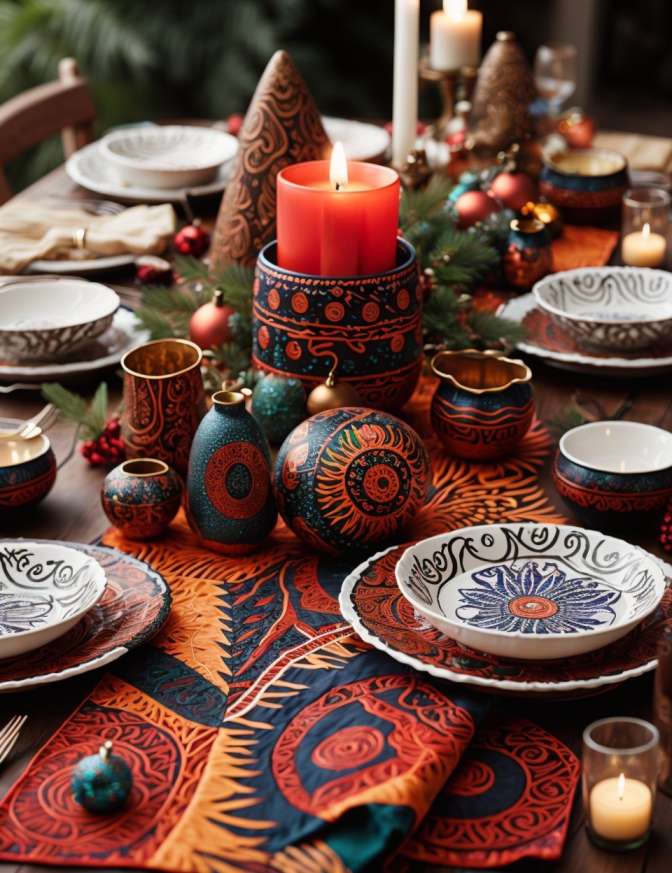 Incorporate Aboriginal art into your outdoor Christmas table setting by using a table runner featuring traditional indigenous designs. This not only adds a striking visual element but also provides an opportunity to honor and learn about the cultural heritage of Australia.
9. Opulent Australian Opals: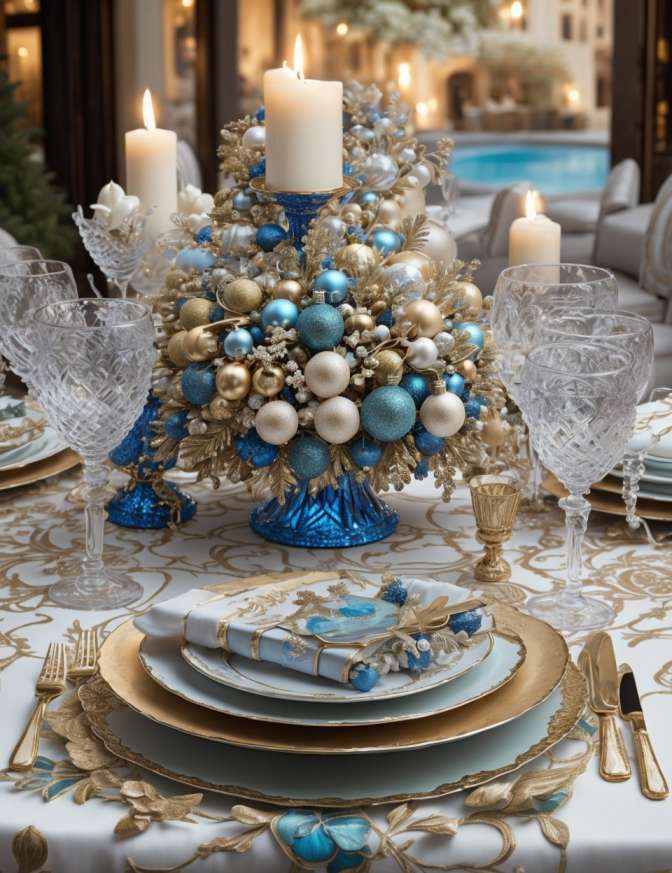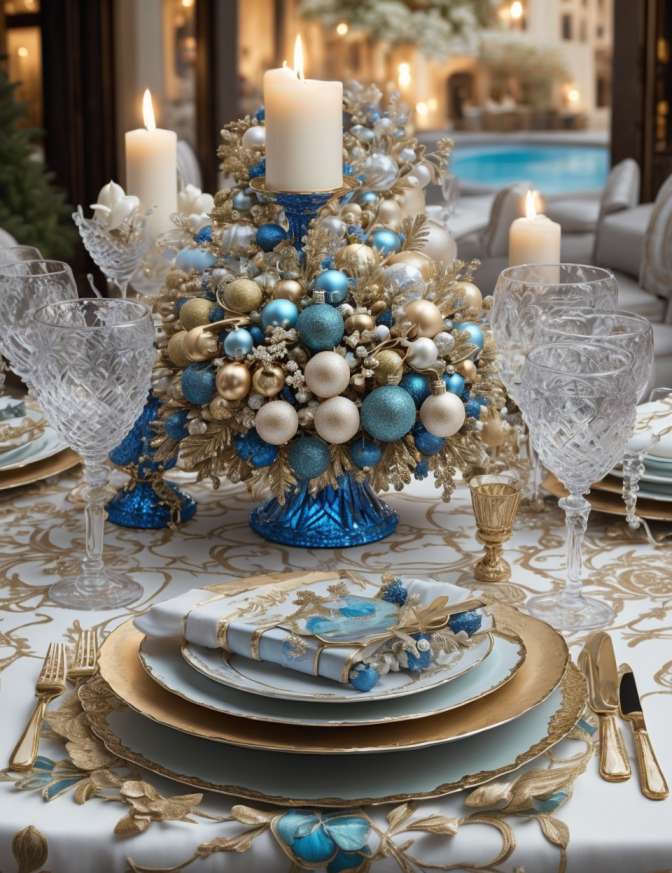 Add a touch of opulence by incorporating Australian opals into your table decor. Use opal-inspired coasters, placemats, or even opalized crockery for a luxurious, one-of-a-kind table setting. Opals are not only a symbol of Australia but also a conversation starter.
10. Floral Hat Decor: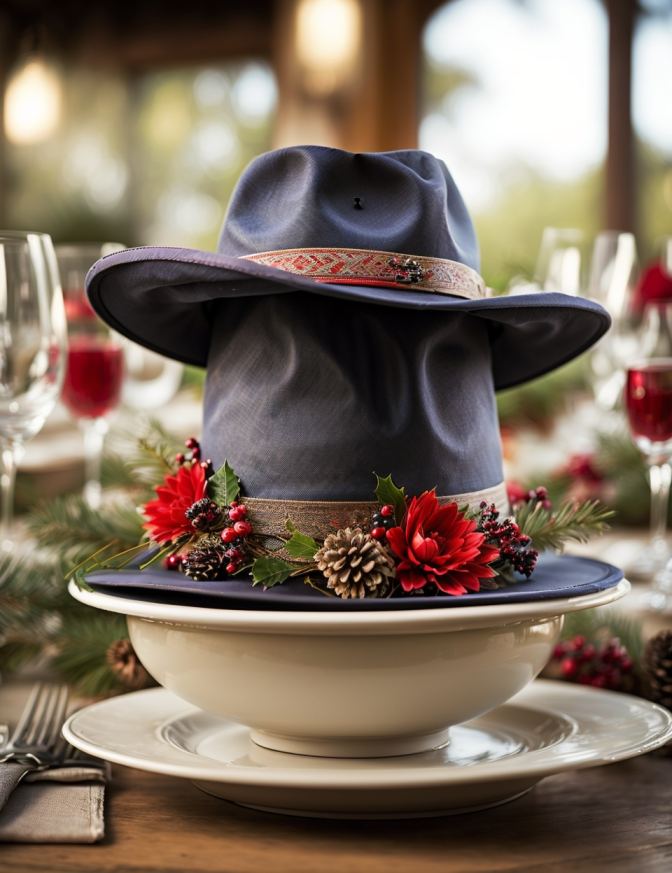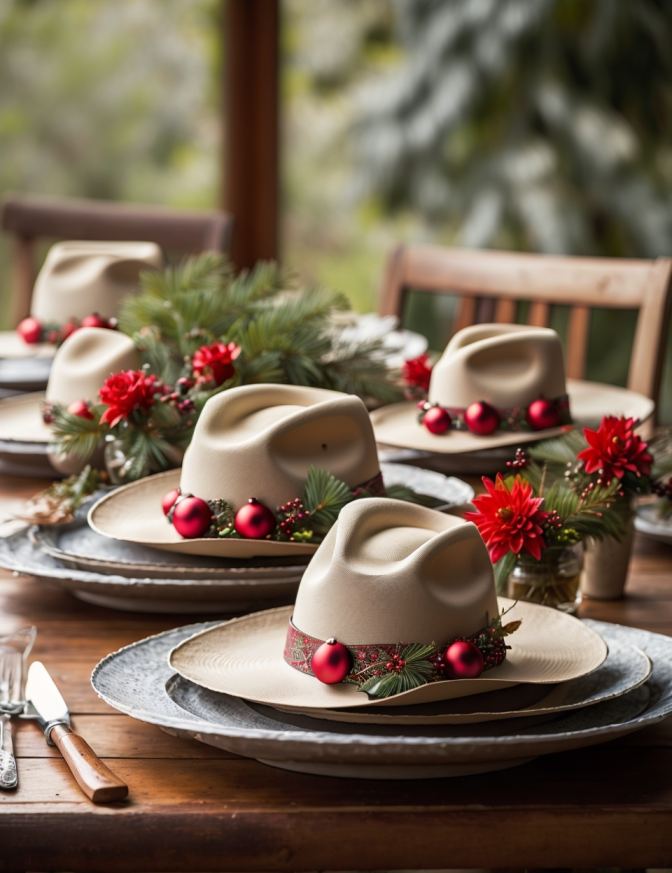 Incorporate the iconic Australian Akubra hat into your outdoor Christmas table setting. Place small Akubra hats at each setting and fill them with vibrant native flowers, creating a unique and playful centerpiece. Guests can even wear them as they enjoy their meal for added fun.
11. Coastal Inspired Driftwood: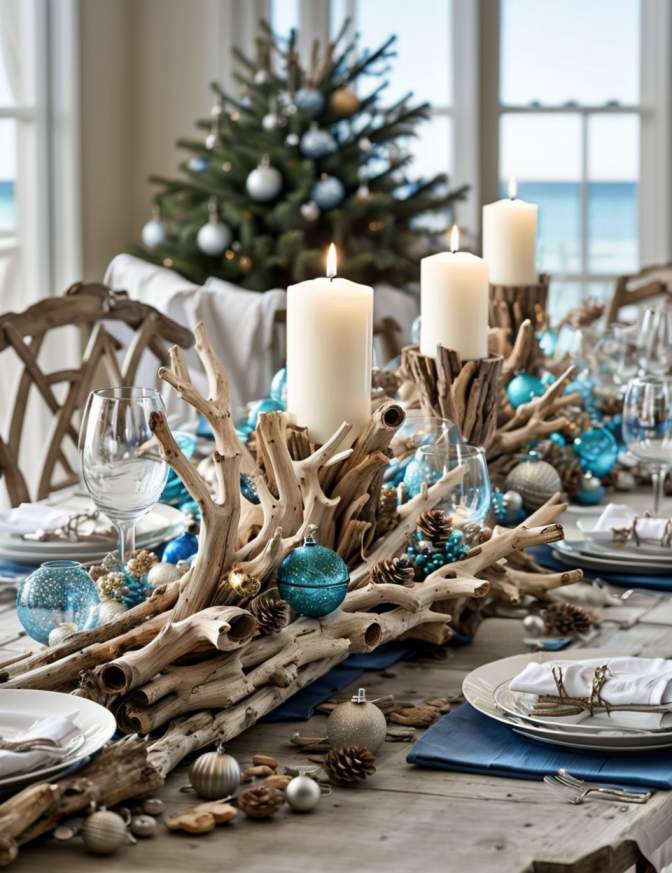 If you're celebrating Christmas by the coast, consider using pieces of driftwood as part of your table decor. These natural, weathered elements can serve as candle holders, napkin rings, or even as a centerpiece base. Driftwood adds an authentic coastal touch to your setting.
12. Bushland-Inspired Table Runner:
Create a table runner from eucalyptus leaves, gum nuts, and native flowers. Lay these natural elements down the center of your table to form a fragrant and visually appealing runner. It not only looks beautiful but also infuses your outdoor setting with the wonderful aroma of Australian bushland.
13. Australian Wildlife Figurines:
Incorporate figurines or small sculptures of Australian wildlife like kangaroos, wombats, or koalas into your table setting. These charming accents not only celebrate the unique fauna of Australia but also make great keepsakes or gifts for your guests.
14. Gumnut Napkin Rings: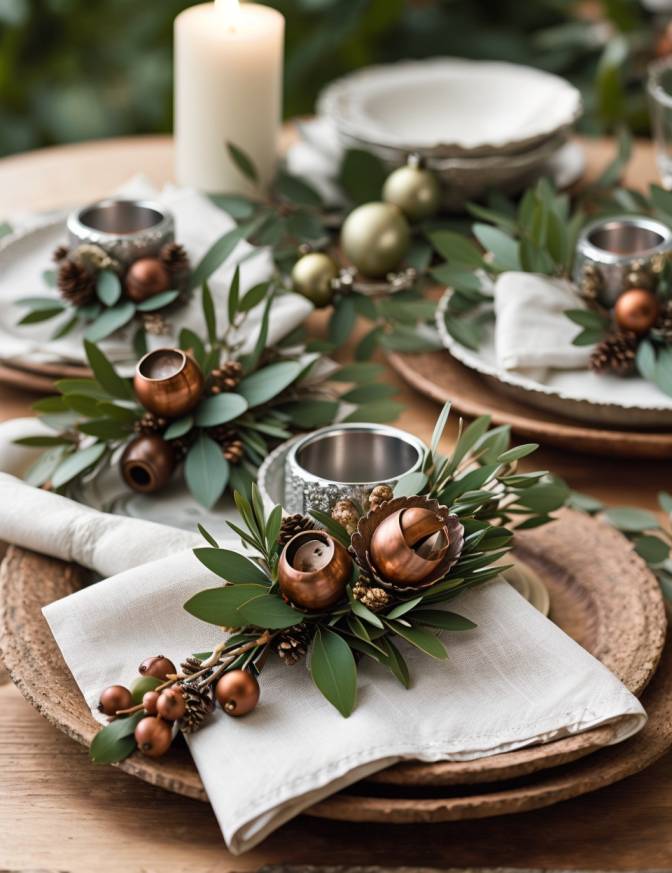 Craft or purchase napkin rings made from gumnuts or small branches. These charming, nature-inspired napkin rings add an Australian touch to your table setting and complement the native greenery beautifully.
15. Surfboard Bar: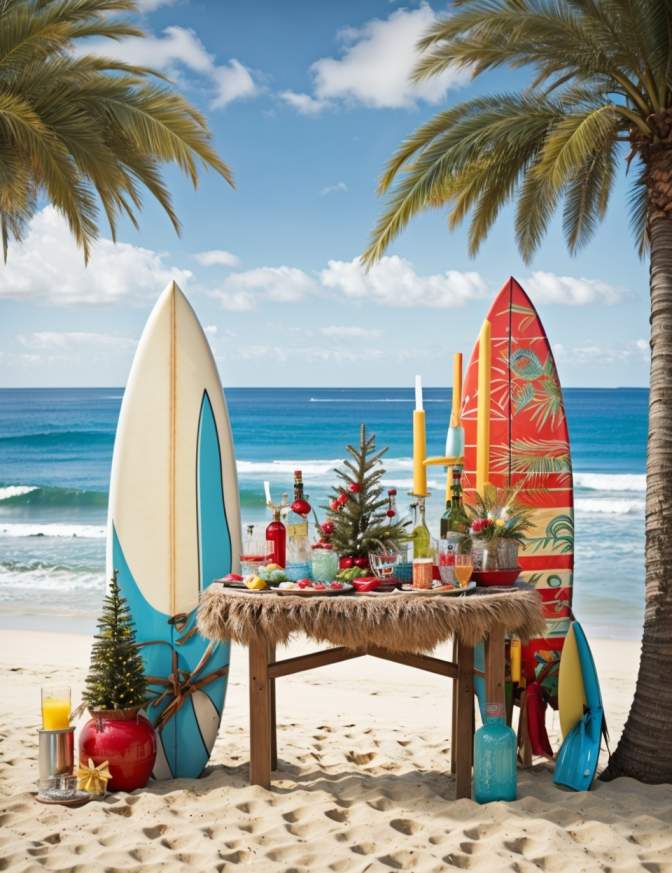 If you have a surfboard or access to one, transform it into a creative outdoor bar. Place it on sturdy supports and use it to display drinks, cocktails, and a range of beverages. Decorate the surfboard with colorful beach towels, tiki torches, and even a makeshift beach umbrella for a fun and beachy Christmas setting.
16. Wattle Flower Arrangements: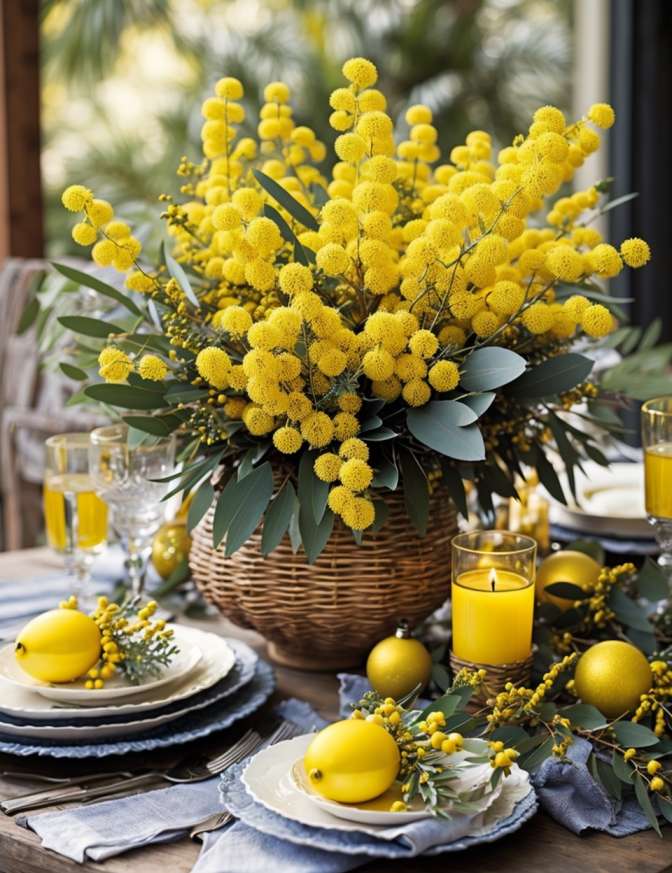 Wattle, with its bright yellow blooms, is an iconic Australian flower. Use wattle branches as the primary centerpiece, and complement them with smaller native flowers and greenery. The vibrant yellow hues of the wattle will bring a cheerful and Australian touch to your table.
17. Christmas in the Bush: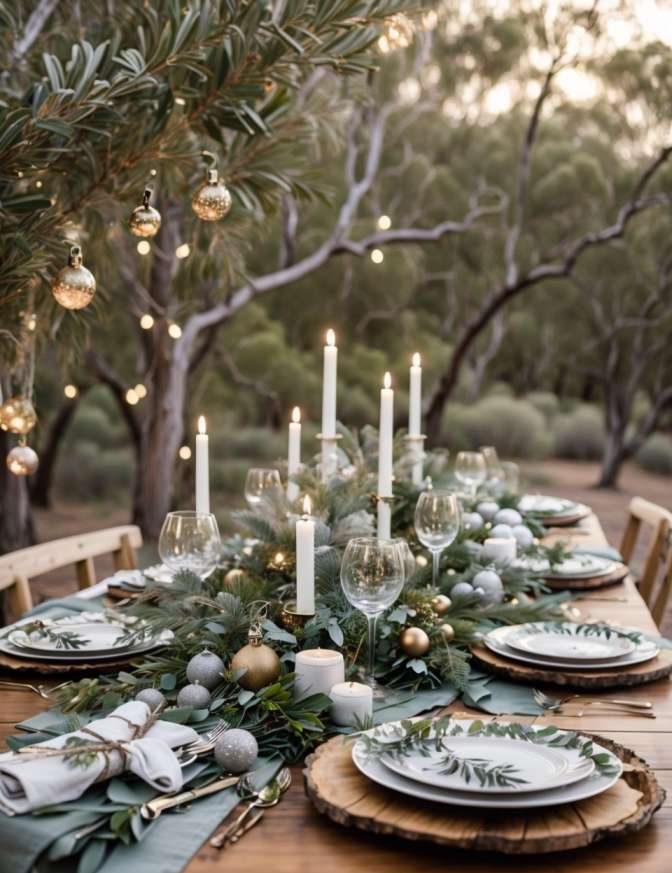 Embrace the beauty of the Australian bush by setting your outdoor table under the shade of eucalyptus trees. Hang small baubles and fairy lights from the branches for a whimsical touch. Use bush-inspired tableware, such as plates and cups with native flora and fauna designs.
18. Aussie Pudding Desserts: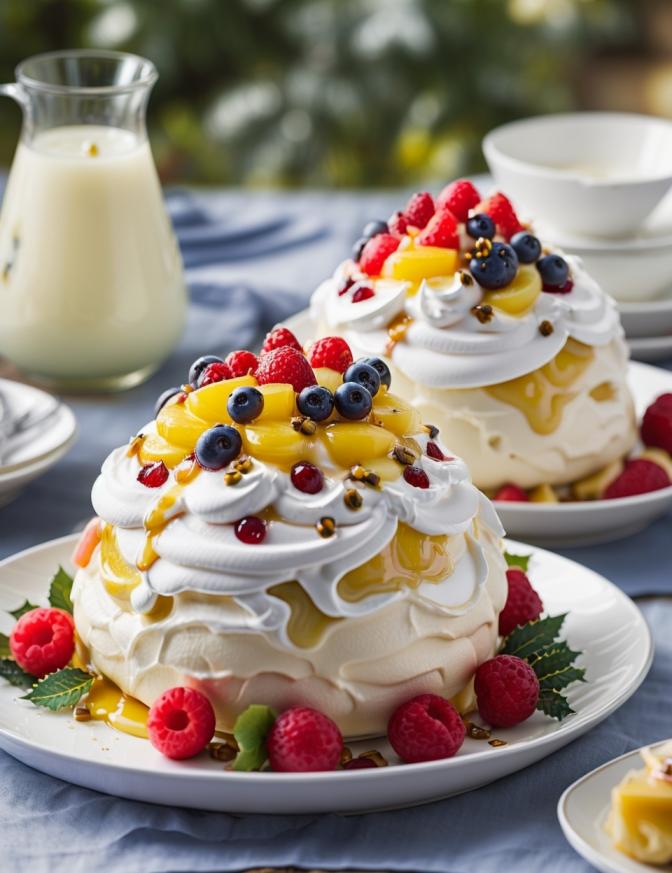 Instead of traditional Christmas puddings, serve up individual pavlovas with fresh seasonal fruits and a drizzle of passionfruit or kiwifruit syrup. These light and sweet desserts are quintessentially Australian and perfect for warm outdoor celebrations.
19. Christmas Bush Garland: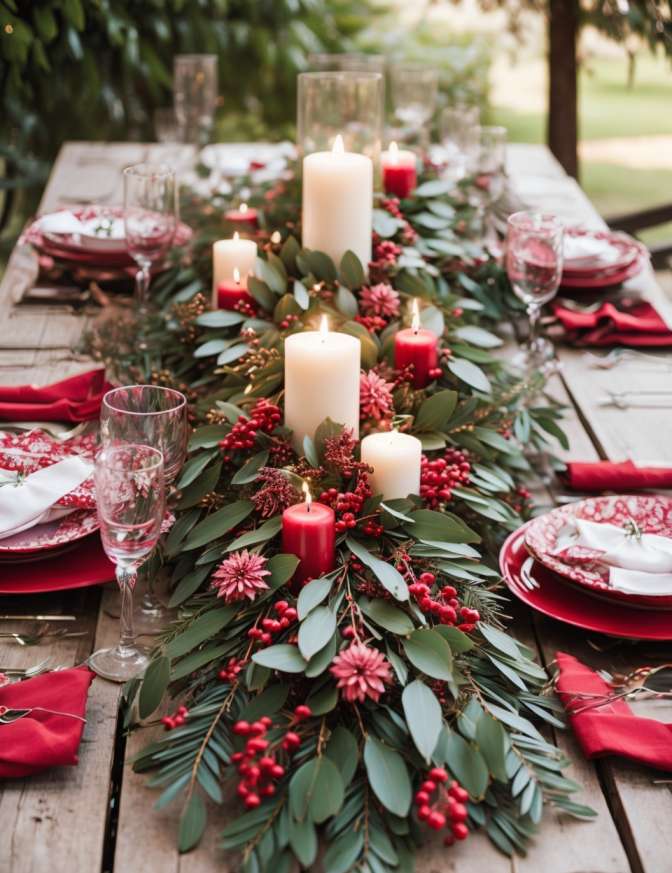 Create a Christmas bush garland to drape across your table. Use real or artificial Christmas bush branches, which feature small red or pink flowers, for a vibrant and Australian-themed table decoration.
Related Article-
20. Indigenous Art Placemats: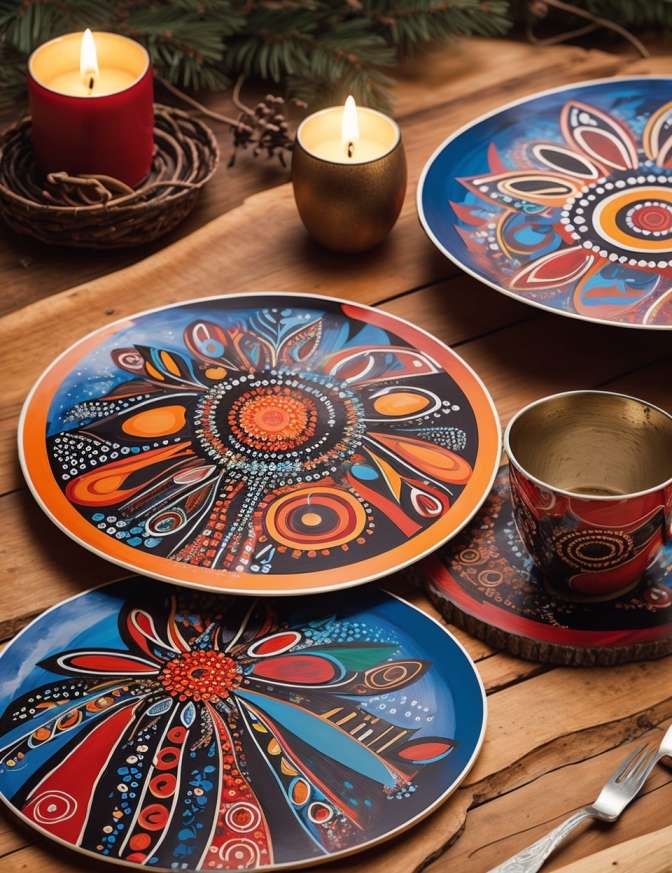 Invest in placemats or coasters that showcase Aboriginal art designs. These pieces not only add a touch of Australian culture to your table but also support indigenous artists and their communities.
21. Outback Lanterns:
Use lanterns with a rustic outback design to illuminate your outdoor table as the sun sets. These lanterns can evoke the sense of a campfire, creating a cozy and inviting atmosphere.
22. Australian Bird Decor:
Incorporate native Australian bird decorations, such as parrots or lorikeets, into your table setting. These colorful and playful elements can be used as table centerpieces, hanging decorations, or even as chair accessories.
23. Christmas By the Billabong: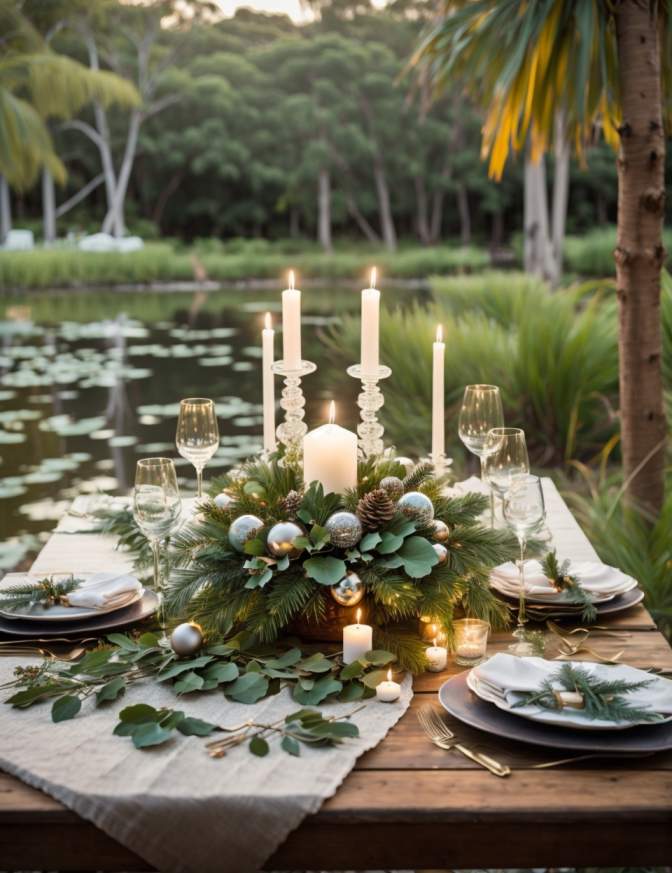 For a truly Australian experience, set up your outdoor Christmas table by a pond or billabong, if possible. Decorate with water lilies, water reeds, and native aquatic plants. This natural backdrop will enhance the serene and tranquil ambiance of your celebration.
24. Fire Pit Gathering:
Set up a fire pit as the focal point of your outdoor Christmas table. Encourage guests to gather around the fire for warmth and camaraderie. Provide marshmallows and sticks for toasting, creating a cozy and communal atmosphere.
FAQs (Frequently Asked Questions)
1. How do you set a Christmas table in Australia?
In Australia, setting a Christmas table often reflects the outdoor and relaxed nature of the holiday. You can start with a light, summery color scheme, incorporate native flora or beach-themed decorations, and consider outdoor elements like driftwood, seashells, and eucalyptus leaves to create a unique Australian setting.
2. How to decorate a Christmas table in Australia?
To decorate a Christmas table in Australia, consider using native flowers, eucalyptus leaves, and other Australian elements. You can also embrace coastal themes, incorporate indigenous art, and add touches like surfboard bars or outback lanterns for a distinctly Australian flair.
3. What do Christmas decorations look like in Australia?
Christmas decorations in Australia often feature native flora and fauna, including eucalyptus, banksia, and iconic animals like kangaroos and koalas. Coastal and beach-inspired decor is also common due to the warm weather during the holiday season.
4. How do Australians set the table?
Australians set their Christmas table with a blend of traditional and Australian elements. This can include native flower arrangements, indigenous art placemats, and a relaxed outdoor atmosphere to celebrate the holiday.
5. How do you make a Christmas table look special?
To make a Christmas table look special, focus on a cohesive theme or color scheme. Use quality tableware, consider a unique centerpiece, and incorporate personal touches or handcrafted decorations. Lighting and music can also set the mood for a memorable table setting.
6. How do you make a table look Christmassy?
To make a table look Christmassy, use traditional holiday colors like red, green, and gold, along with Christmas-themed decor such as ornaments, candles, and holly. Incorporate festive dinnerware, napkins, and a visually appealing centerpiece.
7. What colors should a Christmas table setting be?
Traditional Christmas table settings often feature a color palette of red, green, and gold. However, in Australia, you can also incorporate summery and beach-inspired colors like blues, whites, and shades of green, to reflect the warm weather during the holiday season.
8. What is an Australian tradition for Christmas?
One of the cherished Australian Christmas traditions is celebrating outdoors, often at the beach or in the backyard. Australians also enjoy spending time with family and friends, engaging in festive barbecues, and exchanging gifts. Carol singing and watching the Boxing Day Test cricket match are other popular customs.
9. Does Australia do Christmas lights?
Yes, Australians do use Christmas lights to decorate their homes and gardens. It's a tradition to illuminate houses and neighborhoods with festive lighting displays, especially in the lead-up to Christmas.
10. Does Australia have special decorations for Christmas?
Australia has a range of special Christmas decorations that showcase native flora, fauna, and cultural symbols. These include ornaments featuring kangaroos, koalas, and indigenous art designs, alongside the more traditional Christmas decor.
Conclusion:
An Australian outdoor Christmas table setting allows you to celebrate the holiday season uniquely, embracing the warmth of summer and the natural beauty of the country. Whether you choose a nature-inspired theme, coastal elegance, a BBQ extravaganza, or opt for DIY crafts, the key is to create an atmosphere that reflects the joy and camaraderie of the holiday season. With these creative ideas, your outdoor Christmas celebration will be both memorable and authentically Australian. So, gather your loved ones, set the table, and enjoy a festive al fresco Christmas in the land down under!