Your master bathroom is a sanctuary, a place to unwind, and a reflection of your personal style. While you might have invested in exquisite tiles, lavish fixtures, and sumptuous textiles, have you considered the impact of your bathroom door on the overall aesthetic? Your bathroom door can be a unique canvas for creativity, seamlessly blending form and function. In this article, we'll explore 43 master bathroom door ideas that will help you transform your bathroom into a stylish and welcoming retreat.
[This post may contain affiliate links. What does that mean to you? Well, if you click on a product and make a purchase, I may get some compensation from you at no charge. If you want to read the boring stuff my full disclosure can be found here.]
Master Bathroom Door Ideas
1. Barn-Style Sliding Door: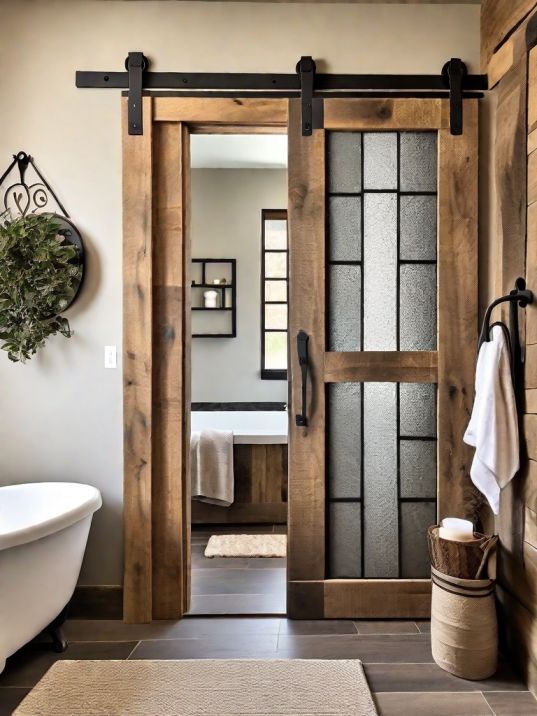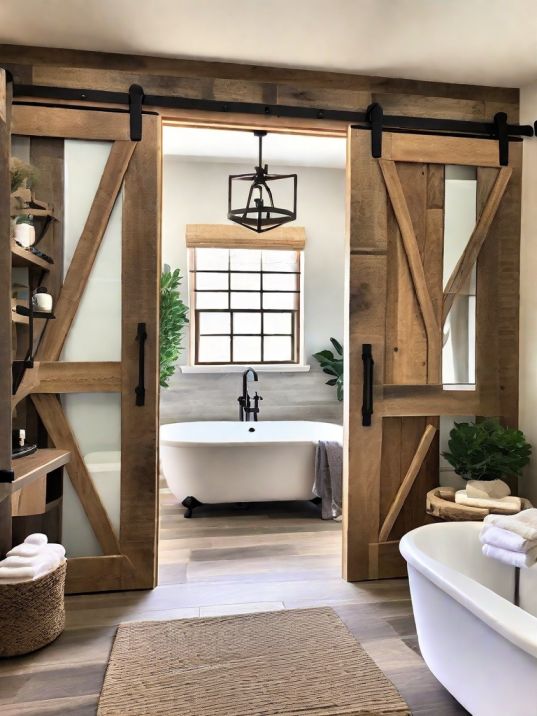 A sliding barn door can be a charming addition to your master bathroom. It's a space-saving option that works well in rustic, farmhouse, or industrial-style bathrooms. You can customize it with various finishes and hardware for a unique look.
2. Frosted Glass Pocket Door: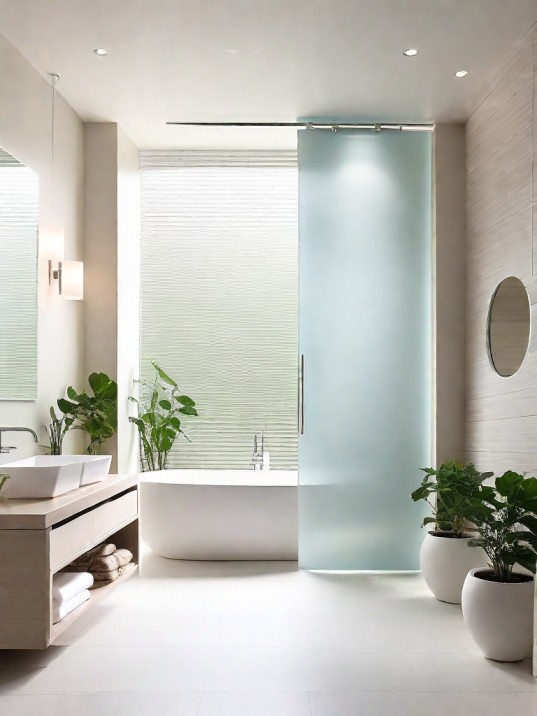 A frosted glass pocket door is an excellent choice for those who want to maintain privacy while allowing natural light to filter through. It gives your bathroom a modern and airy feel. You can choose different types of frosted glass for added design flair.
3. French Doors: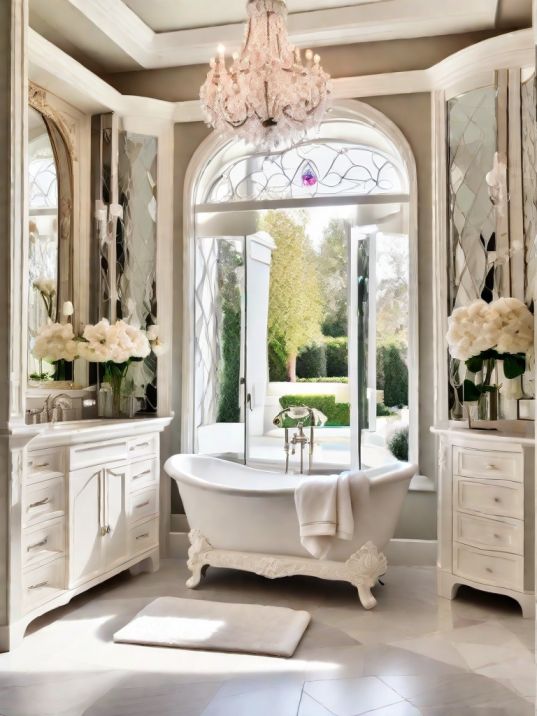 Installing French doors in your master bathroom adds a touch of sophistication and a sense of grandeur. They work well in larger bathrooms and can create a seamless transition between the bedroom and bathroom, making the entire suite feel more spacious.
4. Carved Wooden Door: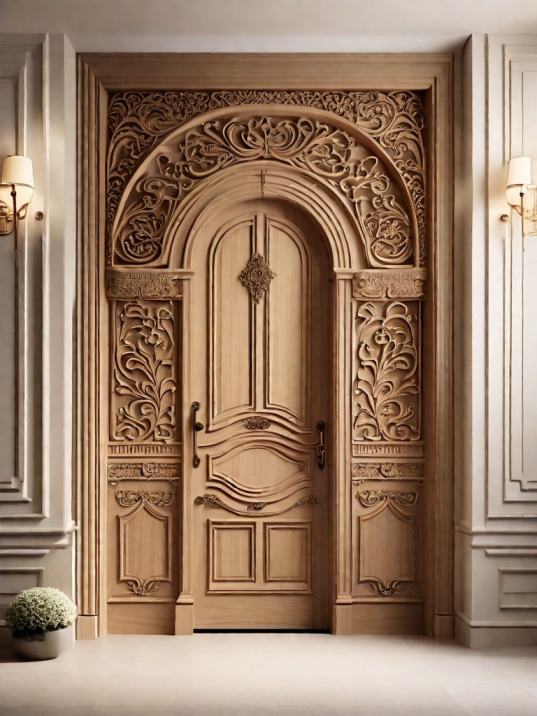 A beautifully carved wooden door can bring a touch of elegance to your bathroom. Whether it's a classic, intricate design or a more minimalist pattern, a well-crafted wooden door can be a statement piece.
5. Industrial-Style Steel Door: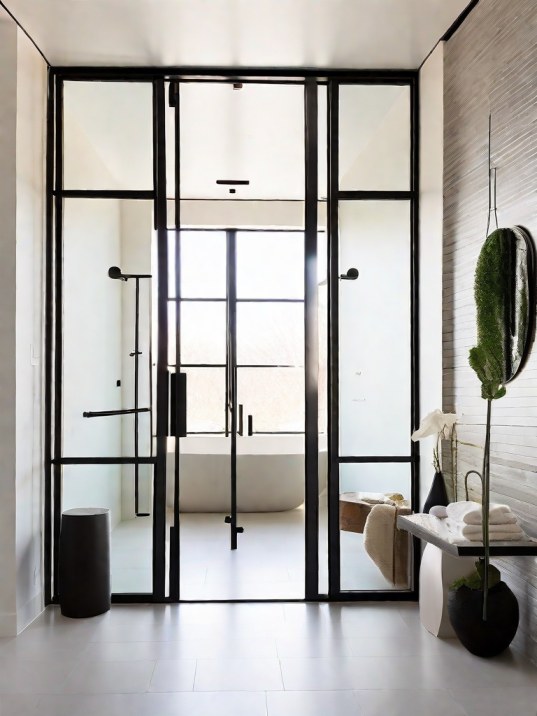 For a more industrial or contemporary look, consider a steel-framed glass door. These doors often have a minimalist aesthetic with exposed metal frames, which can be a stylish addition to a modern master bathroom.
6. Pivot Door:
Pivot doors are a unique choice. They rotate on a central hinge, creating a striking visual effect. They are often seen in contemporary designs and can make a bold statement in your master bathroom.
7. Pocket Door with a Mirror: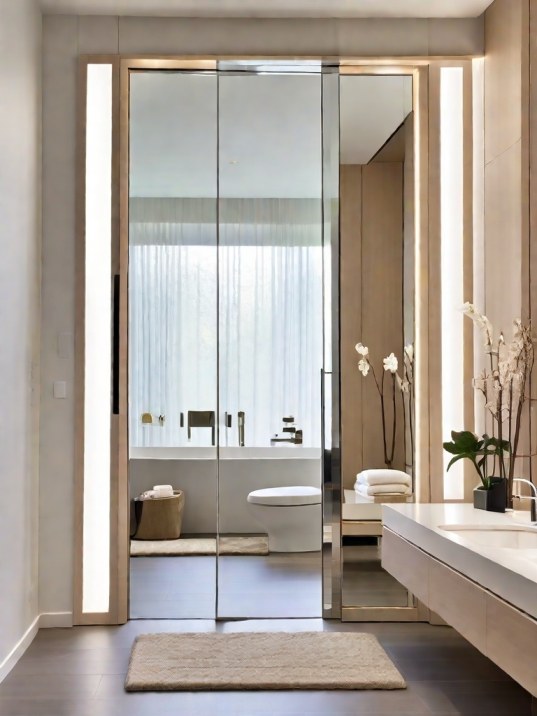 A pocket door with a built-in mirror not only saves space but also adds functionality. It's perfect for dressing areas within the bathroom and helps create a feeling of spaciousness.
8. Bamboo or Reed Screen: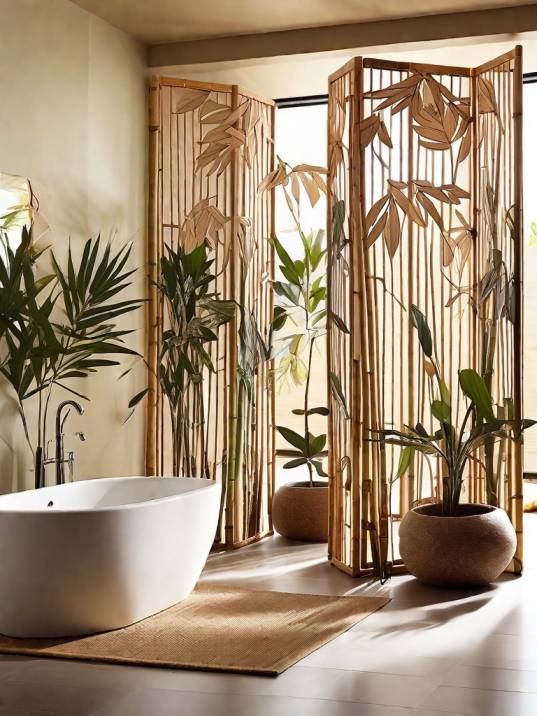 If you want a more exotic or natural look, consider using a bamboo or reed screen as a sliding or folding door. These materials add texture and a tropical feel to the space.
9. Artistic Hand-Painted Door: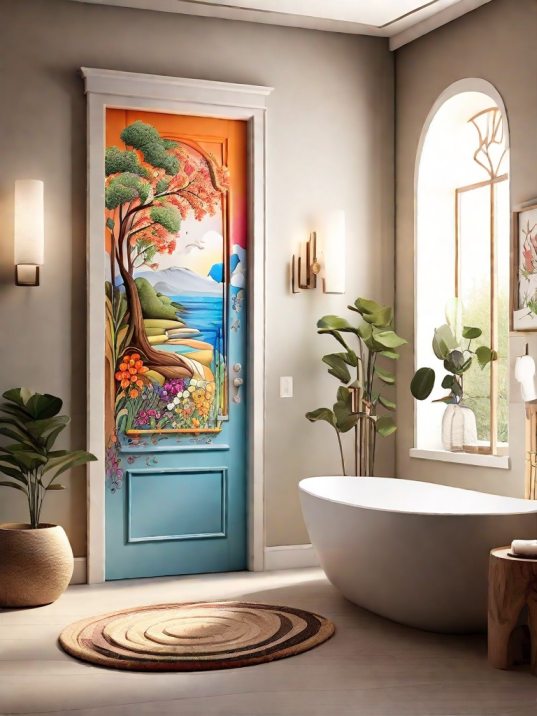 A custom hand-painted door with a unique design or mural can become the focal point of your bathroom. It's a way to infuse your personal style and creativity into the space.
10. Bespoke Glass and Metal Door: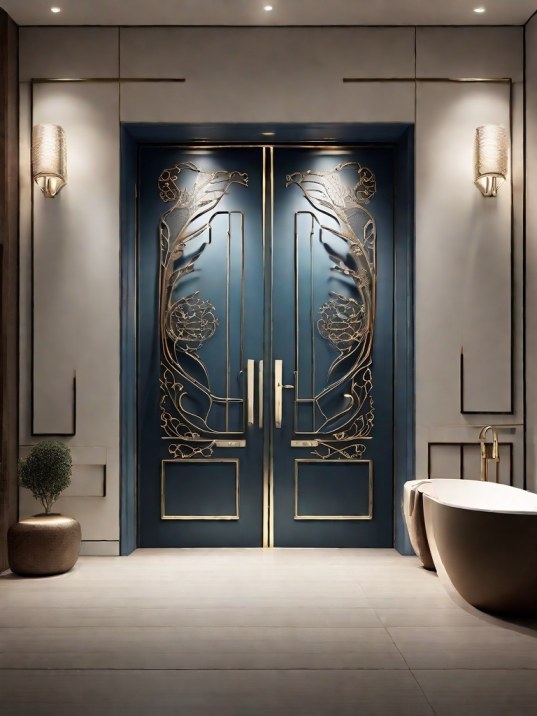 For a truly one-of-a-kind look, consider commissioning a custom glass and metal door. You can work with an artisan to create a door that reflects your personality and complements the overall design of your bathroom.
11. Vintage Salvaged Door: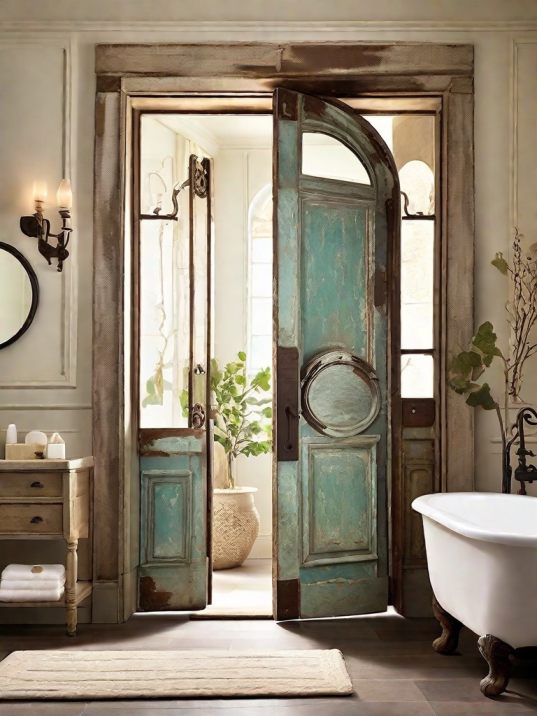 Reclaiming a vintage or salvaged door can add character and a sense of history to your master bathroom. These doors often have unique details and patina that can be a conversation piece.
12. Asian-Inspired Shoji Screen: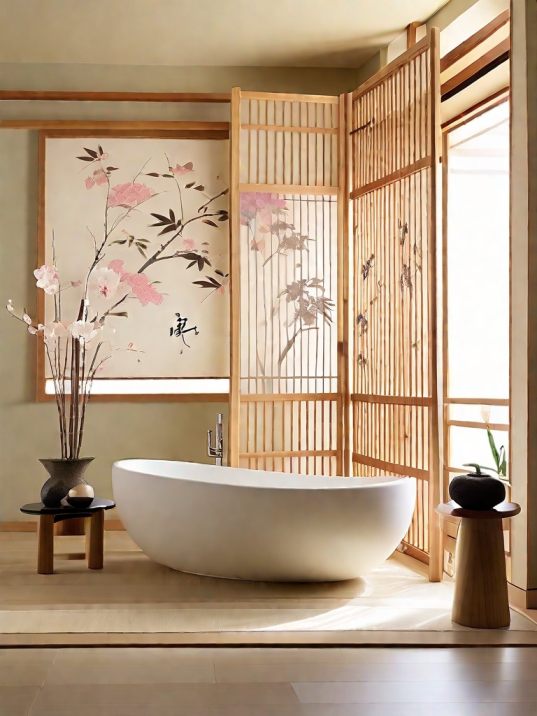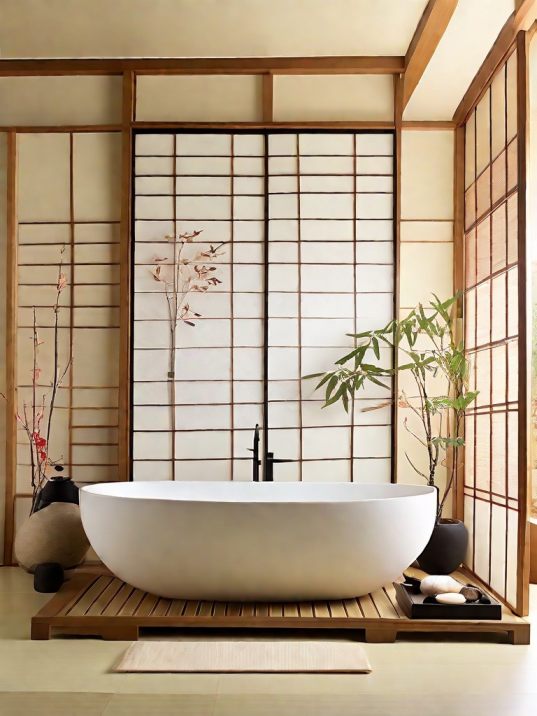 Shoji screens are traditional Japanese sliding doors made of translucent paper and wooden frames. They create a serene and calming atmosphere and work well in minimalist or Zen-inspired bathrooms.
13. Rustic Barn Wood Door: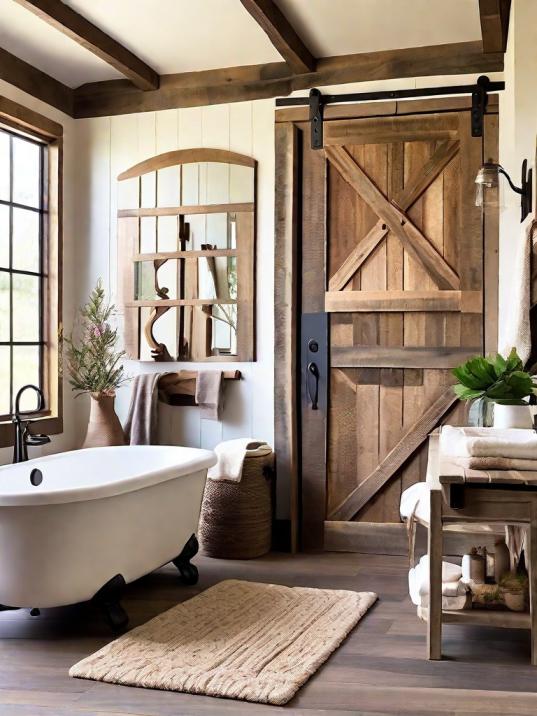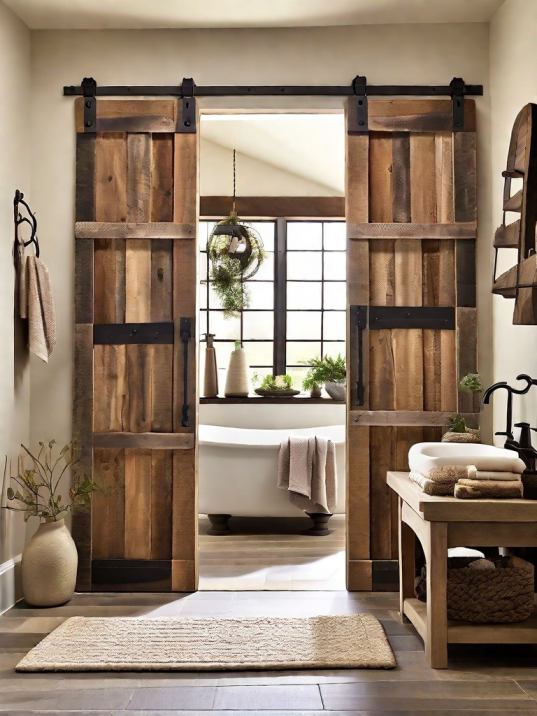 A rustic barn wood door can enhance the cozy, farmhouse feel in your master bathroom. The natural textures and aged wood can add warmth and charm to the space.
14. Custom Mosaic Glass Door: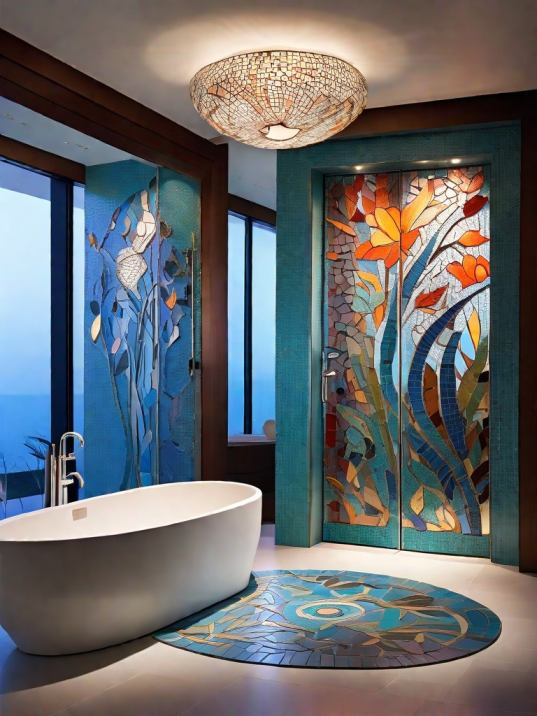 Create a work of art with a custom mosaic glass door. Mosaic patterns can be tailored to your color scheme and style, adding a touch of luxury and artistry to your bathroom.
15. Hidden or Camouflaged Door:
For a seamless and minimalist appearance, you can have a door designed to blend in with the surrounding wall. Hidden doors or camouflaged doors can be a striking and subtle design choice.
16. Mirrored Sliding Door: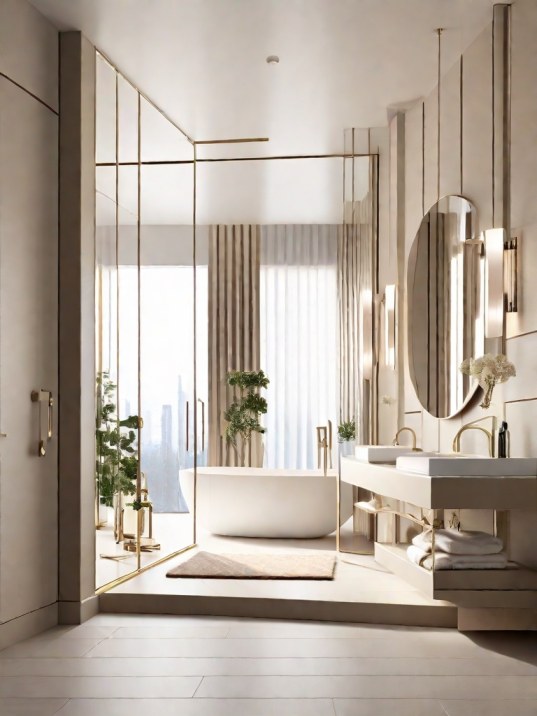 A mirrored sliding door can serve a dual purpose by adding both functionality and the illusion of a larger space. It's perfect for grooming and dressing areas within the bathroom.
17. Industrial Steel Grid Door: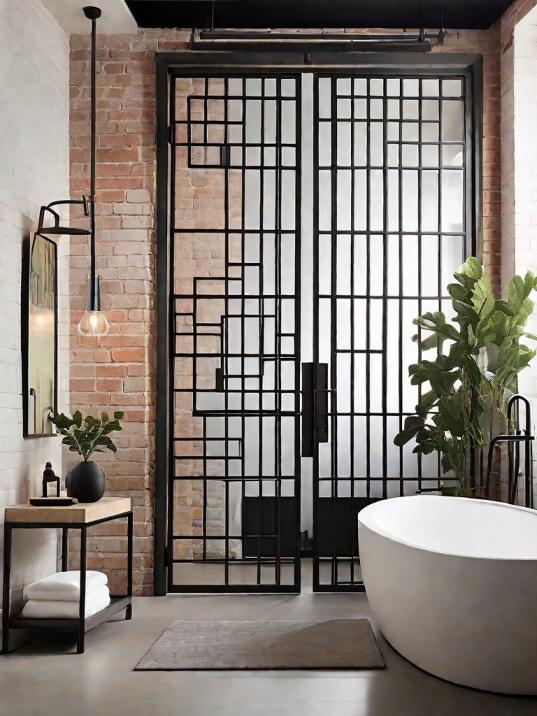 An industrial steel grid door is a great choice for an urban loft-style bathroom. The steel grid adds an architectural element that complements exposed brick or concrete walls.
18. Stained Glass Door:
Stained glass doors can add a touch of art and color to your master bathroom. The intricate patterns and vibrant colors can create a captivating focal point.
19. Bifold Glass Doors: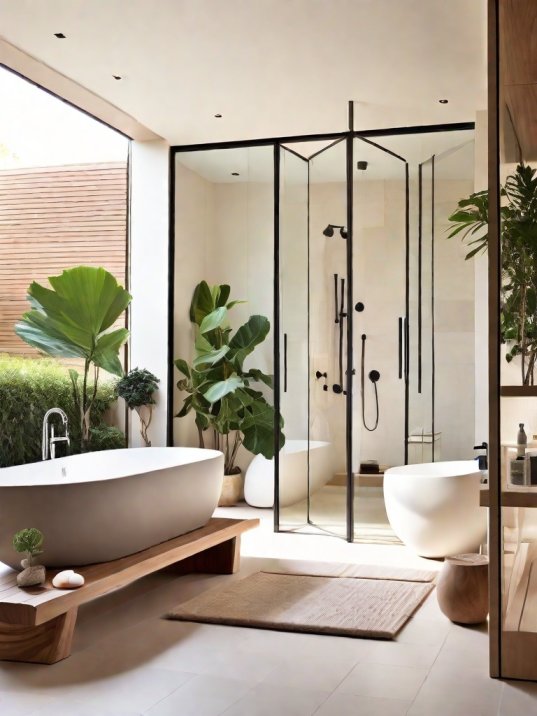 Bifold glass doors are a sleek and space-saving option. They can be fully opened to connect your master bathroom to an outdoor space, creating a spa-like atmosphere.
20. Minimalist Frosted Glass Panel:
A simple frosted glass panel with a minimalist frame can create a contemporary and elegant entrance to your master bathroom. This choice ensures privacy while allowing light to pass through.
21. Double Doors with Translucent Glass: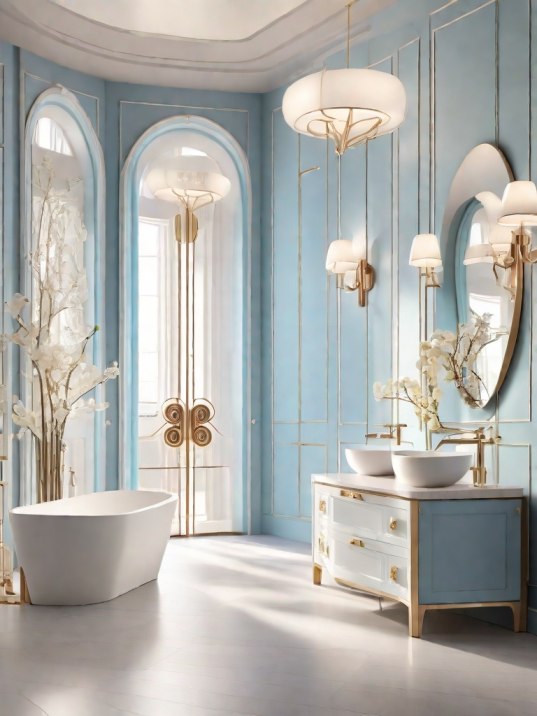 Double doors can create a grand entrance to your master bathroom. By incorporating translucent or frosted glass panels, you can maintain privacy while still allowing light to filter through.
22. Repurposed Antique Window Door: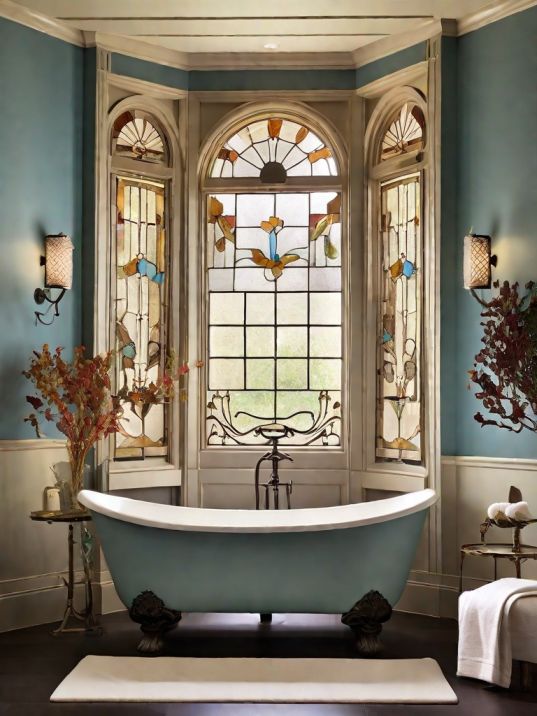 Transform an antique window frame into a beautiful and unique bathroom door. This repurposed design can infuse character and history into your space.
23. Mirror Mosaic Barn Door: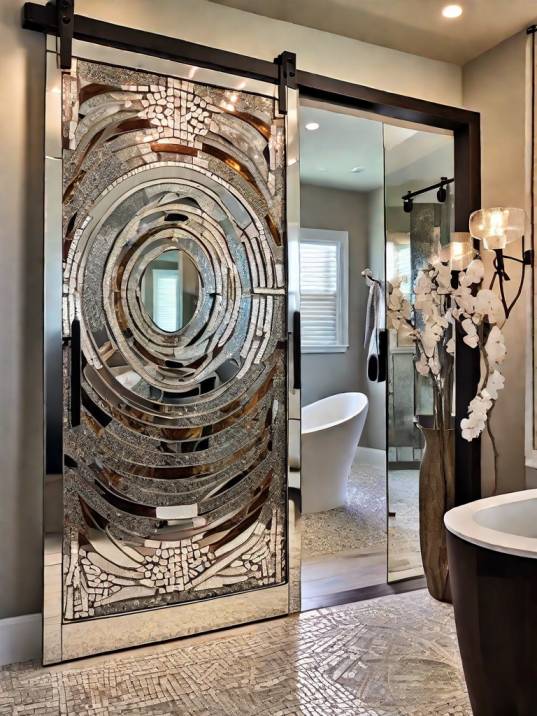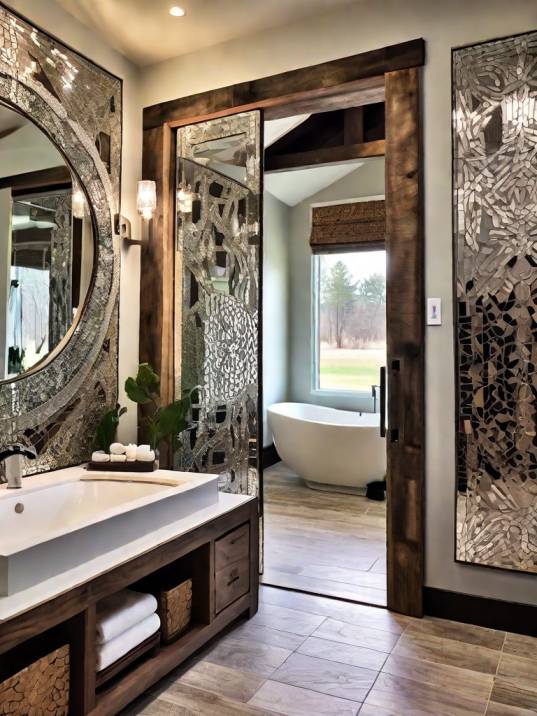 Combine the rustic charm of a barn door with the glamour of a mirror mosaic. This striking design choice adds both personality and function to your master bathroom.
24. Pivot Glass and Wood Hybrid Door: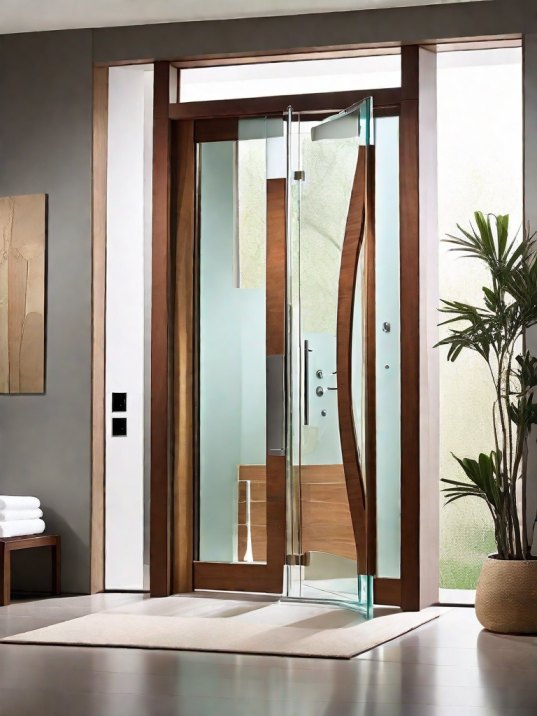 A pivot door that combines both glass and wood elements can create a stunning visual contrast. The glass can provide an open and airy feel, while the wood adds warmth and texture.
25. Nautical-Themed Dutch Door: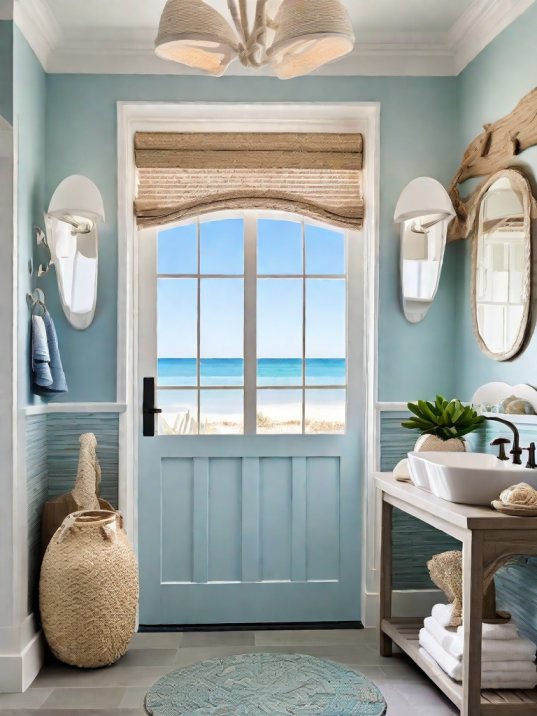 A Dutch door, split horizontally to open independently, can be a charming choice for a coastal or nautical-themed bathroom. Paint it in beachy colors and add decorative hardware for the full effect.
26. Sculptural Glass Door: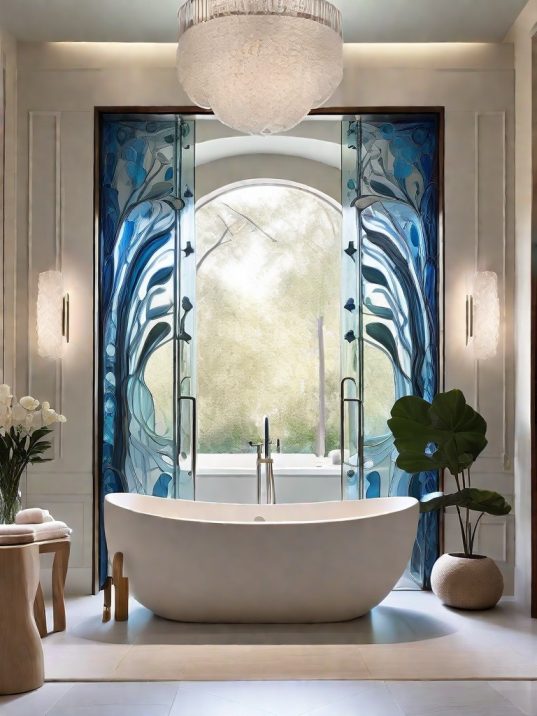 Opt for a sculptural glass door with unique patterns or textures. These doors can become a piece of art in your bathroom and serve as a focal point in the space.
27. Eco-Friendly Bamboo Door: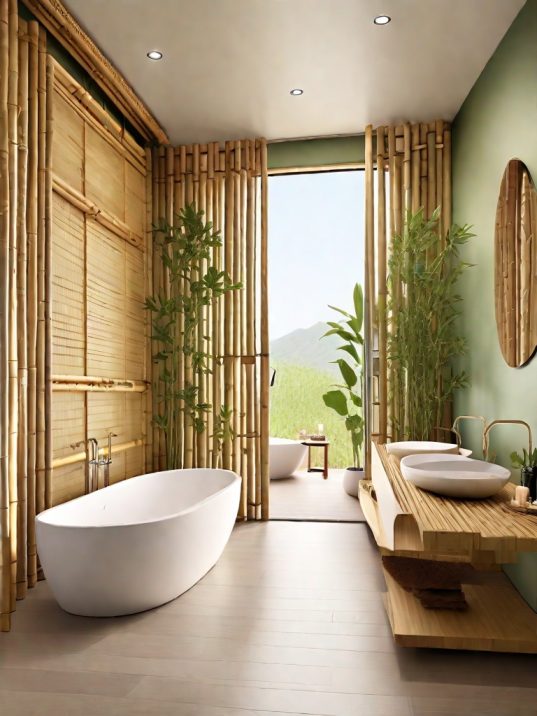 Consider an eco-friendly bamboo door for a sustainable and natural look. Bamboo is a renewable resource, and its warm tones can add an inviting touch to your master bathroom.
28. Metallic Accents Door: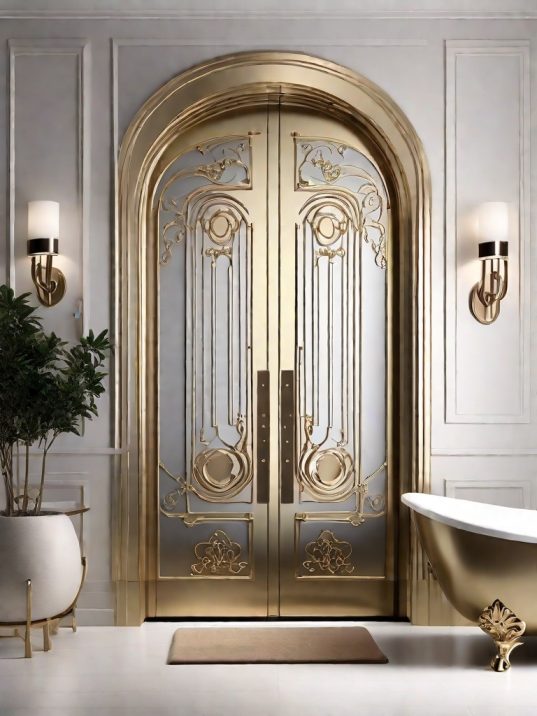 Incorporate metallic accents, such as brass, copper, or steel, into your bathroom door design. These accents can create a stylish and cohesive look that complements your overall interior design.
29. Translucent Resin Door: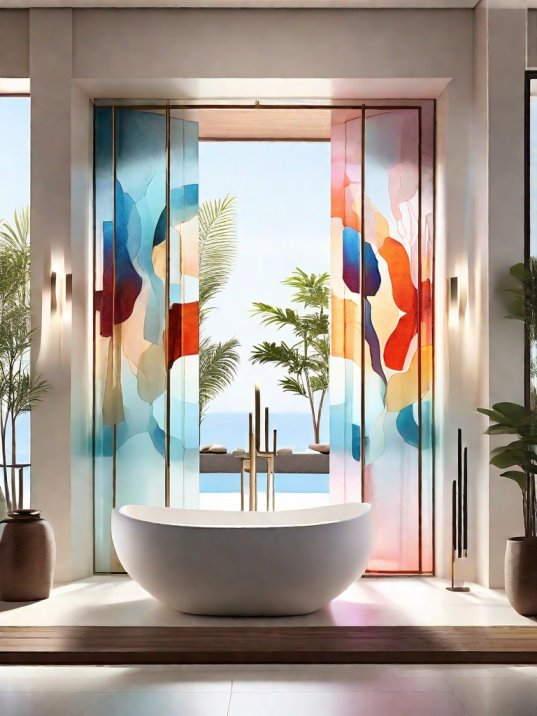 A door made from translucent resin can add a contemporary and artistic touch to your master bathroom. The translucent material can be customized with colors and textures to suit your design preferences.
30. Bifold Louvered Door: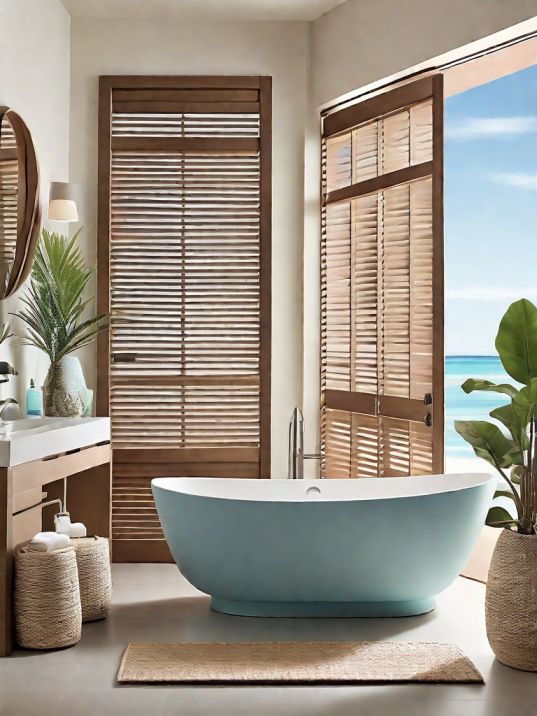 A louvered door with a bifold design is a practical choice for ventilation and privacy. It suits coastal, tropical, or beach-inspired bathroom themes.
31. Stone and Glass Door: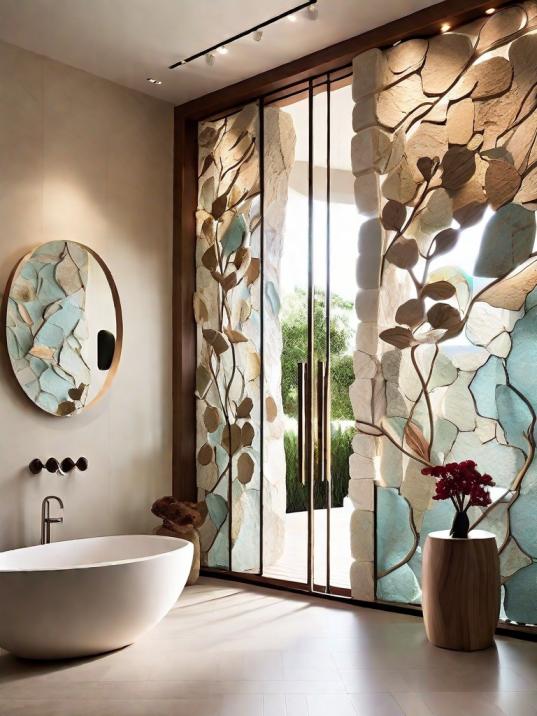 Combine natural stone and glass to create a striking, modern door design. The stone elements can add a tactile and earthy contrast to the sleek glass panels.
32. Mirror and Storage Combination Door: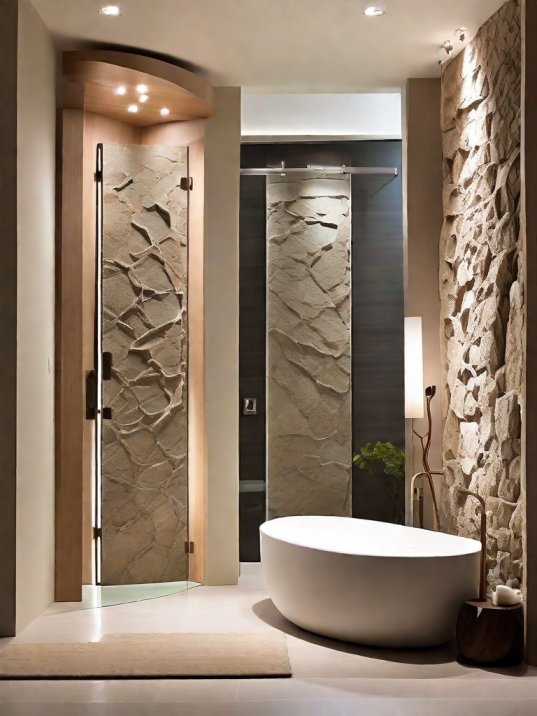 Opt for a mirror door that conceals built-in storage. This clever design provides a dual purpose: a full-length mirror and hidden storage for toiletries, towels, or linens.
33. Colorful Accents Door: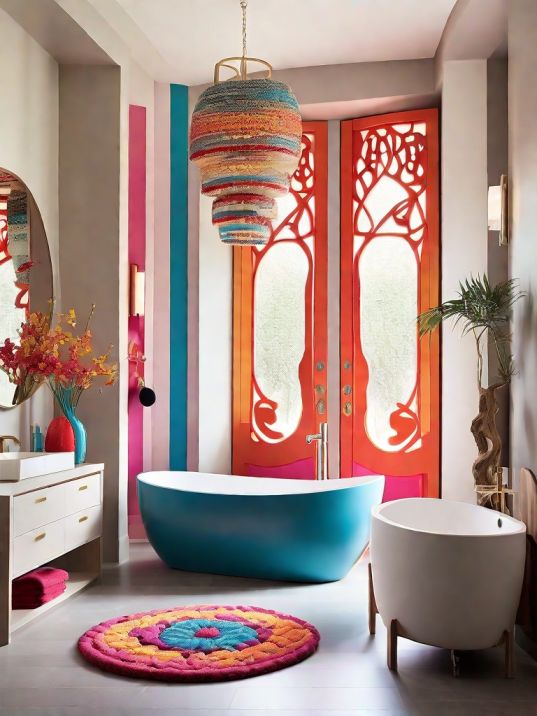 Add a splash of color by choosing a door with vibrant, bold accents. This works well in neutral-toned bathrooms, creating a focal point and injecting personality into the space.
34. LED-Lit Glass Door: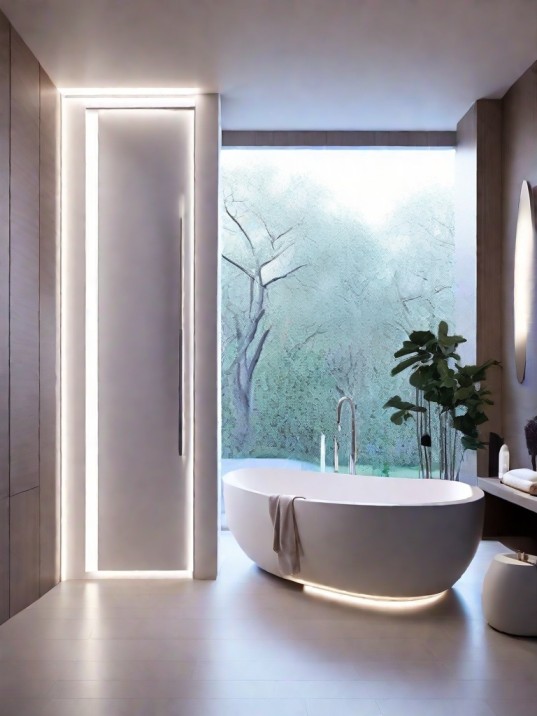 Install a door with integrated LED lighting around the frame or embedded within the glass. This adds a modern and futuristic touch, creating a soft, ambient glow in the bathroom.
35. Barn Door with Custom Artwork: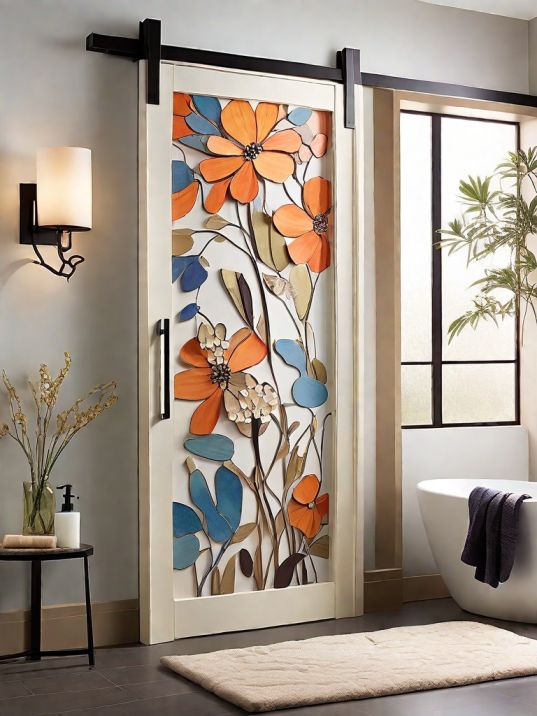 Transform a barn-style sliding door into a canvas for custom artwork. This allows you to personalize your bathroom door with images or designs that resonate with your tastes.
36. Stainless Steel Grid Door: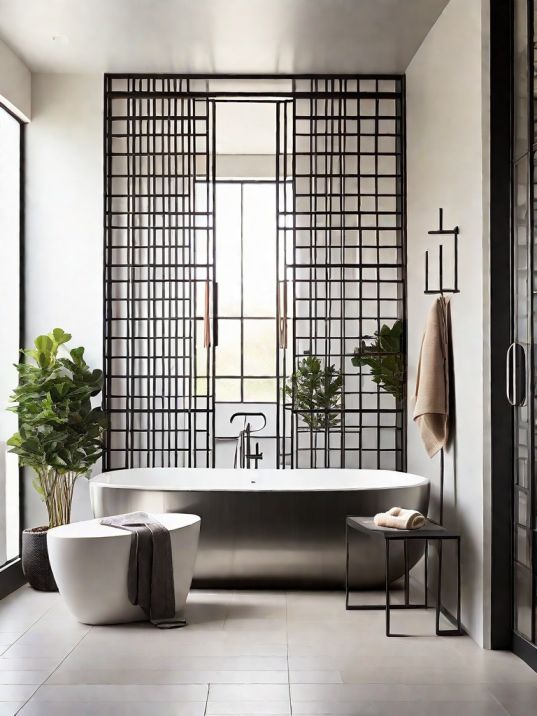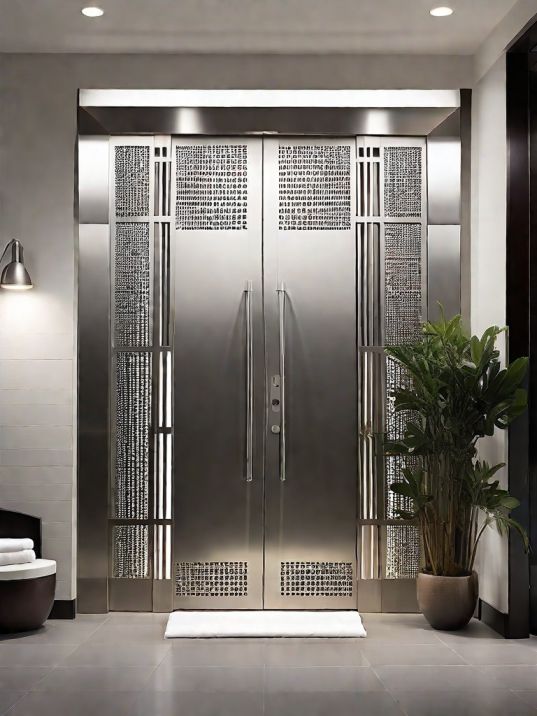 A stainless steel grid door adds a sleek and industrial touch to your bathroom. This design choice pairs well with modern or minimalist interior styles.
37. Geometric Glass Panel Door: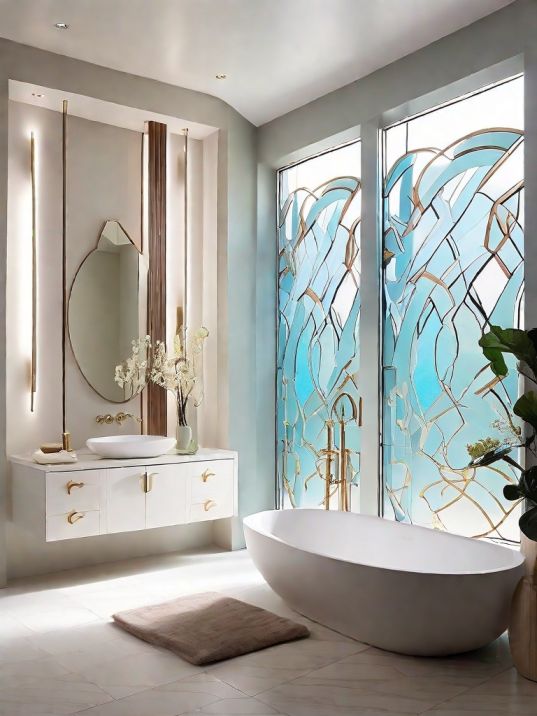 Incorporate geometric patterns into your bathroom door design. These patterns can be etched, frosted, or incorporated as colored glass, adding a contemporary and artistic flair.
38. Fabric-Wrapped Door: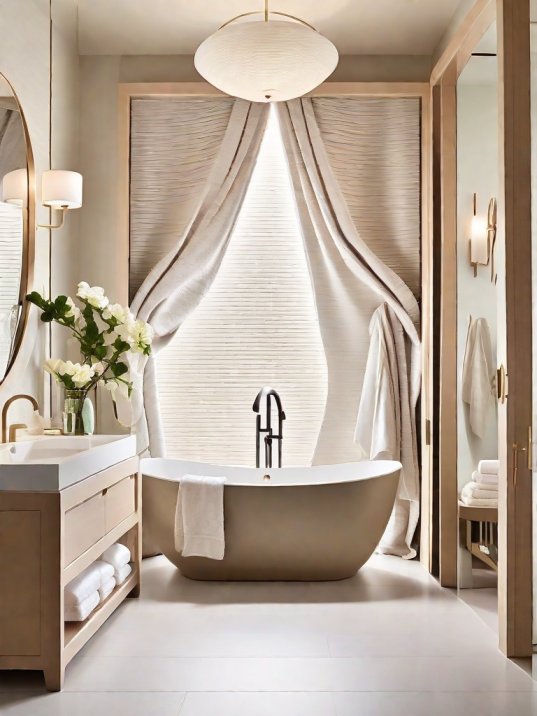 Wrap your bathroom door with fabric to introduce texture and softness. This unique choice allows you to match the door to your decor or use a pattern that complements your style.
39. Wood and Glass Divided-Lite Door:
Combine the warmth of wood with the lightness of glass by choosing a divided-lite door design. This can create a harmonious blend of materials in your bathroom.
40. Leaded Glass Door: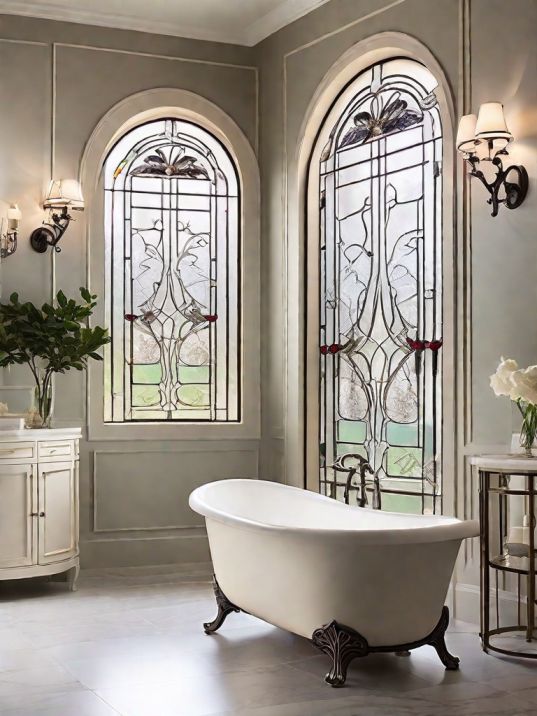 Leaded glass doors feature decorative lead or zinc caming that holds the glass together in intricate patterns. They add a touch of sophistication and can complement various interior styles.
41. Acrylic or Lucite Door: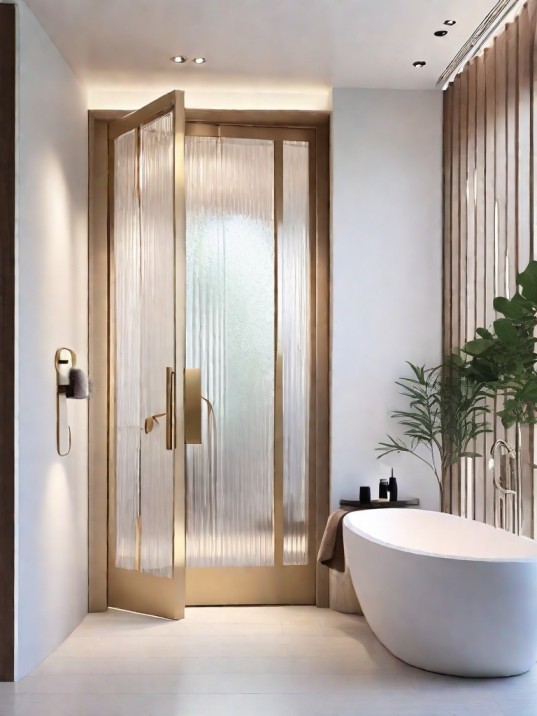 An acrylic or lucite door creates a transparent and contemporary look. It's a great choice for maintaining an open and airy atmosphere in the bathroom.
42. Stone Archway Door: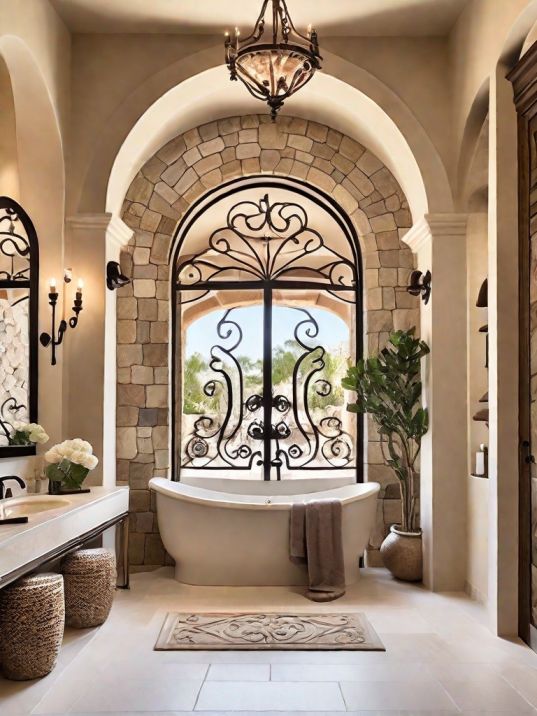 For an old-world or Mediterranean feel, install a stone archway door. This architectural feature can be a focal point and adds a sense of grandeur to your bathroom entrance.
43. Zigzag Patterned Sliding Door:
A sliding door with a zigzag or chevron pattern can add a sense of movement and dynamism to your master bathroom. It's a great choice for those looking to break away from traditional designs.
FAQs (Frequently Asked Questions)
1. Which type of door is best for a bathroom?
The best type of door for a bathroom depends on your style and space. Common options include solid wood, PVC, fiberglass, and glass. Consider factors like privacy, humidity resistance, and aesthetics when making your choice.
2. Which way should a master bathroom door open?
Ideally, a master bathroom door should swing into the bathroom for privacy reasons. However, the choice of door swing direction can be influenced by the layout and design of the bathroom and the preferences of the homeowner.
3. Do master bathrooms have doors?
Yes, master bathrooms typically have doors for privacy and to separate them from the master bedroom. The type of door used can vary depending on the design and preferences.
4. Is a PVC door good for a bathroom?
PVC doors are a suitable choice for bathrooms as they are moisture-resistant and durable. They can withstand the humidity and occasional splashes common in bathroom environments.
5. Which door is best for a bathroom, PVC or Fibre?
Both PVC and fiberglass doors are good choices for bathrooms. The decision between them depends on factors like budget, design preferences, and the level of moisture resistance required.
6. What is the gap between a bathroom door and the floor?
The gap between a bathroom door and the floor, also known as the door undercut, is typically around ½ to ¾ inches. This allows for proper ventilation, prevents moisture buildup, and makes it easier to open and close the door.
7. Is it good to keep a bathroom door open?
Keeping a bathroom door open can help with ventilation and prevent moisture buildup. However, it may compromise privacy, so it's essential to strike a balance that works for your needs.
8. Where should a toilet be placed in a master bathroom?
The placement of a toilet in a master bathroom varies based on the layout and design. It's often located near a wall for plumbing convenience and privacy, but the specific placement depends on your preferences and the space available.
9. How many types of bathroom doors are there?
There are several types of bathroom doors, including solid wood, PVC, fiberglass, glass, pocket doors, sliding doors, barn-style doors, French doors, and more. The choice depends on your style, budget, and space considerations.
10. What size room is a master bathroom?
The size of a master bathroom can vary widely, but it's typically larger than a standard bathroom. It can range from around 100 to 200 square feet or even more, depending on the home's layout and the homeowner's preferences.
Conclusion:
Your master bathroom door doesn't have to be a mundane fixture. It can be an extension of your design aesthetic and a statement piece in its own right. Whether you prefer the rustic charm of barn-style doors, the elegance of frosted glass, or the sophistication of French doors, there are countless options to choose from. So, go ahead and explore these master bathroom door ideas to create a stylish and inviting retreat that truly reflects your taste and personality. Remember to consider the overall theme and decor of your bathroom to choose the perfect door that completes your space.