As the holiday season draws to a close and the festive decorations come down, you might find your home feeling a bit bare. But don't let the winter blues set in just yet! Embrace the magic of the season by transitioning your decor from holiday-specific to cozy and welcoming winter aesthetics. In this article, we'll explore 40 delightful and easy-to-implement DIY Winter Decoration Ideas After Christmas that will keep your home feeling warm and inviting long after the holiday season.
[This post may contain affiliate links. What does that mean to you? Well, if you click on a product and make a purchase, I may get some compensation from you at no charge. If you want to read the boring stuff my full disclosure can be found here.]
DIY Winter Decoration Ideas After Christmas
1. Nature-Inspired Centerpieces: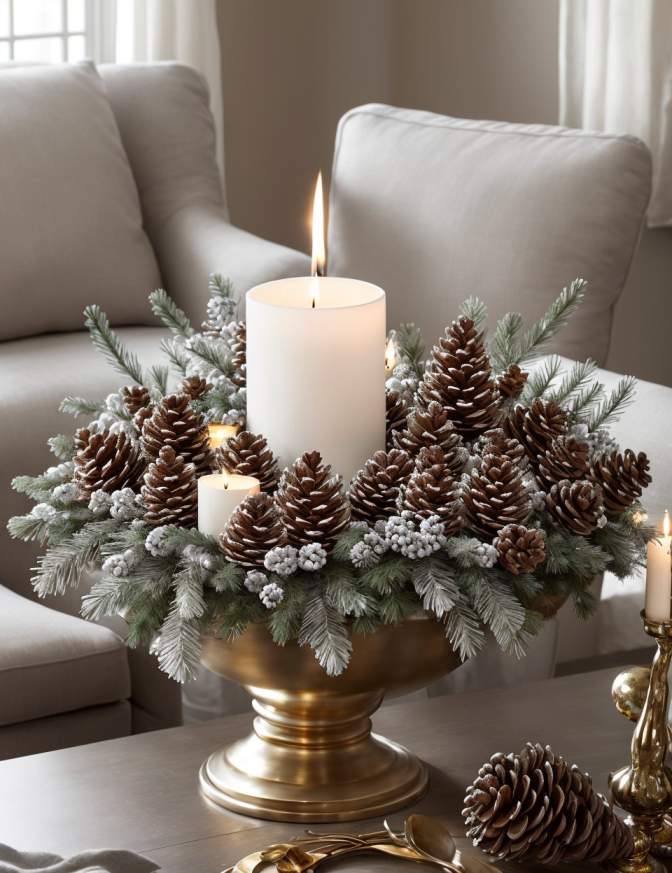 Bring the beauty of the winter outdoors inside with nature-inspired centerpieces. Collect pinecones, twigs, and branches, and arrange them in a decorative bowl or tray. You can also add a touch of glam by spray-painting them in metallic hues like gold or silver.
2. Cozy Textiles: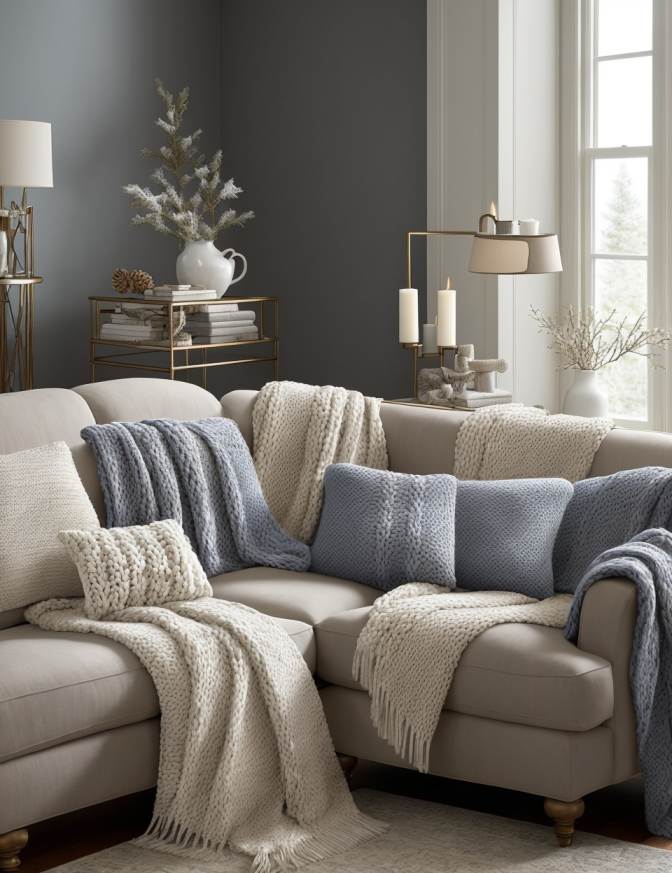 Update your space with an array of cozy textiles. Swap out holiday-themed throws and pillows for ones in neutral tones, such as creams, grays, and blues. Knitted blankets and faux fur pillows not only add warmth but also create a snug ambiance perfect for winter evenings.
3. Frosted Mason Jars: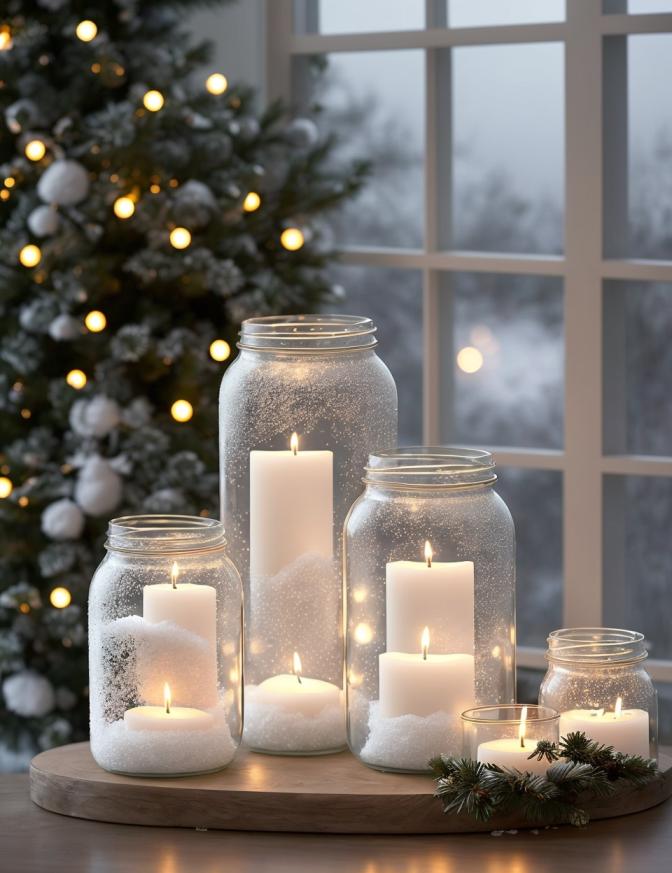 Repurpose mason jars into charming candle holders by coating them with a layer of frosted glass spray paint. Place tea lights or battery-operated candles inside for a soft, diffused glow. These luminaries can be arranged on tables, shelves, or windowsills for a subtle and enchanting effect.
4. Branch and Bauble Arrangement:
Gather some bare branches and arrange them in a vase or decorative bucket. Hang leftover or mismatched ornaments on the branches for a whimsical and eye-catching display. You can also add a touch of sparkle by spraying the branches with metallic paint or applying a light dusting of glitter.
5. Winter Terrariums: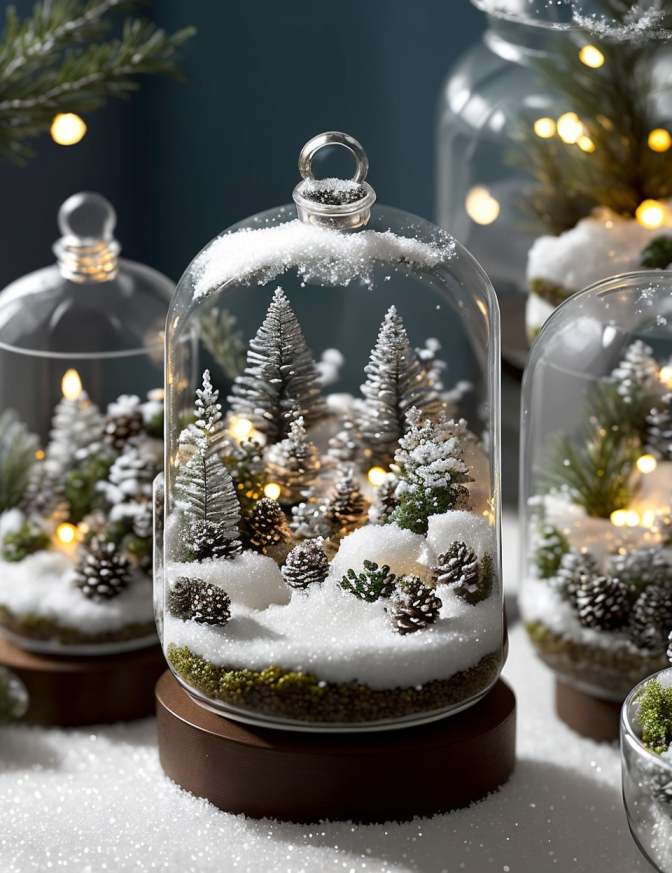 As an alternative to traditional holiday-themed terrariums, create winter-themed versions using glass containers, faux snow, miniature figurines, and tiny LED lights. These charming winter terrariums can serve as tabletop centerpieces or mantle decorations, adding a touch of enchantment to your home.
6. DIY Sweater Pillows: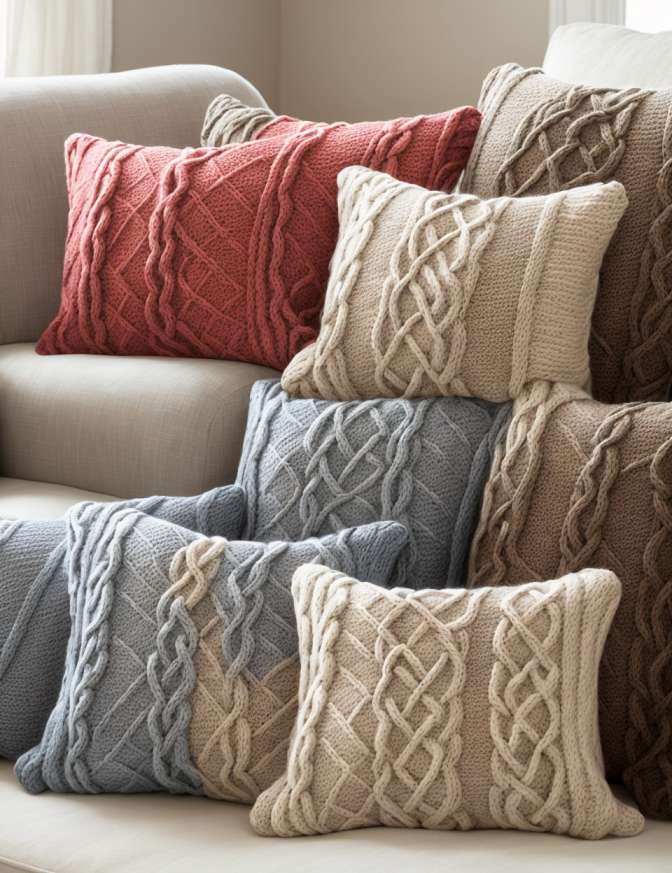 Repurpose old sweaters into cozy pillow covers. Cut out squares or rectangles from the sweaters and sew them into pillowcases. This adds warmth and texture to your living spaces, making them feel snug and inviting. Mix and match different sweater patterns for an eclectic winter look.
7. Book Page Wreath: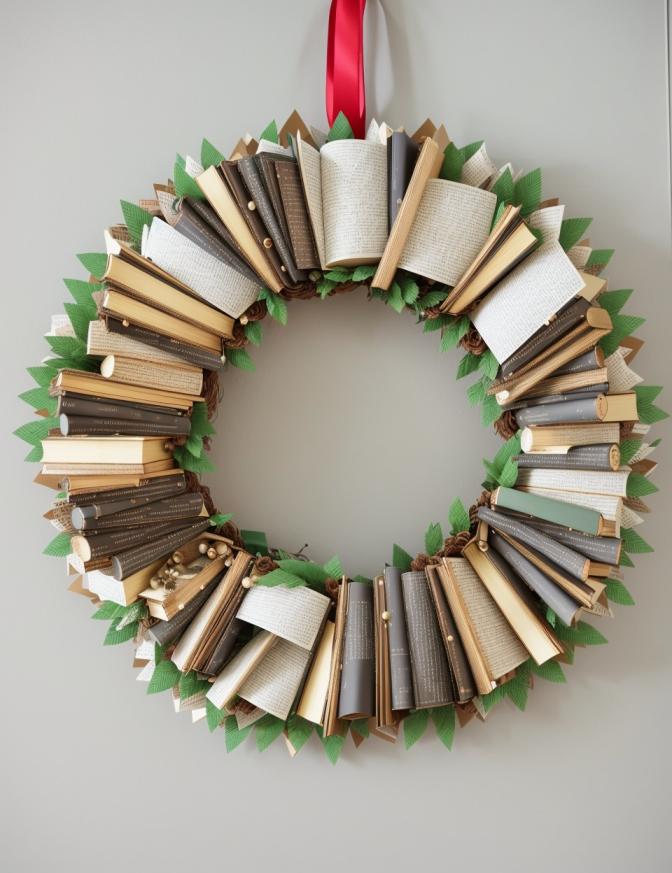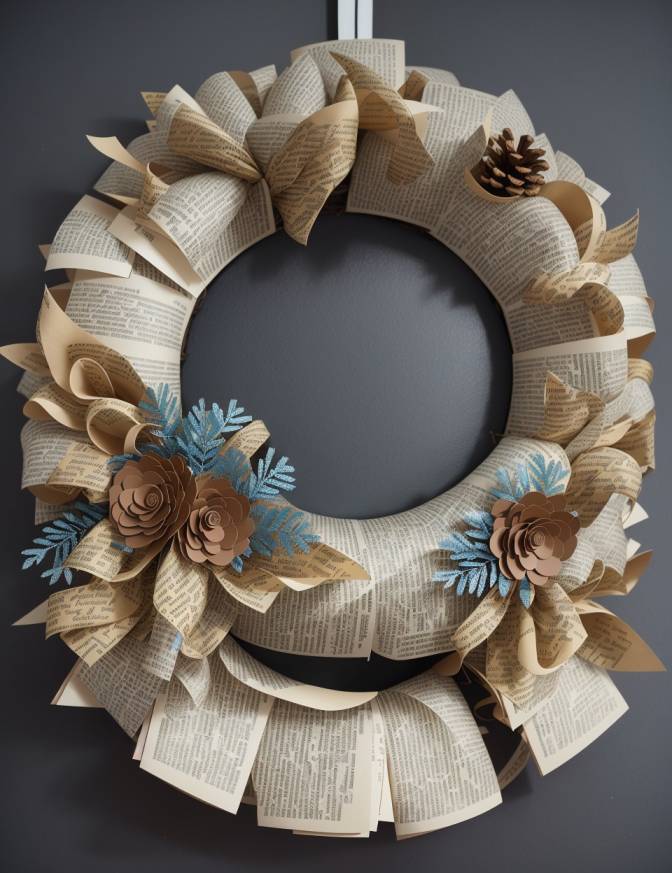 Craft a unique and literary-inspired wreath using old book pages. Roll the pages into cones and arrange them in a circular pattern on a foam wreath form. Secure with hot glue and add a ribbon for hanging. This DIY wreath not only adds a touch of winter charm but also brings a literary element to your decor.
8. Hot Cocoa Bar:
Set up a cozy hot cocoa bar with a variety of toppings like marshmallows, chocolate shavings, and candy canes. Use mason jars or decorative containers to display the toppings. This not only serves as a delightful and functional decor element but also encourages family and guests to indulge in warm winter beverages.
9. Felt Snowman Ornaments: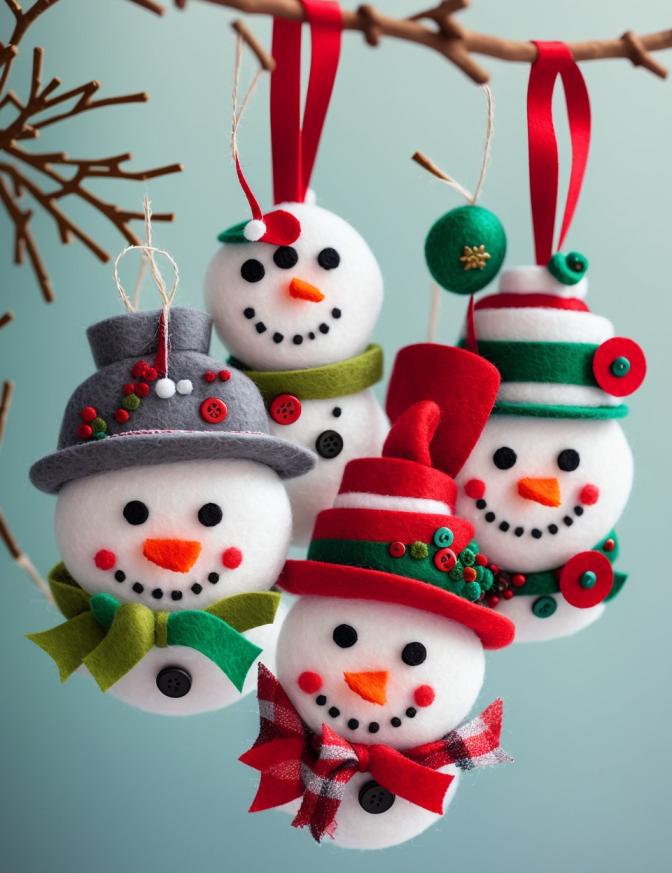 Get creative with felt to craft adorable snowman ornaments. Cut out snowman shapes and decorate them with buttons, ribbons, and small accessories. Hang these charming snowmen on your Christmas tree or create a festive winter mobile for a playful and lighthearted touch.
10. DIY Ice Lanterns: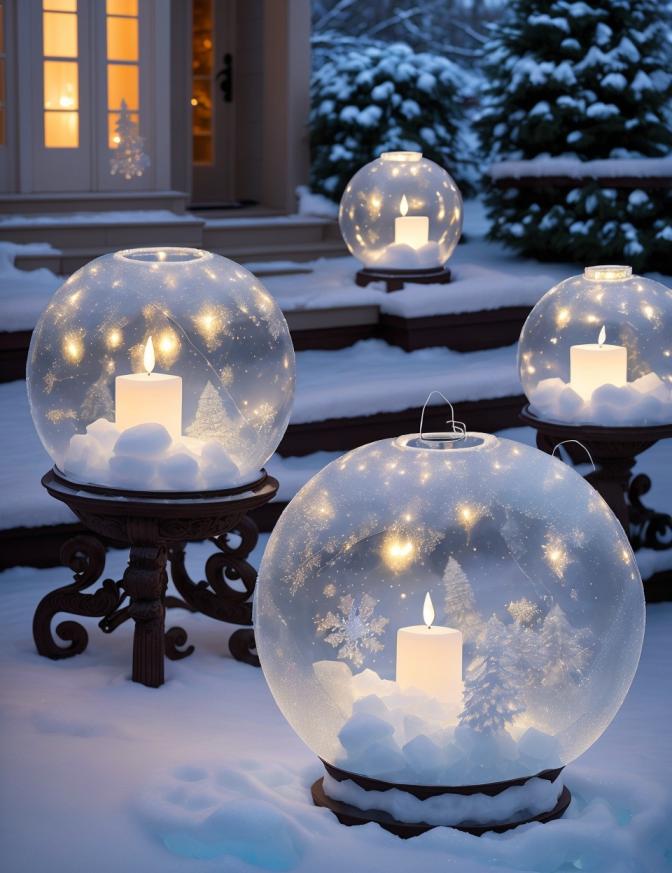 Create enchanting ice lanterns to illuminate your outdoor spaces. Fill large balloons with water, add a few drops of food coloring or small winter-themed decorations, and freeze them overnight. Once frozen, remove the balloon and place a small LED candle or fairy lights inside the ice globe. Line your walkway or porch with these glowing ice lanterns for a mesmerizing winter effect.
11. Scented Potpourri: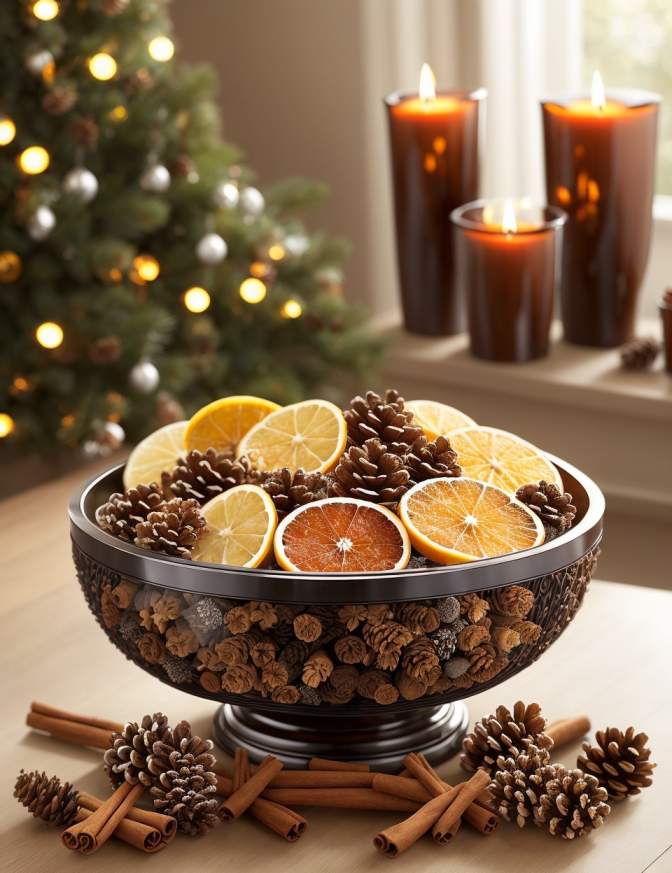 Craft your own winter-scented potpourri by combining dried citrus slices, cinnamon sticks, cloves, and pinecones. Place the mixture in decorative bowls or sachets throughout your home. Not only will this add a delightful fragrance, but it also serves as a visually appealing and aromatic winter decor element.
12. Snowy Lanterns: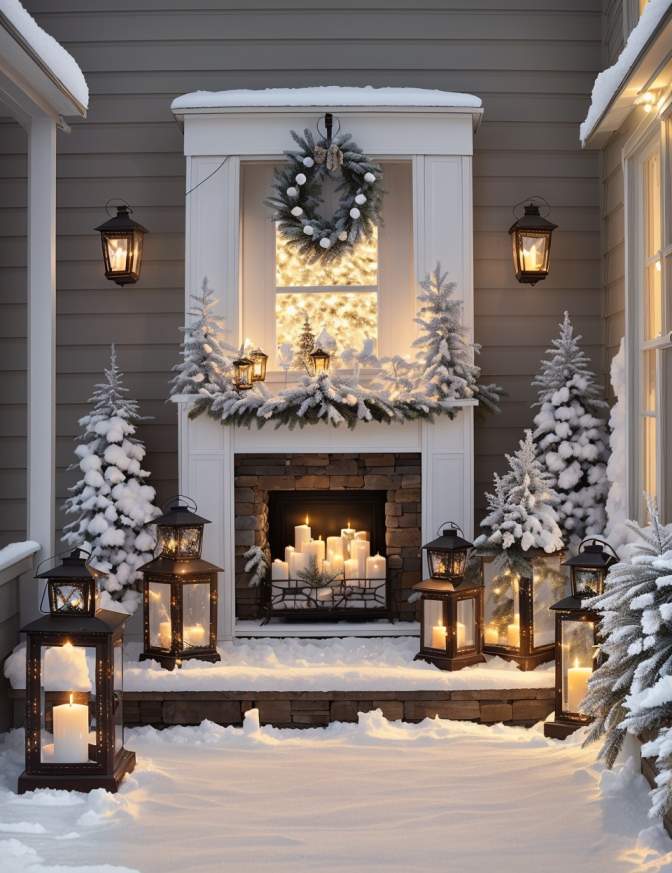 Transform plain lanterns into winter wonders by coating them with artificial snow spray or a layer of white paint. Place battery-operated candles or string lights inside to add a warm and cozy glow. Arrange these snowy lanterns on your porch, steps, or along the fireplace for a charming winter ambiance.
13. Felted Wool Coasters: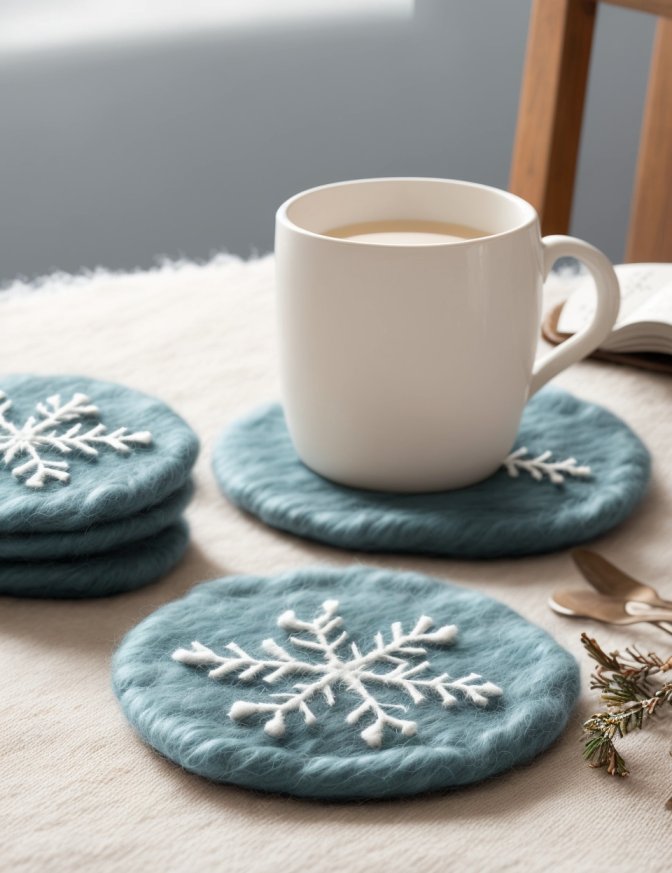 Craft charming coasters from felted wool to protect your surfaces while adding a touch of winter decor. Cut out snowflake or winter landscape shapes from felted wool and stitch the edges for a finished look. These cozy coasters are both functional and decorative.
14. Felted Acorn Decor:
Create adorable felted acorns to sprinkle around your home. Collect natural acorn caps and glue small pieces of felted wool into them, creating miniature acorns. Display them in bowls, vases, or scatter them across your dining table for a whimsical and nature-inspired winter decor.
15. Winter Shadow Boxes: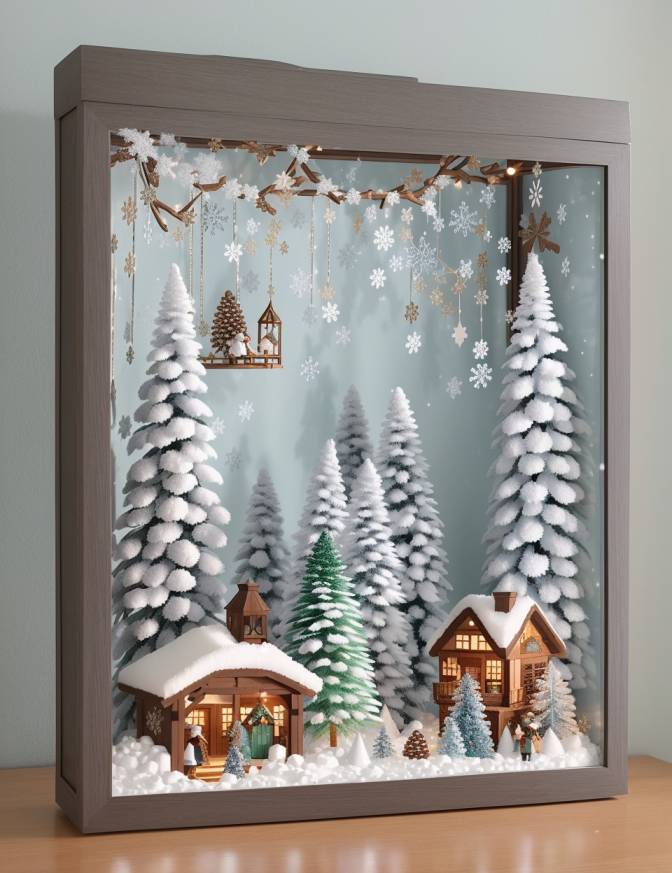 Design personalized winter-themed shadow boxes by arranging small winter figurines, pinecones, and faux snow inside. Paint the background or line it with decorative paper to add depth. Hang these shadow boxes on your walls or place them on shelves to create a charming winter vignette.
16. DIY Ice Skate Wreath: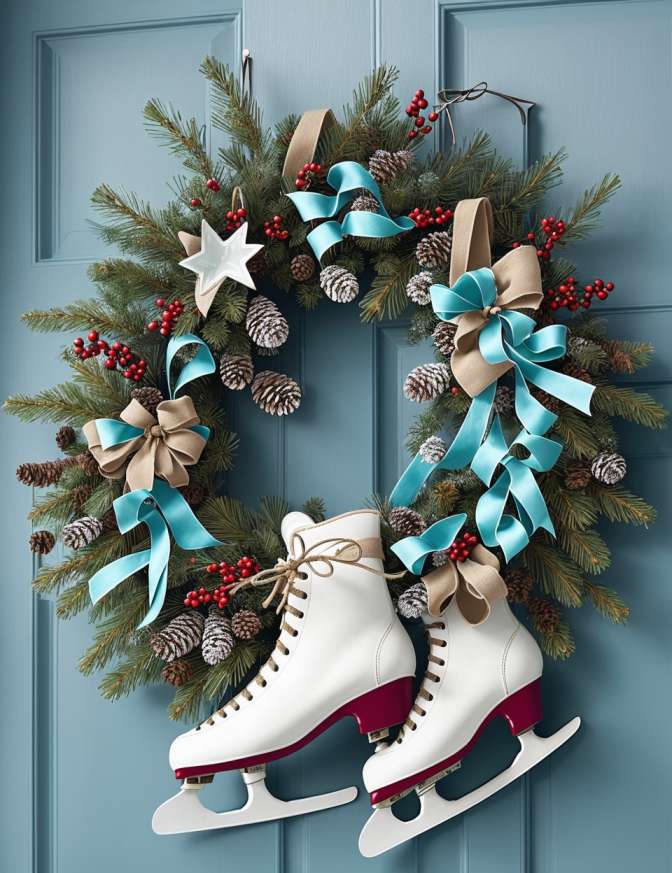 Repurpose old ice skates into a delightful wreath. Tie the skates together with a festive ribbon and embellish with pine branches, berries, or faux snow. Hang the ice skate wreath on your front door or in your entryway for a nostalgic and charming winter welcome.
17. Birch Branch Centerpiece: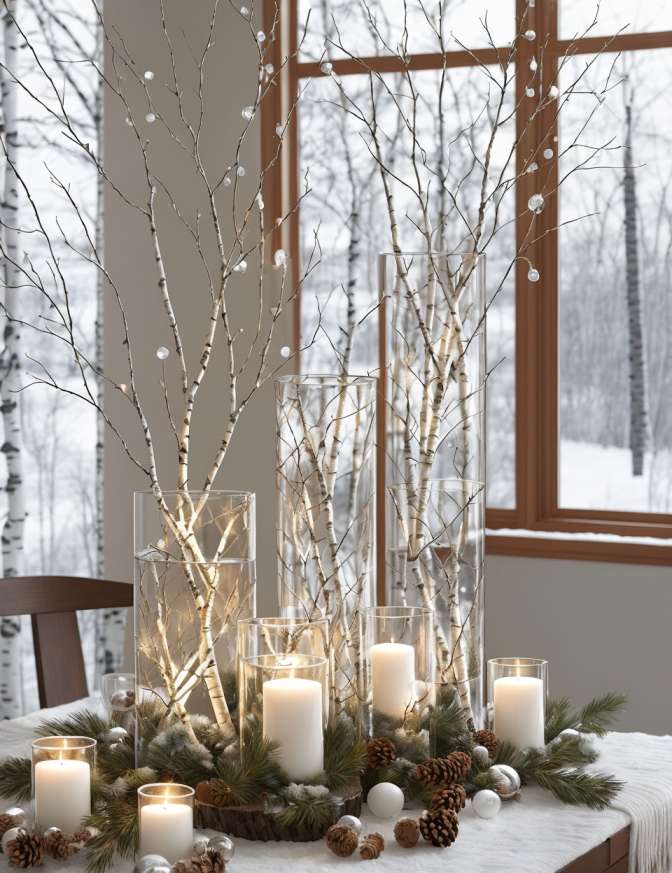 Bring the outdoors in with a birch branch centerpiece. Gather a bunch of birch branches and arrange them in a decorative vase or container. Add small LED lights or hang miniature ornaments for a subtle and natural winter centerpiece.
18. Snowy Window Clings: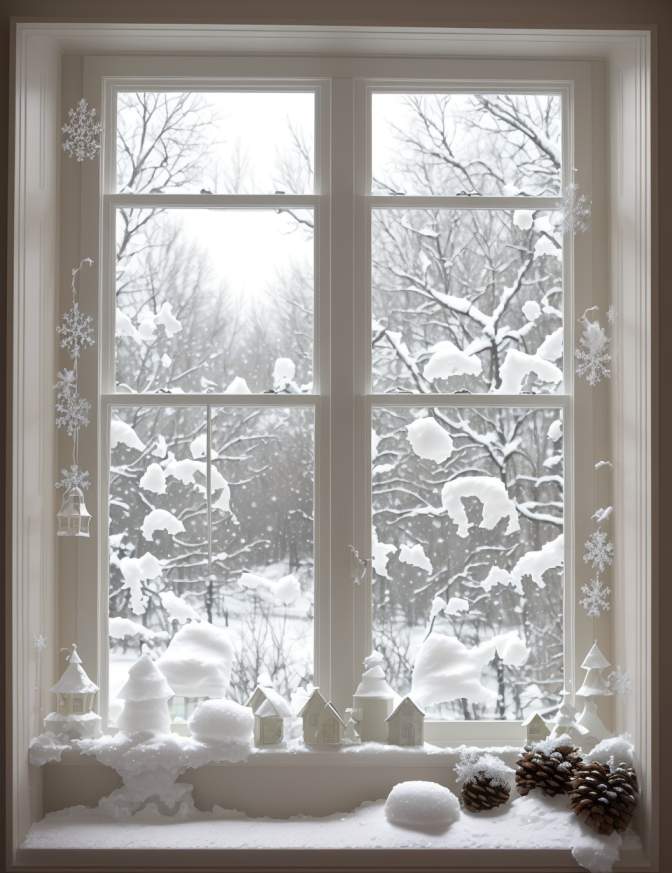 Make your own window clings to mimic the look of snow on your windows. Mix equal parts white school glue and shaving cream to create a fluffy, snow-like texture. Use stencils or freehand designs to apply the mixture to your windows. Once dried, you can easily peel off the clings and save them for the next winter season.
19. Sweater-Wrapped Candles:
Upcycle old sweaters into cozy candle holders. Cut sleeves from the sweater, slide them over glass candle holders, and secure with twine or ribbon. The texture of the sweater adds warmth and a touch of hygge to your candle displays.
20. Winter Branch Chandelier: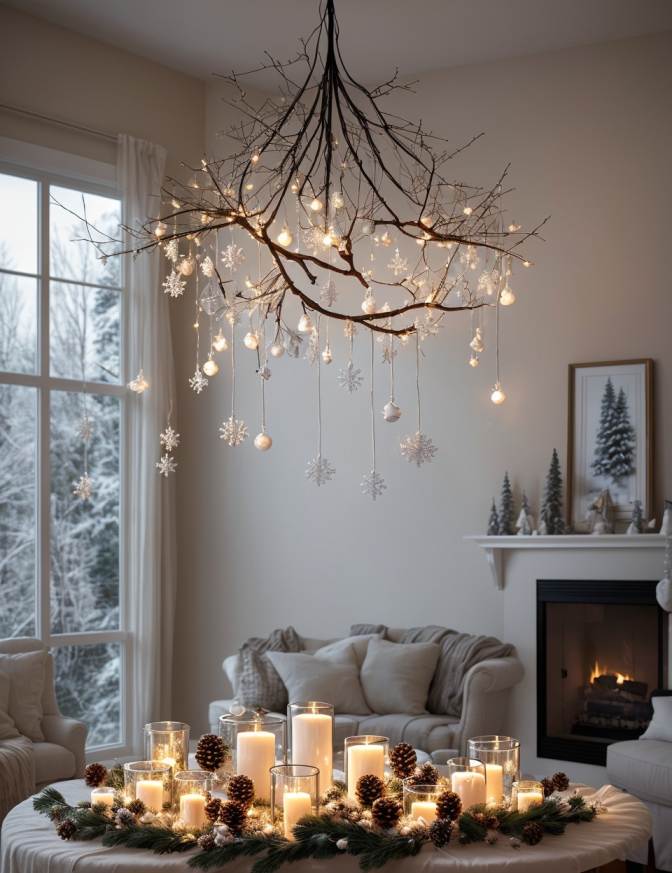 Bring the beauty of winter indoors with a DIY branch chandelier. Hang bare branches from the ceiling using fishing line, and decorate them with battery-operated fairy lights, pinecones, or small ornaments. This whimsical chandelier can serve as a stunning focal point in any room.
Read More-
21. Winter Window Boxes: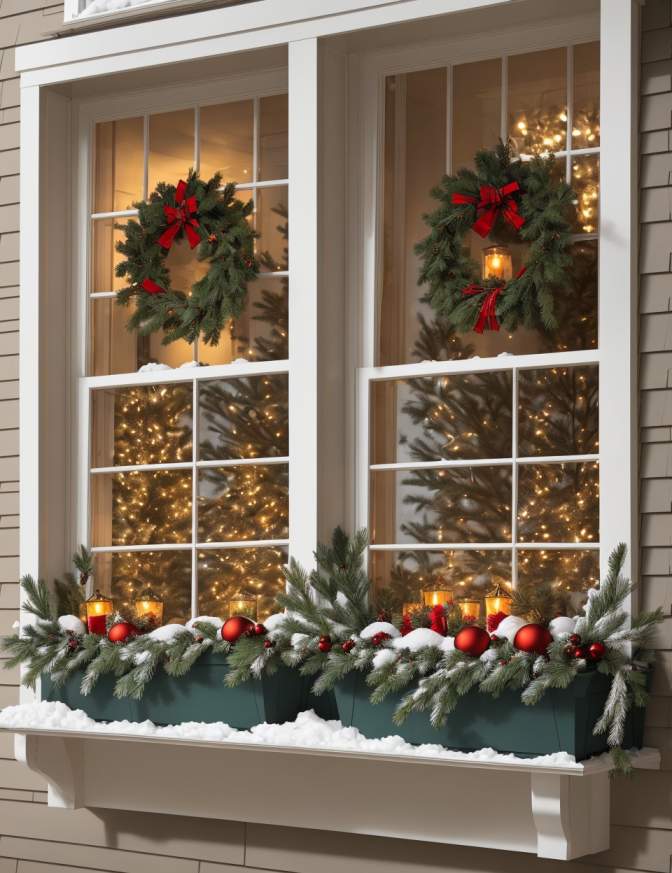 Decorate your window boxes or outdoor planters with a winter theme. Fill them with seasonal greenery like pine branches, holly, and birch logs. Add small LED lights or ornaments for a festive touch. These winter window boxes can be enjoyed from both inside and outside your home.
22. Snowy Tealight Houses: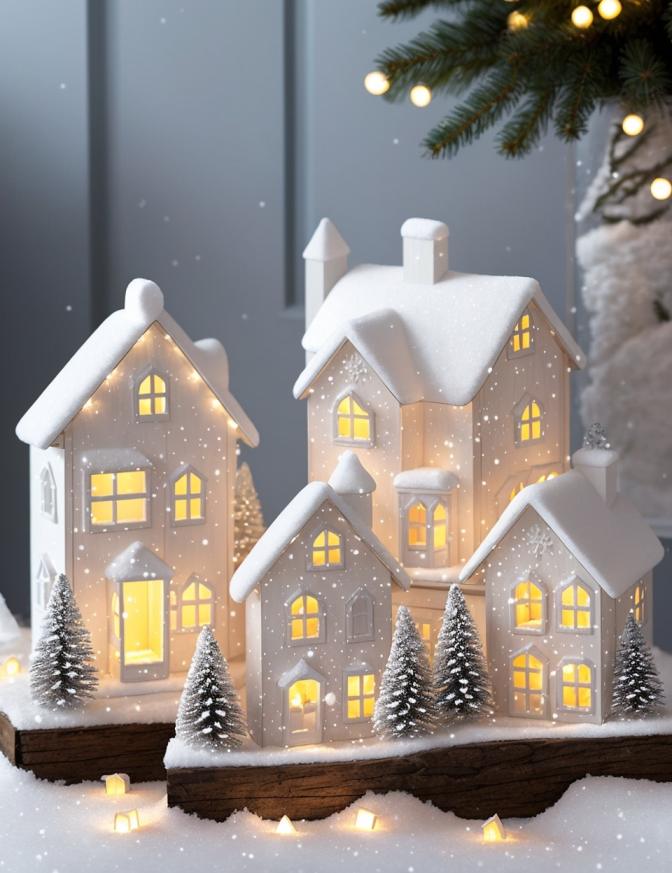 Transform plain wooden or cardboard houses into snowy village luminaries. Paint the houses white, sprinkle with faux snow, and add small LED tealights inside. Arrange these charming structures on a mantle or tabletop for a whimsical winter scene.
23. Winter Terracotta Pots: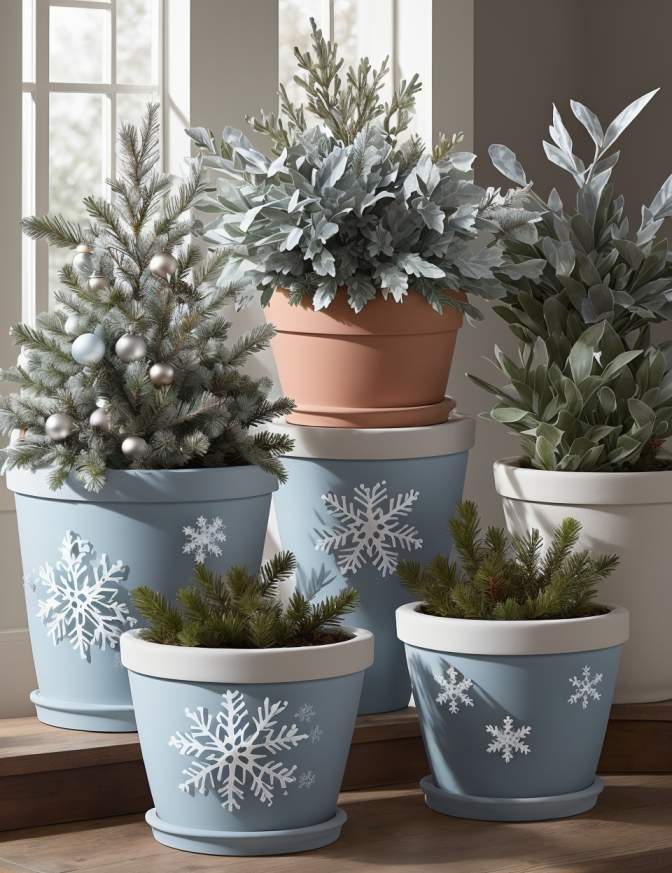 Give your indoor plants a winter makeover by painting terracotta pots in cool winter colors like icy blue, silver, or white. Add snowflake or winter-themed stencils for extra flair. These festive pots can refresh your plant decor and complement the winter season.
24. Felted Wool Garland: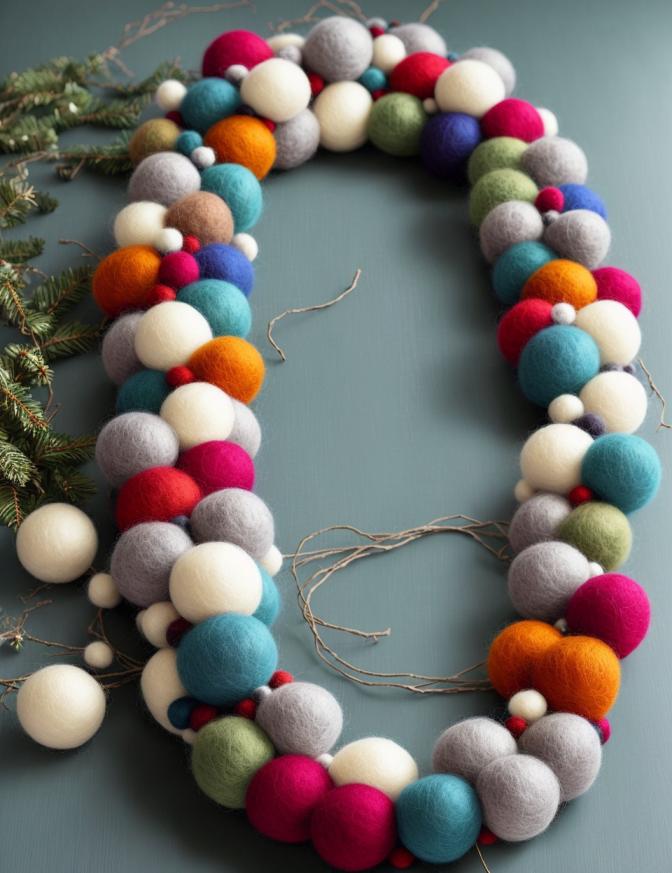 String together felted wool balls in various winter shades to create a charming garland. Hang it across your fireplace mantel, staircase railing, or drape it on a wall. This soft and whimsical garland adds a touch of playfulness to your winter decor.
25. Frosted Berry Candle Holders:
Enhance the glow of your candles by decorating glass candle holders with frosted artificial berries. Use hot glue to secure the berries around the exterior of the holder. Place a candle inside for a rustic and wintry centerpiece.
26. Faux Fur Table Runner: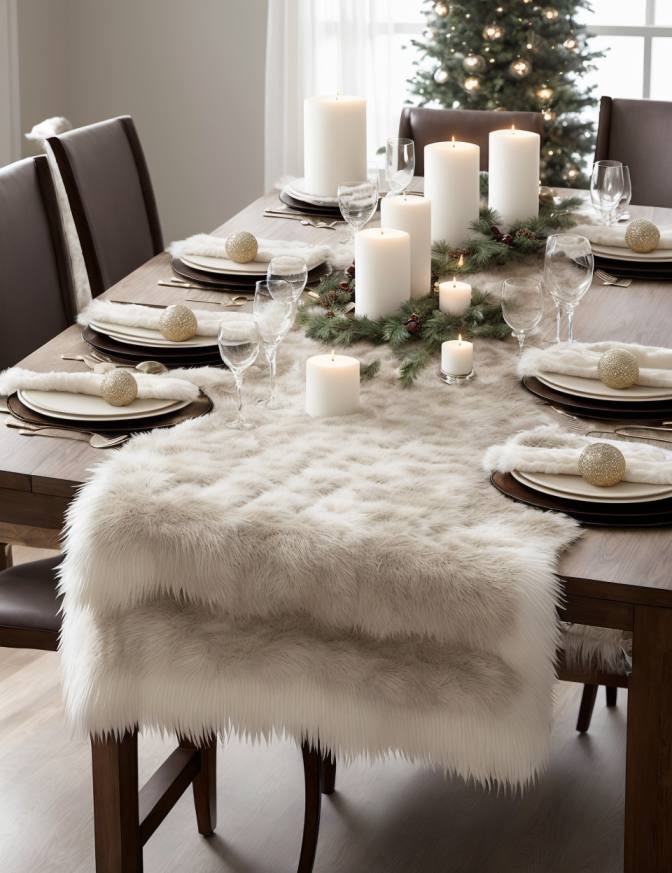 Add a touch of luxury to your dining table with a DIY faux fur table runner. Choose a soft faux fur fabric and cut it to the desired length. This simple addition instantly elevates the winter coziness of your dining area.
27. Ski Lodge-Inspired Wall Hooks: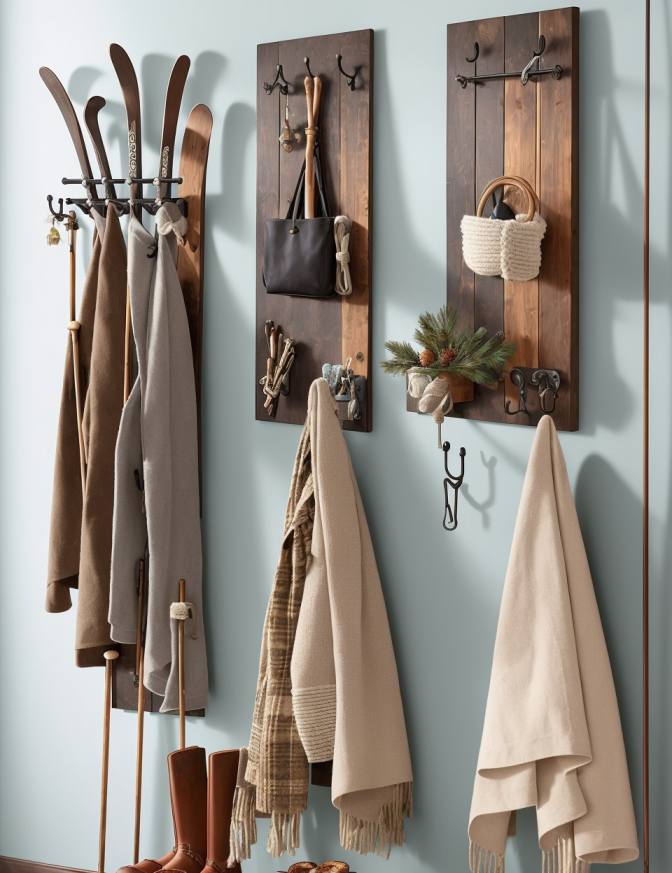 Repurpose old wooden skis or ski poles into functional and decorative wall hooks. Attach hooks to the skis or poles, and mount them on the wall near your entryway. This DIY project not only adds a touch of winter charm but also provides a practical solution for hanging coats and scarves.
28. Burlap Snowman Door Hanger: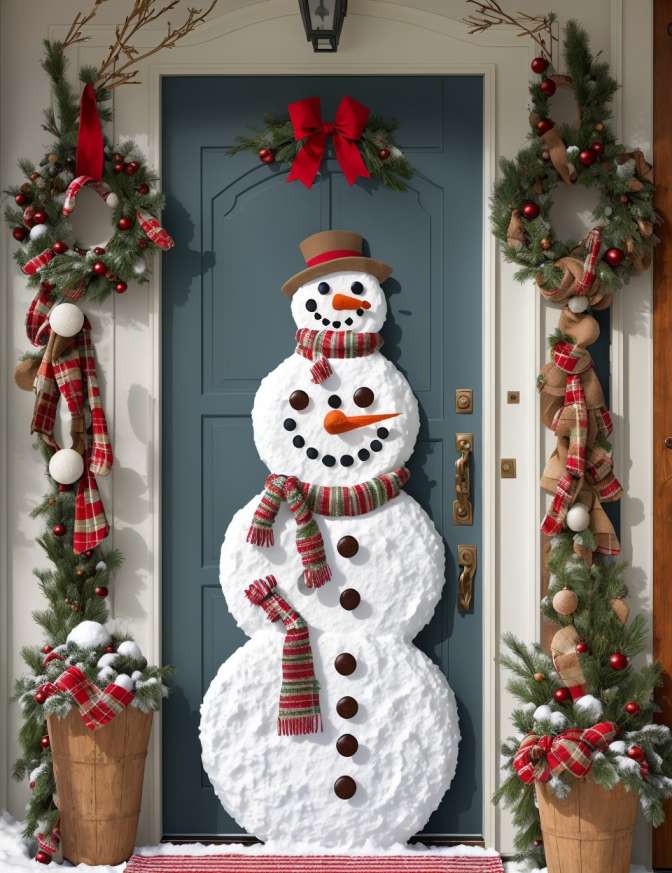 Create a delightful snowman door hanger using burlap. Cut out three circles in decreasing sizes, stack and glue them together, then embellish with buttons, felt, or painted features. Add a scarf and a hat, and hang this whimsical snowman on your front door to greet visitors.
29. Winter Twig Vases: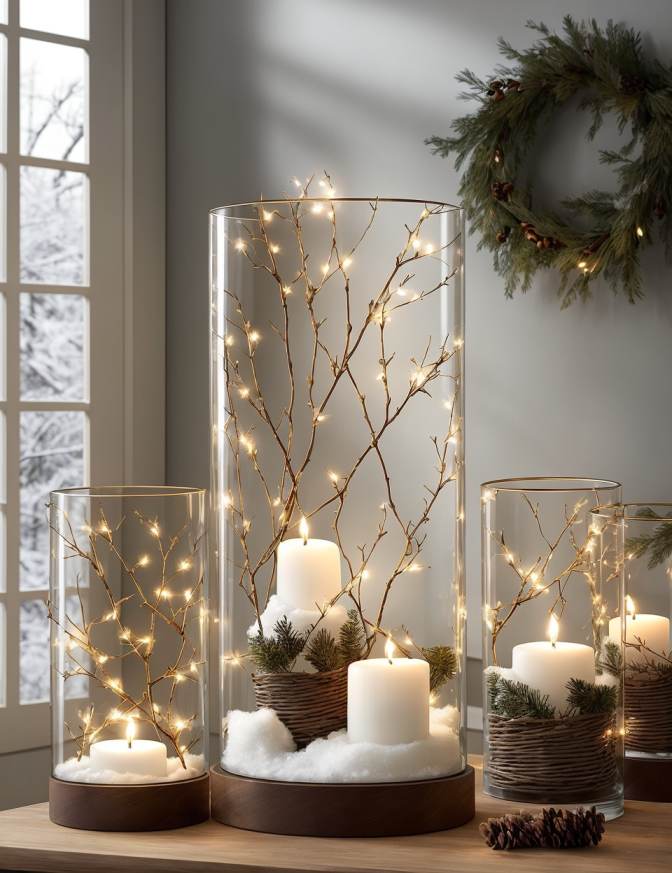 Collect small twigs from your backyard and place them in tall, slender vases. Add battery-operated fairy lights among the twigs for a magical and natural-looking centerpiece. This project brings the outdoors in, creating a cozy and rustic atmosphere.
30. Sparkling Pine Garland:
Transform ordinary pine garland into a sparkling winter display by spraying it with a light coat of silver or gold paint. Add small ornaments, faux snow, or battery-operated lights for extra sparkle. Hang the garland along stair railings or drape it across mantels for an elegant winter touch.
31. Wood Slice Snowflakes: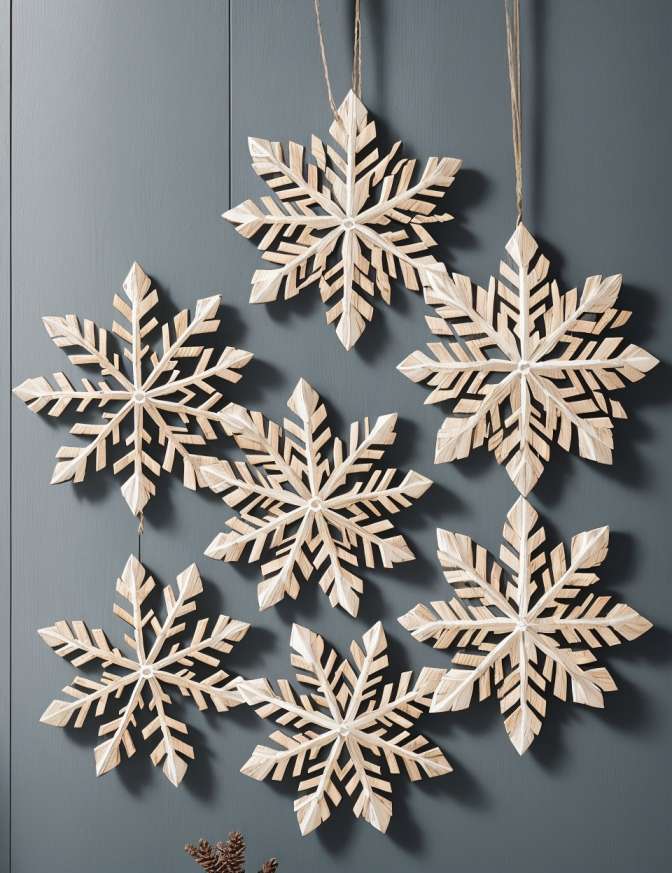 Create rustic snowflakes using wood slices. Paint the slices in white or metallic hues and arrange them in the shape of snowflakes. Hang these DIY snowflakes on your walls or doors for a simple and charming winter decoration.
32. Wintery Wall Tapestry:
Craft a unique wall tapestry using a large piece of fabric or an old blanket. Paint or dye the fabric in winter-inspired colors and add stenciled snowflakes, trees, or other seasonal motifs. Hang the tapestry as a statement piece to transform your wall into a winter masterpiece.
33. DIY Winter Luminary Bags: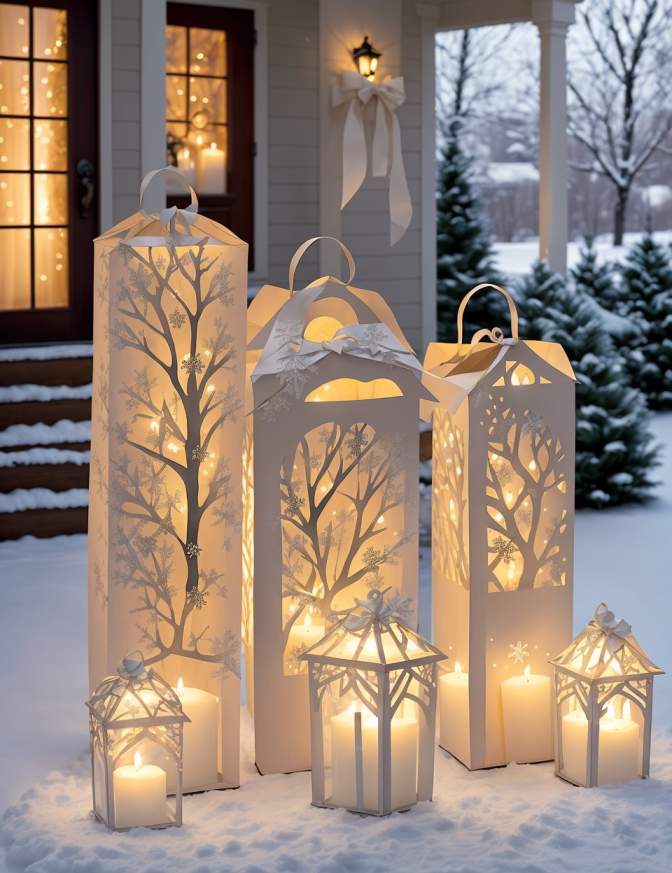 Create luminaries to line your walkway or porch using simple paper bags. Cut out winter-themed shapes, such as snowflakes or trees, and place the bags over battery-operated tea lights. Arrange them outside to create a warm and inviting pathway to your home.
34. Winter Branch Room Divider: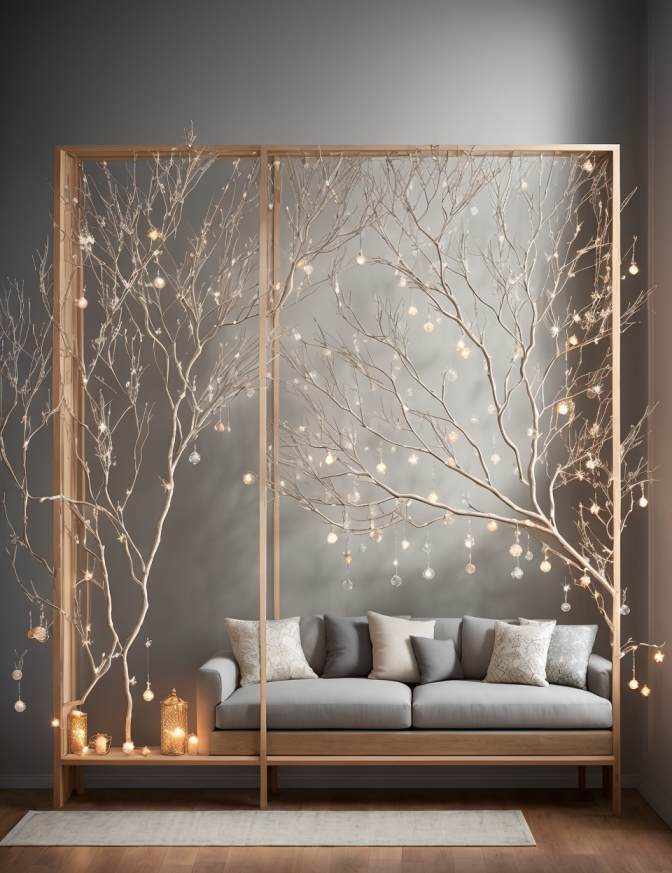 Build a room divider using bare branches or dowels. Secure the branches vertically or horizontally in a wooden frame, creating a stunning natural divider between spaces. Adorn the branches with fairy lights or small ornaments for an added touch of winter magic.
35. Winter Bookshelf Styling:
Give your bookshelves a winter-themed makeover by incorporating seasonal elements. Add small winter-themed figurines, framed winter quotes, and touches of faux snow. Mix in metallic accents for a touch of elegance to create a cozy winter display.
36. Woven Yarn Snowflakes: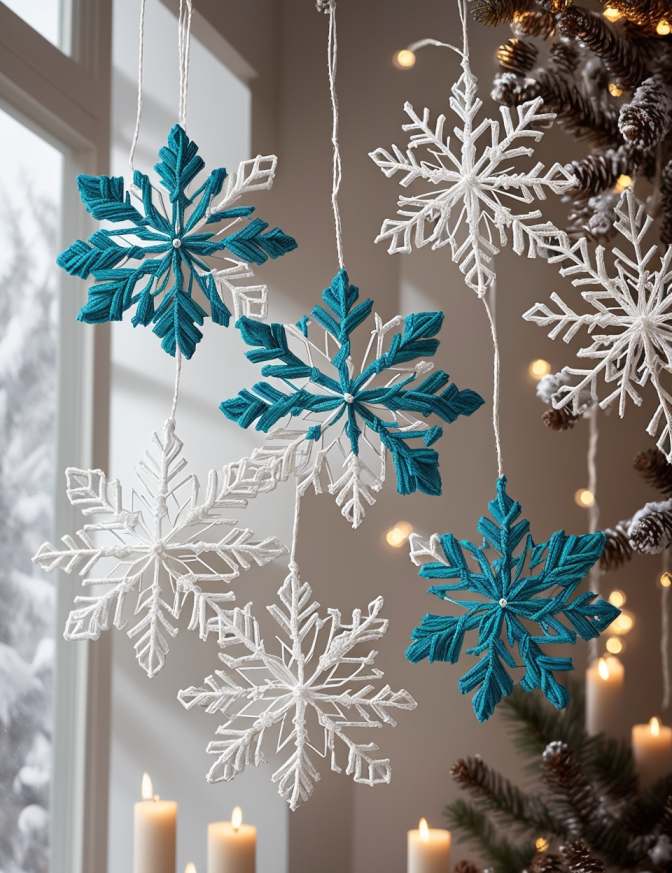 Craft delicate snowflakes using yarn and cardboard. Create a cardboard loom and weave yarn in intricate patterns to form beautiful snowflakes. Hang them in windows or from ceiling hooks for a unique and homemade winter decor.
37. Wooden Snowman Family:
Construct an adorable snowman family using wooden blocks of varying sizes. Paint each block in a winter color scheme and add facial features, scarves, and hats. Arrange the blocks in a stacked formation to create a charming snowman trio.
38. Felted Wool Table Mat: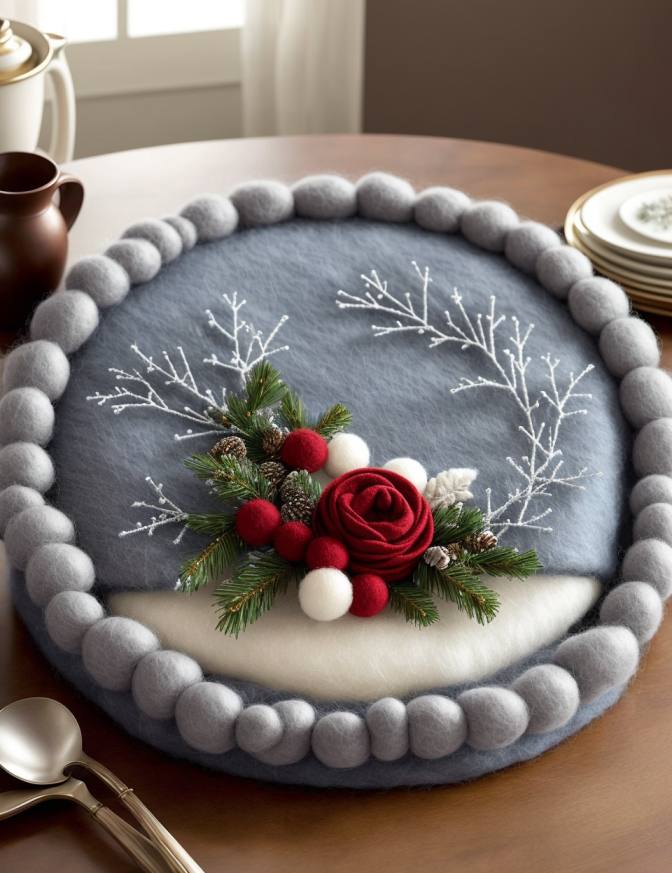 Create a cozy and decorative table mat using felted wool. Cut the wool into a circular shape and add embellishments like snowflakes or stitched winter scenes. This DIY table mat protects your surfaces while adding a touch of warmth to your dining area.
39. Winter Birch Candle Holders:
Decorate plain glass candle holders with birch bark for a rustic winter touch. Wrap the birch bark around the exterior of the holder, securing it with twine or ribbon. Place votive candles inside for a warm and woodsy ambiance.
40. Frosted Pinecone Kissing Ball:
Craft a romantic hanging decoration by covering a foam ball with frosted pinecones. Attach each pinecone using hot glue until the ball is completely covered. Hang the kissing ball from a doorway or ceiling for a charming and festive accent.
Conclusion:
These additional DIY winter decoration ideas offer a mix of creativity and practicality to keep your home feeling warm and inviting well into the winter months. Enjoy the crafting process and let your imagination run wild as you add these personalized touches to your living spaces.