As the leaves start to change and the air turns crisp, it's the perfect time to give your living room a seasonal makeover. Modern Fall Living Room Decor Ideas with warm colors can instantly transform your space into a cozy retreat that's both inviting and stylish. In this blog post, we'll explore how to infuse your living room with the warm and inviting hues of autumn while maintaining a modern aesthetic.
Modern Fall Living Room Decor Ideas with Warm Colors
1. Choose a Warm Color Palette: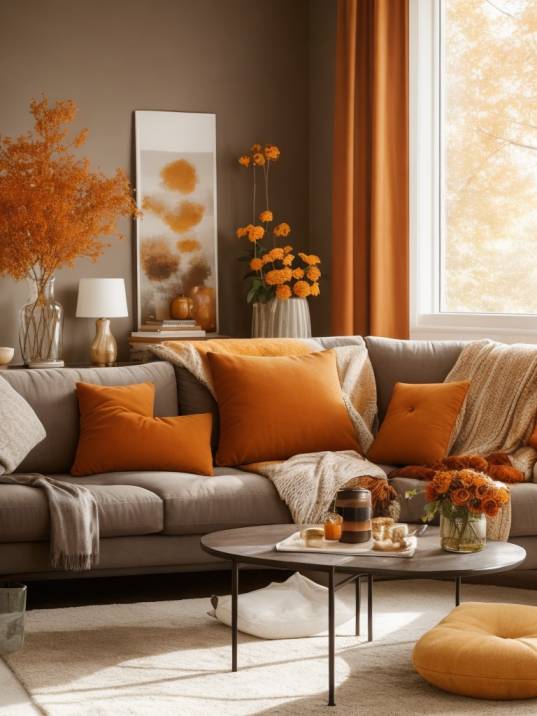 Fall is synonymous with warm, earthy tones. Consider incorporating shades like rich rust, deep mustard, burnt orange, and warm browns into your living room decor. These colors not only evoke a sense of comfort but also bring the beauty of fall indoors. For a modern touch, balance these warm hues with a neutral backdrop of whites, grays, or even black.
2. Layer with Textures:
To add depth and coziness to your living room, layer different textures. Plush velvet cushions, a chunky knit throw, and a shaggy area rug can make your space feel warm and inviting. Mixing materials like wood, metal, and glass in your furniture and decor can also enhance the modern aspect of your design.
3. Incorporate Autumn-inspired Decor: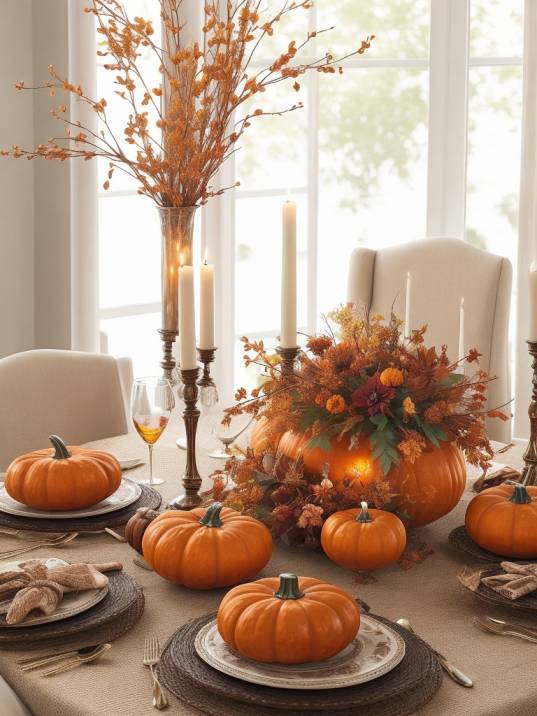 Embrace the spirit of the season by incorporating fall-inspired decor. Decorative pumpkins, faux foliage, and cinnamon-scented candles can instantly create a fall ambiance. For a modern twist, choose sleek, minimalist decor pieces that still capture the essence of autumn.
4. Modern Furniture and Layout:
Keep your living room looking sleek and contemporary by opting for modern furniture pieces with clean lines and minimalistic designs. Consider a statement piece like a mid-century modern sofa or a chic coffee table. Ensure that your furniture layout promotes easy conversation and functionality.
5. Artwork and Accents: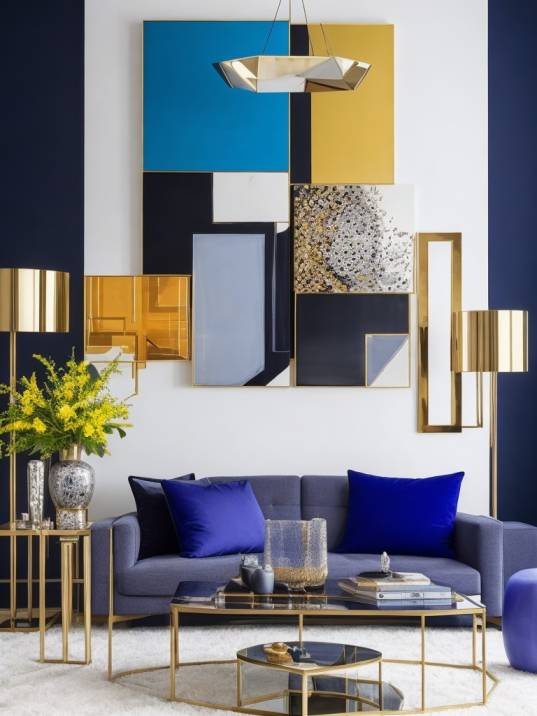 Add a touch of modern art to your living room with abstract paintings or geometric wall art. These pieces can introduce a contemporary element while complementing the warm color scheme. Scatter a few well-chosen accents like metallic vases or modern sculptures to tie everything together.
6. Lighting Matters: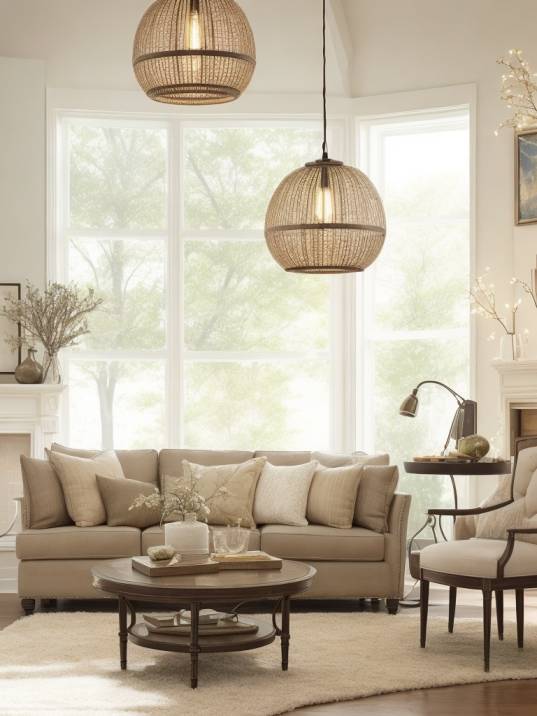 The right lighting can set the mood in your living room. Consider pendant lights or floor lamps with warm-toned bulbs to create a cozy atmosphere. Dimmer switches can also provide flexibility in adjusting the lighting to suit different occasions.
7. Seasonal Pillows and Throws:
To infuse the essence of fall into your living room, invest in decorative pillows and throws that feature autumn-inspired patterns and textures. Look for plaid, herringbone, or leaf motifs in warm colors to drape over your sofa or accent chairs. These accessories not only add visual interest but also keep you snug during chilly evenings.
8. Rustic Elements:
For a touch of rustic charm, incorporate natural elements into your decor. Wooden coffee tables, exposed wood beams, or reclaimed wood shelves can enhance the warm and inviting feel of your living room. Pair these rustic elements with sleek modern furniture for an appealing contrast.
9. Seasonal Centerpiece:
Create a stunning focal point for your living room with a fall-inspired centerpiece. Consider a large bowl filled with decorative gourds, pinecones, and mini pumpkins. For a modern twist, use metallic or matte-finish containers. Place this arrangement on your coffee table or dining table to make a striking statement.
10. Cozy Fireplace Setup: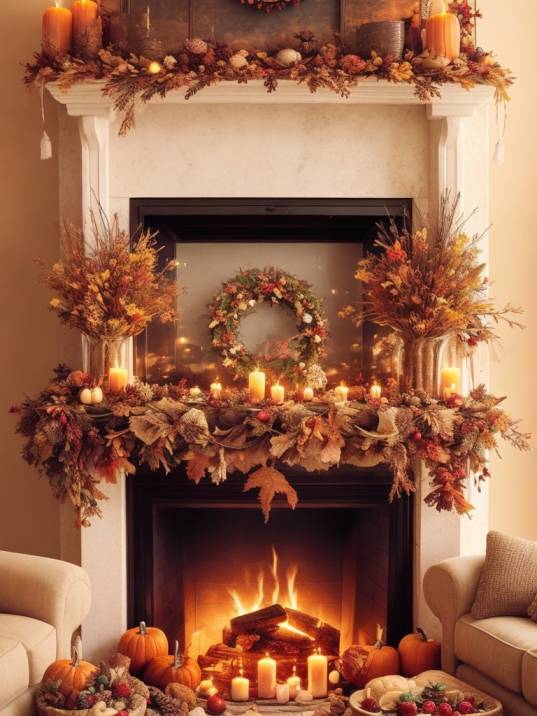 If you have a fireplace, it's the perfect opportunity to showcase your fall decor. Adorn the mantle with garlands made of autumn leaves and berries. Arrange candles in varying heights for an inviting glow. Hang a fall wreath above the fireplace to tie the entire look together.
11. Seasonal Wall Art: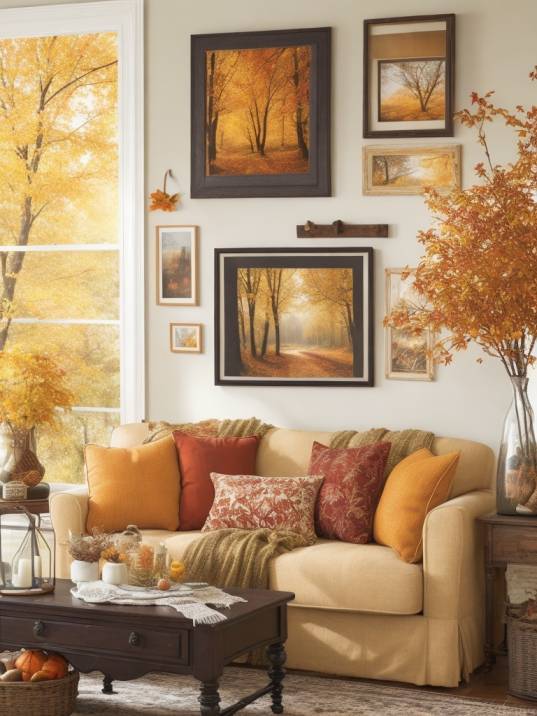 Swap out your regular wall art for pieces that celebrate the season. Consider framed prints of fall landscapes, vintage autumn posters, or DIY wall art projects using fallen leaves or branches. These additions can instantly change the mood of your living room and make it feel cozier.
12. Scented Candles and Diffusers: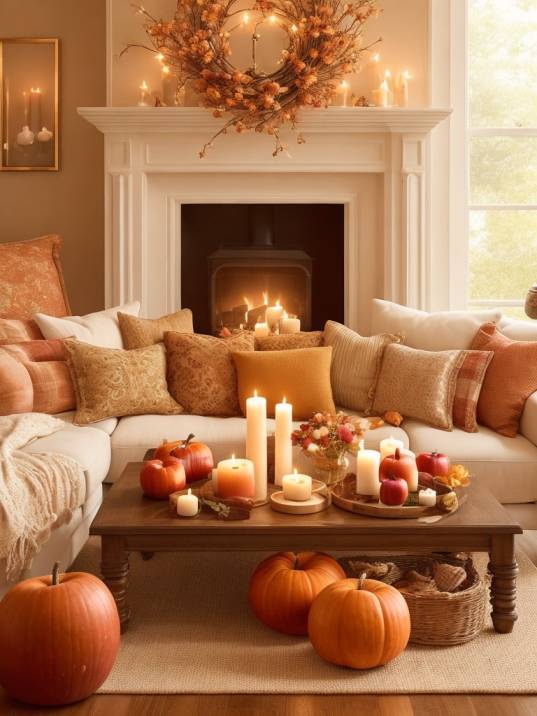 Engage multiple senses in your fall living room decor by adding scented candles or diffusers. Fragrances like cinnamon, apple spice, or pumpkin pie can evoke memories of fall and create a warm ambiance. Place these strategically throughout the room to enjoy the delightful scents.
13. Warm Drapery and Curtains:
Swap out your lightweight summer curtains for heavier drapery in warm, autumnal colors. Deep burgundy, olive green, or chocolate brown drapes not only keep the drafts out but also contribute to the cozy atmosphere of your living room.
14. Personalize with Family Photos: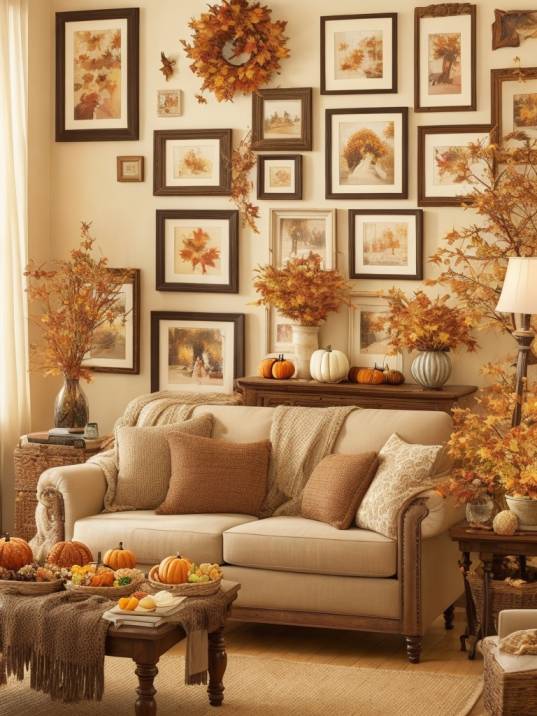 Add a personal touch to your fall decor by incorporating family photos in warm-toned frames. Mix in photos from previous autumns or special fall occasions to create a sentimental and heartwarming display.
15. Floor Cushions and Poufs:
For a relaxed and inviting atmosphere, consider adding floor cushions or poufs in fall colors and patterns. They not only provide extra seating for guests but also contribute to a laid-back, comfortable vibe.
16. Warmth with Plush Area Rugs:
Don't forget to warm up your floors with a plush area rug. Choose one in a deep, inviting hue like burgundy, burnt orange, or a rich chocolate brown. The soft texture will make your living room feel cozier and more inviting.
17. Seasonal Table Settings: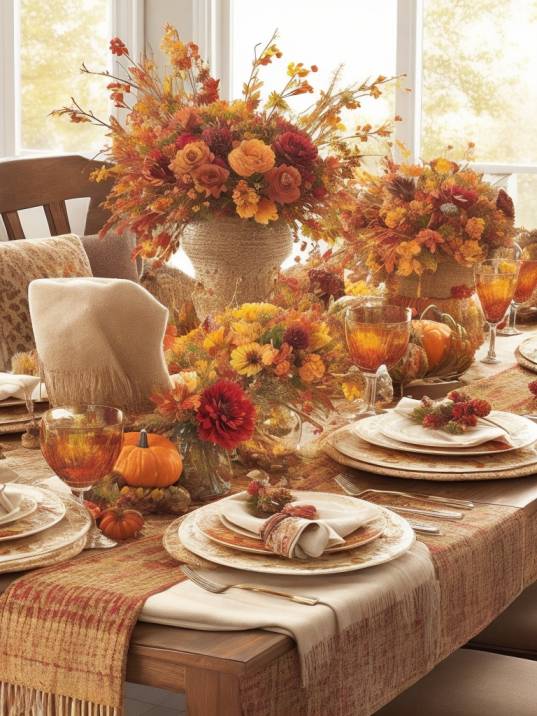 If your living room includes a dining area, set a fall-themed table. Incorporate seasonal table runners, placemats, and dinnerware with autumnal motifs. Place a vase of fresh fall flowers or a bowl of seasonal fruits, like apples or pears, as a charming centerpiece.
18. Cozy Blanket Ladder:
Display your collection of fall-inspired blankets on a decorative ladder. This not only adds a practical touch but also introduces a rustic, farmhouse element to your modern decor. Guests can easily grab a blanket for extra warmth and comfort.
19. Book Nooks and Reading Corners: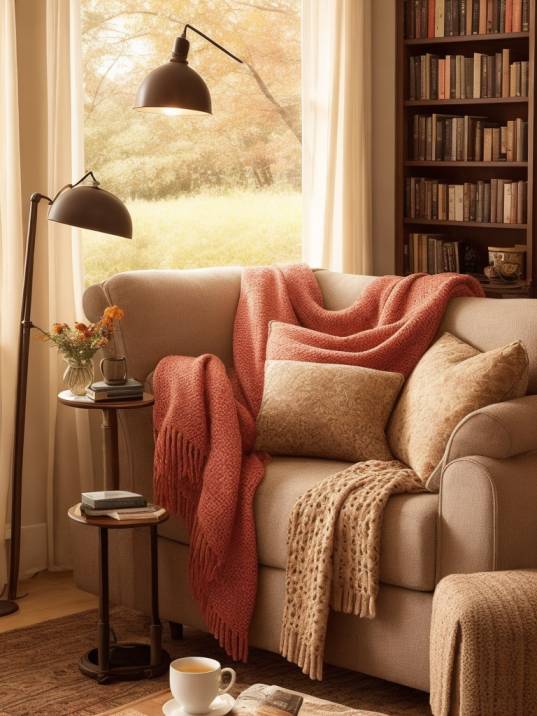 Create cozy reading nooks within your living room by arranging a comfortable armchair, floor lamp, and a small bookshelf filled with your favorite fall reads. Add a throw blanket and a side table to complete the inviting space.
20. Fall-Themed Wall Decals: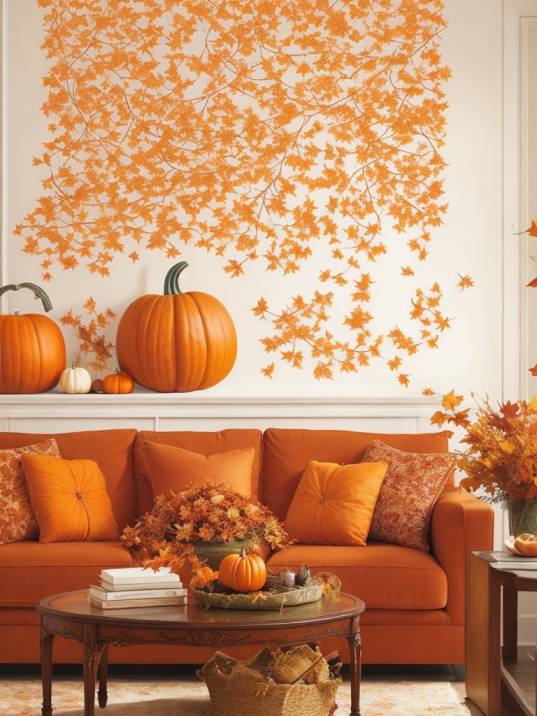 Temporary wall decals with autumn-themed designs, such as falling leaves or intricate pumpkin patterns, can be a quick and easy way to add a seasonal touch to your living room. They're easy to apply and remove, making them perfect for renters or those who like to change their decor frequently.
21. Seasonal Coffee Table Books:
Place a stack of beautifully designed coffee table books with fall-inspired covers or themes on your coffee table. Not only do they add a touch of sophistication, but they also serve as conversation starters.
22. DIY Wreaths and Garlands: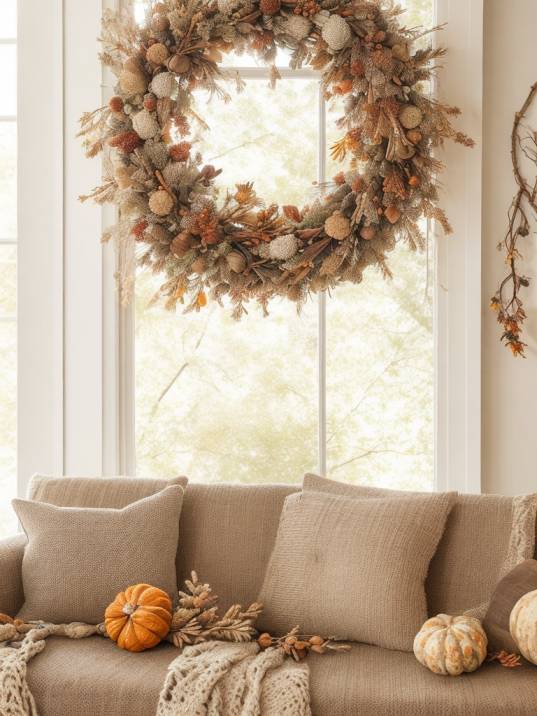 Get crafty with DIY wreaths and garlands made from natural materials like twigs, pinecones, and dried leaves. These handcrafted decor pieces can be a wonderful addition to your living room's fall ambiance.
23. Metallic Accents:
Add a touch of glamour to your fall decor with metallic accents. Copper, gold, and bronze decor pieces, such as vases, candleholders, or decorative bowls, can provide a modern and elegant contrast to the warm color palette.
24. Seasonal Artisanal Ceramics:
Introduce a touch of craftsmanship with seasonal artisanal ceramics. Look for handcrafted pottery in earthy tones and unique, irregular shapes. These pieces can serve as both decor and functional items like vases or serving bowls.
Also Read-
25. Seasonal Wall Decals:
Switching out wall decals for the season can be a fun way to refresh your living room. Consider removable decals featuring autumnal phrases, whimsical critters, or falling leaves to infuse a touch of fall into your decor without a long-term commitment.
FAQs (Frequently Asked Questions)
Q1: What are the warm colors for fall decor?
Warm colors for fall decor include deep reds, burnt oranges, rich browns, golden yellows, and earthy greens.
Q2: How do I make my living room cozy in the fall?
To make your living room cozy for fall, incorporate warm colors, soft textiles like blankets and pillows, ambient lighting, and autumn-themed decor.
Q3: How to decorate for fall with a modern house?
Decorate a modern house for fall by using warm color palettes, minimalist decor, seasonal accents, and sleek furniture with clean lines.
Q4: What is the best color for a cozy living room?
Earthy tones like warm beige, soft brown, or deep burgundy are great choices for creating a cozy living room.
Q5: What are warm fall neutral colors?
Warm fall neutral colors include creamy whites, soft grays, muted taupe, and warm beige tones that complement the autumn season.
Q6: What are the fall colors for 2023?
Fall colors for 2023 may include a mix of traditional warm hues like terracotta, deep teal, rich plum, and subtle metallic accents.
Q7: How can I decorate my living room to be warm and cozy?
Decorate your living room for warmth and coziness by adding plush textures, warm color accents, soft lighting, and seasonal decor.
Q8: How can I add warmth to my living room?
Add warmth to your living room with warm-toned decor, cozy textiles, layered lighting, and by incorporating natural materials like wood and stone.
Q9: What makes a living room warm and cozy?
A warm and cozy living room combines soft furnishings, warm color palettes, ambient lighting, and personal touches to create a welcoming atmosphere.
Q10: How do you decorate tastefully for fall?
Decorate tastefully for fall by choosing a cohesive color scheme, using natural materials, incorporating seasonal accents, and balancing decor throughout your space.
Conclusion:
In conclusion, creating a warm and inviting fall-themed living room with modern elements is a delightful endeavor. By incorporating warm colors, plush textiles, seasonal decor, and a touch of creativity, you can transform your space into a cozy autumn oasis. Whether you choose to add rustic charm, modern sophistication, or a blend of both, the key is to infuse the spirit of the season into your decor.
From cozy blankets and layered textures to striking artwork and captivating centerpieces, the possibilities are endless. Embrace the warmth of autumn, celebrate the changing leaves, and make your living room a reflection of your personal style.
With these modern fall living room decor ideas, you can create a space where you and your loved ones can gather, relax, and enjoy the beauty and comfort of the season. Fall is a time of transition, and your living room can be the perfect canvas to capture the essence of this wonderful time of year. So, let your creativity shine, and welcome fall with open arms into your home.