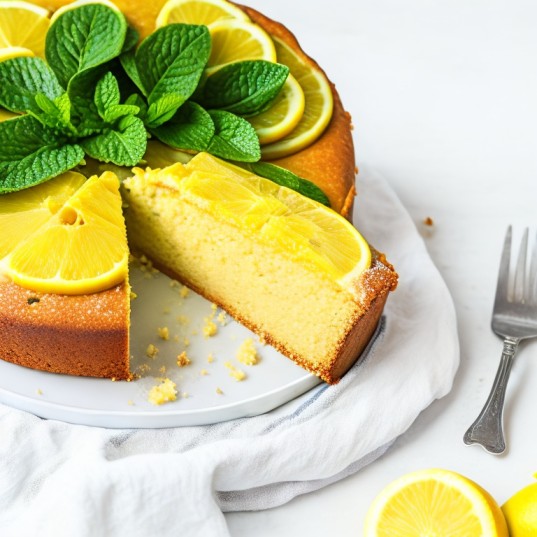 Lemons are a great source of vitamin C and antioxidants, and when they are combined with a delicious cake recipe, the result is a vegan lemon cake that is both healthy and delicious. In this article, we will be sharing a step-by-step guide to making a vegan lemon cake that is perfect for any occasion. We will also be discussing the importance of this cake and the essential things you should know before making it. Finally, we will provide answers to the most commonly searched questions on Google related to vegan lemon cakes.
Importance of Vegan Lemon Cake:
A vegan lemon cake is a healthier alternative to traditional cakes as it does not contain any animal products. Additionally, lemon juice and zest are excellent sources of vitamin C and antioxidants, which are beneficial for overall health. Moreover, the lemon cake can be enjoyed as a dessert, snack, or even as breakfast, making it a versatile option for any time of day.
Things to Note Before Making Vegan Lemon Cake:
Use fresh lemons for the juice and zest. This will ensure that you get the best flavor and health benefits.
Make sure all ingredients are at room temperature before you begin. This will help them combine better and result in a smoother batter.
Do not overmix the batter, as this can make the cake tough and dense. Mix until all the ingredients are just combined.
Make sure your baking powder is fresh. Old baking powder can cause the cake to not rise properly.
Grease your cake pan well before pouring in the batter to ensure it doesn't stick.
[This post may contain affiliate links. What does that mean to you? Well, if you click on a product and make a purchase, I may get some compensation from you at no charge. If you want to read the boring stuff my full disclosure can be found here.]
You can check out some products that can be used to make this vegan lemon cake:
Ingredients:
2 cups all-purpose flour
1 cup granulated sugar
1 tsp baking powder
1 tsp baking soda
1/2 tsp salt
1/2 cup vegetable oil
1/4 cup fresh lemon juice
1 tbsp lemon zest
1 tsp vanilla extract
1 cup non-dairy milk
1 tbsp apple cider vinegar
Directions:
Preheat oven to 350°F.
In a large mixing bowl, combine the flour, sugar, baking powder, baking soda, and salt. Mix well.
In a separate mixing bowl, whisk together the oil, lemon juice, lemon zest, vanilla extract, non-dairy milk, and apple cider vinegar until well combined.
Add the wet ingredients to the dry ingredients and mix until just combined.
Pour the batter into a greased 9-inch cake pan.
Bake for 30-35 minutes or until a toothpick inserted in the center comes out clean.
Let the cake cool completely before serving.
Conclusion:
In conclusion, a vegan lemon cake is a delicious and healthy dessert option that can be enjoyed by everyone, whether vegan or not. Using fresh lemons and quality ingredients will ensure that you get the best flavor and nutritional benefits from this cake. Following the essential tips and tricks shared in this article will help you create a delicious and beautiful vegan lemon cake that everyone will love.
FAQ'S
1. Is a vegan lemon cake healthy?
Yes, a vegan lemon cake is healthy as it contains no animal products and is made with fresh lemon juice and zest, which are rich in vitamin C and antioxidants.
2. Can I substitute vegetable oil with another oil?
Yes, you can use any neutral-tasting oil such as canola oil or sunflower oil.
3. Can I use almond milk instead of non-dairy milk?
Yes, almond milk is a suitable substitute for non-dairy milk in this recipe.
4. Can I add frosting to the cake?
Yes, you can add your favorite vegan frosting to the cake.
5. Can I make this cake gluten-free?
Yes, you can use a gluten-free flour blend instead of all-purpose flour to make this cake gluten-free.
6. Can I make this cake ahead of time?
Yes, you can make this cake up to two days in advance and store it in an airtight container in the refrigerator.
7. Can I use bottled lemon juice instead of fresh lemon juice?
Fresh lemon juice is recommended for this recipe as it provides the best flavor. However, if you don't have fresh lemons on hand, bottled lemon juice can be used as a substitute.
8. How do I get the most juice out of my lemons?
Roll the lemons on a hard surface before cutting them to help release the juice. You can also microwave the lemons for a few seconds before juicing them to help them release more juice.
9. Can I use lemon extract instead of fresh lemon juice and zest?
Lemon extract can be used instead of fresh lemon juice and zest, but it will not provide the same fresh and zesty flavor.
10. Can I freeze this cake?
Yes, you can freeze this cake for up to two months. Make sure to wrap it tightly in plastic wrap and aluminum foil before freezing.