As the monsoon rains usher in the joyous occasion of Hariyali Teej, it's time to infuse your surroundings with vibrant celebrations. This article unveils a treasure trove of Hariyali Teej decoration ideas, merging traditional charm with modern creativity. From enchanting indoor setups to blooming outdoor displays, personalized keepsakes to eco-friendly embellishments, we present a comprehensive guide to curate a remarkable Hariyali Teej experience. Let's dive into a world of colors, traditions, and imagination as we embark on this journey of transforming spaces into radiant havens of festivity.
[This post may contain affiliate links. What does that mean to you? Well, if you click on a product and make a purchase, I may get some compensation from you at no charge. If you want to read the boring stuff my full disclosure can be found here.]
Traditional Elegance in Colors and Elements
Hariyali Teej is all about vivid colors that mirror nature's lushness. Incorporate the traditional color palette of green, yellow, and red to evoke the festival's essence. Think of adorning your space with exquisite silk sarees and graceful lehengas in these colors, which can be conveniently found on Amazon.
1. Indoor Bliss: Welcoming the Festival Spirit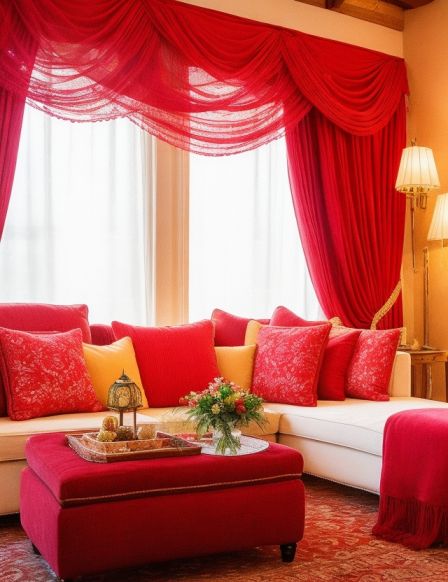 Indoor spaces come alive with thoughtful decor. Enhance your seating areas with plush cushions and vibrant drapes, both of which can be easily sourced from online stores. Complement this with captivating wall hangings to infuse your home with festive flair.
2. A Serene Pooja Space
Create a serene corner for your rituals with fragrant flower garlands and aromatic incense sticks. Consider adding a touch of convenience by ordering puja thalis and diyas online, enabling a seamless ritual experience.
3. Bringing the Festival Outdoors
Extend the festivity beyond your interiors with innovative outdoor decor ideas. Embrace the excitement of swinging on Amazon-adorned swings (jhulas), bringing the perfect blend of tradition and modern aesthetics to your celebrations.
4. Blooming Outdoor Decor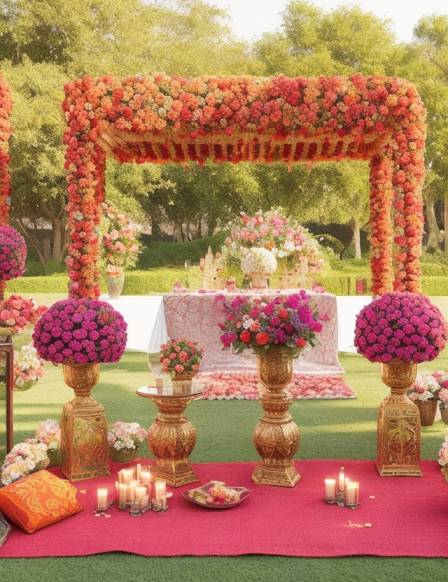 Enrich your outdoor setup with the vibrant hues of monsoon flowers. Explore the variety of vases that display marigolds and roses beautifully. Elevate your decor further by experimenting with floral rangolis using rangoli stencils.
5. Crafting Memories with DIY Projects
Tap into your creative side with engaging DIY projects that add a personal touch to your celebrations. From charming paper lanterns to elegant origami peacocks and leafy wall art can fuel your imagination.
6. Illumination and Festive Radiance
Light up the festive spirit with carefully chosen lighting elements. Lanterns, fairy lights, and oil lamps can transform your space into a warm and inviting haven of celebration.
7. Embracing Eco-Friendly Celebrations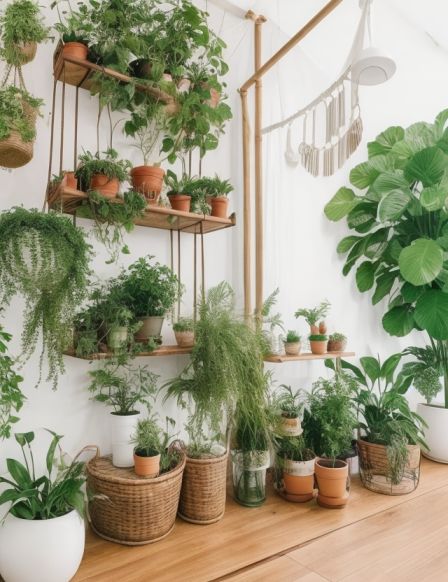 Pledge to celebrate sustainably this Hariyali Teej. Consider biodegradable decor options, potted plants, and reusable items to harmonize with nature's spirit and leave a minimal footprint.
Also Read-
8. Enchanting Tablescapes for Festive Feasts
Set the stage for memorable feasts with captivating table decorations. Explore elegant tablecloths, vibrant napkins, and exquisite tableware that match the festive theme. Consider incorporating leafy motifs and floral centerpieces to infuse the dining experience with Hariyali Teej's spirit.
9. Whimsical Wall Decor for Every Corner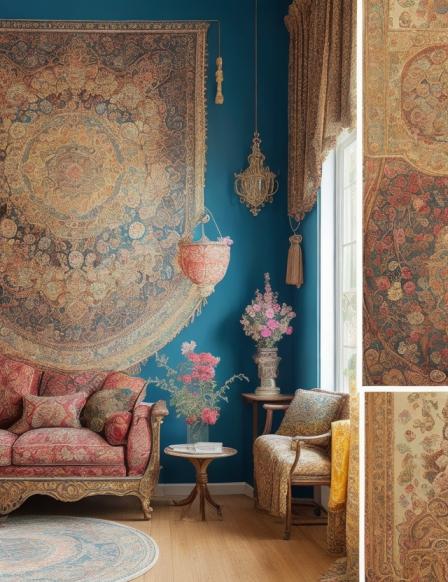 Transform your walls into canvases of celebration with creative wall decor ideas. Find ornate wall decals, intricate wall hangings, and artistic tapestries on Amazon to add dimension and charm to every corner of your space.
10. Celebrating with Doorway Accents
Extend your festive spirit to your doorways with eye-catching decorations. Explore the collection of door torans, wreaths, and hanging decor that welcome guests with warmth and elegance, setting the tone for your Hariyali Teej celebrations.
11. Floral Haven: Bed and Bath Decor
Extend the festivity to your personal spaces with floral-infused decor. Explore floral-printed beddings, shower curtains, and towels that capture the essence of Hariyali Teej. Transform your bedroom and bathroom into soothing floral havens that evoke the magic of the monsoon season.
12. Ceiling Elegance with Hanging Decor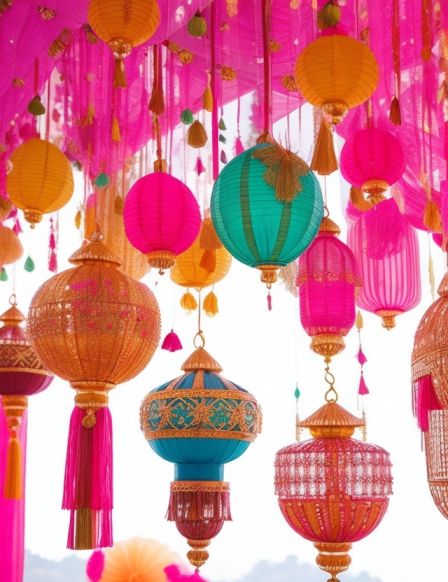 Elevate your decorations to new heights by adorning your ceilings with hanging decor elements. Discover the range of hanging lanterns, paper pom-poms, and cascading garlands that create a whimsical and enchanting ambiance, adding a touch of drama to your celebrations.
13. Reviving Traditional Artifacts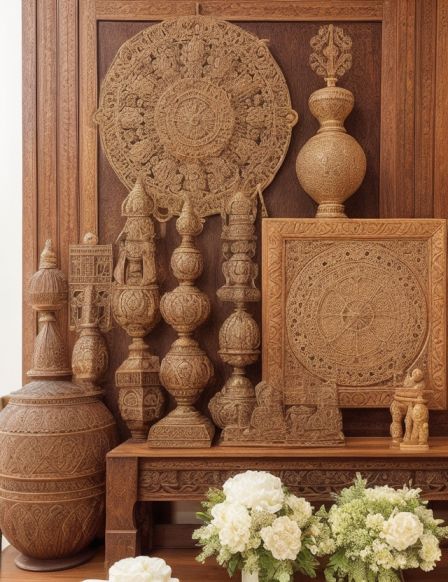 Pay homage to tradition by incorporating heritage artifacts into your decor. Amazon offers a curated collection of traditional art pieces, intricately carved wooden items, and antique-inspired decor that speak to the soul of Hariyali Teej while infusing a sense of nostalgia into your festivities.
14. Interactive Craft Stations for All Ages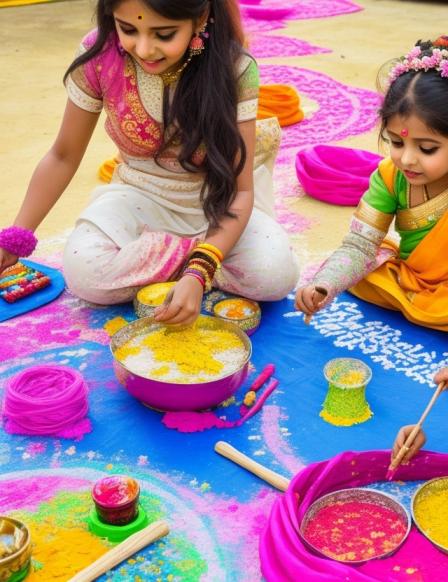 Engage your guests in the festive spirit by setting up craft stations. Provide materials for activities like making flower crowns, creating rangoli art, and hand-painting clay diyas. These interactive stations can become memorable bonding moments for attendees of all ages.
15. Expressive Wall Murals and Backdrops
Make a bold statement with larger-than-life wall murals and backdrops that capture the essence of Hariyali Teej. Explore the collection of customizable murals, allowing you to transport your guests to a lush garden or a vibrant festival setting right within your home.
FAQs (Frequently Asked Questions)
Q1: Why do we celebrate Hariyali Teej?
Hariyali Teej celebrates the arrival of monsoon, symbolizing renewal, growth, and marital bliss. It honors Lord Shiva and Goddess Parvati's union.
Q2: Why do we celebrate Hariyali Teej 2023?
Hariyali Teej 2023 marks the annual observance of this festive occasion, rejoicing in nature's bounty and embracing traditional customs.
Q3: What is the concept of Hariyali Teej?
Hariyali Teej signifies the greenery and vitality of the monsoon season. It's a celebration of nature, love, and the marital bond.
Q4: Why do girls do Teej?
Unmarried girls observe Teej seek blessings for a suitable life partner, while married women pray for their husband's well-being and marital happiness.
Q5: What should be done on Hariyali Teej?
On Hariyali Teej, women fast, dress in green attire, apply mehndi, offer prayers, and indulge in festive activities, swings, and traditional delicacies.
Q6: What traditional elements are important for Hariyali Teej decorations?
Traditional elements include swings (jhulas), mehndi, bangles, vibrant colors, floral garlands, and ornate pooja setups.
Q7: How can I incorporate eco-friendly decorations for Hariyali Teej?
Embrace eco-friendly options like biodegradable decor, potted plants, and reusable items to celebrate sustainably.
Q8: How can I add a traditional touch to Hariyali Teej celebrations?
Infuse traditional artifacts, such as wooden items and intricate art pieces, to pay homage to cultural heritage.
Q9: How can I make Hariyali Teej special for kids and guests?
Set up interactive craft stations, photo corners, and engage in traditional activities to involve kids and guests in the celebrations.
Q10: How can I capture the essence of Hariyali Teej in my personal space?
Create personalized tablescapes, bed and bath decor, and expressive wall murals to infuse your unique style into the festivities.
Conclusion:
As you embark on your journey to transform your home into a canvas of Hariyali Teej festivities, remember that the possibilities are as boundless as your creativity. These additional decoration ideas offer an array of avenues to explore, enabling you to curate an experience that's uniquely yours. The diverse product range serves as your partner in crafting a truly enchanting Hariyali Teej celebration, leaving a lasting impression on everyone who steps into your beautifully adorned world. Wishing you a harmonious, joyful, and artfully decorated Hariyali Teej!